Summer just might be the best time of year to take a family vacation in Whistler, the Canada ski town about two hours north of Vancouver.
The crowds are thin, the weather is gorgeous and the hotel rates are low. There's plenty to do (though no skiing, of course), good things to eat, and it's easy to get a good table.
We spent three nights in exploring the Whistler-Blackcomb area and left with all of us wanting to come back for a ski vacation in winter.
---
Read more:
This road trip started in Portland, "The City You've Been Told You Should Like"
• It ended with 15 Offbeat Things To do in Seattle With Kids
• Here are 5 More Ski Towns To Visit in Summer
---
Whistler's Summer Hotel Bargains
Summer hotel rates in Whistler are less than half of what they are during prime ski season. Shop around and you'll find four-star hotels for less than $300 a night and five-star ones for not much more than that.
There are also plenty of very nice vacation condo communities and rental homes right in the village or within a short drive, if you want to be able to cook or need more room.
There are plenty of more upscale hotels in the village, including a Fairmont, a Four Seasons, a Hilton and a Westin. But for families looking to spend less on lodging so they have more for dining and activities, There are some great values to be found.
Whistler's Value Hotel
We stayed at the Aava Whistler Hotel, which was so cheap (less than $150/night!) I was a little worried about what we would find when we arrived. But it was right in the village and had good reviews so I took a chance.
Like a lot of hotel chains that target value-conscious Millennials, Aava seems to be following what I call the Jet Blue business model:
Accept that you can't provide all-around 5-star service at a low price. Then choose the perks your customers value and do those well.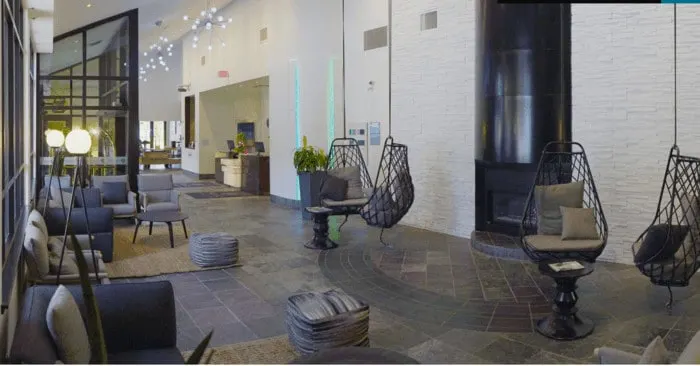 For Aava that meant an ideal location and a nice outdoor patio with a well-heated pool, hot tub, fireplace and a variety of comfortable patio chairs and couches. A sauna was indoors next to the pool. And they provide robes for the pool, which is very unusual for a value hotel.
The bright, open lobby invited hanging out (and Instagram pics) with funky furniture and an enormous DIY Nespresso machine.
Families can choose from double-queen rooms, a single queen with a sofa bed, and both a junior and twe-bedroom suite. In our room the beds were firm, the toiletries were nice and we had a deep tub and refrigerator.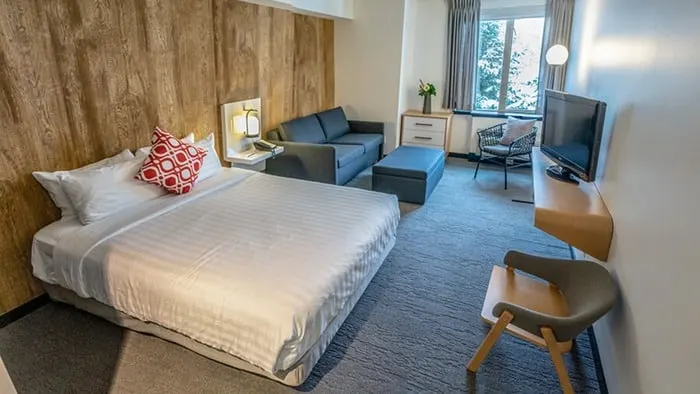 The trade-off was non-descript hallways and basic furniture. The desk told me that they were about to redo the rooms and hallways.
They had a parking garage and winter ski storage underground and a place to hose or your mountain bike outside the front doors. The hotel rate I found on Expedia included parking.
Your Guide To Whistler Summer Fun For Families
Things To Do Outdoors
Night Time Magic
Vallea Lumina is a unique summer-only outdoor event that we enjoyed and were really impressed with.
I don't want to give to much away. The premise is that we are rangers in search of a girl and her grandfather who have disappeared into the woods in search of a lost valley.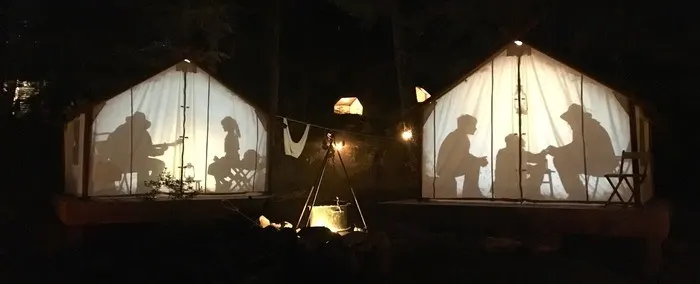 You follow their trail over a mountain and through the woods. Along the way you find their campsite, where holograms show the pair singing about the idyllic valley, a telegraph station and clues about their journey.
When you arrive in the lost valley the lighting and special effects, particularly the way they take advantage of the surrounding woods and water, is really magical for kids. It's pretty impressive for adults, too.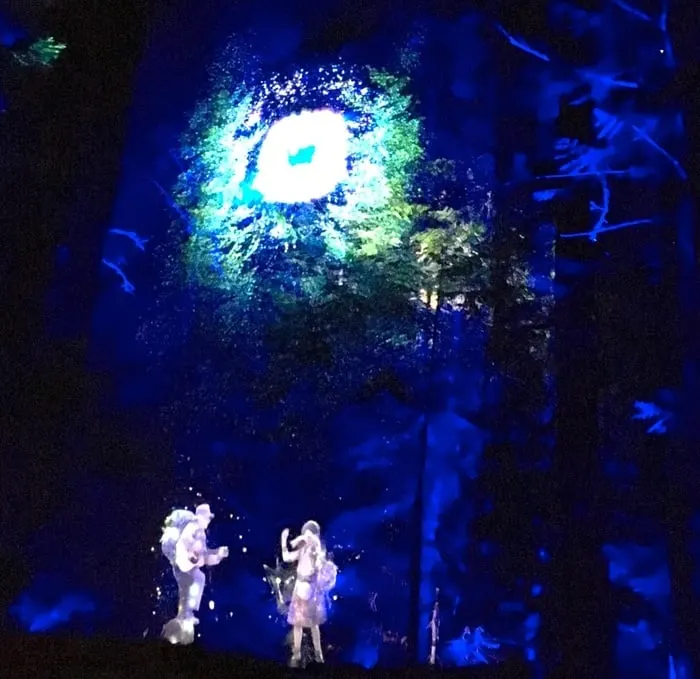 Tween traveler was thrilled and went running off through the dark woods to see one thing after another.
Tip: Dress warmly and wear sturdy shoes. You'll do a fair bit of climbing at the beginning and you're walking over dirt trails in the dark.
Tip: If you book one of the first time slots, they'll wait until it gets dark to let you in. They have an outdoor fireplace or two, some games like giant Jenga, a small cafe and a stand that sells marshmallow roasting kits.
if you have kids who will great fidgety waiting around, buy tickets for a post-sunset time slot or bring something that can entertain them for 20 or 30 minutes.
Tickets are free for kids 5 and under, and C$35-C$40 for everyone else, a reasonable price for a unique interactive experience.
Hiking and Views From On Whistler and Blackcomb
I dubbed the day we went to the top of the mountain "the day Eileen conquers her fears." Much of what's here is quite an adventure for anyone who doesn't like heights, like me.
We took a gondola to the top of Whistler. Once there you can head off onto hiking trails, take the peak tram or walk down a short way to a chair lift that takes you even higher to a recently built rope bridge. We did it all.
The temperature drops quite a bit as you go higher though. Wear long long pants and closed-toed shoes and bring a warm sweater even if it's a hot day on the ground.
Volunteers at the top can advise you on the best trails for your hiking ability and even lend you walking sticks, along with helpful advice on how to make the most of them. If you want to tackle some of the more adenturous of technical hikes you can hire a guide, too.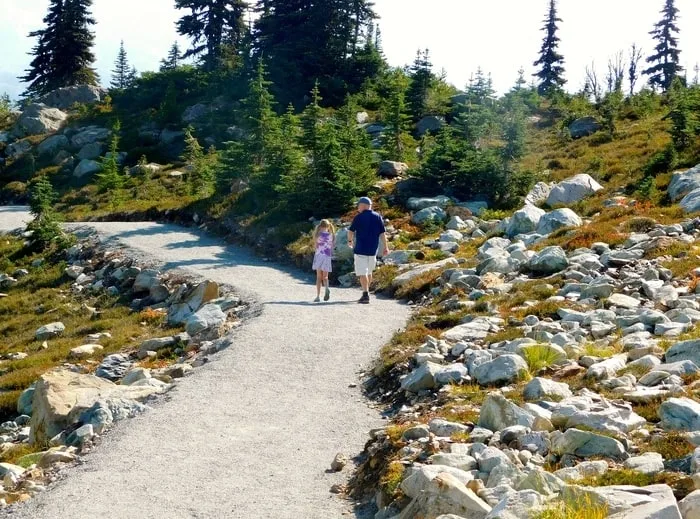 We did a short loop that offered some good views but didn't require a long uphill return trek, which a longer out-and-back trail would have.
Then we took the chair lift to the peak. Oh boy!
I'm not keen on chair lifts under the best of circumstances. We were traversing a valley of bare, gray mountain face (no snow to soften the peaks a bit). The wind picked up and the temperature steadily dropped as we climbed higher, making me feel very exposed on my tiny bench on a wire.
The only thing scarier than going up…was coming back down. The view of the drop below us was even worse. I closed my eyes and gripped the bar while my family laughed at me.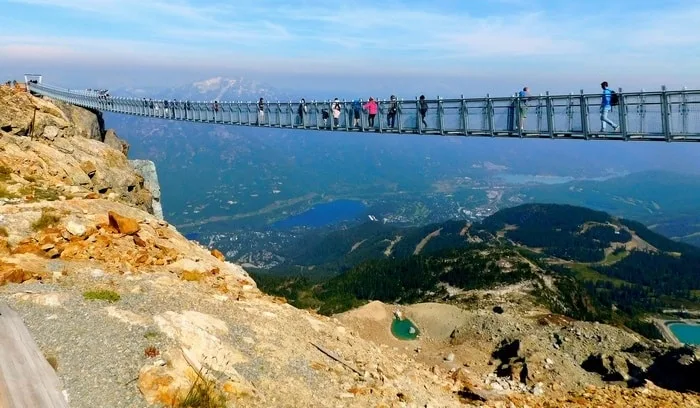 In between the chairlift terror, Rich and Tween Traveler went skipping across the suspension bridge to a lonely peak with amazing panoramic views on the other side. I walked about ten feet across, made the mistake of looking down and turned right back around to terra firma.
We walked around the peak together and took some photos, but it was cold and we all could have used another layer. Reluctant as I was to get back on the chairlift, we headed back down as soon as we could.
The Peak-toPeak Tram from Whistler to Blackcomb was breathtaking. It's an additional fee on top of the gondola to the peak. But it's worth it.
Safely inside a warm glass tram car I enjoyed the views and took a bunch of photos. We were told that you can sometimes spot animals including bears in the forest below. We kept our eyes peeled but didn't see anything.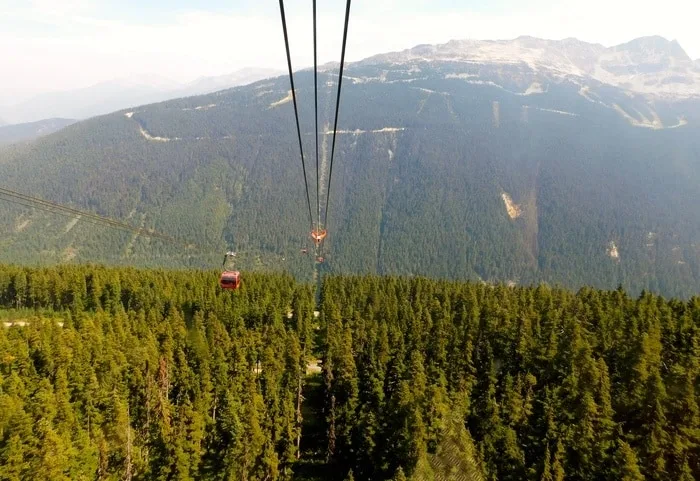 The cars carry about two-dozen people during ski season but there were only a half dozen of us going across in summer and we had the car to ourselves on the return ride.
Don't wait for the glass-bottom tram. It's two cars out of about 30, so the line can get long. And the floor window is fairly small. It's not worth it when you can walk on to a regular car with no wait and have fine scenery all around you.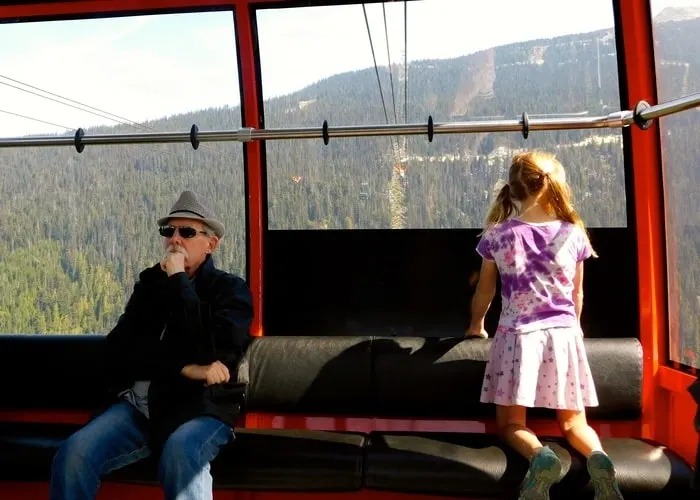 The views of the valley and other mountains are not as impressive on Blackcomb mountain, so we didn't bother taking a hike on that side of the valley.
But the lodge on that side was far less busy than on Whistler so we opted to eat lunch there before our return ride and descent across the valley (Blackcomb doesn't run its lift in summer).
Treetop Walk and Zip Line
We took a guided treetop walk with a company called ZipTrek, a ten-minute shuttle ride from the village.
I expected this to be another activity that seriously challenged my fear of heights. But it was fine, even a little underwhelming, from a thrill perspective. Maybe after my morning chairlift adventure anything would seem tame be comparison.
There was a short dirt trail up to the start of the treetop structure and a longer trail back down again. The treetop part was a series of stairs, platforms and short hanging bridges.
They say the tour includes nine bridges and takes 90-minutes to two hours. But it seemed shorter than that to me and was over more quickly than I expected.
Being up in the trees was cool and some of the views were great. But for C$40-$60 (kids 5 and under are free) I'm not sure I'd say it's a must-do.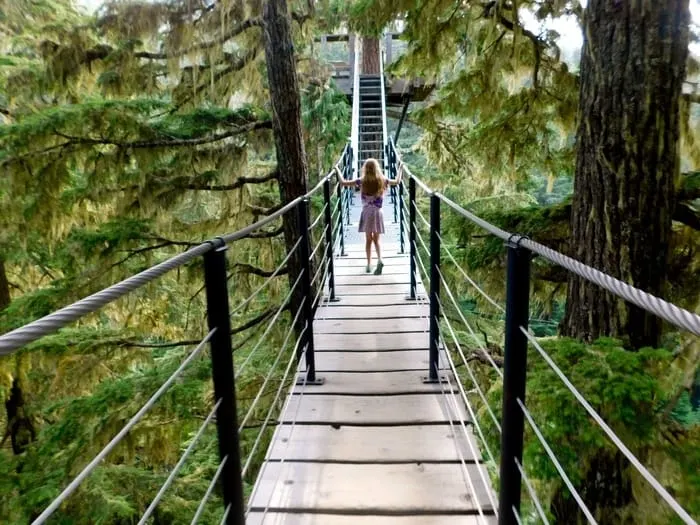 It's a good "adventure" for younger kids and a good edu-travel activity for tweens. For some teens who aren't super eco-conscious there might not be enough of an adrenaline kick unless you mix in some zip-lining.
Our guide was able to tell us along about the trees we were in, the surrounding forest and the plight of the animals that live in it, especially the bears.
She also told us quite a bit about the sustainability efforts around Whistler in general.
The company that does the treetop walk also offers some zip line rides, including a two-kilometer Sasquatch zip that we saw signs for all over town.
The people on the Sasquatch zipped by at about 30 mph, way too fast for us to catch sight of them through the treetops. We certainly heard them screaming though, loud and clear. I think this is the only thing in town scarier than the Whistler suspension bridge.
A Fun Hike Outside of Town
The folks at the Whistler Tourism office recommended the Train Wreck Trail, an easy two-kilometer out-and-back hike, and we were glad they did. It's an easy and fun hike with kids.
The trailhead is a few miles south of town. The parking is well marked but the start of the trail isn't. Just watch to see where everyone else is walking.
The trail goes around a hill, down a short, steep incline and across a suspension bridge over the Cheakamus River to a collection of train cars that derailed in the 1950s.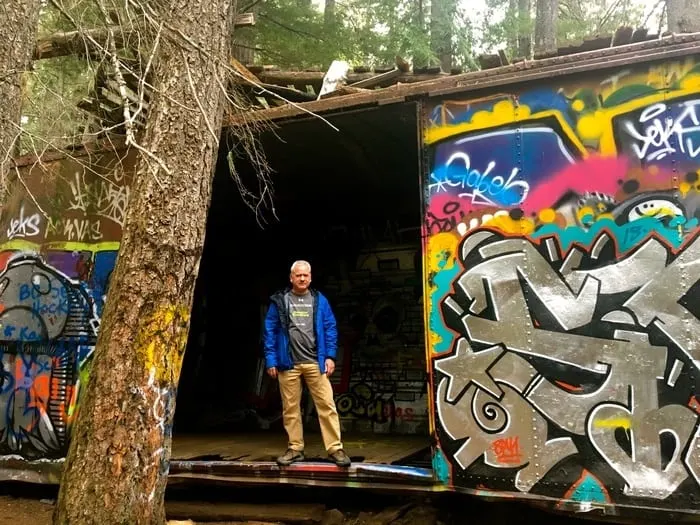 The boxcars have become a destination for graffiti artists. They are covered in paint in a riot of color. Some of it is just tagging, some of it is bizarre, and some is pretty good.
Despite it being a short hike, give your family a good hour or more to go and come back.
Tween Traveler found a lot of fun climbing to do, including to the top of one of the cars (with Rich; i stayed on the ground).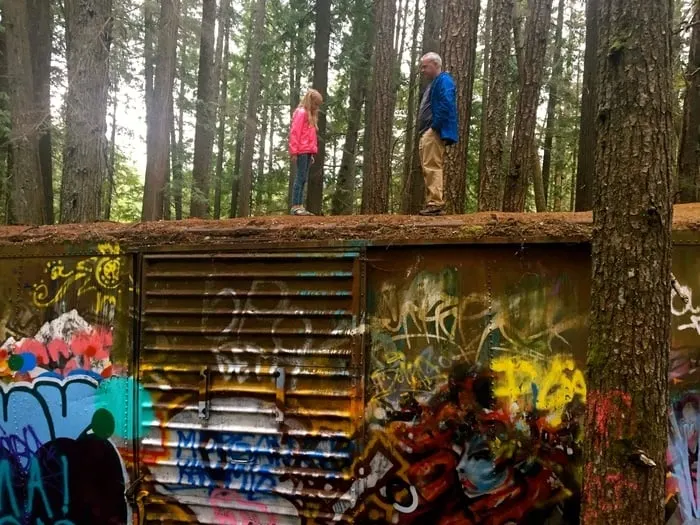 Families with kids of all ages came through while we were there and everyone paused a while because the kids wanted to explore both the trains and the forest around them.
Biking in Whistler
If there is one single activity that draws people to Whistler in the summer, it's biking. You can bring your own bikes, but there are plenty of places to rent in town.
There are mountain-bike trails down the lower half of Whistler. You can take a class if you like and there's a space with ramps and small hills on the other side of the village where kids can practice their moves before taking their bikes up to the trails.
You can also take a guided mountain bike ride attuned to your skill level, which could turn up trails you wouldn't otherwise try..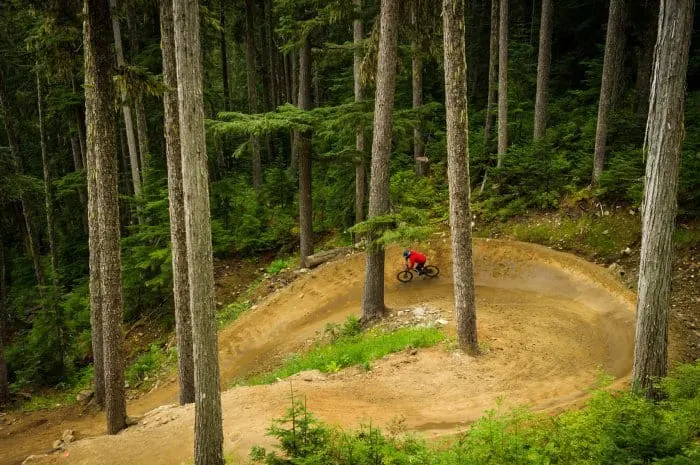 If you prefer tamer riding there are paved trails all over. They connect Blackcomb and Whistler, circle the lake and head out of town to other parks and connecting trails.
If you were in trepid you could probably use a bike and shuttles to get almost anyplace you would want to get to during your stay (aside from some of the shopping centers and more distant rentals).

Somehow we managed to get through our stay without biking at all, which I deeply regret.
Rainy Day Plans
Native Culture
Whistler is an outdoor destination but if you catch a rainy day, as we did, take the opportunity to check out the small but nicely done First Nation Museum at the Squamish Lil'wat Cultural Center.
But make to start your visit with the movie, that explains the origins and relationship of the two local nations that partnered on the museum. Then take a tour so a guide can explain some of the artifacts and art.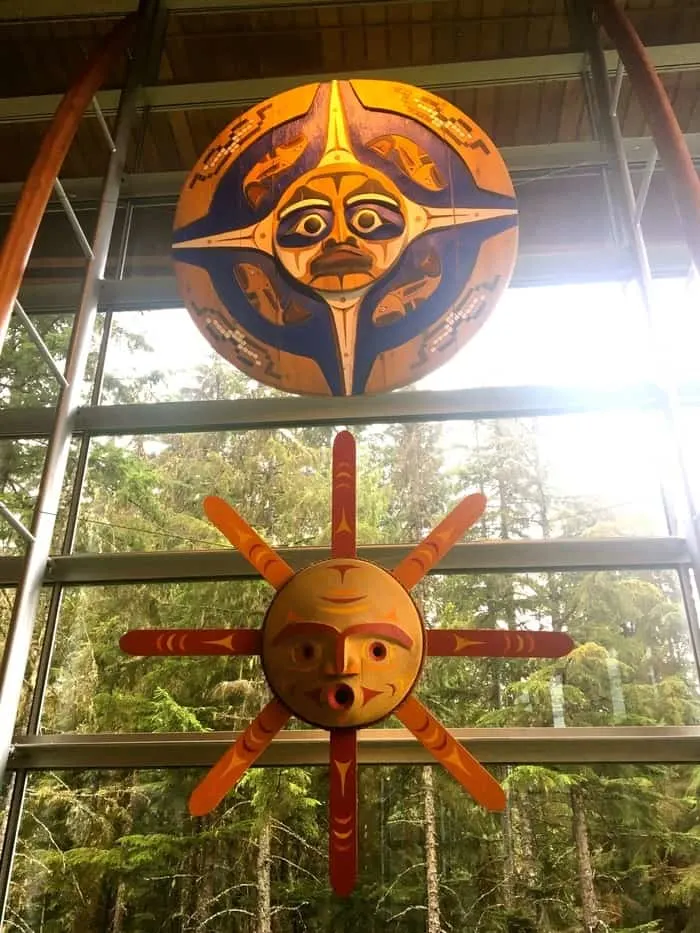 It's a good museum with kids because it's small and not crowded. They can take their time and interact with the exhibits as much as they like and you'll have seen the whole place before anyone gets bored.
Warm Up in the Community Pool
Despite Whistler being a ski resort, most of the hotels have their pools outdoors. If you get a chilly or rain day, head to the Meadow Park Sport Center.
A day-fee that's less than $20 for families gives you access to a sauna. steam room, hot tub, lap pool and kids pool with a small lazy river and sprinklers.
At the tailend of August it was closed for routine renovations, which was our loss. If we ever do go back during the winter, you'll find us there aprés ski most afternoons.
Plan This Trip:
Secure the best hotel deals on TripAdvisor.
• Book the perfect slopeside Whistler vacation rental on VRBO.
•It's really easy to rent a car to drive from Vancouver Airport.
• Or book a Sea-to-Sky day tour that will do the driving for you.
---
Ski Village Restaurants We Liked
• We had by far our favorite meal at 21 Steps Kitchen & Bar. It's the sort of good homey food you sometimes start to crave on a long vacation.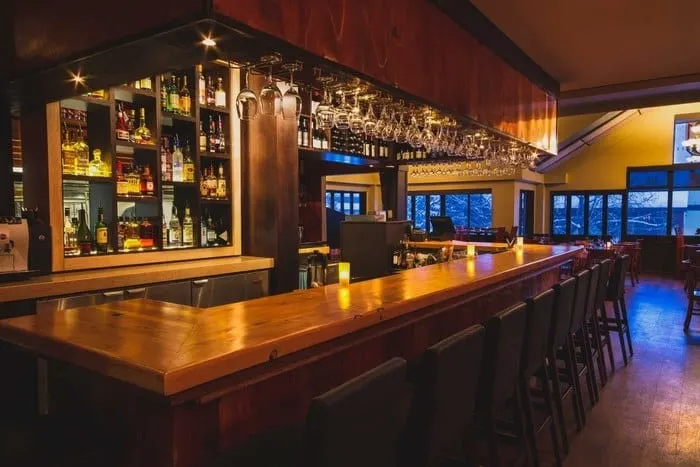 Rich had pasta with creamy Bolognese sauce while my pasta featured house-made sausage that had a good dose of fennel.
The kids menu had stead with corn and mashed potatoes, pretty much our tweens favorite meal.
21 Steps has a nice second-floor view of the village and is pretty reasonably priced. Needless to say it's often packed and reservations are a good idea.
• We also liked Dubh Lin Gate, an authentic Irish bar at the foot of Whistler mountain.
The fish and chips had local cod and a dash of nutmeg in the batter. Rich had a fresh salmon cake, one of several ways to have salmon, with a really good salad that we shared.
The mac & cheese from the kids menu creamy and cheesy and clearly made from scratch.
Tip: Quality kids-menu food always scores extra points in my book. 21 Steps and Dubh Lin Gate both qualify.
• We thought that La Bocca, located at a prime village intersection would offer fine-but-not-great Italian. We were pleasantly surprised.
The special for the day was brazed bison cheek over polenta with ratatouille. We shared the last order they had and were lucky to get it. The meat was cooked to the point where it fell apart. The flavor combination was rich and worked really well.
The kids pizza was a plain cheese-and-sauce pie, which is what most kids want in a pizza.
• Ski lodge dining has improved substantially in recent years and the Rendezvous Lodge food court at the top of Blackcomb Mountain is a prime example of this.
In addition to salads, soups and the usual grill menu, you could choose from three kinds of poutine or have made-to-order Thai and Mexican food. There were ample vegetarian and health-conscious items, which I really liked.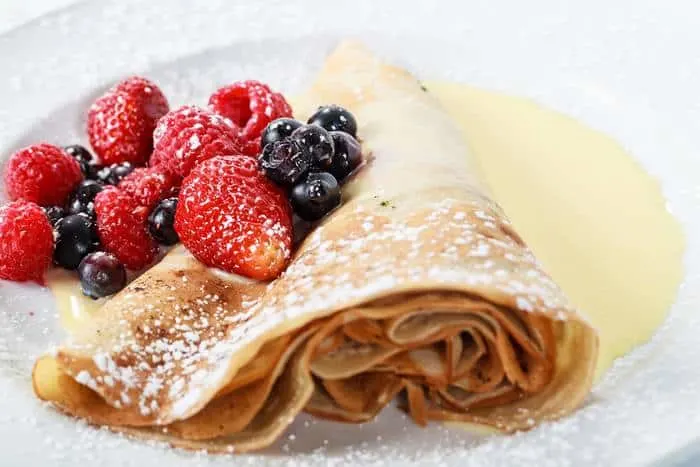 • For breakfast you'll find coffee and pastries easily enough. Take at least one morning for a leisurely breakfast at Crepe Montagne.
Buckwheat crepes come with either sweet or savory fillings. Fresh waffles, egg dishes and exceptionally good croissants are also on the menu.
Practical Information for Your Whistler Vacation
Getting to Whistler
Whistler doesn't have an airport. If you're coming long distance you'll have to fly into Vancouver and then rent a car or take a bus.
Summer Weather
As long as the sun was out it was warm enough for shorts and t-shirts during the day. At night it was Capris or light long pants and a light sweater.
The day it rained we wore jeans and sweaters all day.
Groceries
If you stay at a place with a kitchen, there is a small (not cheap) convenience store in the village. We popped in for breakfast items, beer and chocolate. They had basic groceries and some produce, too.
But if you explore further afield you'll find shopping centers with larger grocery stores and probably better prices.
Tip: If your kids are fans of Kinder Surprise chocolate eggs and your family resents the changes the U.S. has made to the eggs out of "safety concerns," know that you can buy the real Kinder Surprises in Canada.
Be sure to eat whatever Kinder eggs you buy while you're still in Canada. U.S. Customs service will seize any contraband eggs they find you "smuggling."
In theory they can also fine people a few thousand dollars per chocolate egg. That would definitely undo all the fun and the good deal you just had on your Whistler family vacation.
Pin it for later!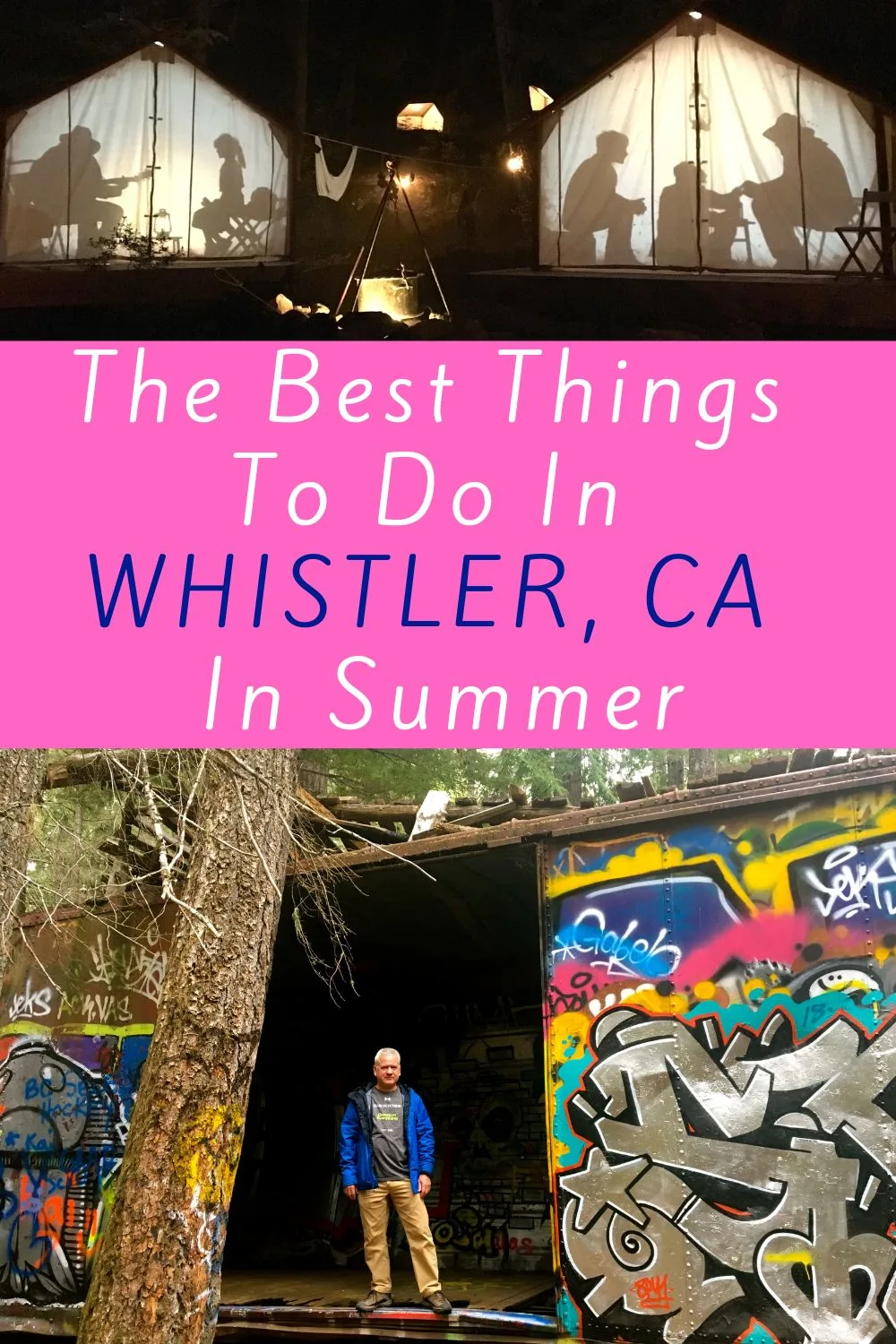 *Visit Whistler sponsored our visits to Valley Lumina, ZipTrek and the ski lifts and Peak-to-Peak Tram. The rest of our stay was self-funded. We did not agree to any particular coverage in exchange for the complimentary admission. Our opinions are always our own.