Sitting adjacent to Aspen in a picturesque mountain setting, Snowmass Village, Colorado has always been a great winter ski destination.
But recent updates to Snowmass a destination for visitors in spring, summer and fall, too. The base village completed a renovation this spring, expanding the lodging options and addingnew activities for kids of every age, and adults, too.
As is often the case with ski destination, visiting Snowmass during the warmer months means lower hotel prices and an abundance of family-friendly festivals. The mountain offers Colorado wildflowers as well
When my family explored Snowmass in the autumn, we found plenty of things to do that we all enjoyed. Here are five great things for families to do during the warmer months in Snowmass.
Read More:
• Fun With Kids on a Fall Weekend in San Diego
• Fun With Kids in Denver
• 13 Horribly Fun Halloween Events for Tweens Across the U.S.
5 Fall Family Activities At Snowmass Resort
1. Free Family-Friendly Festivals
Throughout the summer and fall, Snowmass hosts a series of family-friendly events, and many of them are free.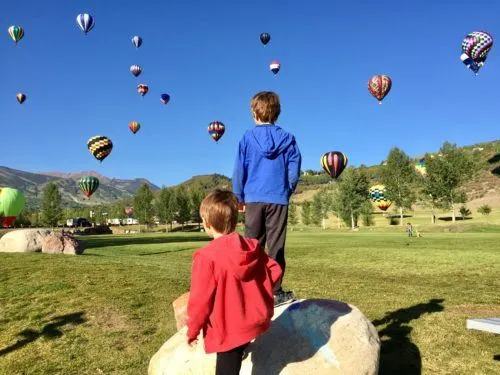 During our weekend visit to the town, we checked out the Snowmass Balloon Festival, Cidermass, and Septemberfest. These festivals are scheduled together with their separate activities scheduled for early morning, afternoon and evening, respectively.
Our kids loved bobbing for apples, bounce houses, and balloon animal artists.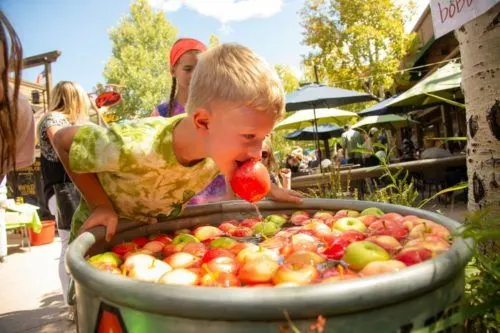 I also enjoyed watching hot air balloons floating against a scenic mountain backdrop in the morning light. And I got to spend the afternoon sampling different local foods and hard ciders.
2. Learn About the Colorado Ice Age
In 2010, a bulldozer operator working on a reservoir in Snowmass uncovered large bones that turned out to be from a Columbian mammoth. Further excavation of the site revealed thousands of bones, including dozens of mastodons.
At the Ice Age Discovery Center, we learned about the "Snowmastodon" discovery and see some of the bones. My kids enjoyed the interactive activities at the small center.
This small temporary center has since closed. But there are plans for a permanent Ice Age museum to open at the Snowmass Base Lodge in 2021.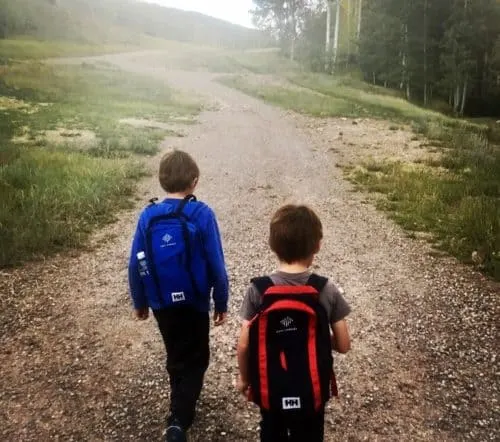 In the mean time, visitors can learn about the discovery on a themed hike. We didn't have time to check it out but I wish we had; it looked fun and particulary engaging for kids.
3. Mountain Adventure Park
A scenic gondola ride up a mountain offers great views of Colorado fall folliage.
Take in the views of the yellow-leafed aspen trees before before heading to the Lost Forest Alpine Adventure Park. The park offers ziplines, climbing walls, a treetops rope course and the Breathtaker alpine coaster.
Elsewhere on the mountaintop you can hike. There is also the Snowmass Bike Park at Elk Camp. It offers nearly g 2,900 vertical feet of purpose-built downhill trails. There's also beginner terrain for younger riders and for teens who wan tto try it for the first time.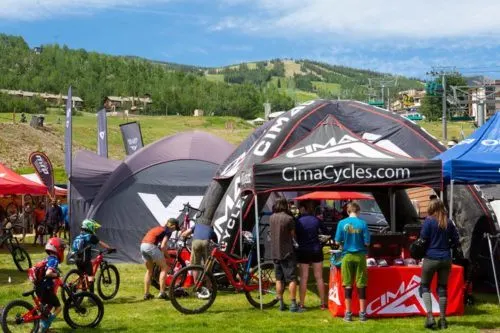 We visited in the early fall, when the weather was still warm and golden aspen leaves were spilling down the slopes.
My kids weren't tall enough for the ropes course or zip line and weren't ready for mountain biking either, though slightly older kids, tweens and teens were loving them. But we all managed to find things we liked to do.
My first grader loved the climbing wall and ven though he didn't manage to catch anything he really liked the fishing pond. You have a clear view of tons of trout, which are fun to watch as you hope they take your bait.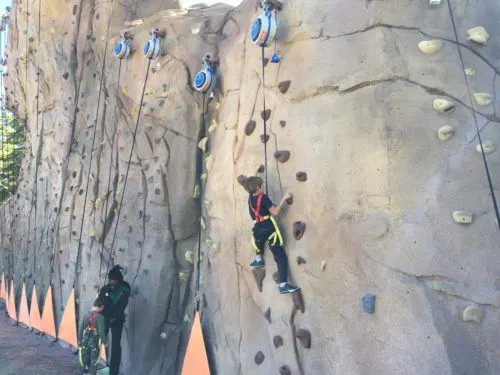 My preschooler kept asking to go back on the alpine coaster, an open-air ride that zipped and curved through the trees. Parents can ride along with smaller riders and control the speed with a handbrake, which I appreciated because I could make it the right amount of exciting for him.
4. Good Snowmass Restaurants With Kids
The the laid-back outdoor vibe at Snowmass means most restaurants are casual and parents can feel comfortable bringing kids to almost any of them. We always saw other families out dining during our visit.
Many restaurants have patios where you can enjoy the colorful flowers and alpine air and kids can sometimes run around a bit while you wait for your meals.
Families can also find good carry-out options for picnics or to take back to your lodging after a long day out.
At the Artisan Restaurant the adults enjoyed seasonal local items ike Colorado Ruby Red Trout, and a kid's menu kept the little ones happy.
We had salads and andwiches for lunch at the New Belgium Ranger Station and warmed up with soups on a cooler fall day at The Stew Pot.
Snowmass Hotels for Families
There are plenty of family-friendly lodging options in and near the village.
We stayed at a condominium at Top of the Village, which offers two, three, and four-bedroom condominium options with plenty of room to spread out.
Book this hotel!
Check reviews and rates for it on TripAdvisor.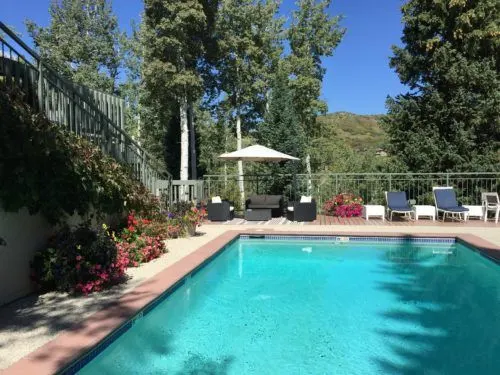 My kids loved swimming in the outdoor heated pool and the hike in/out access where they could explore the trails underneath the lifts.
In the spring of 2019, the Limelight Hotel Snowmass opened, which features a five-story climbing wall and children's game area to entertain the little ones.
Plan Your SnowMass Weekend
Pin it for later!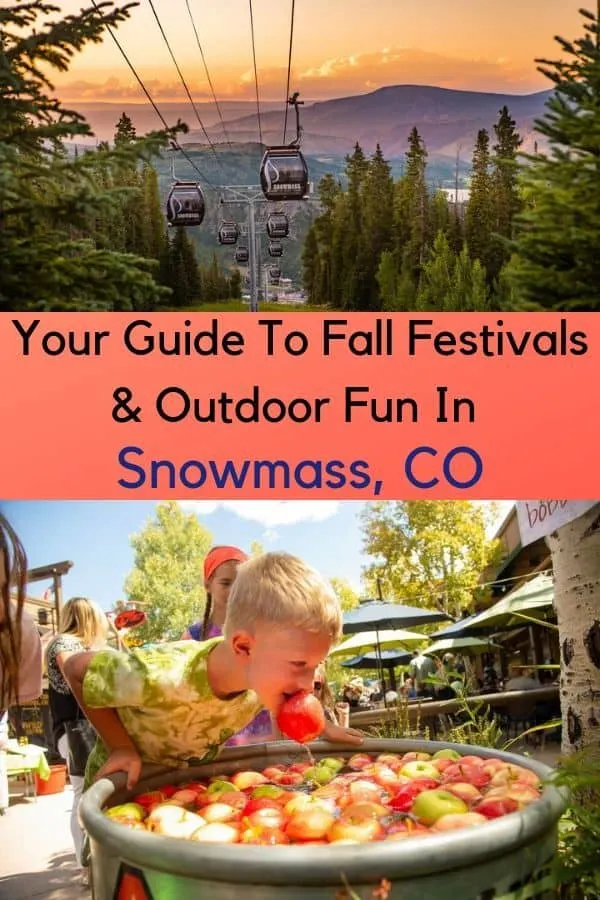 Julie Vick is a writer living in Colorado. You can read more of her work at julievick.com or follow her on Twitter or Instagram.
*Photos courtesy of Julie Vick and Snowmass Village.