Nearly every city has a children's museum. They can save parents' sanity when it's too cold, too hot or too rainy to take your energy-filled kids outside. The Brooklyn Children's Museum certainly helped me out when when Tween Traveler was small.
Sometimes the best children's museum is the one that's nearby. But a few kids' museums are more than just a handy local resource. A handful around the U.S. are essential tourist attractions for vacationing families.
And among those, an even smaller number are destination museums: They are the primary reason you might travel to a particular city for a day or a weekend.
Here are 11 children's museums in top U.S. cities that are too good to miss, according to top family travel writers.
Check one of them out the next time you're looking for a weekend getaway or even a staycation day trip.
Read more:
• Should you get a children's museum membership? Here's my best advice!
• The best U.S. museums for the whole family.
• 11 Top U.S. Zoos for the Whole Family
11 Childrens Museums So Well-Done, Parents Actually Enjoying Going to Them
By far the nation's largest children's museum, CMI easily needs two days for you to explore it thoroughly.
On a recent visit I saw kids from toddlers to teens, and parents, too, engaged and enjoying themselves on a level I haven't seen anywhere else.
The exhibit they are, rightly, the most proud of is the Power of Children. It drops you into the worlds of Malala Yousafzai, Anne Frank, Ruby Bridges and Ryan White to let children discover how their peers have managed to impact the wider world around them. It's unique and very well done.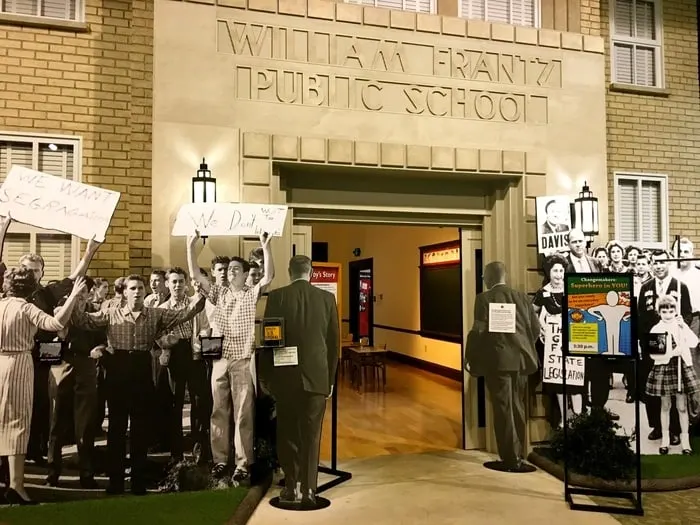 A Take Me There exhibit lets kids explore day-to-life in a modern Athens neighborhood will stay longer. Treasures of the Earth lets parents and kids interact with artifacts from Egypt and China (past Treasures countries) and the Dominican Republic.
There is an enormous new dinosaur exhibit built around findings from a dig the museum funded out West.
Finally, a 7.5 Acre Sports Legends Experience offers kids and teens the opportunity to try their hand at a range of sports on fields and equipment scaled to different ages.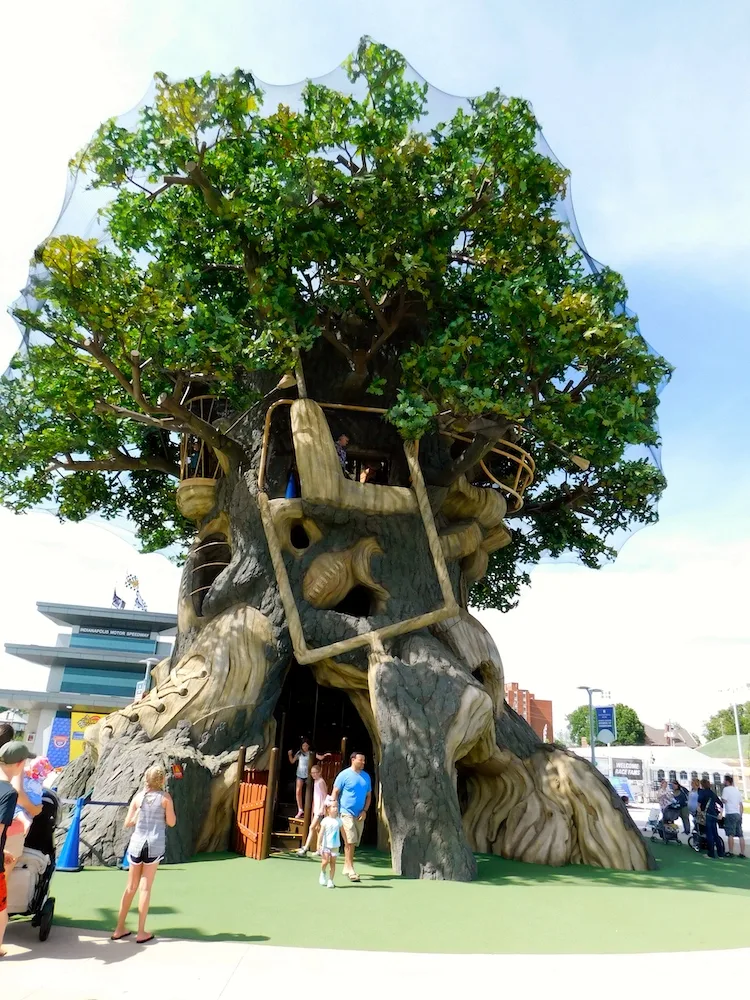 Even less sporty kids like exploring the giant tree made of sports equipment (including a quidditch broom) and teens come in the evenings when you can pay admission for the sports area alone.
Hotel Recommendation:
Most hotels are downtown, about a fifteen-minute drive from the museum.
• Families flock to the Crown Plaza Downtown in the city's former Union Station
At 285,000 square feet, The Strong, is America's second largest children's museum. Kids of all ages can find something to love here.
Young children adore the antique carousel, but it's the imaginative pretend play stations that most captures their interest.
Standouts include Imagination Destination, the Berenstain Bears play station, and Wegmans Super Kids Market.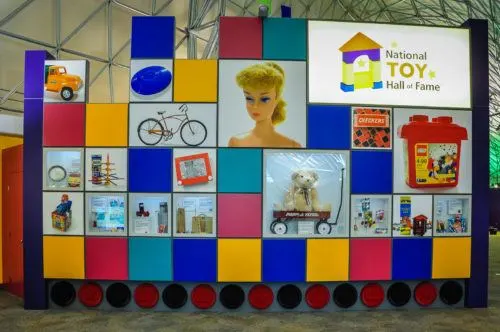 There's also plenty for older kids and kids at heart too. The World Video Game Hall of Fame features all kinds of electronic games, from arcade classics to mobile apps. Yes, you can play them all.
The Strong's National Toy Hall of Fame showcases some of the most beloved classic toys of all time.
— By Sandra Foyt of Albany Kid
Hotel Recommendation:
The museum recommends Strathallen Doubletree Hotel & Spa because of the roomy rooms and suites, free parking and rooftop bar, not to mention the indoor pool.
Read More: 4 More Things to do in Rochester with kids
This is perhaps the only children's museum I've visited multiple times, entirely willingly. The space, a large federalist style building, is beautiful. Features like kid-size interactive Alice's Wonderland entice parents and kids alike.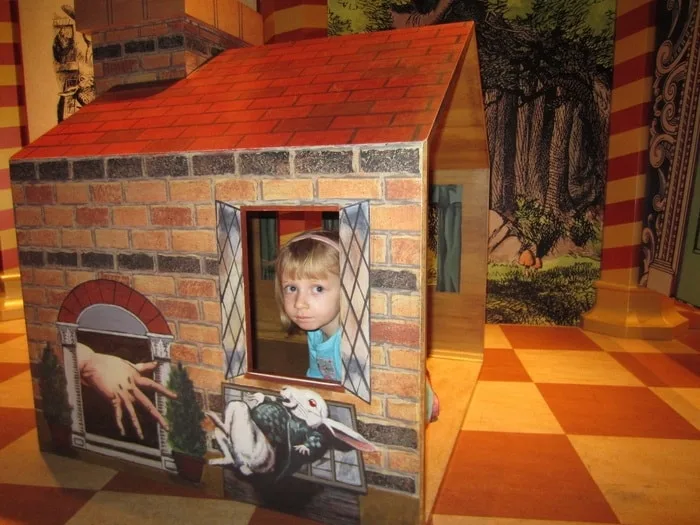 There is an enormous indoor carousel and science rooms where kids can move balls with construction cranes, make rockets fly and more. The new Cents and Sensibility exhibit teaches kids about earning, saving, investing and spending money.
The café is better than most with some made to pasta and fresh salads. I appreciated this since the museum is a bit off the beaten path with nothing around it.
Hotel Recommendation:
The Museum is about a 15-minute drive from historic district, where many hotels are.
The Logan Philadelphia is on Logan Square, near most of the other major museums/ It has a nice pool, popular restuarant and valet parking. And it's a quick drive to Please Touch from here.
Read More: What to See and Eat in Philadelphia With Kids
Starting off with the giant bottle of Hood Milk outside, it is clear this harbo-rfront museum is for kids. Its three floors will engage kids to a somewhat older age than many kids museums.
It may be hard to lure your kids out of the three-story New Balance Foundation climbing structure that starts in lobby so save it for the end. There are so many exhibits that you just can't miss.
Younger kids will love the Bubbles area where they can blow and play with bubbles big and small.
Our family favorites also included the Construction Zone, Arthur and Friends, building with KEVA planks, and pretend play in Boston Black.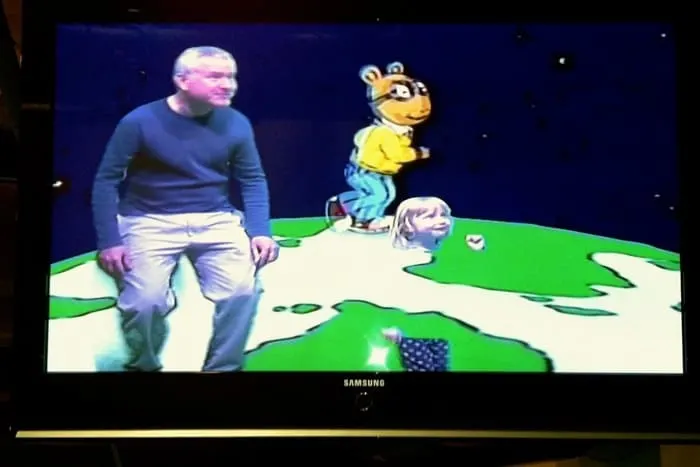 Boston Black is designed to open a dialogue about race, ethnicity, and community, but kids just see it as getting to shop, dance, and play.
Don't leaving without seeking out the Japanese House. It is tucked away on an upper floor but stepping inside this two-story silk merchant's home and exploring the highlights of Japanese life is like being transported to Kyoto.
— By Tamara Gruber. Read more about Boston on We3Travel
Hotel Recommendation:
The Boston Harbor Hotel is a short a walk from both the museum and the North End, Boston's Italian neighborhood that's full of family friendly dining
Read more: Top Things To See, Eat & Do in Boston With a Tween
This museum is conveniently located in the heart of downtown Chicago on the coloorful Navy Pier, making it easy to combine it with other activities. Just be aware that there are so many hands-on activities you can spend several hours here.
Inside the museum, kids will enjoy the dinosaur dig, art studio and climbing schooner.
The Tinkering Lab allows kids to built and create while the Waterways exhibit has water tables where kids can splash and play. (Beware, they will get wet!)
Kids 10 and under will appreciate everything this museum has to offer, and older ones can probably enjoy it for an hour or so.
— By Kirsten Maxwell. Read more on Kids Are a Trip
Hotel Recommendation:
The Sheraton Grand Chicago is on the river and near both Lake Michigan and the Navy Pier, where the museum is. It also has a good size pool and a burger joint with river views.
Read More: Top Local and Tourist attractions in Chicago,
plus my review of the Chicago Loews hotel.
6. The City Museum in St. Louis, MO
This space sparks wonder in kids and never feels to draw in adults as well. It's not a traditional kids museum or an art museum.
It's an artistic playground where the majority of pieces are made out of repurposed architectural pieces and household items collected from different cities.
Abandoned airplanes, a bank vault and old chimneys are among the items that create this chaotic artsy fun-house.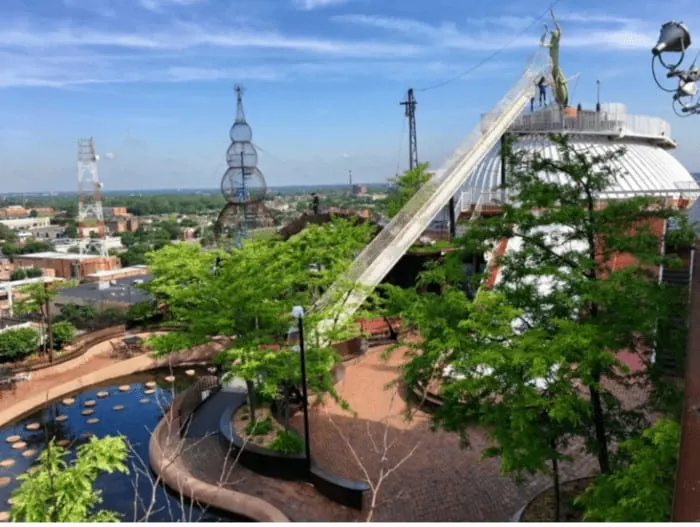 City Museum was created by artist Bob Cassilly and is ever-changing. Artists and engineers constantly create new exhibits and enhancing old ones.
Families can discover a secret passage, slideg down a ten-story slide, snake their way through caves and caverns. Play vintage pinball machines and make fanciful paper animals in the art studio.
Portions of City Museum are outdoors and seasonal. The rooftop is home to a Ferris Wheel, a giant praying mantis and a precariously placed bus. Admission to the rooftop is separate from the rest of the space.
There are things here for toddlers to explore, but to get the most of your experience I would recommend for children four and up. Kids old enough to explore on their own a bit will especially like it as much as younger kids but in a different way.
— By Stephanie Taleghani at Consistently Curious
Hotel Recommendation:
The Drury Inn St. Louis at Union Station offers all the extras that make this chain popular with families. Enjoy an indoor pool and hot tub, free breakfast, afternoon popcorn and an evening happy hour with free drinks and appetizers. It's just a few blocks from the museum and close to other attractions.
This inteactive space is one of the best things to do in Pittsburgh with younger kids.
We have visited several times and our kids never want to leave. They create art projects in the multimedia art studio and design woodworking or circuitry projects in the Makeshop.
I love that all the needed materials for elaborate projects are available, clean up is easy, and museum guides help walk kids through each step.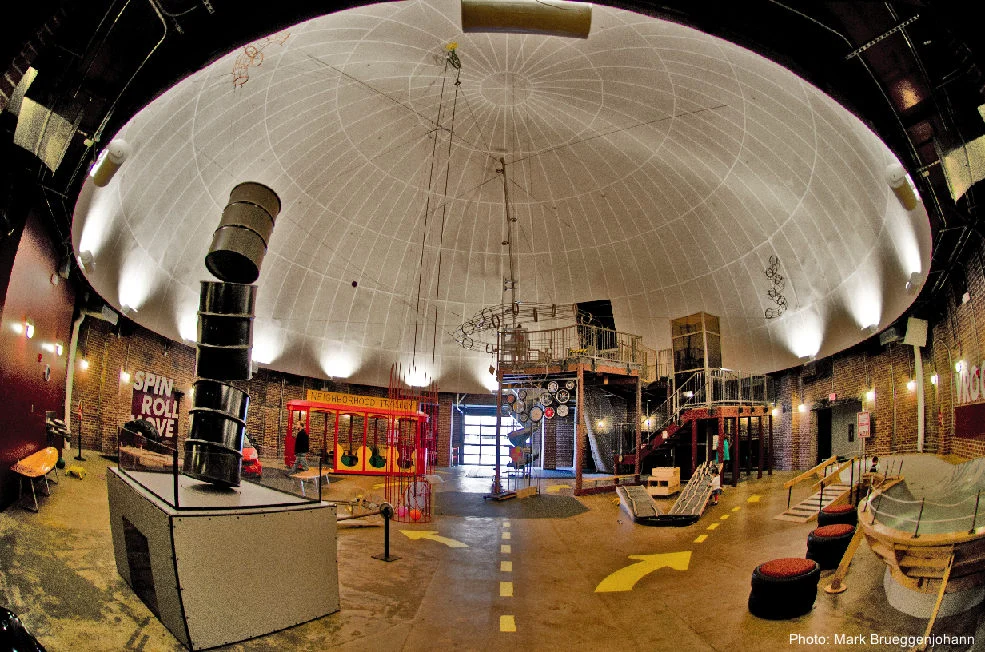 Theres' also the usual waterplay area, memorabilia from Mr. Rogers Neighborhood and a two-story climber.
This kids musuem is very much geared for kids eight and under but a new MuseumLab offers art, tech and learning projects for kids 10+, giving them something to do when they accompany younger siblings.
— By Catherine D'Cruz. Read more on We Go With Kids
Hotel Recommendation:
Hyatt Place North Shore offers free breakfast, an indoor pool and roomy rooms with a partial room divider between the bed and a living area with a pull-out couch.
Read More: An Easy Pittsburgh Weekend With Kids
This amazing space has 90,000 square feet of exhibits that work nearly as well for tweens as they do for preschoolers and young children.
My tweens loved STEM-themed areas like the Invention Convention, How Does It Work, PowerPlay and Flow Works.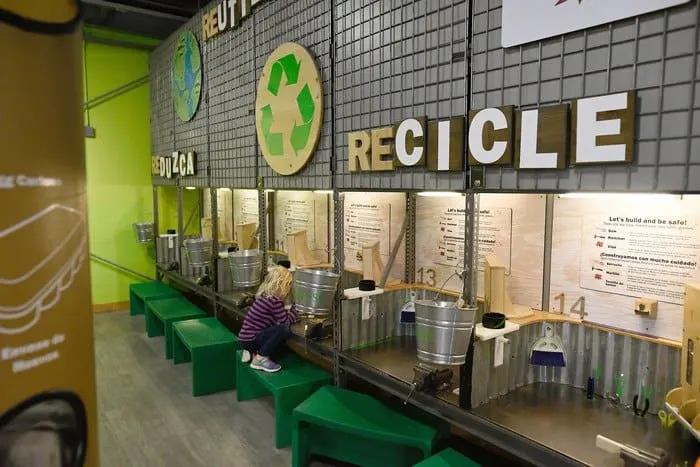 Their absolute favorite activity was Kidtropolis, a city for kids. It features a simulated economy where they can earn money doing jobs and then spend it.
Job opportunities including working at a vet clinic, news station, diner, bank, and shipping store. Bank cards store the money kids earn so they can go shopping at the grocery store.
The register scans the wide variety of food options and deducts the total spent from their account.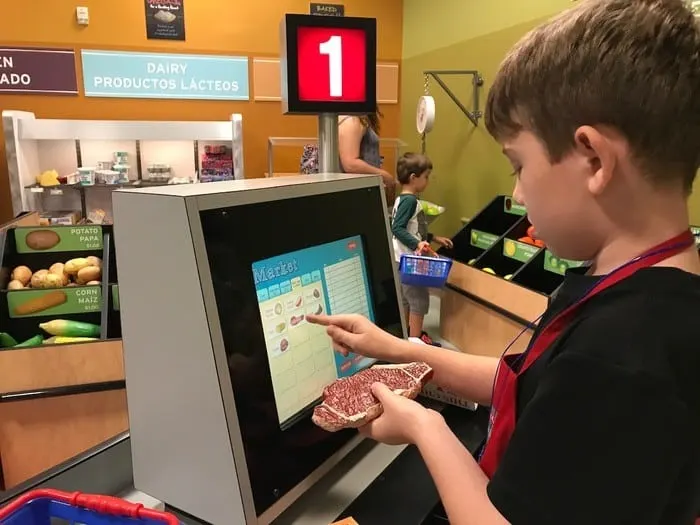 We had to drag them away to experience the rest of the very large museum and they begged to go back when we left. Allow several hours to explore the museum but your kids could easily spend all day there.
— By Karen Heffren. Read more on Desert Chica
Hotel Recommendation:
The Hotel Zaza Museum District sits on the corner of enormous Hermann Park Museum District, where the Children's Museum is.
A boutique hotel with themed suites, stylish rooms and an outdoor pool and patio, it will please kids and parents.
This is one of our favorite museums in the country!
Our favorite part of the museum is the Assembly Plant exhibit, where kids can create whatever they can imagine using reused itemss. Kids can work with tools that are their size learn how to safely use hammers and nails.
We also love the awesome art studio, where kids can paint add their own paint colors to a giant buffalo. There are also art projects throughout the day, so be sure to stop in!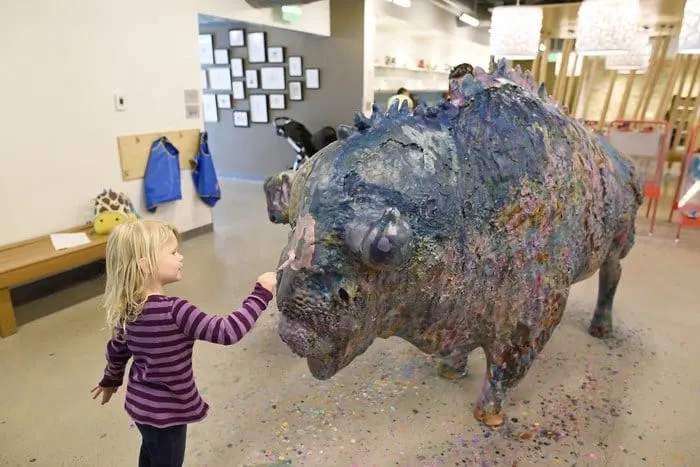 The pet hospital and restaurant are also huge hits with my daughter.
If you come during warmer months, there is an awesome outdoor space with a river-themed splash pad, zip line places to dig, a play farm and more (bring a change of clothes for the kids).
If you have a little climber on your hands check out the Altitude exhibit, where kids can climb three stories up for some amazing city views! There's also a fire truck, bubbles exhibit and market.
— By Maggie Alexander of Milana's Travels
Hotel Recommendation:
The Embassy Suites Downtown is one of a cluster of hotels around the convention center. Like all Embassy Suites, itoffers rooms with separate sleeping and living areas, refrigerators and microwaves.
There's also free breakfast, an indoor pool and hot tub and a small 24-hour convenience store. You can easily walk to nearby restaurants for dinner.
Read More: 10 can't miss things to do in Denver with kids
Next door to the Portland Museum of Art, this space is the perfect rainy day spot on a Maine vacation.
This is a totally hands-on learning environment that even parents will enjoy, but yes, there are plenty of spots for mom and dad to sit if they need a break.
In the center of the first floor there is a fenced off area just for infants and toddlers so they don't get trampled by the bigger kids.
This is perfect for parents with children of multiple ages. No need to move around with the baby; you can stay put in a place where baby can crawl around safely while your big kids go have their own fun.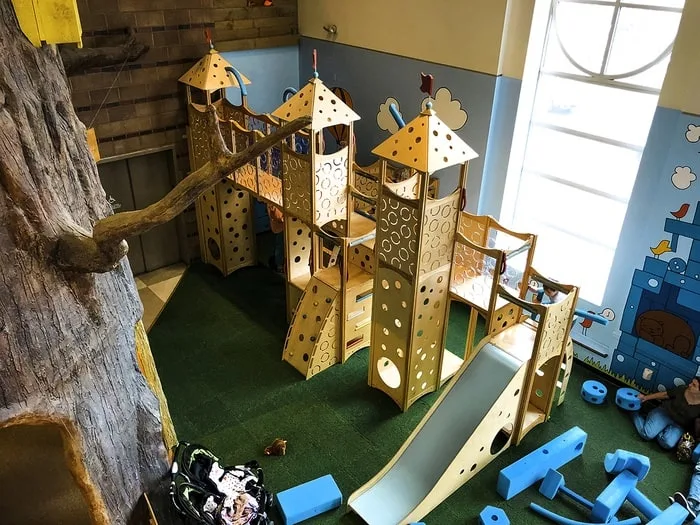 Exhibits around the museum include a tide pool touch tank, outdoor space with sand and water play, reading nook, space shuttle and fire truck.
There's also Discovery Woods with a kid-sized rock-climbing wall, town play spaces (post office, market, etc.) and Playscape where kids can climb, build, slide and crawl their way to exhaustion.
It's best for children under 8 years old, but even kids as old as 10 will find something to keep themselves entertained with for a few hours.
If you don't have to worry about nap times, after lunch is when it is quieter and you will find fewer crowds.
— By Keryn Means. Read more on Walking On Travels
Hotel Recommendation:
We were surprisingly pleased with the Hilton Garden Inn Downtown Waterfront. It was more stylish than we expect from this particular brand. It has harbor views and a small pool. And it's surrounded by great downtown dining.
This is a small museum but makes the list because I've never been to another museum like it, we spend many rainy and winter days here in Teen Traveler's younger days.
The center of the museum is the large art studio that feature two new art projects every week, themed for the seasons, holidays and more, that kids can do at their own pace. Tiny Traveler made Brigid's crosses for St. Patrick's Day on one visit, pipe cleaner statues on another and paper ties around Father's Day.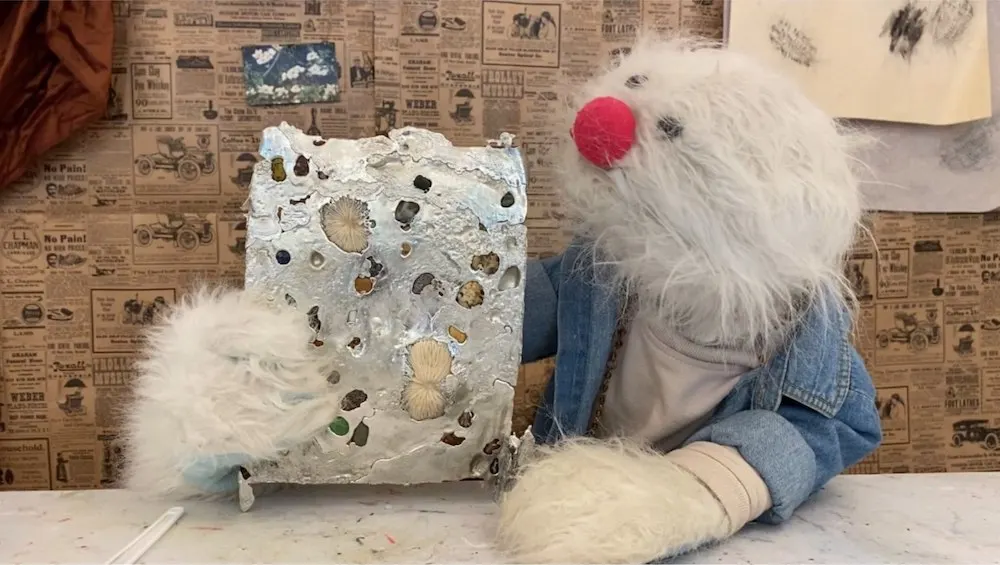 There is a sound studio, media lab, clay bar, and an art studio just for under 5s with crafts and building toys. A hallway with rotating guest art installations leads to a room full of giant Imagination Playground building blocks.
The clay bar is often busy. If you can't get a seat just ask for some clay and your child can do some molding wherever they want to sit down.
Hotel Recommendation:
For quality hotel amenities, spring for the nearby Millennium Downtown, which offers an indoor pool and easy access to subways, financial district restaurants and shopping and the string of parks that stretches along the Hudson.
But I often encourage families to rent an apartment through VRBO so they can have more room, save a little and have the advantages of a less hectic residential neighborhood.
Read More:
• 10 Lesser Known NYC Museums for the whole family
• The 22 Most Delicious Desserts in NYC
• 5 Top Things To See, Do & Eat With Little Kids in NYC
Pin it for later!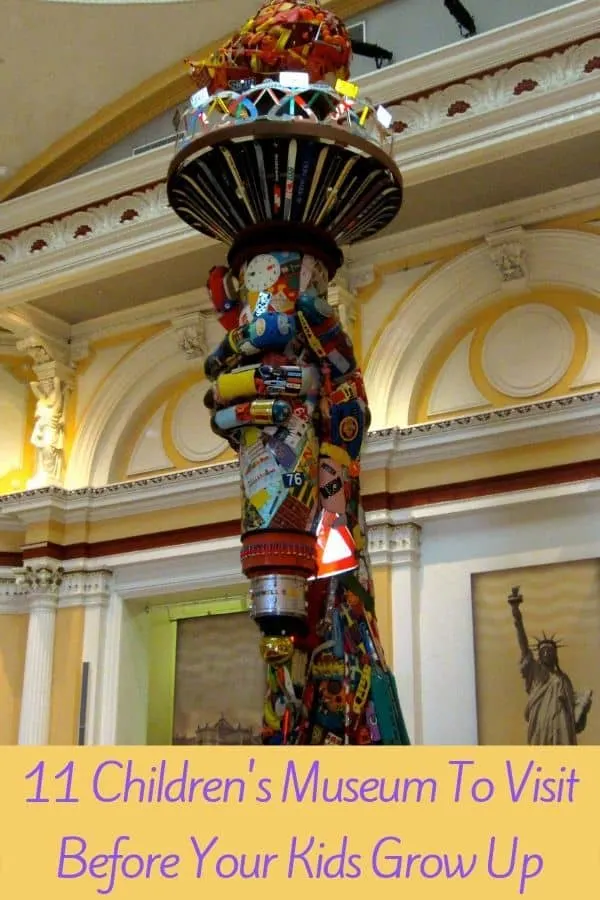 Photos are courtesy of Albany Kid (Strong Museum), the City Museum, Walking on Travels (Maine), Milana's Travels (Denver), Desert Chica (Houston) and We Go With Kids (Pittsburgh). All other photos by FamiliesGo!©