The Finger Lakes region of New York offers an ideal combination of museums, outdoor activities, and yummy local food, wine and beer.
For a family that enjoys hitting a museum in the morning and hiking in the afternoon—with lunch at a microbrewery in between—it's the perfect destination.
We recommend a week to thoroughly explore the region's several towns and lakes, but you can see quite a bit on a long weekend if you focus on one or two areas.
Here's some of what we managed to do in five days with additional insights from writer Cat Jordan, who spent her own long weekend in the region with here family:
Read More:
• The Harbor Hotel: Finger Lakes Luxury For Families
• The Best Family Weekend Getaways From NYC
• 8 East Coast Places For Prime Foliage & Fall Family Fun
Where To Stay Finger Lakes Hotels
2 Watkins Glen & Corning Hotels
The Harbor Hotel in Watkins Glen was a pleasure to stay in. And I'd book it again in a heartbeat.
It had bright rooms with a nautical blue and white color schemes and a gorgeous patio where you can sip a glass of local wine suggested by the friendly bartender. The pool was small and cold, but that's a quibble. Despite a stylish wine-country vibe it was definitely kid-friendly.
The patio, with its lake views and evening fires was the sort of place where you instantly feel relaxed. Despite the wine-country vibe no one looked askance at us for having a young child there with us.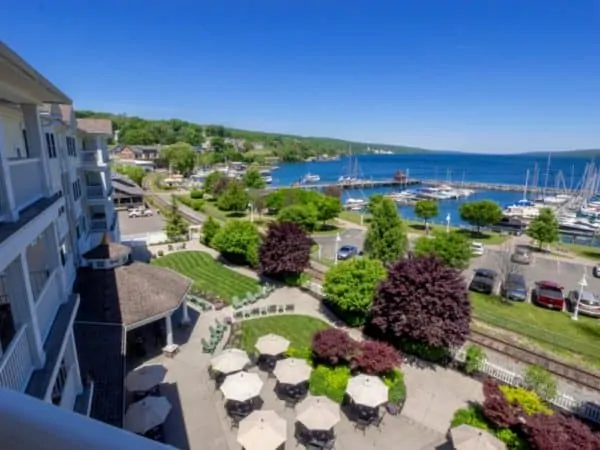 Watkins Glen is a good base for the hiking, lake activities and for the winery and farm visits you can do nearby. But steer clear of it when auto racing is happening at the Watkins Glen track. This tiny town packs out.
Given the presence of Corning Glass and CMOG we expected more hotel choices right in Central Corning. We stayed at a Radisson, which is not my favorite chain. The ones we've stayed in all seem overdue for some updating.
This one's biggest selling point is that it's both inexpensive and right in town, steps away from all the restaurants and shops and walking distance from the museums.
It has an indoor pool that was freezing, and the only hot tub is outside, which doesn't make sense in a region where it can snow from October to April.
Some of the decor seemed dated but the rooms are fine. And the restaurant is known to have more of a locavore sensibility than hotel restaurants often do.
Stay on a Farm
More than anywhere else in the Finger Lakes, Ithaca was doing the farm-to-fork thing long before it was hip Several of the restaurants we ate in prioritized local ingredients wherever they could.
Naturally, this is a great place to do a farm stay.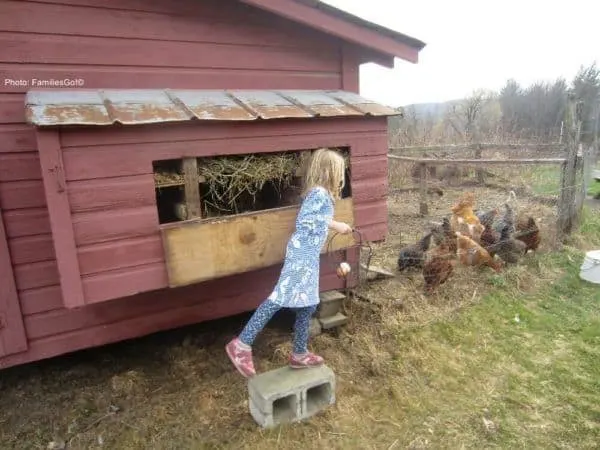 We spent two nights in the guest cottage at Rosebarb Farm just outside of town.
On our first morning we had a breakfast of eggs Tiny Traveler had collected from the hens the day before, the farm's own apple juice and berry compote, and local yogurt and bacon.
In season, guests can sample fruit from the farm's berry bushes and fruit trees. Tiny Traveler loved having our own cozy little house, especially when she found a cabinet of toys and games for guests to borrow.
Rosebarb often books up for the summer so call far ahead. Visit Ithaca lists other guesthouses and B&Bs on farms, too.
---
More Planning Help
VRBO has more farmhouses to rent in the Finger Lakes.
Explore more Finger Lakes hotel options on Trip Advisor.
---
Plan This Fun-And-Food-Filled Finger Lakes Weekend With Kids
1. Drive on a Race Track
On opening weekend at Watkins Glen International racetrack, anyone can drive 3 laps around the track in her own car for a $25 fee. How cool you think this is will depend on how much of a racing fan you are.
Feeling our Matrix hatchback straining against the turns at only 70 mph gave us new appreciation for the rigors of auto racing.
Tiny Traveler wondered why we were driving more, got bored and stuck her nose in a book, which was a bad idea. Do not take a 6-year-old who tends to get carsick to drive around a racetrack. And definitely don't let her read if you do.
2. Make Some Glass
The Corning Museum of Glass is one of the coolest museums I've been to. One gallery explores the art of glass making, displaying items from throughout history (including a pair of real glass slippers!).
A science gallery has hands-on exhibits that show the many neat things glass can do. The thing Tiny Traveler was most looking forward to, and talked about the most afterward, was glassmaking.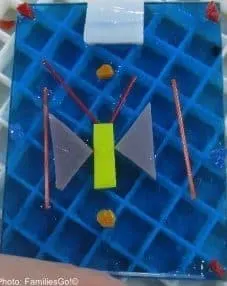 Tiny Traveler made a fused-glass nightlight, I made a clock and Rich did a blown Christmas ornament. The prices, $20-$29, were reasonable for a unique experience and beautiful souvenirs. Five years later we still have them all.
---
CMOG: Fabulous in every way
CMOG added an entire new wing since Eileen visited, with MOMA-inspired style. Beautiful works of art in glass fill a serene white-walled gallery.
There are live glass making demonstrations in a state-of-the-art theater, science areas about glass in telescopes and a Pyrex exhibition (Corning Glass Works created this houshold item in 1908).
We also loved that you can book an appointment to make your own glass. The kids blew glass (center photo above) to make their own ornaments and us parents wielded some heavy tools to create glass flowers. — Cat Jordan
---
3. Ride a Horse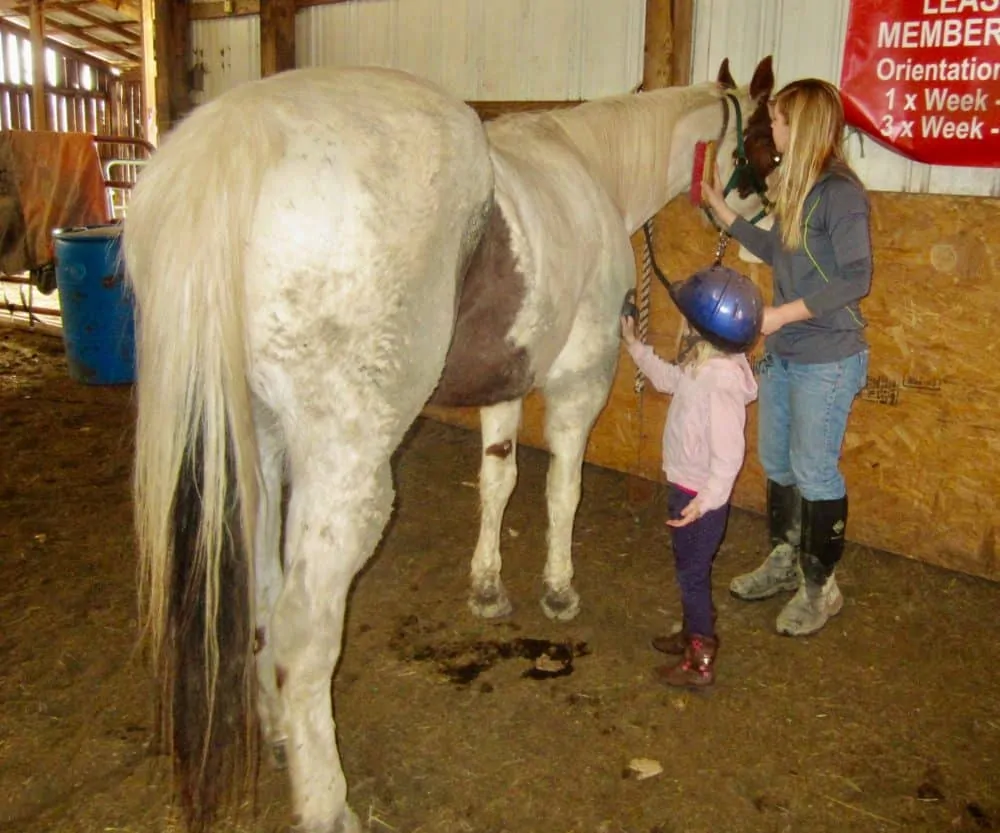 At Painted Bar Stables outside of Watkins Glen we rode up and down hills, through tall grass and across streams on a the most challenging and fun trail ride I've ever been on. It's definitely not your typical nose-to-tail walk on a horse.
Kids have to be at least 8 and I wouldn't take a child who hasn't been on a horse before.
While Rich and I rode, Tiny Traveler took a lesson, groomed her horse and hung out with the stable staff until we got back.
4. Visit Some Finger Lakes Wineries
You might wonder about taking kids to a tasting room, but a casual attitude toward kids isn't uncommon in the region's wineries.
We dropped in to a tasting room outside of Ithaca on a day the weather was bad. We played a card game while sampling our flight of wines and the staff was fine with that. Some wineries have cafés and outdoor decks, so you can combine your wine tasting with lunch or dinner, a kid-friendly way to do it. Some keep fresh grape juice on hand for kids.
---
More Wine Tasting
We drove up to and along majestic Seneca Lake d the lovely Torrey Ridge winery was a welcome rest stop.
The owners Paul and Stephanie were lovely. They talked to us about their winemaking processes, let us taste some of the white wines the region is known for, and gave the kids some local grape juice for tasting too.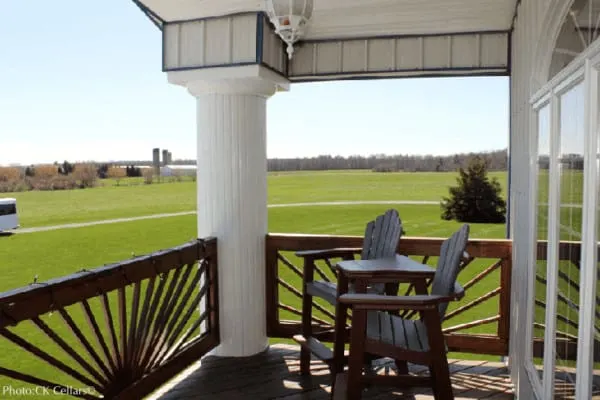 Mead and Cider are all the rage among hip Brooklynites right now and this is where a lot of it comes from! So we tried some of these as well.
With a huge stretch of grass and space for picnicking this winery is definitely kid friendly. I got the impression they are hoping to make it even more so. — Cat Jordan
---
5. Tour the Rockwell
If you are interested in exploring the many ways the American West has been depicted in art, this is the Rockwell is the museum for you.
It has a nice family room, where young kids can do art, play with puppets and curl up with a parent in a reading corner. On school breaks, they often have specials art projects in their learning studio.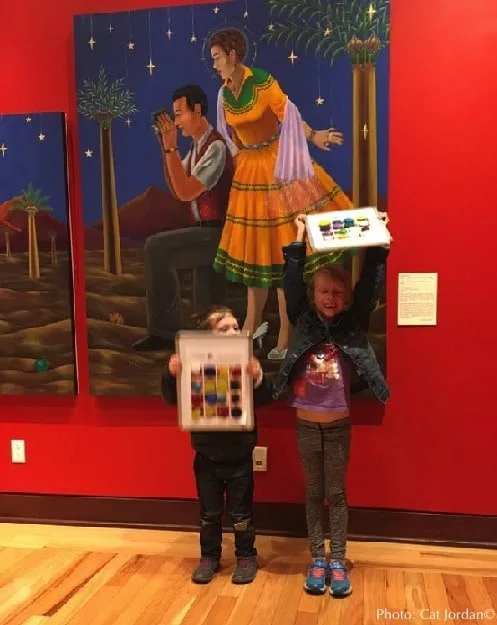 In the main museum, younger kids can follow a scavenger hunt through the gallery and older kids can borrow an activity pack with a spyglass and games to help them interact with the art.
Tiny Traveler liked the Art Hunt, but the American West doesn't hold the high place in pop culture it once did and she didn't have a context for understanding the art. (The photo above is Cat's kids showing off their completed scavenger hunts.)
The museum is probably better for older kids and teens who have learned some American history and maybe seen a few westerns or least have read Little House on the Prairie.
6. Explore Nature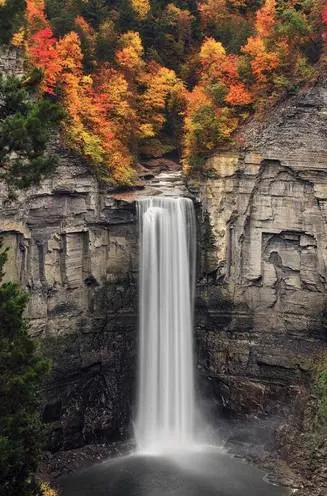 There are a lot of great hikes all across New York State. One of the most popular is a few minutes outside of Ithaca. In Taughanok State Park a towering waterfall is your reward for a flat, easy mile-long walk .
In early April we found huge ice boulders and piles of slate, which Tiny Traveler was delighted to discover she could draw on. We also went wading in ankle-deep parts of the stream that flows from the frigid waterfall.
Be sure to check out the overlook above the falls and look for a good size playground in a lakefront park across the road from where the waterfall trail begins.
7. Hit the Cornell Campus
There is a lot to do on the sprawling Cornell University campus.
The Plantation is a well-curated botanical garden. On the cliff above it is the Dairy school, where you can sometimes see milk being bottled.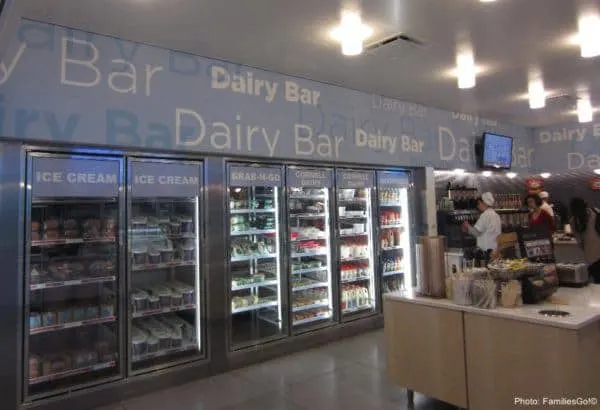 The Dairy Bar is to blame for Cornell students gaining the freshman ten (or 20). Stop by for student-made ice cream, which is really good. We chose one blackberry cone and fought over it. They sell milk, yogurt, cheese and cheese curds, too, so bring a cooler!
We didn't love the collections on display the day we visited the free Johnson Art Museum, but the views from the top floor make a visit worthwhile. It's a small museums and the galleries change frequently so it's worth peeking in.
Across the road from the museum is a suspension bridge and walking trail that leads through some of Ithaca's famous gorges.
8. Learn Some Science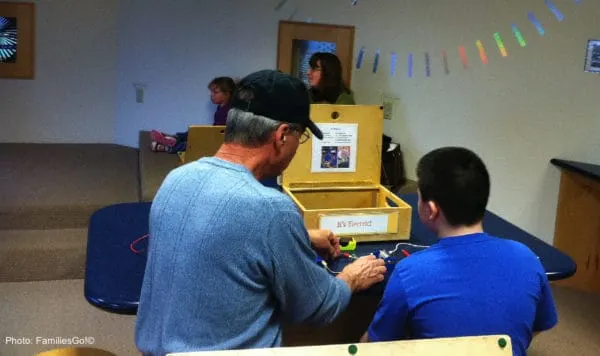 The Ithaca Sciencenter in Ithaca is more of a science-themed kids museum than a full on science museum, probably best for the 3-to-7 set.
One of the best things is a room where you can borrow kits that let you experiment with electricity, colors, finger printing and more. This is a good place to take older kids who are coming with younger siblings.
We also liked the musical staircase and spent quite a while experimenting with air pressure and ping-pong balls.
But several other exhibits weren't enough to hold Tiny Traveler's attention. It's not a must-do in a town focused on the outdoors, but it's a handy rainy day option.
The Jordan family also enjoyed the Soaring Museum, which explores the history of engine-free flight and has a collection of gliders.
If they'd had time, she and her husband would have liked to explore some of the Mark Twain exhibits around the area, too (thought again, it helps to have kids along who have read some of his books).
9. Get Dirty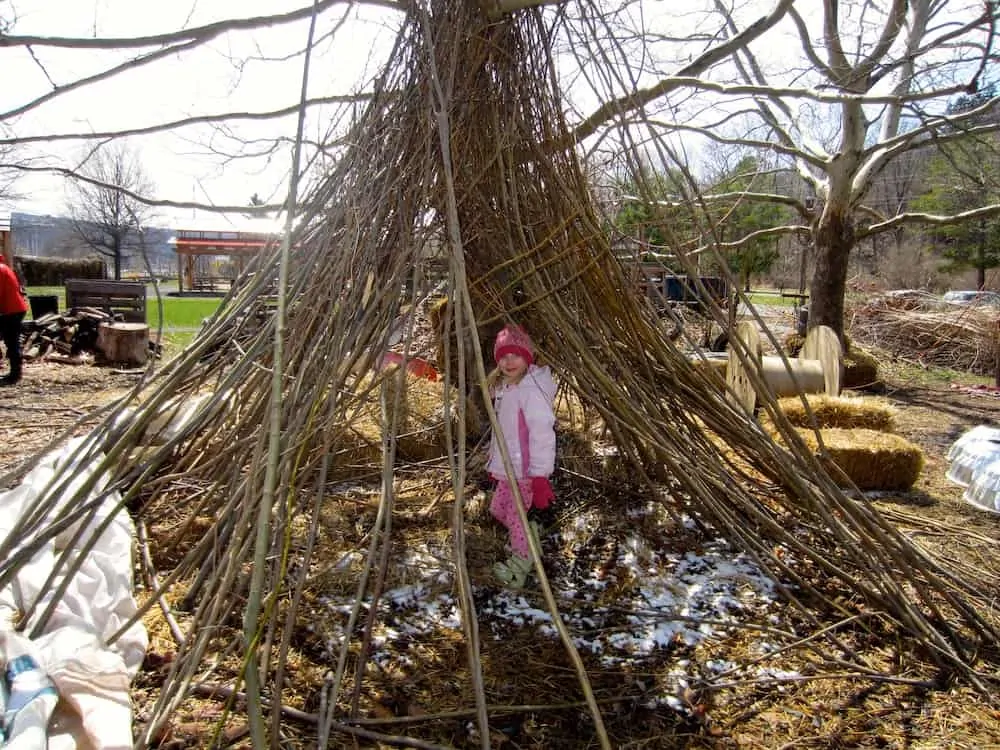 Driving into Ithaca from Taughanok, look on your right for a giant stone turtle.
This is the Ithaca Children's Garden, a unique play space where kids make forts out of sticks and hay bales, swing on ropes slung over tree branches and splash in water and mud piles (bring extra clothes and shoes or boots that can get wet).
In summer there is a camp and garden that sells its own produce. Even on a cold day, we had to drag outdoorsy Tiny Traveler away from it.
10. Drink Local Beer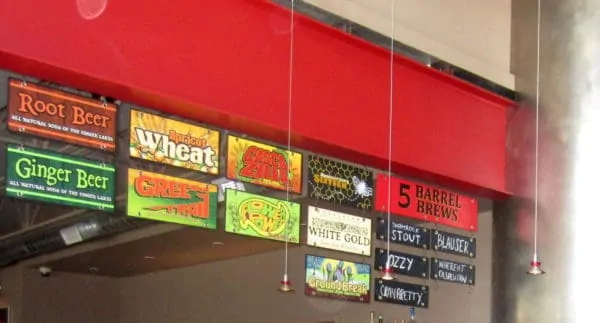 Ithaca Beer Co. is doing very interesting things with beer, often combining European brewing styles with American flavors, like a Belgian-style sour beer made with cranberries.
Much of the very good bar fare, including the kids' hot dog, is local. On a nice day sit outside and let your kids explore the garden and romp on the huge field while you enjoy a pint.
11. Eat Local Ice Cream
I told Tiny Traveler we would eat ice cream every day we were in the Finger Lakes and we found good local ice cream almost everywhere.
The best was at The Colonial Inn, an ice cream shop and B&B in Watkins Glen with a luscious honey vanilla. This was my favorite of all the ice cream we ate.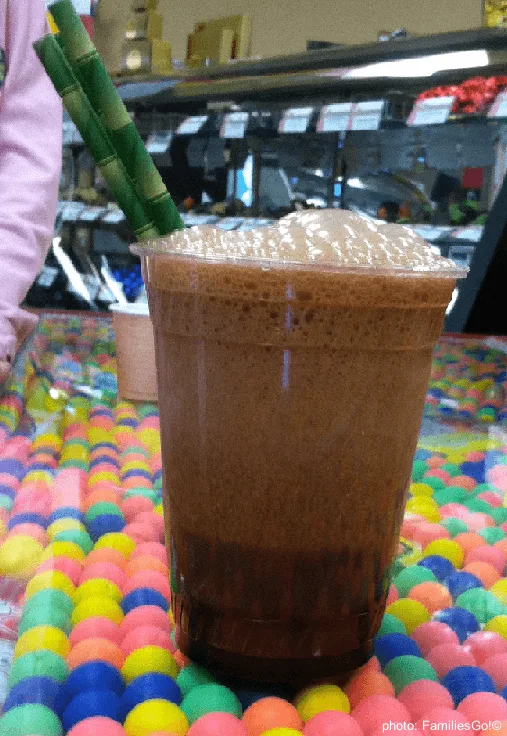 In addition to going to Cornell's dairy, We had creative floats, shakes and phosphates at Life's So Sweet, a chocolate shop and soda fountain near the Ithaca Commons.
My favorite mix was pineapple soda with coconut ice cream. Tiny Traveler liked the cherry phosphate (like soda but homemade and with more sophisticated flavors). Being Brooklyners, we all liked the chocolate egg cream (chocolate syrup, milk and seltzer for non Brooklyners).
If you have time and a good appetite, ask for the soda fountain sampler to share.
In Corning Dippity Doo Dahs, the popular spot in town for housemade ice cream, was closed for the summer. Which was too bad. We would have loved to try their caramel latte and s'mores flavors.
Practical Information
Finger Lakes Restaurants
Ithaca is the biggest town with the most to offer in terms of hotels and dining. Our favorite meal of the trip was probably or dinner at the Northstar Public House, which our Rosebarb hosts recommended.
It's a gastropub with a very strong locavore mission. Expect regional wines, beer, cider and spirits and lots of seasonal produce in both the food and cocktails, like a strawberry rhubarb sangria in late spring.
The menu itself is upscale pub with fun items like a daily mac & cheese, fish & chips with housemade remoulade and a good burger as well as larger entrées and great desserts with local fruit.
Watkins Glen itself is small but what it has to offer in terms of food. You'll find solid pizza, Mexican and pubs with food. For something a little different head to Wildflower, a gastropub where you can get your burger with chimichurri butter or buffalo wings that are charred instead of fried.
At Glen Mountain Market we found great muffins and breakfast sandwiches with bread from its own bakery.
Corning is between the two size-wise.
There are plenty of restaurants along Main Street, but when it's not peak summer season some keep shorter hours or close. We couldn't try some of the places we most wanted to, including the Cellar wine bar and Market Street Brewing, to explore more local beer and wine.
Where Are the Finger Lakes?
The Finger Lakes run north to south in central New York. Ithaca is a bit more than four hours from New York City, Philadelphia, Ottowa and Toronto. it's five hours from Boston and Pittsburgh, making it a destination for a longer weekend. It's only two-and-a-half hours from Buffalo and an easy quick getaway from most of the cities in Upstate New York
Finger Lakes Weather
Central New York gets more severe weather than the coast. Expect temperatures five or ten degrees cooler than New York City in summer, with a bigger temperature drop at night. Winter is cold and snowy (not the ideal time to visit).
Spring and fall are absolutely lovely but the weather can change drastically from day to day. During our Apral visit we were hiking in short sleeve shirts one day and it snowed the very next day. Looking at the forecast, we knew to pack for both scenarios. Don't feel silly packing t-shirts, capris, corduroys and snow boots.
Pin it for Later!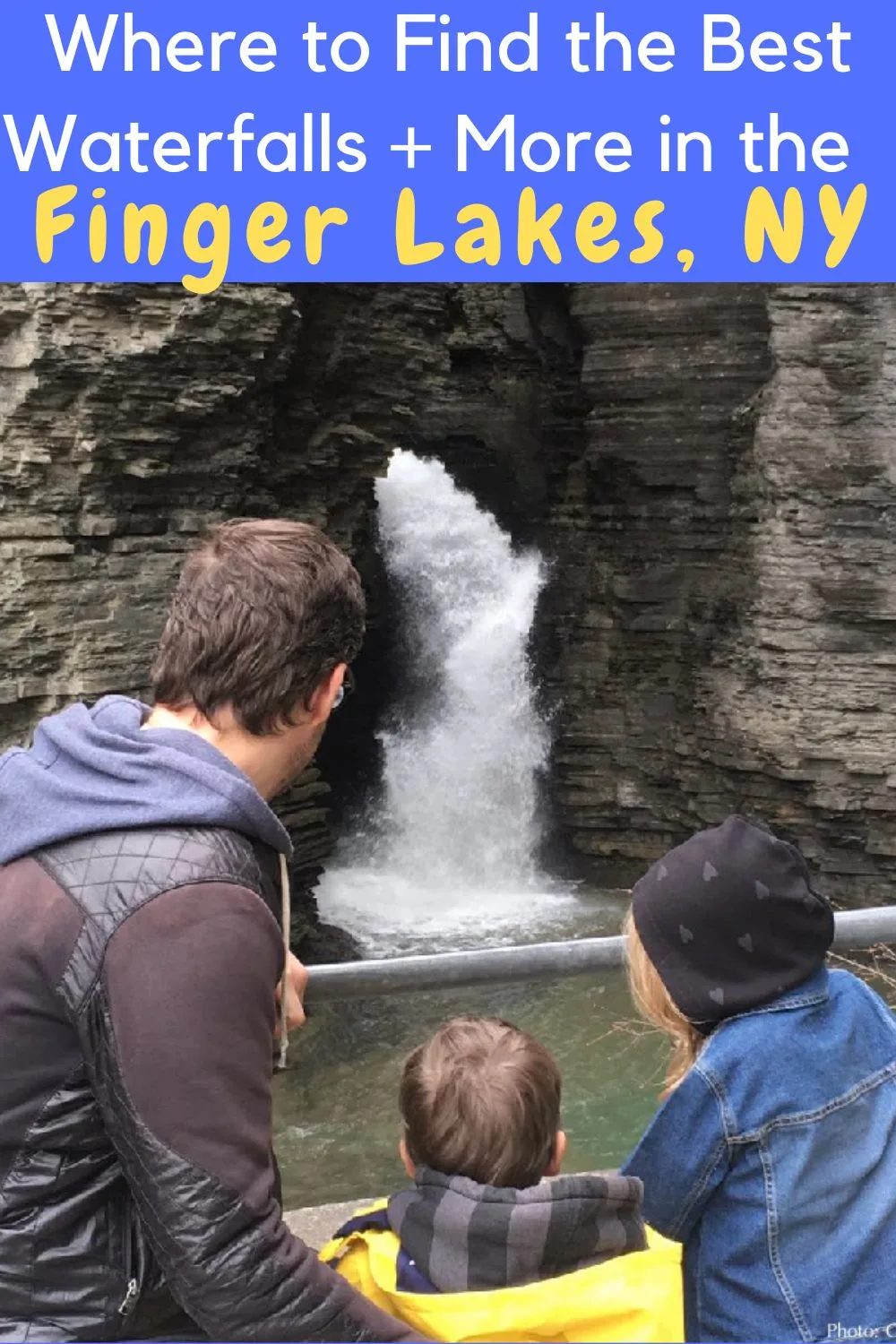 *We were guests of the Watkins Glen Chamber, The Steuben County CVB and Rosebarb Farm. The Jordan family were guests of Finger Lakes Wine Country Tourism for part of this trip. We don't guarantee coverage in exchange for sponsored travel and our opinions are always our own.
Photos by Cat Jordan and Eileen Gunn for FamiliesGo!©