Fall is a great time of year to for quick weekend getaways. It's cool, but not cold, places tend to be less crowded. In many parts of the U.S. the fall foliage is the main attraction.
But even the brightest red maple leaves will only interest kids briefly. Luckily, apple orchards, fall festivals, corn mazes, Octoberfests and haunted happenings offer inexpensive family fun on a leaf-peeping weekend.
A fall road trip is also your last shot at pleasant outdoor time before winter sends you indoors.
I'm partial to the foliage in New York and New England, especially those red and orange maple leaves. These are the perfect shape and colors for fall crafts, too, so bring a bunch home in Zip-lock bags.
Here is a list of eight towns in New England and the Mid-Atlantic with plenty of fall happenings to keep the kids having fun while you admire the changing colors.
---
Packing Tip:
• Try these cool and comfortable fall boots and shoes for active moms
• And my recommendations for fall hiking clothes for thewhole family
• Plus a packing list for fall camping
---
8 Fantastic Fall Foliage Family Weekends In the North East
Mapping Out The Changing Leaves
Fall Foliage in The Finger Lakes, NY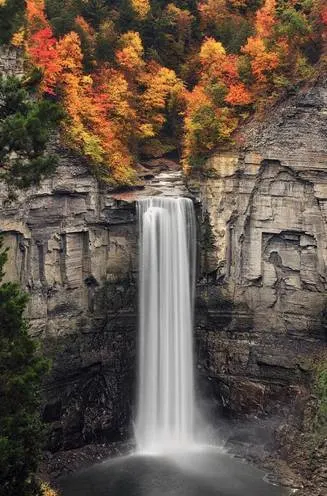 Stay: At the *Hilton Garden Inn, Ithaca, NY
See: Autumn leaves on walks through state parks like Taughannok Falls and Buttermilk Falls state parks. Or sitting on the decks of wineries that line Cayuga Lake.
Do: Relive your college days with a walk around Cornell's sprawling campus. Watch the grape harvest and crushing, drink local beer, wine and cider.
Eat local fall harvest produce at restaurants like Ithaca Beer Company's tasting room.
Read more about
Things To Do In the Finger Lakes With Kids
Great Foliage in Kent, CT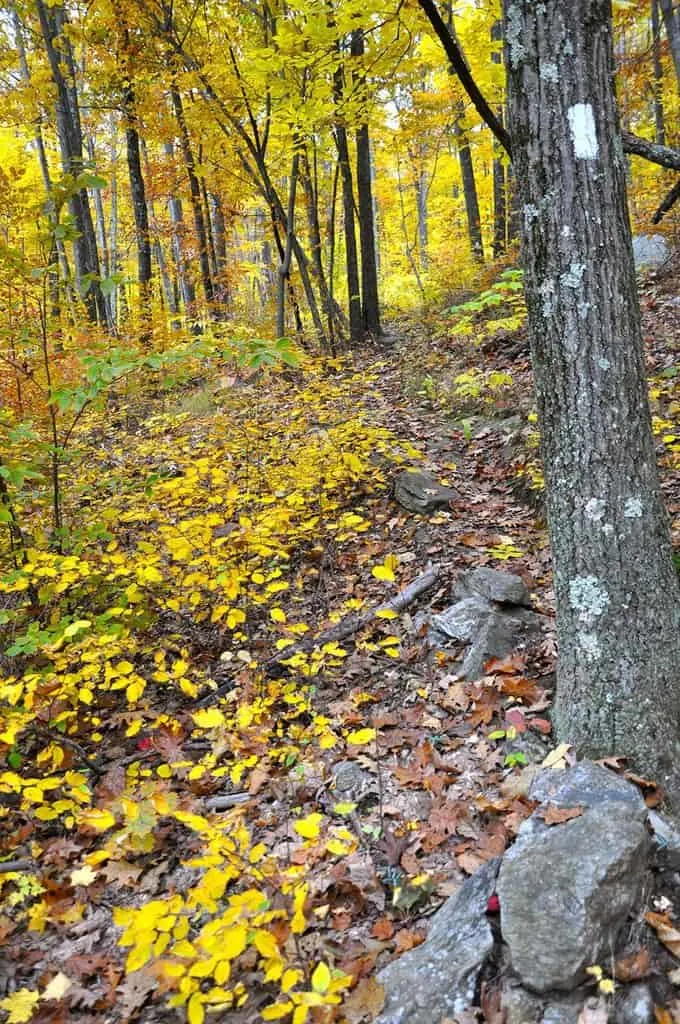 Stay: at the Kent Country Inn, right in town.
See: plenty of falling leaves at your pick of nearby state parks and trails. Among them, Kent Falls has the highest falls in the state.
The Appalachian Trail has several access points, nearby. A nice stretch of it follows the Housatonic River, just outside of town at the end of River Road.
A little further south near Route 7, a steep climb up from Squantz Pond rewards you with a sprawling vista of fall leaves.
Do: Explore the shops and restaurants in Kent, and nearby Litchfield, New Milford and Cornwall. Pick apples or buy cider and donuts from area farms.
The Silo, founded by Skitch and Ruth Henderson, offers an art gallery, dining and cooking classes. Pick up their excellent cookbook in the shop.
We take a lot of day trips to Kent.
The Kingsley Tavern is the sort of smart-looking gastropub that you don't expect to be kid friendly but it is. Tiny Traveler likes their fried calamari and they'll work with you to find something your kids with eat.
The Fife & Drum, at the other end of Main Street, will have a kids menu. The ambience is Colonial New England, but the menu is surprisingly modern with locally sourced ingredients.
Foliage & More in Central Vermont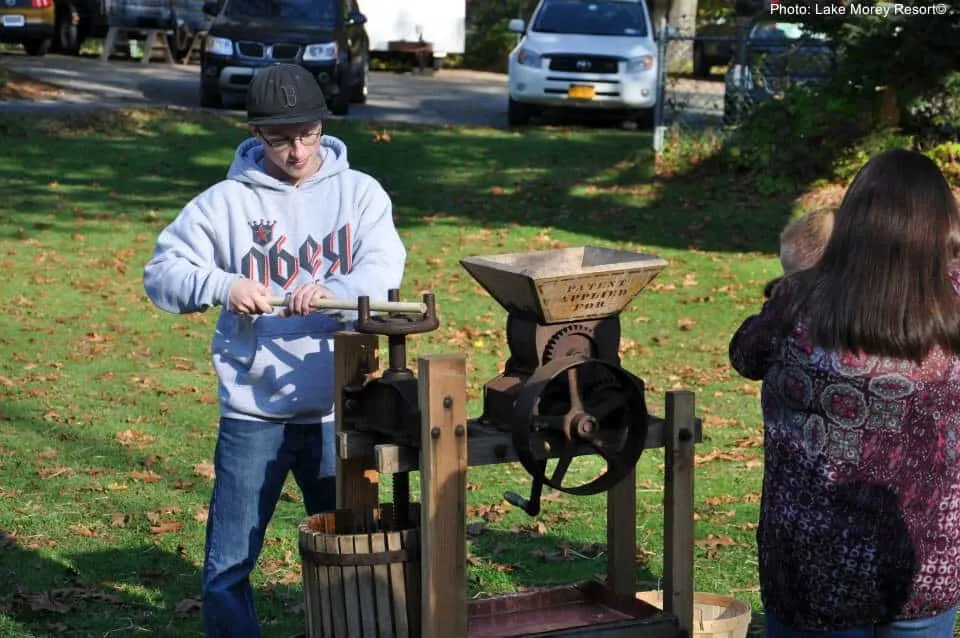 Stay: At Lake Morey Resort, Fairlee, VT
See: maples and other colorful local trees from area hiking trails, some right on the resort property.
Do: Visit a nearby apple orchard to pick a few bushels, than return to the resort and see them pressed into fresh cider in the property's old-fashioned hand-cranked press cider press. The hotel has a cider press team on hand to make sure only apples — no fingers — get squeezed.
Fall Foliage in the Blue Ridge Mountains, VA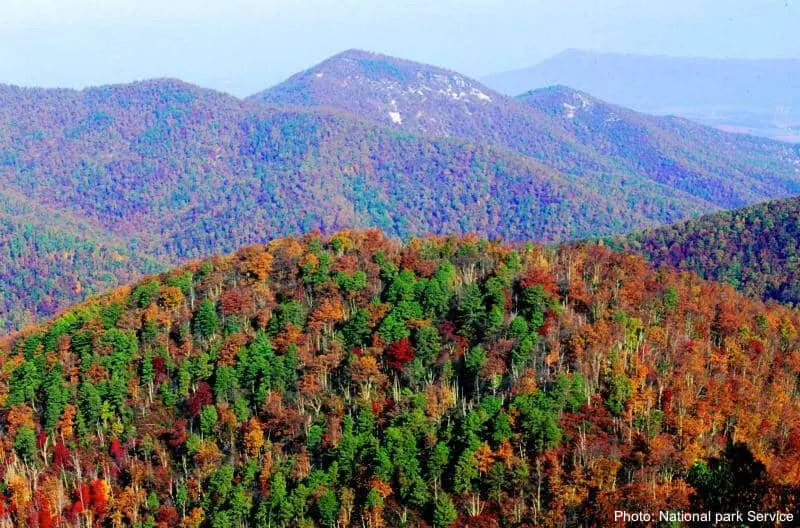 Stay: Stonewall Jackson Hotel, Staunton, VA
See: Foliage while hiking part of the Appalachian trail as it passes through nearby Shenandoah National Park, or driving along Skyline Drive.
Do: Head to Back Home on the Farm for pumpkin picking, acorn maze, farm animals, a hayride, a butterfly exhibit, and a carousel. Then kick back with dinner on the town's main street.
Staunton has plenty of casual places to eat. You can easily walk around town and see what appeals.
For an easy and good dinner option, head to Shenandoah Pizza. They keep a rotation of about a dozen local beers on tap and offer up a long list of traditional and creative pies. They come large, if the whole family wants the same thing and individual size in case you can't.
You might also like
An Easy Romantic Weekend in Staunton, VA
Fall Foliage in the Pocono Mountains, PA

Stay: Chateau Resort, Tannersville, PA
See: Plenty of foliage outside your door on Camelback Mountain & Big Pocono State Park, the highest point in the Pocono
Mountains.
Do: Daring teens can brave the nearby Altered Nightmares haunted house while younger kids can and parents can enjoy festivals on various weekends through the fall – pumpkin, harvest, Octoberfest and so on.
Fall Foliage in the Adirondack Mountains, NY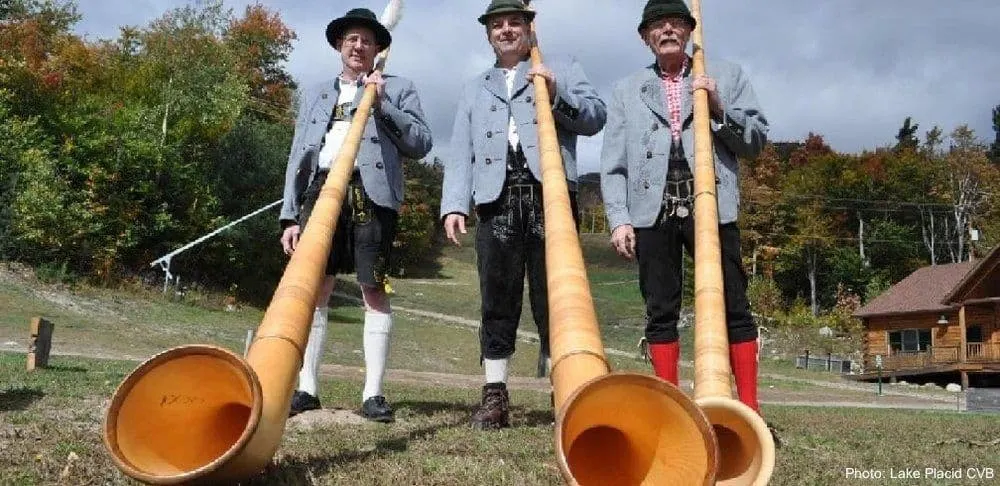 Stay: The Golden Arrow Resort, Lake Placid, NY
See: The an Alpine fall by hiking myriad trails, visiting, High Falls Gorge or taking a Gondola ride up Whiteface Mountain. Enjoy the leaves around Mirror Lake from your hotel balcony or with a walk around the small lake.
Do: Shop and eat on Main Street, visit the Olympic sites, enjoy 1 of several fall festivals celebrating flaming leaves, craft beers and more.
We never leave town without having a meal at Lake Placid Brewing Company. The beer, soups, sandwiches and kids menu (if you need it) are all pretty dependable. And it's very kid friendly.
Read about more
The Best Places To Eat in Lake Placid With Kids
Fall Foliage in the White Mountains, NH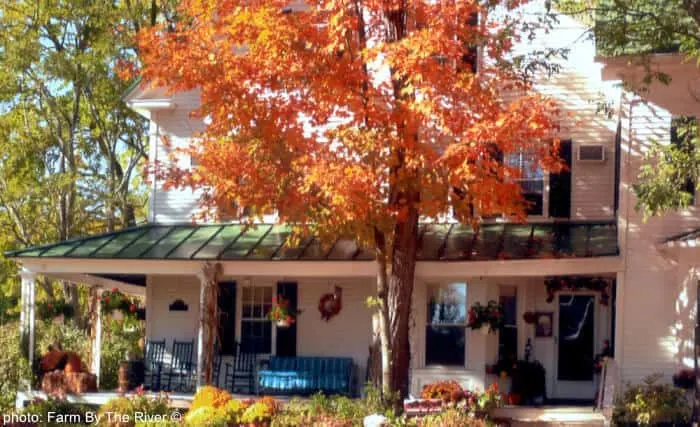 Stay: The Farm by the River B&B, North Conway
See: Plenty of maple and other leaves during a trail ride on the farm's horses, hiking the Whilte Mountains or sitting on the inn's cozy front porch
Do: Take scenic train ride from a Victorian rail road station. Spot wildlife on nature walks around the farm, ride bikes and stop at roadside stand to sample the maple syrup that comes from the fiery red-leafed trees around you.
Fall Foliage in Coastal Maine
Stay: The Spruce Point Inn Resort, Booth Bay Harbor
See: The colors of Autumn on a visit to the Coastal Maine Botanical Gardens or walking along any of several Boothbay Region Land Trust trails.
Do: Use the Inn as a base to sample New England harvest festivals and antique shows. Warm up at the end of the day around the inn's outdoor fireplace (there might even be s'mores).
On the way there or back stop at Freeport, the home of L.L.Bean. Pick up the school clothes, winter wear and outdoor gear you need at the several stores they have, and hunt for bargains at the L.L. Bean outlet.
Pin it for later!