Fall is a great time of year for quick, laid-back weekend getaways with the kids. On the East Coast, New England and Mid-Atlantic states in particular, the best trips involve crisp fall foliage in blazing colors. Of course, looking at leaves gets old pretty all weekend does thrill most kids.
Luckily, places with great foliage often also have apple orchards, pumpkin picking, fall festivals, corn mazes and haunted happenings to make your leaf-peeping weekend fun for the kids.
Here is a list of eight towns in New England and the Mid-Atlantic that have plenty of fall events and activities to keep kids busy while you admire the dazzling red and bright yellow leaves falling from the trees.
---
Read More:
• Try these cool and comfortable fall boots and shoes for active moms
• The Coziest Fall Clothes, Jackets & Boots for Kids
• Plus 8 of the Most Horribly Fun Halloween Events for Tweens & Teens
• The Best Weekend Getaways With Kids from NYC and Washington, DC
---
Foliage Maps To Help You Time It Perfectly
Historically the foliage starts to change in Mid-September and moves through October as you go further south.But seasons are getting less predictable, making it harder guess the best times to visit an area to see its prime fall colors.
Luckily several organizations track the changing leaves in specific states or across the country, taking the guess-work out of your planning. Here are a few of them:
8 Top East Coast Spots For Leaf-Peeping & Fall Fun With Kids
Classic New England Foliage in Central Vermont
Stay: At Lake Morey Resort, Fairlee, VT
See: Maples galore and other colorful local trees from area walking and hiking trails, some right on the resort property. You can also enjoy the foliage from the picture windows in the hotel's restaurant and lounge, from rocking chairs on the porch or from lakeside Adirondack chairs while your kids run around on the lawn.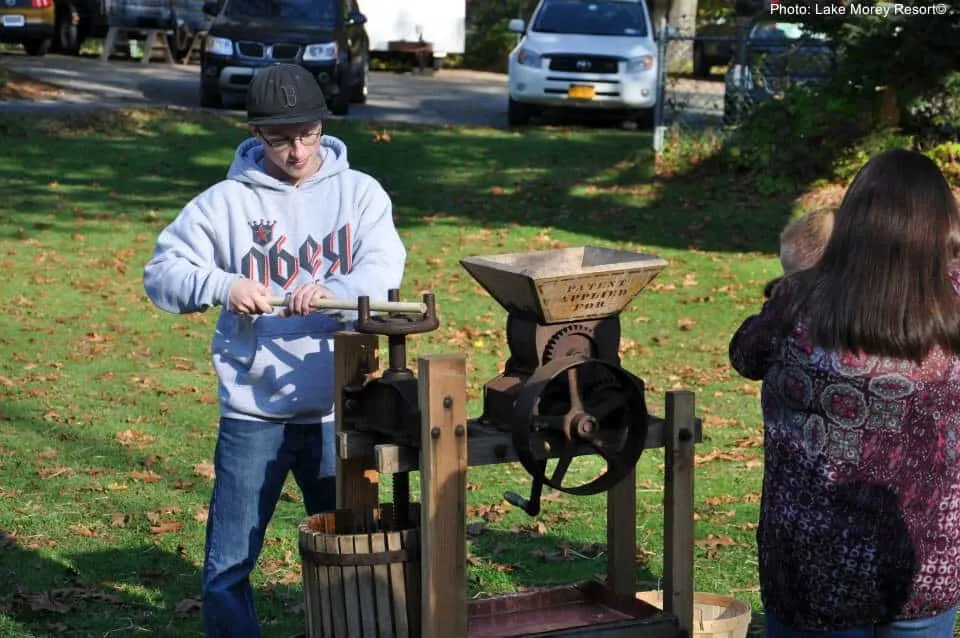 Do: Drive some of the area's scenic byways and in search of an apple orchard. Pick a few baskets, then return to the resort and see some of them pressed into fresh cider for you in the property's old-fashioned hand-cranked cider press.
The hotel has a cider press team on hand to make sure only apples — no fingers — get squeezed. I like cider that mixes a few kinds of apples; it's the best way to ensure it isn't overly sweet or too tart.
Read More:
• There's A Lot To Do in Stowe, VT, Even When It's Not Ski Season
Crisp Fall Foliage in the White Mountains, NH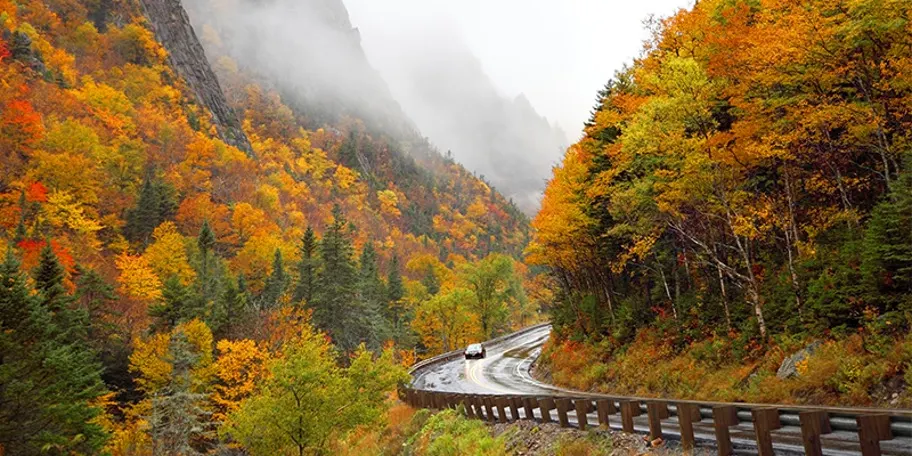 Stay: The Glen House in Gorham, NH is a mix of mountain lodge and modern. It has a long, inviting porch with mountain views. If it's too nippy to sit outside, settle into the inviting bar with its high ceiling and picture windows. There's a fire pit and small indoor pool.
See: Enjoy the best of New Hampshire foliage by driving up the Mount Washington Auto Road to the peak of the state's tallest mountain. Or take the cog railway so no one is driving and everyone can take in the view.
You'll inevitably be driving through the White Mountain National Forest, which has a plethora of scenic byways and trails for day hikes. Ask at your hotel desk for tips on which one would be a good fit for your family.
Do: Outdoor activities are main draw here and you'll find plenty of other places to hike and bike. But driving along New Hampshire's local roads you're likely to happen upon a farm stand or some apple and pumpkin picking. And there's fun antiquing down toward Franconia.
Phenomenal Fall Foliage in Coastal Maine
Stay: The secluded Spruce Point Inn Resort & Spa in Booth Bay Harbor is nestled between the ocean and a spruce forest, so you can take relaxing strolls or settle into Adirondack chairs to watch the harbor activities. It has bikes to borrow, a game room with ping upon and tabletop shuffleboard, outdoor fire pits and a wide variety of rooms and suites to suit families.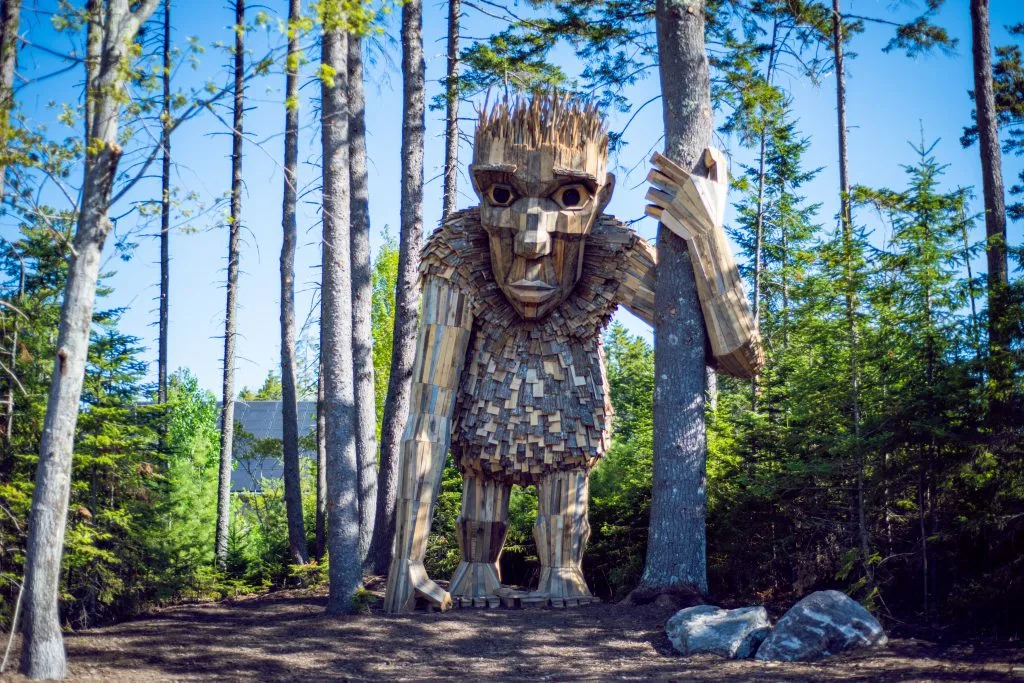 See: Giant Trolls along with fall flowers and prime fall foliage at the Coastal Maine Botanical Gardens or walking along any of several Boothbay Region Land Trust trails.
Do: Time your visit with the Foliage Festival at the Booth Bay Railway Village Museum, a fun destination in its own right. The festival offers seasonal foods and produce, live music, crafts for sale and children's activities.
Otherwise, take a scenic boat ride to have a unique sea view of the changing colors on shore. Ask at the front desk for the best pumpkin and apple picking happening while you're there.
On the way there or back, stop at Freeport, the home of L.L.Bean. Pick up the backpacks, school clothes, winter wear and outdoor gear you still need at the several stores they have around town. I've found great bargains at the L.L. Bean outlet, including a winter coat for half price and Smart Wool Socks for $5 a pair.
You might also like:
• 10 Phenomenal Things To Do in Eat in Acadia National Park With Kids
Enticing Fall Foliage in the Berkshires, MA
Stay: The Berkshire Mountain Lodge is centrally located between Lenox and Pittsfield with easy access to all of the Western Berkshires. It has a good-size indoor pool and roomy suites with kitchens, too. (Read my full review).
See: Route 7, the region's main artery, offers plenty of scenic driving. And several state parks and nature preserves offer hiking and water trails where you'll be surrounded by New England trees with changing leaves.
October Mountain State Forest is just outside of Lenox and the Berskhires NRC keeps a list of easy trails and nature preserves, many on the southern part of the region.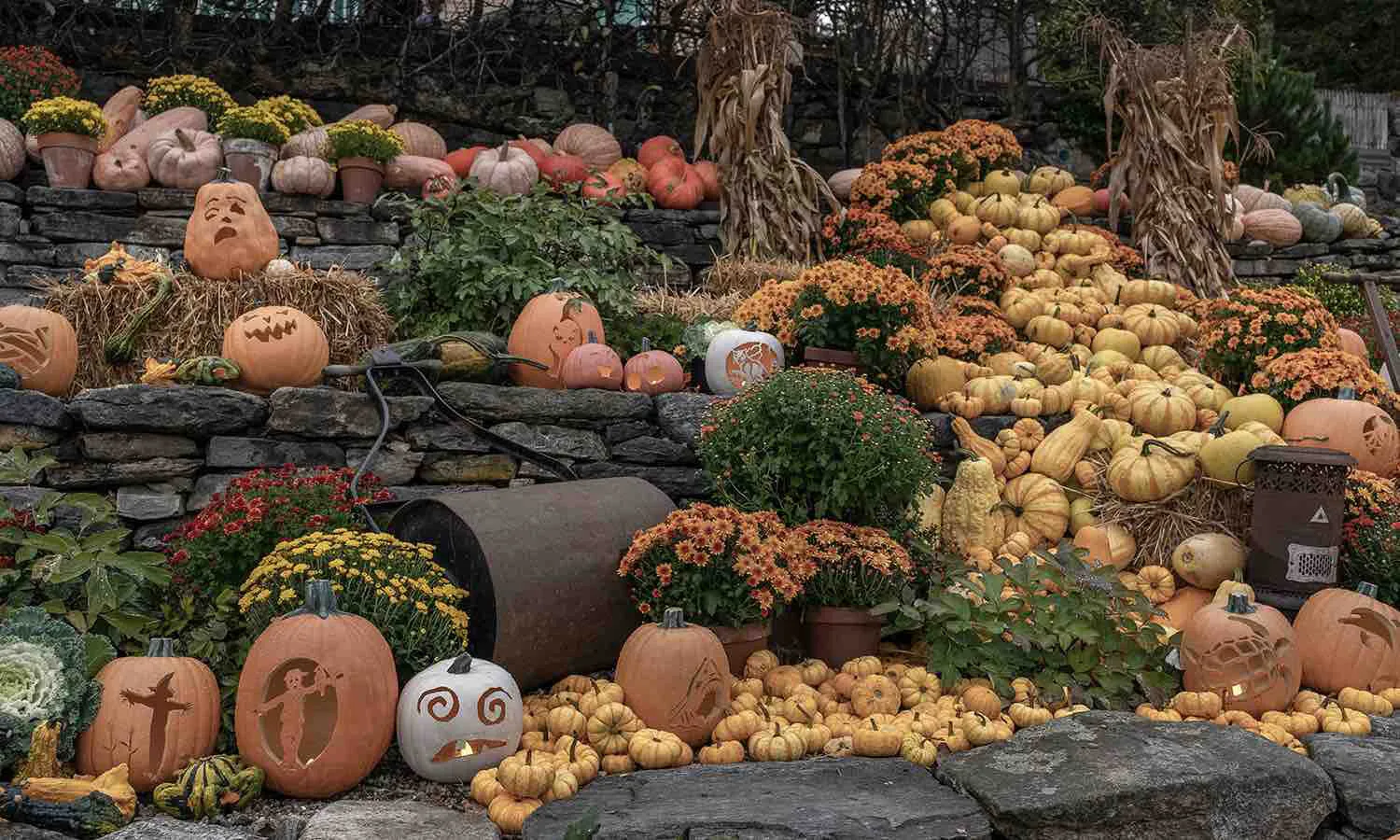 Do: Time your visit to the Incredible Pumpkin Show at Naumkeag, a historic estate with sprawling gardens that would be gorgeous in autumn even without being filled with pumpkins, gourds, jack o' lanterns and fall flowers. Or catch the country fair at the Hancock Shaker Village, which will offer live music and dancing, food, crafts and a quilt show.
Read More:
• 17 Things To Do in the Berkshires With Kids
• Summer (and early fall) Fun at Jiminy Peak Resort
• Take a Look at Visit the Berkshires for more ideas
Breathtaking Fall Foliage in Kent, CT
Stay: The Kent Collection Cottages right on the edge of town has three unique cottages including a 1900s train car and a former bunkhouse. They all have a fire pit or fireplace, at least a small kitchen and table and outdoor space. They sleep four to six people with room for a portable crib.
See: We take a lot of day trips to Kent especially in the autumn.
You'll find plenty of crunchy falling leaves along the trails at nearby Macedonia Brook State Park, alongside the water in Kent Falls State Park (the highest falls in the state), or along the Appalachian Trail. The latter has several access points nearby; I like the nice, flat stretch that follows the Housatonic River, just outside of town at the end of River Road.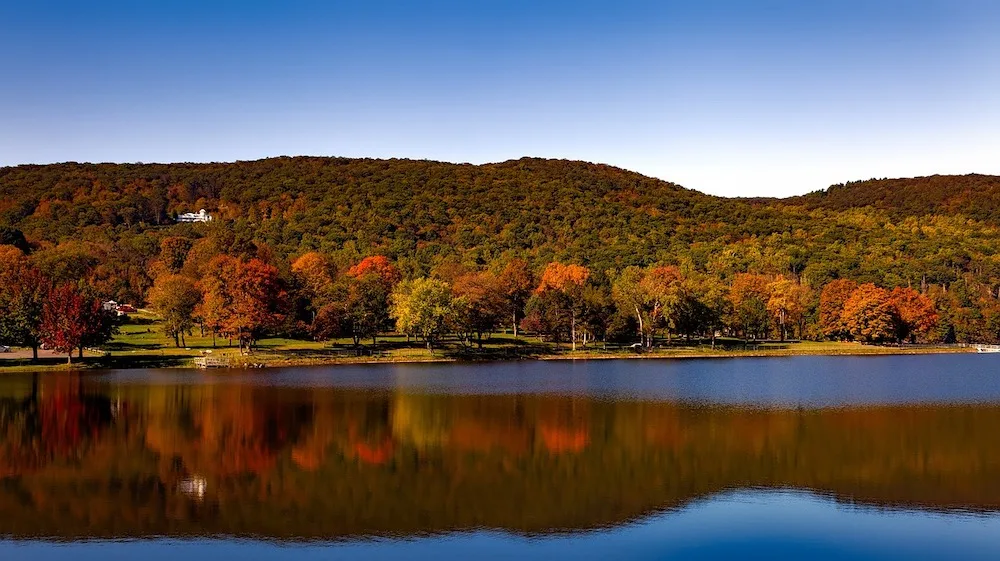 A little further south, a steep climb up from Squantz Pond rewards you with a spectacular views of fall leaves in the valley below. I've done this climb and teens and kids 8YO and up can handle it easily. I would try some of that other trails with younger kids. If you're fairly fit you can try it with a baby in a carrier.
Do: Explore the shops and restaurants in Kent, and nearby Litchfield, New Milford and Cornwall. Pick apples or buy cider and donuts from area farms.
Eat: The Kingsley Tavern is the sort of smart-looking gastropub that you don't expect to be kid friendly, but it very much is. They'll work with you to find something your kids will eat; Tiny Traveler is a fan of their fried calamari
The Fife & Drum, at the other end of Main Street, has e a kids' menu. The ambiance is Colonial New England, but the menu is surprisingly modern with locally sourced ingredients and some very good dishes
Gorgeous Fall Foliage in The Finger Lakes, NY
Stay: The Statler Hotel on the Cornell Campus in Ithaca is run by students in the university's hotel program.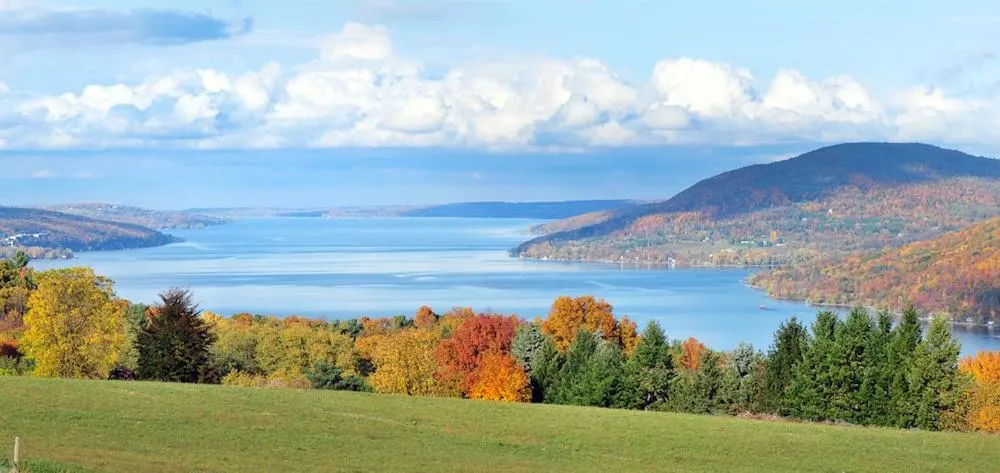 See: Autumn leaves on walks through state parks including Taughannok Falls and Buttermilk Falls. Or just sit on the deck of one of the many wineries that line Cayuga Lake.
Do: Walk around Cornell's sprawling campus and stop at the Dairy for freshly made ice cream. Watch the grape harvest and crushing, drink local beer, wine and cider.
Eat local fall produce at restaurants like Ithaca Beer Company's tasting room.
Read more: Things To Do In the Finger Lakes With Kids
Get more information: Visit the Finger Lakes
Dazzling Fall Foliage in the Pocono Mountains, PA
Stay: Chateau Resort, Tannersville, PA has a good selection of rooms and suites and an indoor pool. Plus, if you get stuck with a rainy day, you can buy day passes to the indoor water park at Camelback Resort, next door.
See: Plenty of foliage outside your door in Big Pocono State Park, the highest point in the Pocono Mountains.
Do: Camelback Ski Resort has a mountain adventure park that's open into the fall with a mountain coaster, zip line, rope course and other activities. Teens will like going close to Halloween, when it stays open at night and adds some seasonal extras to its adrenaline-pumping activities.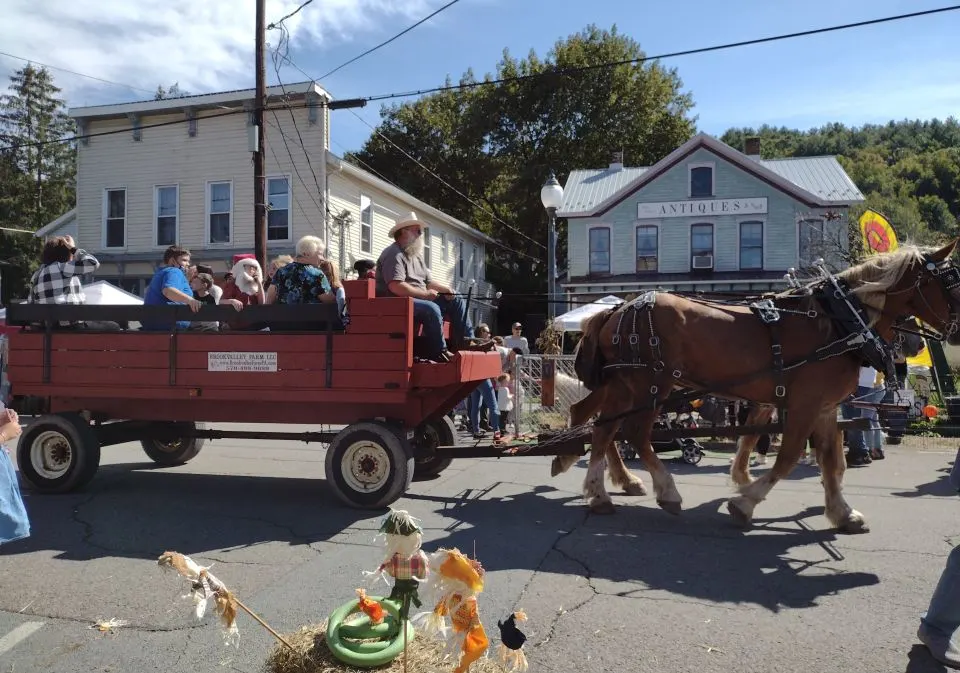 Kids will like the many pumpkin and harvest festivals that happen around the region through the fall.
Read more:
Find out how we liked out Autumn Weekend at Woodloch Resort in the Poconos
Warm Fall Foliage in the Blue Ridge Mountains, VA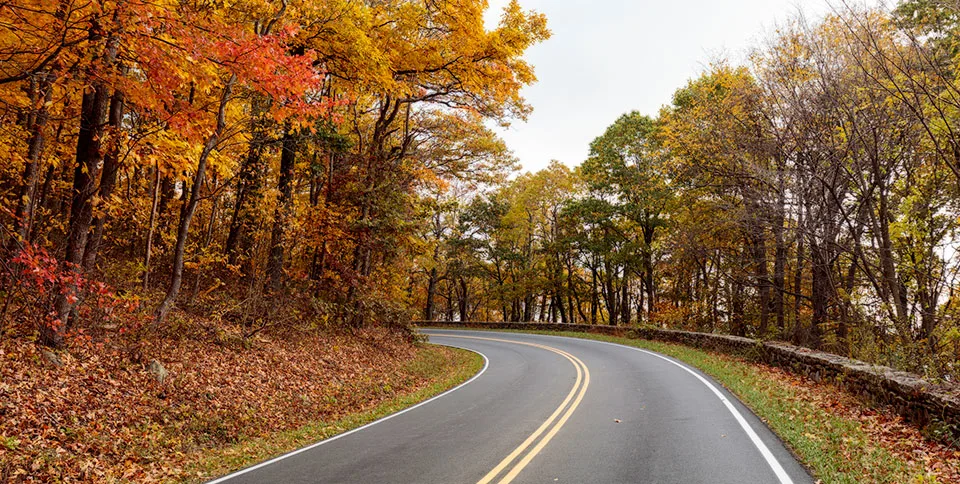 Stay: Hotel 24 South offer the twin advantages of an indoor pool and location in downtown Staunton with its ample selection of restaurants.
See: Foliage while hiking part of the Appalachian trail as it passes through nearby Shenandoah National Park, or driving along Skyline Drive.
Do: Head to Back Home on the Farm for pumpkin picking, acorn maze, farm animals, a hayride, a butterfly exhibit, and a carousel. Then kick back with dinner on the town's main street.
Staunton has plenty of casual places to eat. You can easily walk around town and see what appeals.
For an easy and good dinner option, head to Shenandoah Pizza. They keep a rotation of about a dozen local beers on tap and offer up a long list of creative and offbeat pies. They come large, if the whole family wants the same thing and and individual size in case you can't agree.
Zinodoa is an upscale locavore restaurant in town with fun cocktails and seasonal food that is both pretty to look at and yummy to eat. Dine early if you want to try to go with kids; later is fine with kids who will go crazy for the Bruléed Cast Iron Cornbread.
You might also like
An Easy Romantic Weekend in Staunton, VA
Pin it for later!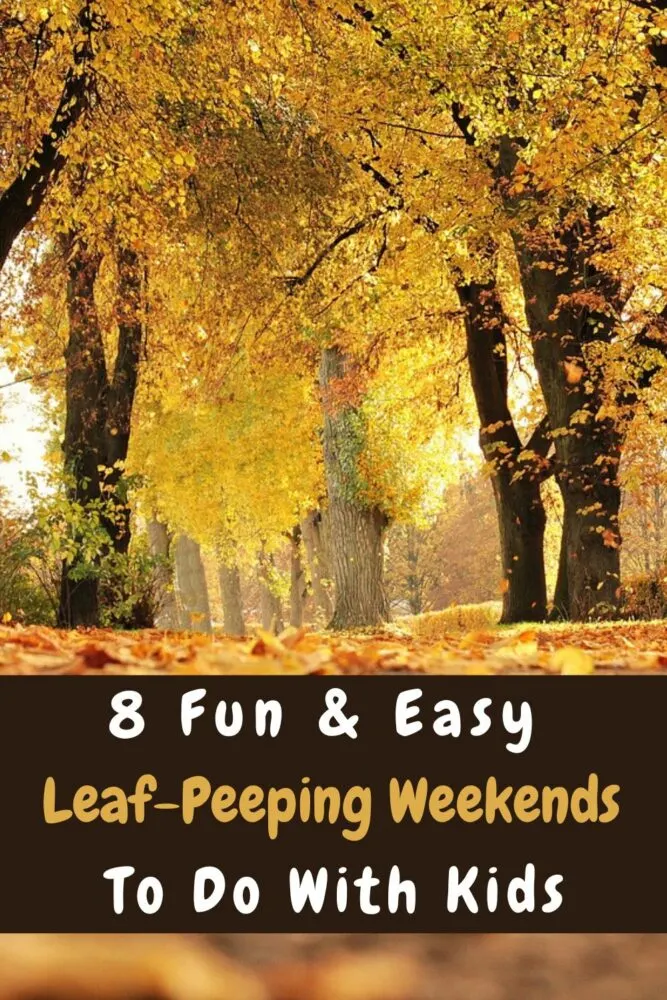 Photos: Pocono Bike Trail, top (Pocono Mountains Visitors Bureau); Apple Press (Lake Moray Resort); New Hamphire Scenic Road (White Mountains Visitors Center); Troll (Coastal Main Botanical Garden); Naumkeag Pumpkins (The Trustees); Squantz Pond (David Mark via Pixabay); Lake Cayuga (Visit the Finger Lakes); Hawley Harvest Festival (Pocono Mountains Visitors Bureau); Skyline Drive (National Park Service);