Families love Caribbean resorts because we can find everything we want most in a beach getaway: fantastic food, incredible nature and pristine beaches, plus a wide range of activities for all ages. And all at a price that's usually a very good value, especially if you choose an all-inclusive resort.
Moreover, the calm, clear, relatively warm Caribbean Sea makes it a place where kids can swim and play in the sand safely, see exotic fish right off the beach, and maybe even drink the juice from a coconut straight from the tree.
The easy way to ensure a perfect family vacation is by finding the right family friendly Caribbean resort—maybe all-inclusive, maybe not—that can provide you and your kids with the amenities you want most.
To help you out, below is a short list of five top Caribbean resorts for families that I strongly recommend for Christmas break, winter break or spring break getaways.
You might also like
• The best things to do on 7 Caribbean Islands
• The Best Caribbean Resorts with Kids' Clubs for Toddlers
5 Top Caribbean Resorts for Families: Which is Your Style?
1. The Low-Key Luxury Caribbean Resort: Sugar Beach Viceroys Resort; St. Lucia
St. Lucia is considered one of the most beautiful islands in the Caribbean; the scenery and beaches alone are worth a visit. There is a wide range or boutique and small resort hotels. But if you want a full-service resort for families, consider the Sugar Beach Viceroy Resort (top).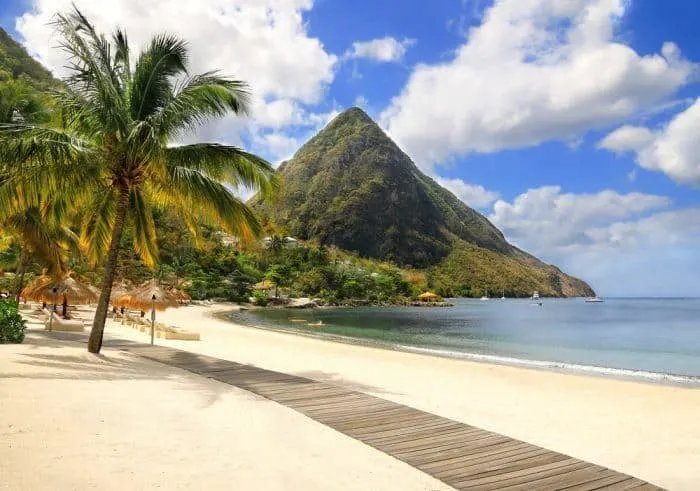 Most of St. Lucia's white-sannd beaches are public but Sugar Beach owns its stretch of beach, providing some privacy and exclusivity.
For families it has babysitting (for a fee). The (free) Sugar Club for 4-12YOs ahs the usual arts & crafts as well as quirky activities like coconut bowling. The Spice Club gibe tweens and teens a place to play ping pong, pinball or pool, among other things. Kayak, play tennis or snorkel as a family.
Room options include beachfront bungalows, mountainside cabins and rooms in a former sugar mill. The best part is that all rooms at Sugar Beach Viceroy comes with a personal butler. He takes care of all your needs while you enjoy your family time or —if the kids head to the clubs— the chance to kick back with an umbrella drink and your Kindle.
2. The Designed-for-Families Caribbean Resort: Beaches; Turks & Caicos
Beaches is one of the most popular and easily one of the best all-inclusive Caribbean resorts for specifically for families. Most parents say it's a great value and money they don't regret spending.
Here's why: The Resort's "pool area" is a 45,000-square-foot water park with slides, pools and other features that please a wide age range of kids from babies up through tweens.
If that isn't enough to keep kids occupied there are the well-run kids clubs, and the opportunities for little kids to hang out and dine with Sesame Street characters. Older kids have the new Club Liquid, a teen lounge by day and adult bar after dark.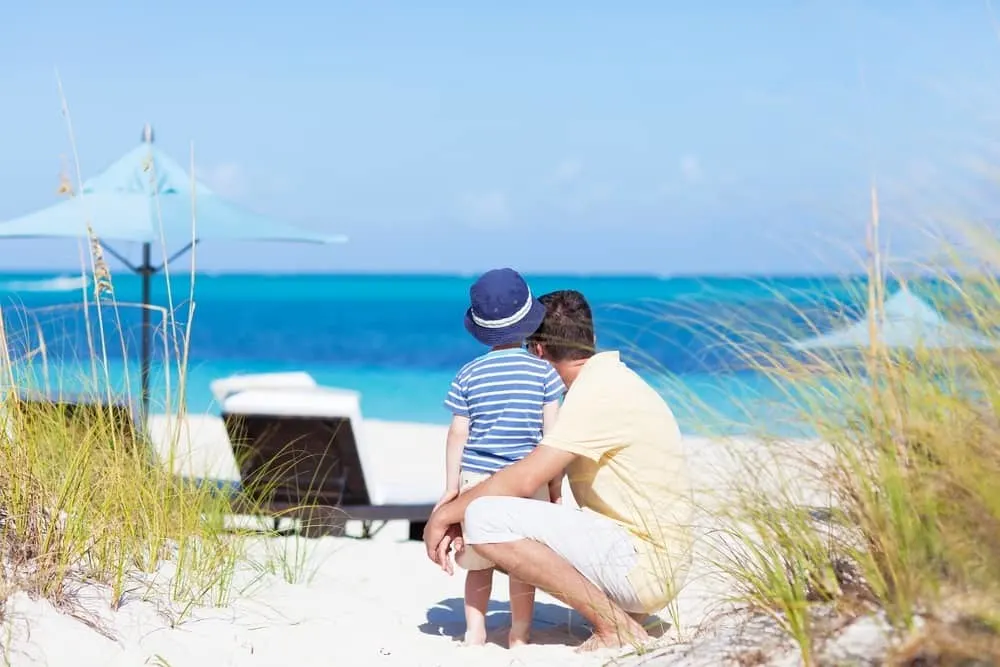 Parents tell me they love Beaches because they get to feel relaxed and taken care of—not always the case on a vacation with kids. They offer just about any land activities or water sports you can think of to do as a family. While their kids are running from one activity to the next parents stroll on the 12-mile beach, get a spa treatment or just chill with an umbrella drink. Everybody wins!
Read more about Turks & Caicos with little kids and also with teens.
3. The Best Value-For-Your-Money Carribbean Resort: Hard Rock Hotel; Punta Cana, Dominican Republic
The Hard Rock Hotel & Casino is one of the biggest all-inclusive resorts on this list and far more kid-friendly than you might expect from this music-themed brand. Plus, there is a rock 'n' roll edge to a lot of the amenities ad activities, making it not just another pastel-colored beach resort.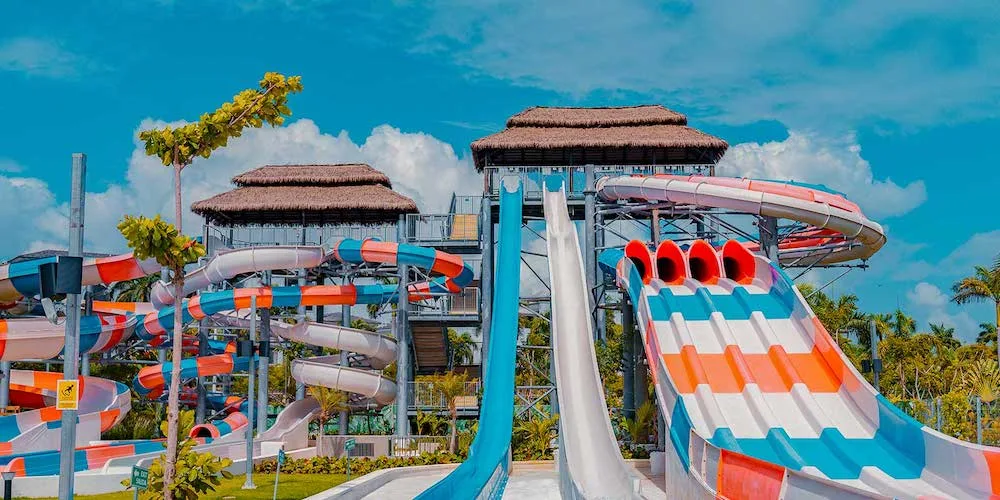 There are 13 pools, three have slides annd play areas for little kids. And the kids club has a range of cool amenities from a kid-size kitchen for cooking classes, a mini theater for Karaoke and a trampoline zone. There are board games annd movies on hand in case the weather acts up.
A teen zone has been on the way for a while but isn't up and running just yet. But tweens and teens will appreciate pool-side food trucks, a full-on water park, indoor basketball and elaborate temporary henna tattoos in the Rock Shop. Excursions like horsebackng riding and ziplining will make the trip memprable for them.
Families are meant to enjoy the pools and water activities like kayaking together, and can book kid-friendly excursions like a half day Dominican culture "safari."
But the Hard Rock knows that parents of preschoolers need a little downtime, too. While kids are having their own fun you can enjoy rock-n-roll-inspired treatments at the spa or rent a Fender guitar and rock out in the privacy of your of your room.
Read about Club Med Punta Cana, too.
4. The Fun-For-All-Ages Caribbean Resort: Atlantis; The Bahamas
Atlantis, on Paradise Island, is the resort most likely to satisfy families with kids in very different age groups. It's not all-inclusive and all those a al carte meals and activities can add up. But An Atlantis vacation is one most kids never forget.
There are several on-property hotels to choose from; The Cove and the Reef get consistently high marks from parents. The Harborside Resort's rooms have kitchens, providing an opportunity to save a little money. You can also find vacation rentals at Harborside. With more room and kitchens these can be good deals.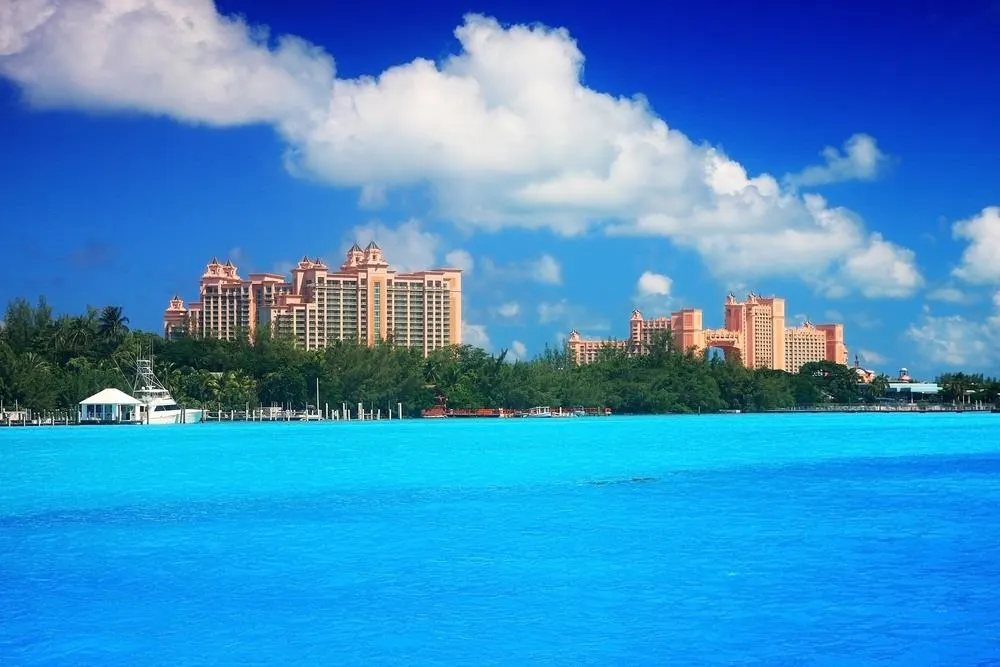 It's home to a 141-acre water park, one of largest in the world and entry is included with your room rates. Older kids and teens they can explore the giant slides and rapids river on their own while you chill in a cabana or under the waterfalls in the grotto pool. If you're with toddlers or preschoolers you can check out the beach, the zero-entry pools an the two water play areas made for them.
The aquarium exhibits that place you under, over or surrounded by sea life will pleae just about any age.
There is a robust kids club for ages 3-6YO and 7-12YO, but you need to make a reservation (a day ahead durinngn busy break weekas and on rainy days) and there's a fee. There is a evening club, too, if you need a night out.
Kids ages 6-10YO can sign up for the Junior Ultimate Trainer for a Day program. They hang out with the staff, feeding fish and turtles and learning what it takes to train and care for dolphins. I'm not a fan of swim-with-dolphins programs but this could be genuinely enriching and fun.
The resort has a wide selection of restaurants—eat breakfast on a outdoor patio, try fresh conch fritters for lunch and indulge in dinner at a steak house. You'll find plenty to please even fairly picky eaters.
If you need to see more fish, you can also take your kids snorkeling nearby, too.
You might also like 11 Inside Tips For Seeing Grand Bahama With Kids
5. The Colorful Luxury Resort: Azul Beach Hotel; Puerto Morelos, Mexico
The Azul Beach Resort outside of Cancun is an all-inclusive with a wide choice of accommodations for families and amenities designed to help parents chill.
The resort provides just about any baby/todder amenity you can think of from bottle warmers and sterilizers to changing tables and safety gates. Their kitchen even makes fresh organic baby food on request.
A baby butler will get your room set up for you and your little ones before you arrive. And if you need a night in, you can order room service that includes wine for you and cookies and milk fo the kids.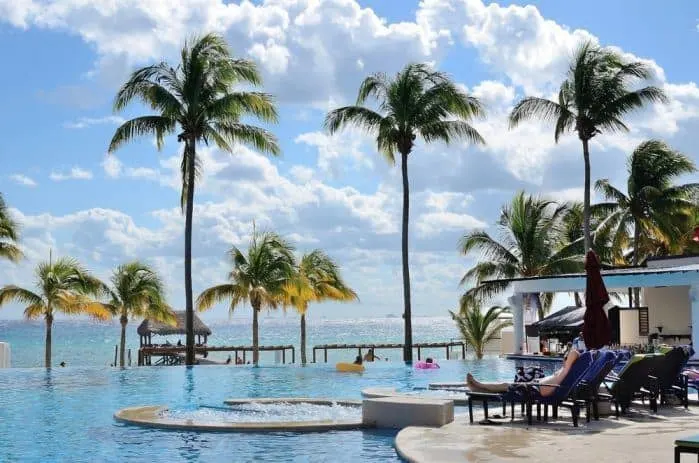 In addition to the usual buffet and table-service restaurants there is a restaurant that serves meals family style, including Spanish and Mexican dishes. And another place specializes in kid-size pizzas.
Enjoy activities like snorkeling, ping pong, archery as a family. You can take dance lessons with your younger, cooking or Spanish lessons with teens. There are colorful kids and teen clubs and multiple pools. Plus a beach butler and activities concierge make sure you find the best activities for you and always have tropical drinks andn snacks handy.
Indeed, if you prefer the Mayan Peninsula, with all its culture and activities, Azul Beach Hotel could be the perfect resort for a family getaway.
You might also like
• Unforgettable Affordable Fun at Bahia Principe Cancun
• Where to Find fun with kids on the Mayan Riviera
Which of these five Caribbean resorts for families would you choose for yours?
Pin it for later!