The most common question I'm asked by parents visiting New York City is, "What Broadway shows should I see with my teen."
It's a a good question. Theater tickets are expensive these days, even off-Broadway. And if you see only one play while you're in the city you want it to be memorable for all the right reasons. So choosing a show does require some careful thought.
My family loves theater. We go to see plays for all of our birthdays and at the holidays and whenever we see a good deal on tickets for something on our want-to-see list.
Teen Traveler and her friends are big fans of Broadway musicals. They're starting to appreciate dramas and quirky off-Broadway theater, too.
This is a round-up of ongoing shows that the Teen Traveler and other NYC teens we have liked and loved. I hope it will give you a sense of what appeals to the sensibilities of kids in the 12-18YO range. And maybe I'll steer you toward some wonderful shows you would not have thought of.
13 Top Broadway Shows Teens Love
On Broadway – Musicals & Dramas
Camelot
Teen Traveler was eager to see Camelot mostly because Philippa Soo plays Guenevere. She was the original Eliza in Hamilton and very popular with girls who are fans of that play. Teen Traveler would go see her in anything.
Despite some lukewarm reviews, she loved it and would probably see it again.
Aaron Sorkin reworked the dialogue extensively to make the story resonate with a modern audience. Teen Traveler found the dialoge fast, funny and highly entertaining when she saw Camelot in May. She also really liked the sets and staging, which she reports were sparse but in a high-tech, sophisticated way.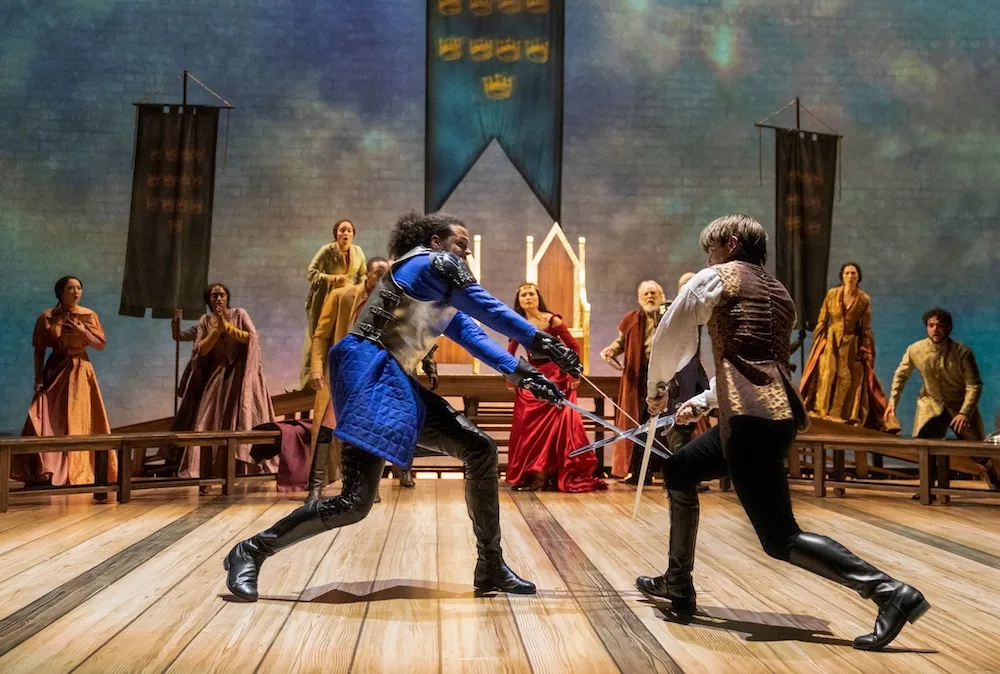 Sorkin had less latitude to rework the Lerner & Lowe music. While the actors give some songs a different inflection than the original 1950s cast might have, they're still very much of that era. The music wasn't her favorite part of the show, but she does keep checking iTunes for the cast recording.
Tip: Camelot is playing at the Vivian Beaumont, which is part of Lincoln Center and not in the Broadway district. It's a gorgeous, modern theater and the shows always have a high production value. It's a treat to see a musical here.
Hadestown
An updated telling of a Greek myth set to a 1930s jazz-inflected score might not be the first thing you would take your kid to see, but NYC teens absolutely love Hadestown. Teen Traveler has friends who haven't seen it yet but know all the songs. She describes this play as "awesome" and it gets constant play on her phone.
We had no idea what it was about when we got tickets; but several people with teens had recommended it to us as something parents and kids both like.
It's story of Orpheus and Eurydice set in Great Depression. The staging is interesting. Hermes, the narrator, looks like a Harlem jazz club band leader in a silver lamé suit. The band is on stage during the show and there is only one set. Persephone is glamorous and resigned to her below-ground fate. Hades has a voice like Barry White. The music pulls you along.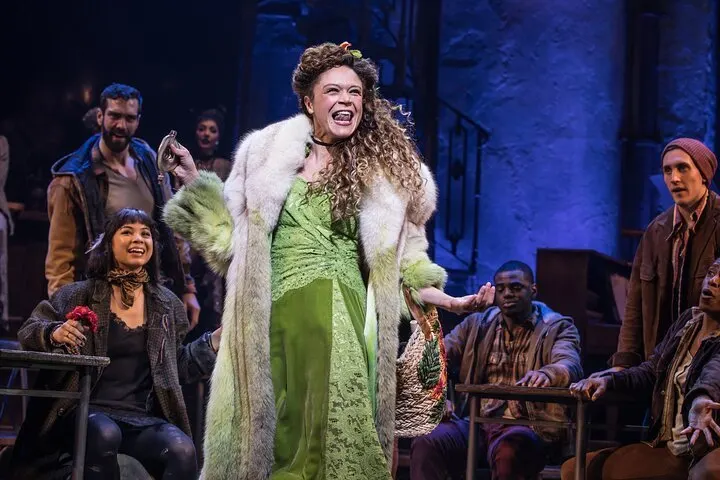 We really hoped it would end differently than the original myth, but Hermes understands human nature too well for that to happen. If your kids don't know the story you might want to give them a synopsis.
If you are looking for the razzle dazzle of Phantom or The Lion King, or want the happy ending of a Mama Mia, this might not be the play for you. But if you want something interesting, well-done and not your typical musical, hop on the train to Hadestown.
Sweeney Todd
Josh Groban plays the title character in Steven Sondheim's musical Sweeney Todd, which is enough to make it the hottest Broadway ticket this summer. But its also getting great reviews and everyone we know who has seen it has said it's a fantastic production with full orchestra, a large ensemble and sets to match.
Teen Traveler is dying to see it and we have tickets to go in June, the earliest we could get them when we tried in February. I'll tell you more about it after we attend this dark tale.
The music is full of grim puns and clever turns of phrase, which is what Teen Traveler generally loves about Sondheim. And Mrs. Lovett is a wonderful female-comic role when it's done well (which it apparently is here). High schoolers in general will like the dark humor, the music and the set.
But there's a lot of murder and stage blood and the ending is worthy of a Greek tragedy. For tweens, I would say know your kid and definitely give them the gist of the play before you buy tickets.
Harry Potter & The Cursed Child
The Cursed Child has impressively cool sets and choreography and special effects that wowed us. The staging is a prime example of the magic Broadway can conjure when a show has serious money behind it.
It's also a moving play that pulled us along. Plus, the time-travel element allows favorite Harry Potter characters —even dead ones—to make an appearance.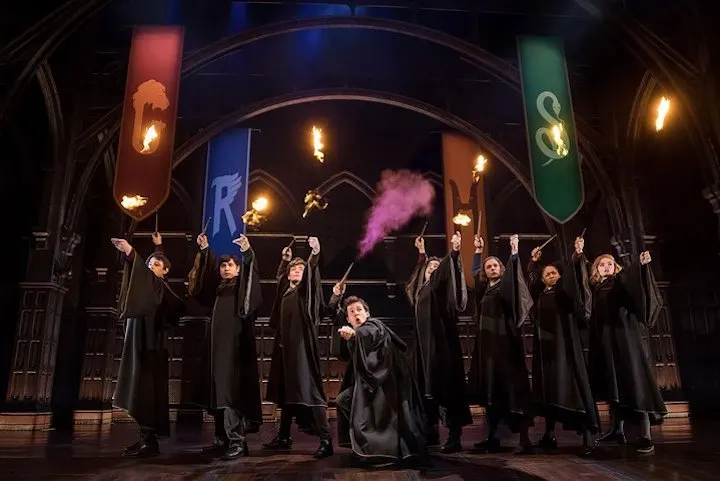 In my opinion, and Teen Traveler's, The Cursed Child is not a children's play. It deals with middle-age angst, complicated life choices, teen identity, living in the shadow of a parent's legacy and more nuanced issues that will go over the heads of anyone under 11.
They've condensed the New York show so that you can now see it as a single play rather than two consecutive ones, which makes tickets way more affordable. But it's still a very pricey ticket. Think twice before bringing your youngest Potter fans.
And yes, it's okay to wear your Hogwarts apparel. Teen Traveler (then 13) wore muggle-wear on the first night but when she saw others, she donned her Ravenclaw robes and headband for night two.
MJ the Musical
I saw a 45-minute version of MJ: the Musical at an event I went to this fall. You have to take the dramatized story of Michael Jackson's rise and fall with a grain off salt. But the dancing is the reason you go anyway. I was very aware that I was watching someone imitating Jackson rather than the icon himself. But the choreagraphy is energetic and highly appealing.
I think this falls into the category of musicals parents want to see that teens will like. Your kids will know more of the music than you might expect. And they might actually know more of the Jackson 5 hits, which is now classic wedding and prom tunes, than Michael's solo stuff. And they'll like the dancing.
Wicked
Teen Traveler saw this play without us so I only have her review to go by.
She describes Wicked as a modern teen melodrama with witches and flying monkeys (the two rival witches start out as best friends and at one point have a crush on the same boy).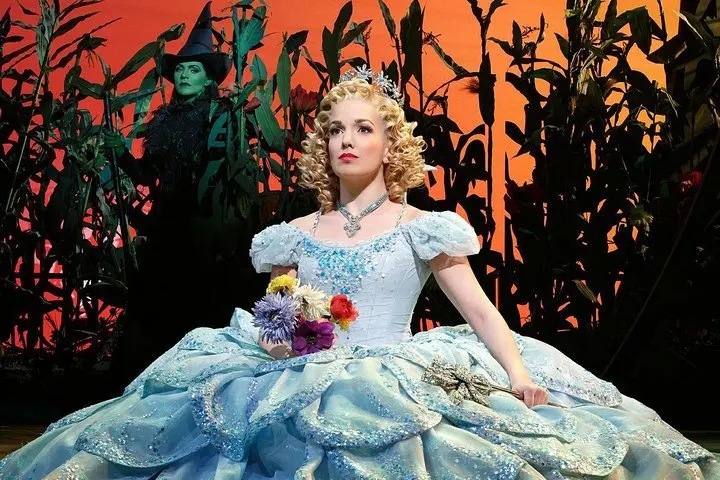 She didn't downloaded any music from the show; not even "Gravity," so it's safe to say it doesn't make her top-ten. But she really enjoyed seeing it. She says it's a "safe choice" with older kids, tweens and teens because "it's light and fun and the music has a pop sound."
Aladdin
Aladdin is currently at home in the New Amsterdam, right on 42nd Street. It's a historic theater that The Disney Co. did a predictably stellar job restoring. It's an added bonus to seeing whatever play Disney is showcasing there at the moment.
Teen Traveler was never a huge fan of the Aladdin movie (Jasmine's sartorial style just didn't appeal at all). But she liked this show more than she thought she would.
The many big production numbers are hard to not like and they throw in a flying carpet, some pyrotechnics and a lot of confetti for good measure. They also added songs not in the original movie to make it fresh for the audience.
In the vein of Peter Pan, Annie and Charlie & the Chocolate Factory, Aladdin is a Broadway show made for kids. Tween Traveler thinks 8-12YOs are the ideal audience. But, she says, "Anyone would like it."
It isn't her top pick if you're just taking teens to a show. But it could be a good choice if you have both a teen and a younger child and need a play that both can enjoy.
---
Planning a trip to New York City?
Read all my other posts about NYC with kids and teens
---
Off-Broadway
Many off-Broadway shows these days have big name stars and high production value and tickets can be as in-demand for popular off-Broadway shows as on-Broadway. And sometimes you'll see something headed to Broadway before it gets there.
Don't feel like you're skimping on a great theater experience by looking beyond Times Square for a great play. THe only you might be missing out on are the high ticket prices. Some off-Broadway tickets can be expensive but nowhere near the prices you'll pay for the big musicals.
The Play that Goes Wrong
Teen Traveler was laughing so hard when we saw it that I'm surprised she could breathe. The Play That Goes Wrong begins as an Agatha-Christie-type parlor murder. But it soon devolves into an old-fashioned physical comedy with windows that stick, doors that open when they shouldn't and a corpse that moves itself.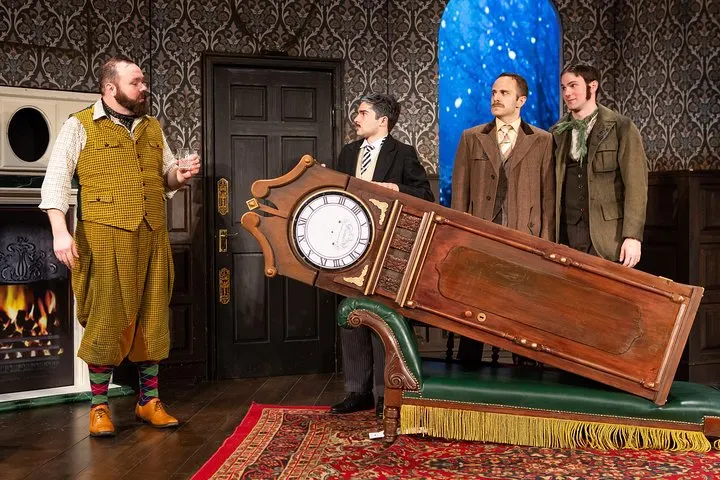 This comedy has been running for a while and it's easy to find inexpensive tickets. Even if you want to see a big musical, consider seeing this as well.
If you go, make sure that you're in your seat a good 15 minutes early. Things start to "go wrong" before the play even starts.
Blue Man Group
We were offered free tickets to this and I took them because I was curious to see what kids think of Blue Man Group these days. I can guarantee this mix of music, comedy and performance art will be like nothing your kids have seen before.
It can be a very loud show. But Tween Traveler stuck noise-muffling headphones on and had a ball. Afterward she wondered how the heck she would describe it to her friends at school on Monday.
The show's theater that sits on the border between Greenwich Village and the East Village, pretty far off Broadway. These are quintessential and historic NYC neighborhoods and have a lot of great, cheap restaurants. So take time to explore them before or after the show.
Read my full Review Should Your Take Your Kids to Blue Man Group?
Little Shop of Horrors
Before writing the music and lyrics for The Little Mermaid, Beauty and the Beast, Aladdin and other feel-good Disney hits, Alan Menken and Howard Ashman wrote Little Shop of Horrors, a musical based on a bad 1950s horror movie about a people-eating plant bent on world domination.
Teen teen loved the black humor, bad botanical puns and catchy songs. She downloaded the cast recording as soon as she got home and listened to nothing else for a few weeks.
I first saw the show when I was about her age, in it premier run down on the Bowery (the original Skid Row). I saw it on Broadway, too where they had to make it a bit bigger and splashier.
I have to say I prefer the first latest run, which is in a theater just west of the Broadway district. The B-horror-movie kitsch, and physical comody work much better on a smaller stage.
Give one of the songs a listen with this video.
Though it's off-Broadway the tiny cast is stellar and it hasn't been an easy ticket to get. If you can score seats definitely go.
Overheard From Friends
These are plays we haven't gotten to yet or are not our cup of tea. But they're popular and should be on your radar, too.
Shucked
A friend saw this new musical comedy with 13 and 16YO boys. They all loved it and the older one in particulary laughed throughout. The action kicks off when the protagonist, Maizy, leaves her home, Cobb County, to find a way to save the community's corn harvest and her wedding day. It's quite a pun-filled journey.
She told me the crowd really got behind the silly humor and the songs and were on their feet long before it was even over. It's definitely an escapist, feel-good kind of show (which we can all use right now).
The three pop musicals just below are likely to appeal mostly to girls, so it's great to have an option like Shucked (or Little Shop or Play That Goes Wrong) that appeals across genders. I think it could be the sleeper hit of 2023.
& Juliet
Shakespeare's wife rewrites Romeo & Juliet and decides Juliet isn't silly enough to kill herself over some guy. Instead she escapes to Paris to become a club kid and find herself. & Juliet is a jukebox musical full of pop hits Max Martin has written for everyone from Katy Perry and Britney Spears to Justin Timberlake and Bon Jovi.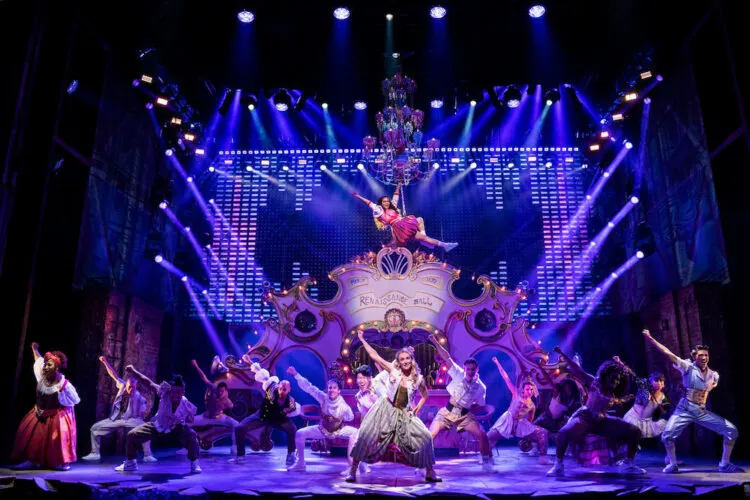 It previewed in November and should easily run through the summer. The word on the street is that the script is funny, the dance numbers are "Larger Than Life" and the whole play has been making audiences "Roar" during it's run in London. It will give Six a run for its money. We know several teens hankering for tickets.
Six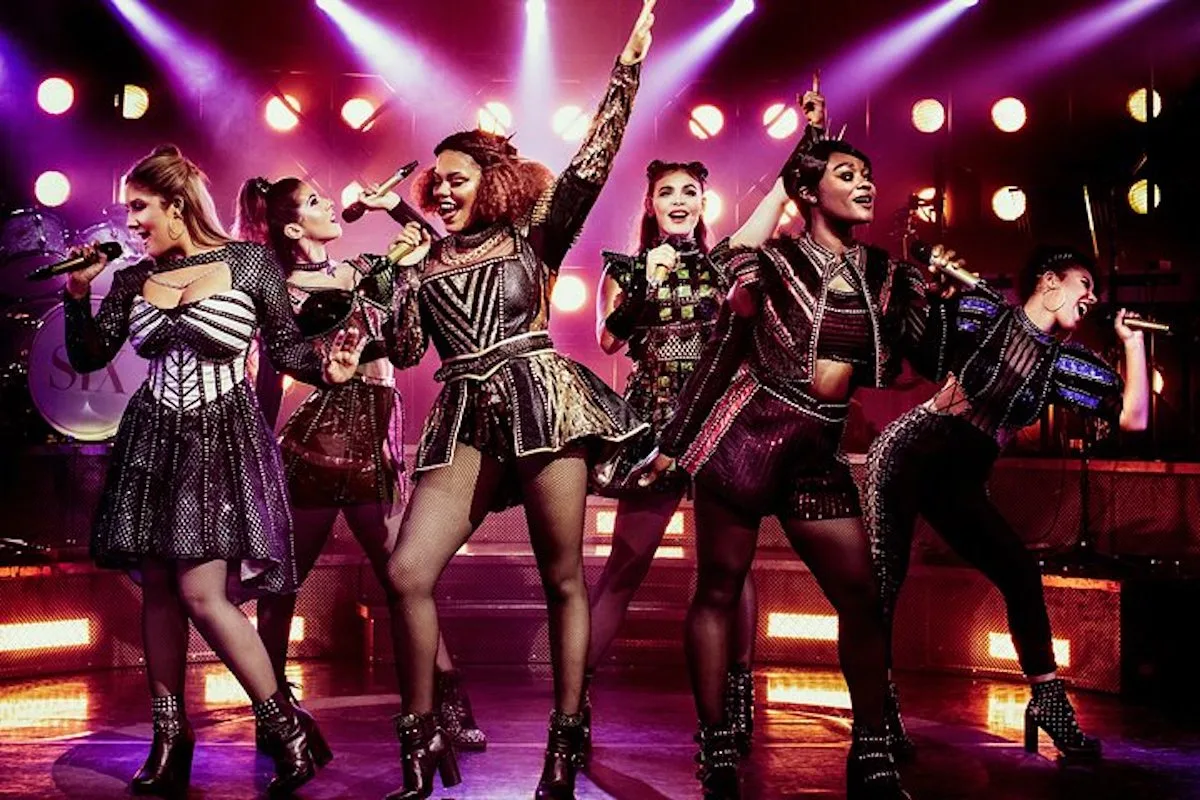 Six has garnered eight Tony nominations and is particularly popular with teenage girls. It's the only show on Broadway with an all-female cast and all-female band. It has the strong Broadway-meets-pop sensibility fueled by costumes created by a designer who worked with the Spice Girls.
It's not my teen's scene at all but it offers a good dose of girl power and it's a good pick for for teens and tweens who generally prefer pop music to show tunes.
Tips for Discounts
As expensive as box office tickets are for Broadway shows there are ample opportunities to find discounts. It's easy to find inexpensive tickets to some shows and almost impossible for others. You'll find more discounts in mid-fall and deep winter than in the peak tourist months during the summer and between Thanksgiving and New Year. Here are some sources I've used to get a break on ticket prices.
• TKTS tickets are always exactly half-price and in my opinion they get the best seats of any discount dealer. For Beetlejuice I got seats that were center orchestra, about 15 rows from the stage.
You have to go to one of two TKTS booths in Manhattan and buy tickets for the same day (or the next day for matinees) and there are no guarantees of what they'll have on any given day. I tend to keep an eye on TKTS live via the website or app to see what shows are showing up consistently. I've seen many of the show listed here in the TKTS feed at one time or another.
If you have a few shows you're interested in and can get to the booth promptly when it opens you have a good shot at tickets you want at a 50% discount.
• The Playbill website offers discounts, generally of 30%-40% on select plays. They discounts are usually for new shows in previews and long-running plays.
We've taken advantage of the preview discounts a lot over the years. The risk is that you're seeing shows that haven't been reviewed yet. We've seen some stellar plays with actors who are household names. We've also seen a couple of clunkers (some of these also with household names).
It's always worth checking to see what they have listed. The advantage of Playbill is that they provide a discount code you take to the show's regular ticket vendor (like Ticketmaster) and from there you can choose your seats like any other ticket buyer.
• Today Tix offers roughly the same discount as Playbill but on a wider range of shows. I've bought tickets this way once or twice but it's not my favorite. For one thing, while they let you choose orchestra, mezzanine or balcony they don't tell you what seats you have until after you've completed the purchase. Tickets I've gotten from here have been in the very back of the orchestra, way over to the side or in the rear mezzanine.
If you want to be sure of getting tickets to a specific show, want to save a little and aren't picky about your seats then TodayTix might be the best option. But I prefer to use TKTS or Playbill when I can.
• I've only started using Seat Geek for Broadway tickets recently. It's a verified reseller and tickets can sell at a discount or premium to face value, depending on demand. It's the way to find seats to shows that you just can't get tickets to otherwise.
But some shows use Seat Geek as their main ticket venue and they'll discreetly lower prices on slower days. For a Wednesday matinee in early November I got $99 orchestra seats to Hadestown for $69.
Stub Hub works in a similar way to Seat Geek, but for a recent show Stub Hub sold me and someone else a reseller ticket for same seat, which makes me fairly cautious about using it again.
Start Planning Today!
Shop NYC Hotels and vacation rentals
Pin it for later!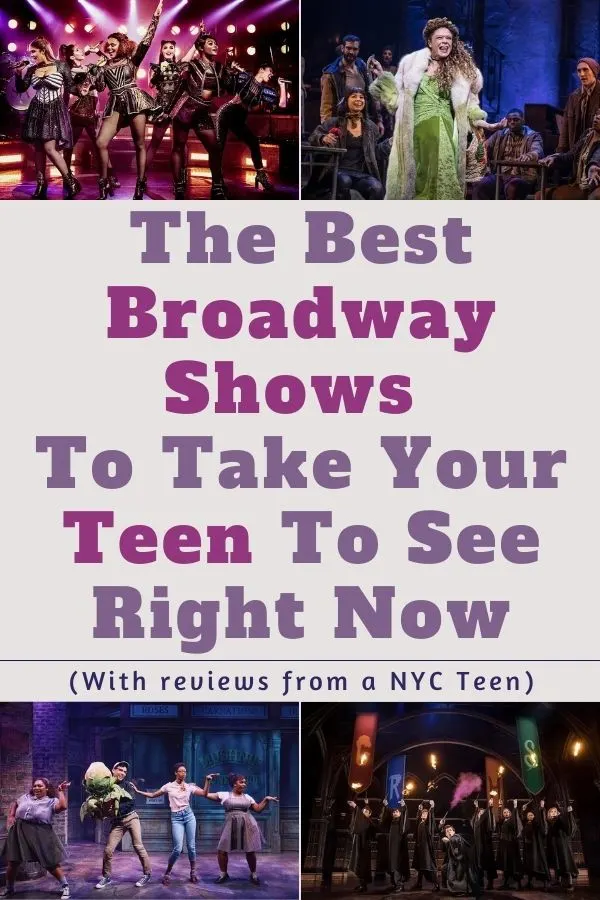 Photos courtesy of the shows, via Trip Advisor. Feature Photo and Aladdin via Pixabay.