You can find familiar resort brands in Costa Rica and they will be everything you would expect them to be. But on both of my trips I stayed in smaller local resorts. They were beautiful properties with good restaurants and plenty of creature comforts that families will appreciate.
They also all had unique features that gave us a sense of place. We always knew we were in Costa Rica, especially when we were able to spot a colorful bird on the way to breakfast or relax in volcanic hot springs after a busy day.
Every place we stayed included breakfast in the room rate. In most cases there a buffet with a mix of familiar items like pancakes and scrambled eggs and local dishes like gallo pinto (seasoned rice and beans). And there was always good coffee and fresh fruit.
All of these hotels and resorts have a lot of property, which makes them lovely places to stay, but Wi-Fi was not always reliable in our rooms. It was always steady in the lobby/restaurant/bar areas.
These kid-friendly hotels are in different price ranges—some as little as $125/night off-season and all under $300, even in high season. They each offer real value for their room rate. Most families are sure to find a resort listed here that fits their budget and travel style. We stayed at the first four with a teen, who could wander around on her own and could apprecaie why they were cool. But there are two that are ideal with younger kids, as well.
---
Looking to read more?
• Top Things To Do With Teens in Costa Rica
• How To Explore Costa Rica With Young Kids
• 15 Costa Rica Foods Kids Will Love
• Print my Packing List For A Costa Rica Family Vacation
---
We Review 7 Costa Rica Resorts:
Which is a Fit For Your Family?
Rio Celeste Hideaway
Rio Celeste Hideaway near Tenorio Volcano National Park was by far my whole family's favorite resort. The winning feature was the access to the river; swimming there and having it all to ourselves was an all-time top-five vacation moment for us.
But there was also the hotel itself, which reminded me of the hotels we stayed in when we traveled in Bali, Lombok and parts of Laos. From the lobby to the rooms the property featured lots of dark-wood, rich colors, high ceilings with fans and open-air spaces.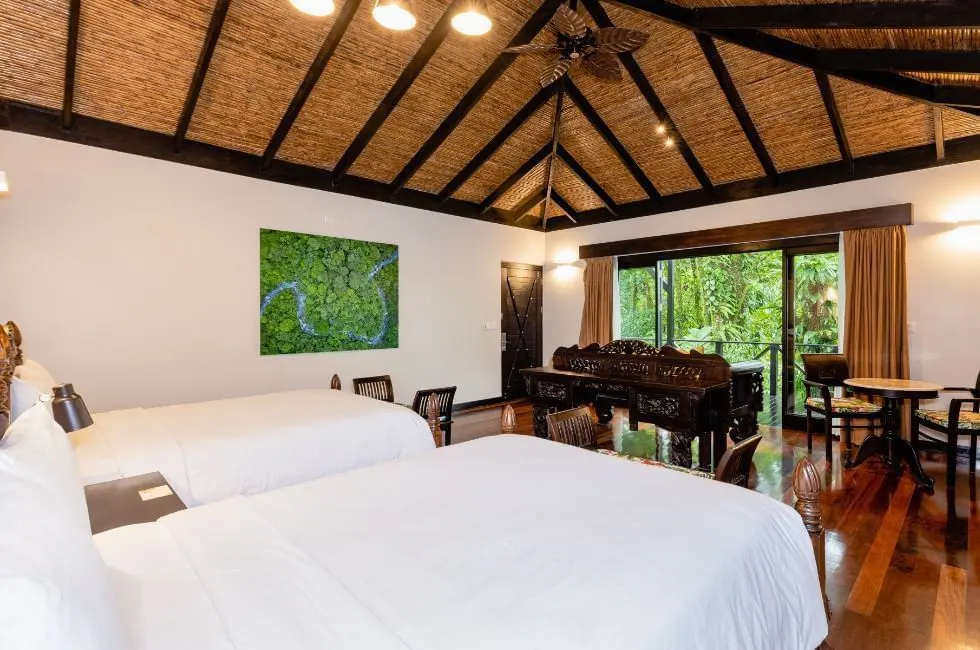 Each room is a stand-alone casita with plenty of space to spread out. A rolled-arm sofa faced glass patio doors that opened wide, providing a front-row seat to the jungle outside. It was the perfect place to stretch out with a book when we were trapped inside briefly by a summer downpour.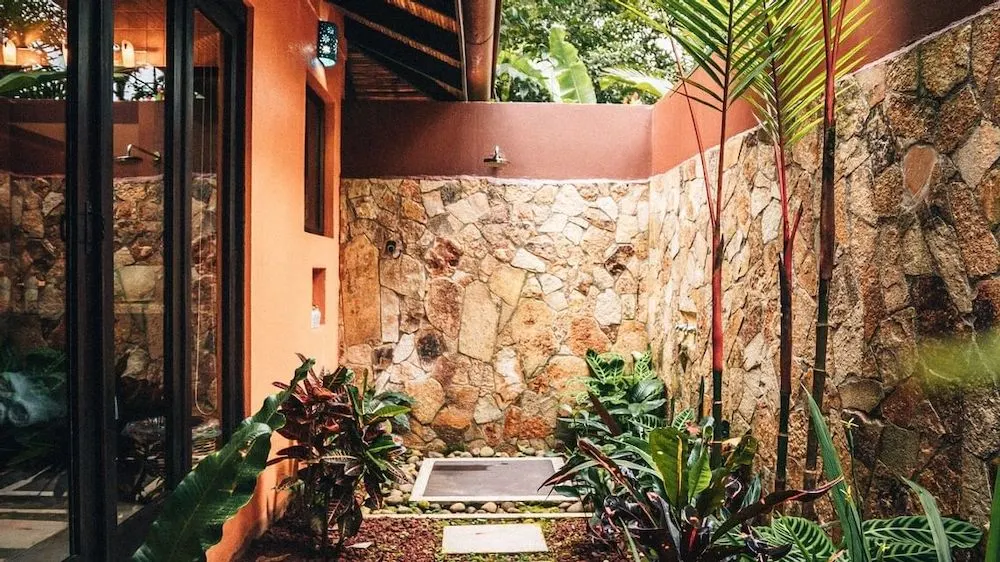 We also had an outdoor shower set in a small stone-walled garden, which we used exclusively because it was lovely. The indoor shower was the place we hung bathing suits to dry
As the first one up I usually spent a few minutes each morning in the molded wood chair on our back porch, listening to birds and cicadas. One morning I heard a loud squawking and looked out to find a huge parrot way up in the trees.
There is a large pool with three hot tubs. We were able to enjoy ourselves while giving some distance to the guests enjoying some couple time. We ordered lunch by the pool after a hot day of hiking.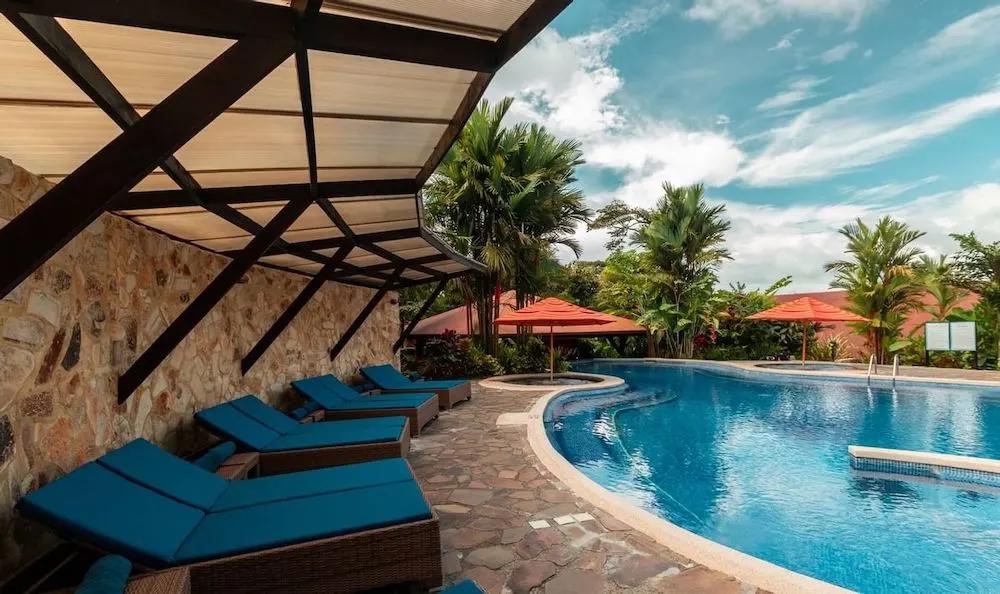 It was another meal that wasn't especially typical but Teen Traveler was happy for the opportunity to eat chicken fingers and fries while Rich and I took a break from all the rice and beans with a big salad.
The Cantina Delirio bar has colorful Moroccan lamps, fun cocktails (including a good Shirley Temple) and tables that were the perfect size for playing a few card games before dinner.
The restaurant had a typical hotel menu mix of steaks, pasta and Costa Rican food. They did a good casado, and they made a vegetarian one for me on request with extra avocado and roasted vegetables in place of the usual chicken.
Hotel Hacienda Guachipelin
Hotel Hacienda Guachipelin near Rincon de la Vieja grew out of a working ranch and walking past chickens and goats to get to our room gave the place a rustic feel. But with a helpful front desk, lovely pool and poolside café and all the hot springs and swimming holes, it's a comfortable kind of rustic and an easy place to relax.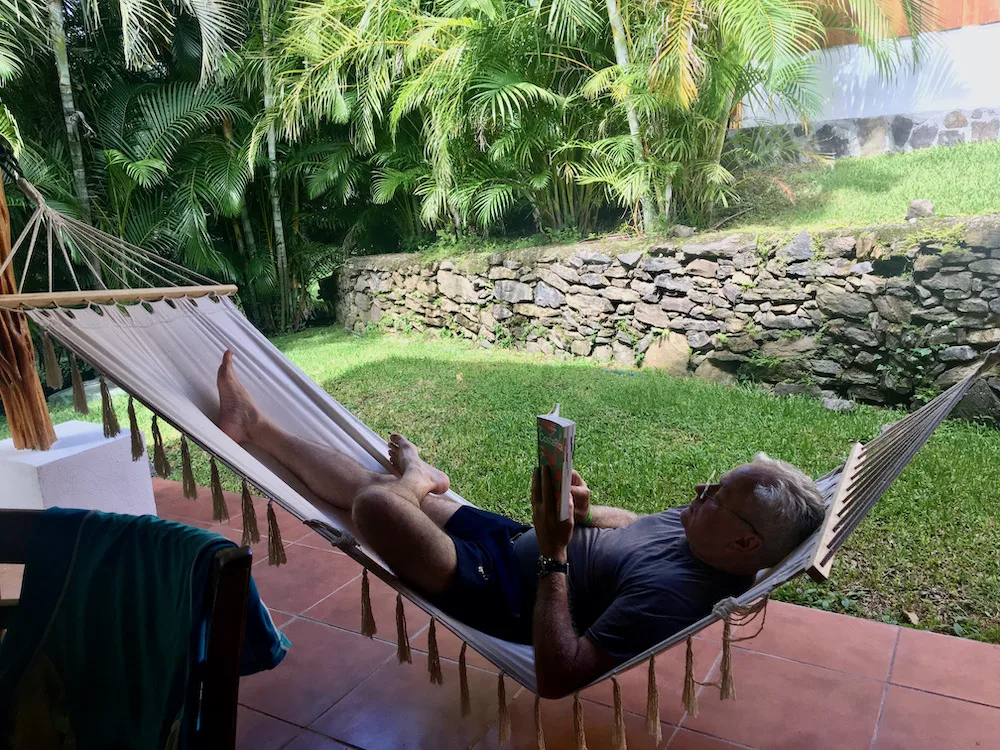 We stayed in a legacy suite, which had a ranch feel to it and a front a back patio with hammocks that we made good use of in the afternoons between activities and dinner.
Guachpelin also has its own adventure center onsite with horseback riding, river tubing, zip-lining, mountain biking and more. So we did quite a bit without even leaving the property.
Speaking of dinner, we really liked restaurant here, which is mostly an open-air terrace facing a ravine. They source most of their ingredients on the ranch or locally and offer a lot of Costa Rican dishes.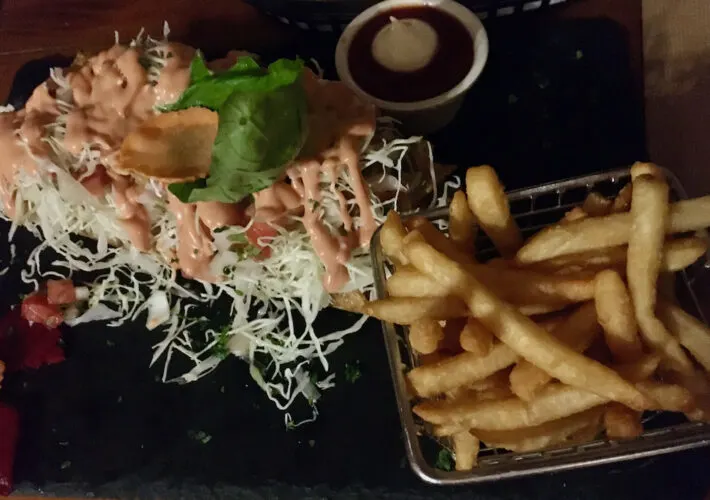 Over a few nights we ate arroz con pollo, dotted with vegetables, beef tacos ticos covered in shredded cabbage and salsa, casado and chifrijo (rice and beans decorated with pork rinds, bacon, pico de gallo and lime). For breakfast there was always gallo pinto, fresh fruit and spicy chorizo sausage to go with the eggs.
The restaurant has pasta and sandwiches at night and pancakes in the morning, in case your group wants something more familiar.
The property is huge with several waterfalls, natural pools, a hot springs complex and an adventure center. You can river tube, zipline, ride horses and go mountain biking without leaving the property. (Read about our adventures doing some of these things).
This was the only place in Costa Rica where we wished we had a car. We wanted to try a few of the natural pools on our own but the trailheads to them were further than we could easily walk. There was a hotel shuttle but it didn't stop at the smaller waterfalls and pools.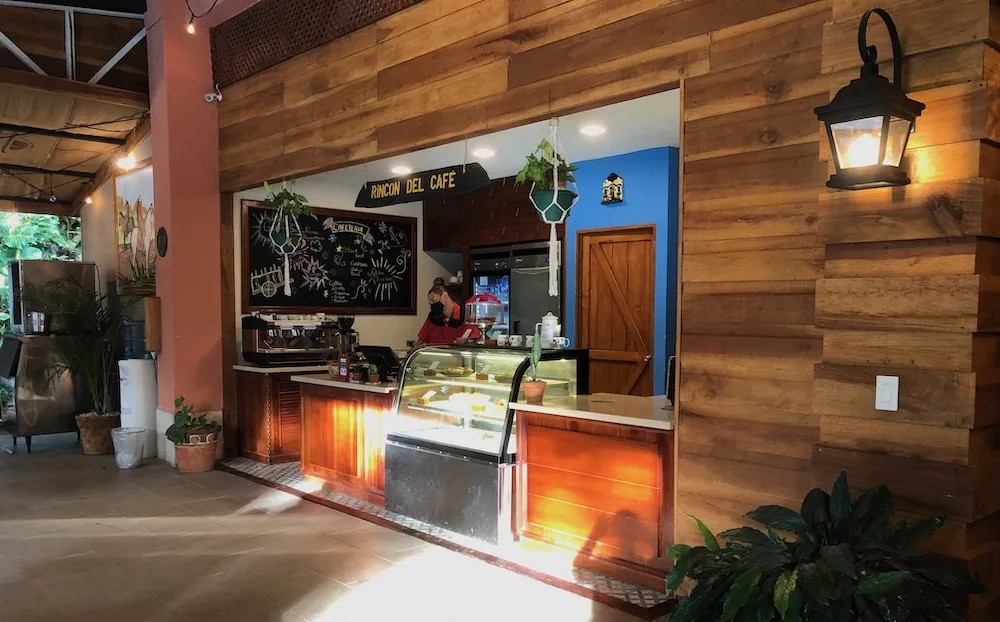 But the café by the pool made very good daiquiris and had excellent chocolate chip cookies, which drew us there for some swimming and chill-out time each afternoon.
Parador Resort & Spa
We weren't sure what to make of the Parador Resort (top) when we first arrived. It seemed huge, with a vague and somewhat overdone medieval Spanish motif, but don't be put off. We really enjoyed our time here.
It's perched on the very end of Quepos Point, with amazing views of the sea from the pools and most of the hotel room balconies.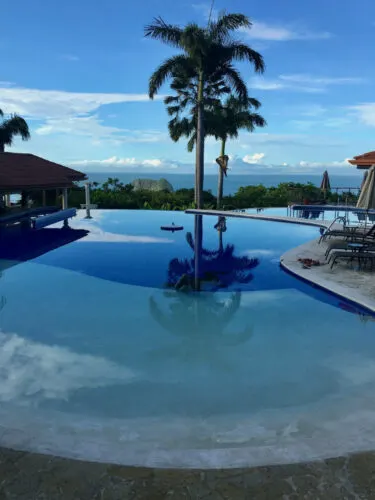 It has a lot of undeveloped land with a frog pond and hiking trails that wander up and down around the point. We did our second night tour here and saw a lot of frogs and insects. A sloth makes its home in a tree next to the pool and bright red Macaws flew overhead almost every morning. We saw the sloths and a troop of monkeys scampering around during a rain storm.
There is a main pool, a family pool and a pool that's just for adults. The main pool has a bar, hot tub and graduated entry on one side, It was used mostly by families anyway, so this is where we swam every afternoon.
The property sprawls a bit, but they will take you and your luggage to your room in a golf cart. They use the same golf carts to run you down the road to Playa Biesanz, a popular beach cove with nice waves and a mix of tourists and local people.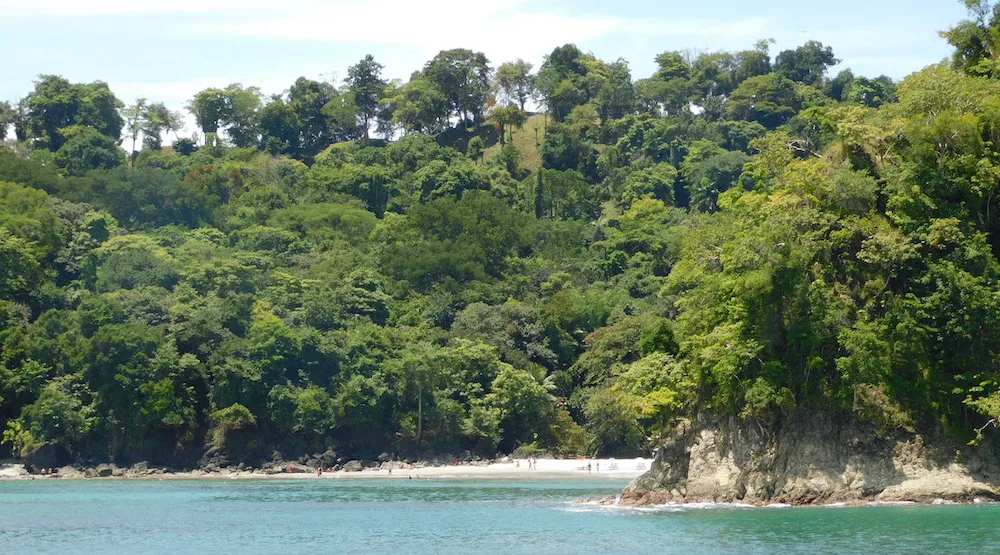 Our room was in the building where the adult pool is, toward the back of the property. But we were more than compensated for the walk to the lobby and pool by a large room that was a good size for three. We could unfold the pull-out couch and still have a fair amount of room. Plus we had amazing views and a whirlpool on our balcony.
The bathroom was it's own little suite wit the sink in the common area and the toilet and shower in their own small rooms, which is a very family friendly detail for me.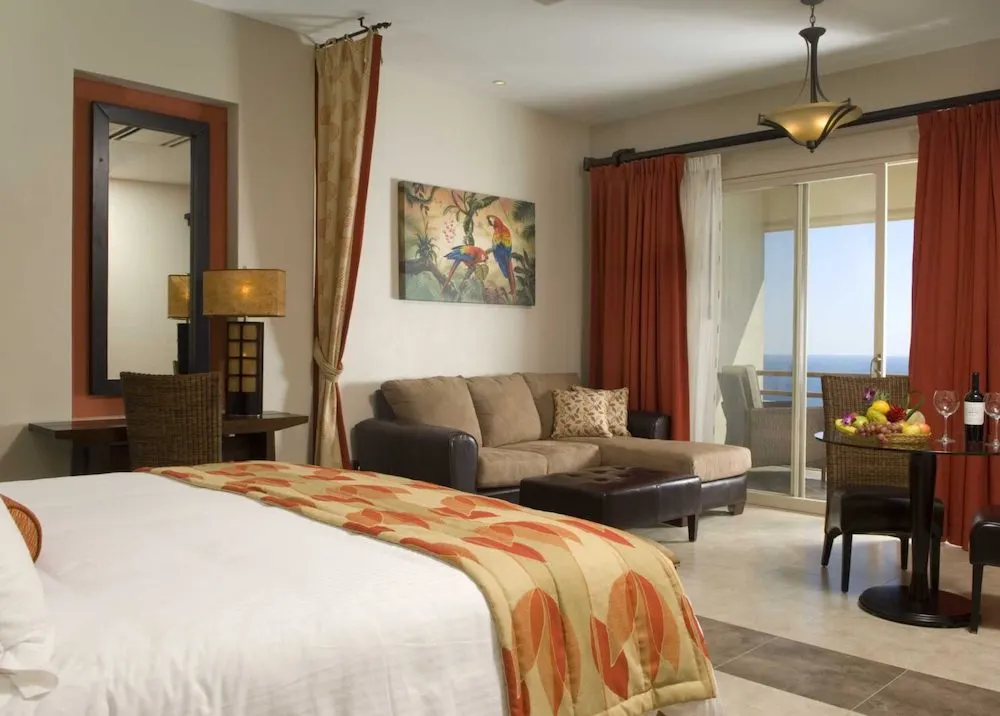 They changed the breakfast a bit each morning, offering different egg dishes, meats and pastries, which we appreciated. Everyone is here to explore Mañuel Antonio National Park, so the breakfast room is busy early in the morning.
We had lunch by the pool one afternoon and tapas for dinner at the bar one night. Both were good. And they had good frozen drinks and local microbrews at the pool bar.
Parador completely won us over after Rich asked the front desk for a recommendation for a restaurant for our wedding anniversary, which came up while we were there. The desk suggested restaurants and also discreetly noted our room number.
Later in the day we found champagne, chocolate-covered strawberries and a hand-written note in our room. You can't get more personalized service than that and it impressed us.
Tilijari Hotel Resort
We stayed at Tilijari Resort for one night so that we could fly from La Fortuna to the coast in the morning.
It's a large property that's popular with Costa Rican families with smaller kids. They come for the pools, the restaurant's very good hamburger and the batidas (fruit smoothies) the staff are happy to deliver poolside all day long.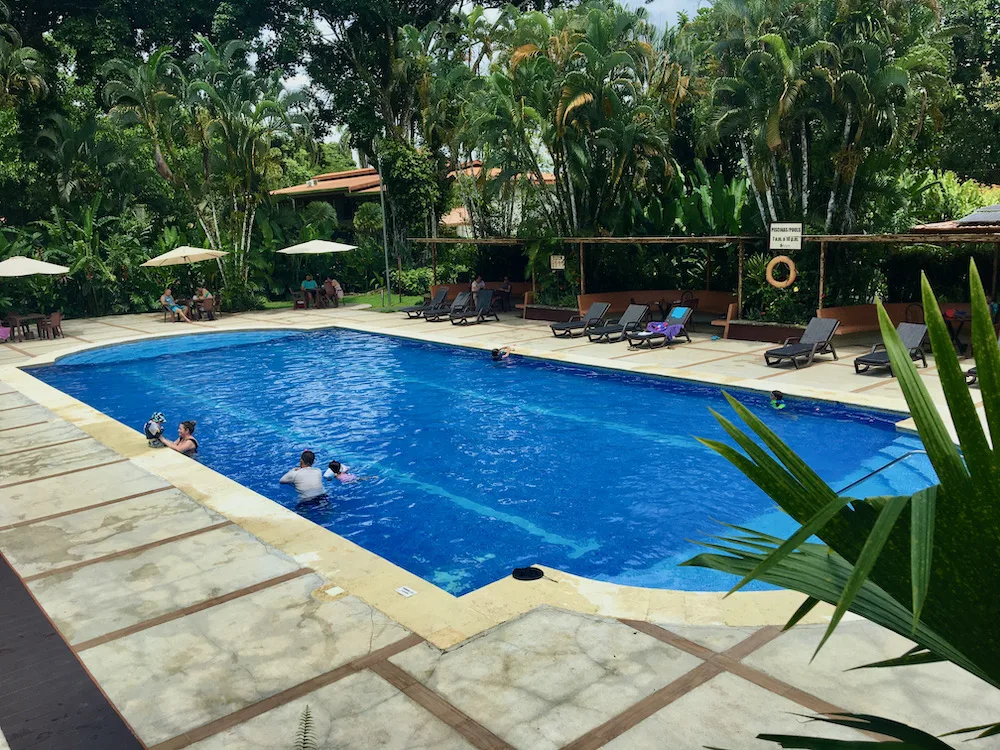 The pools include a large main pool, a shallow wading pool for tots and a large hot tub on an upper level overlooking the San Carlos River. The pool had a lot of trees for shade and comfortable places to sit. In the morning it was mostly families with small kids but I'm sure most guests wind up here in the afternoon after their activities.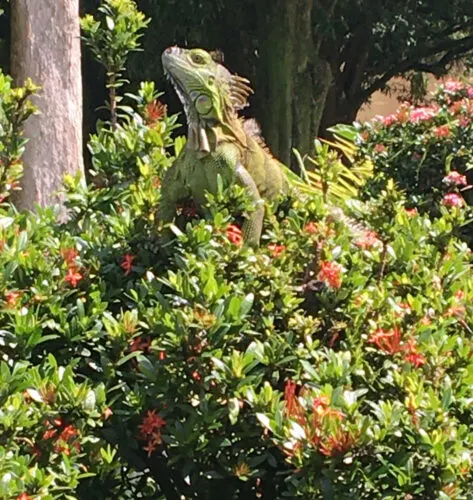 The extensive grounds also have a soccer field, tennis courts, horseback riding, a butterfly house and a scenic pond. In the morning we saw iguanas all over the grass near the pond and around the restaurant. The actually scampered, which I've never really seen before.
Some rooms overlook the river. We had a room in a newer building overlooking the pond. The room was huge, the bathroom was large. So was our deck and had we been staying longer we probably would have sat out there with a couple of drinks and our books after a busy day. These rooms are definitely made for families.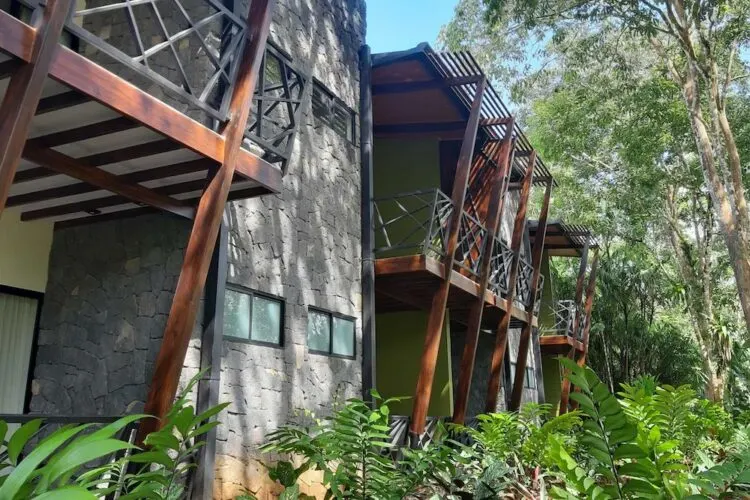 Breakfast also had the best selection of anywhere we stayed and we all went back twice for the empanadas and other pastries.
The hotel is about 14 miles from La Fortuna and 16 from Arenal Volcano. We were only there for one night and would have liked to be closer to town; the cab fare was about $25 each way. But the Arenal area offers access to almost any activity you would want to do nearby and the hotel will arrange excursions for you.
Miradas Arenal Hotel & Hot Springs
On a previous trip I stayed outside La Fortuna at Miradas Arenal Hotel. It's not in same class as the four hotels above but it's a solid option if you are looking for someplace local, comfortable and very budget friendly.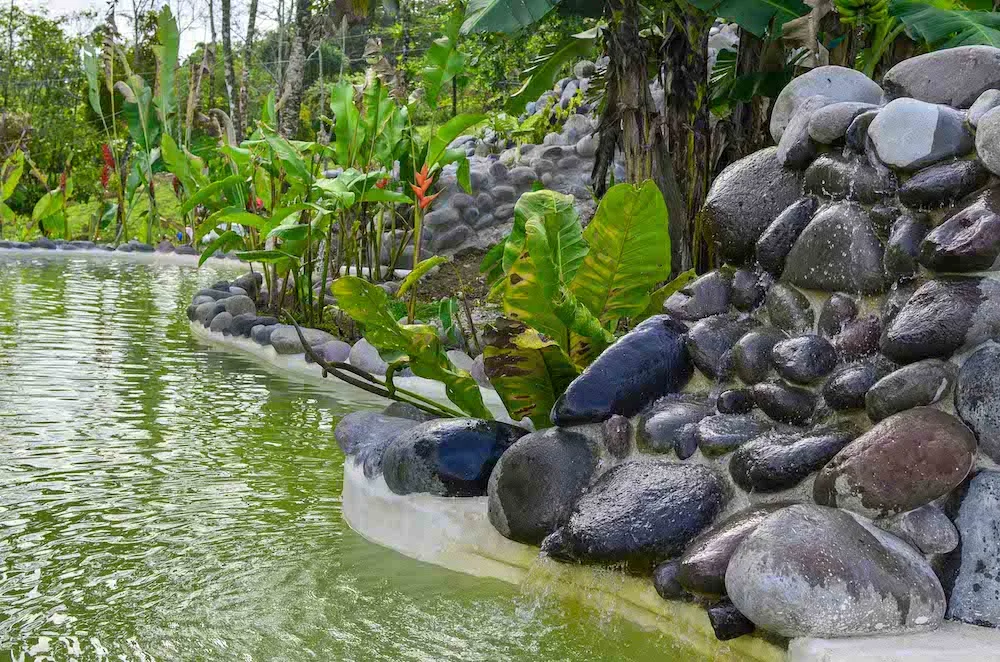 The best part of the property is a series of hot springs that go from lukewarm to pretty hot as you walk uphill from the pool. They're unfiltered and the water is a brown-ish green but they have more than a dozen minerals and are great for your skin so don't be afraid.
You can play Goldilocks and try them all until you find the one that's just right. There is a bar by the pool but we brought our own drinks to the upper pools and no one bothered us.
The casitas are a little rustic, but fine. Some have refrigerators and most have a porch where you might spot birds or a tapir in the morning. Don't leave a light on at night though or bugs will flock inside as soon as you open your door.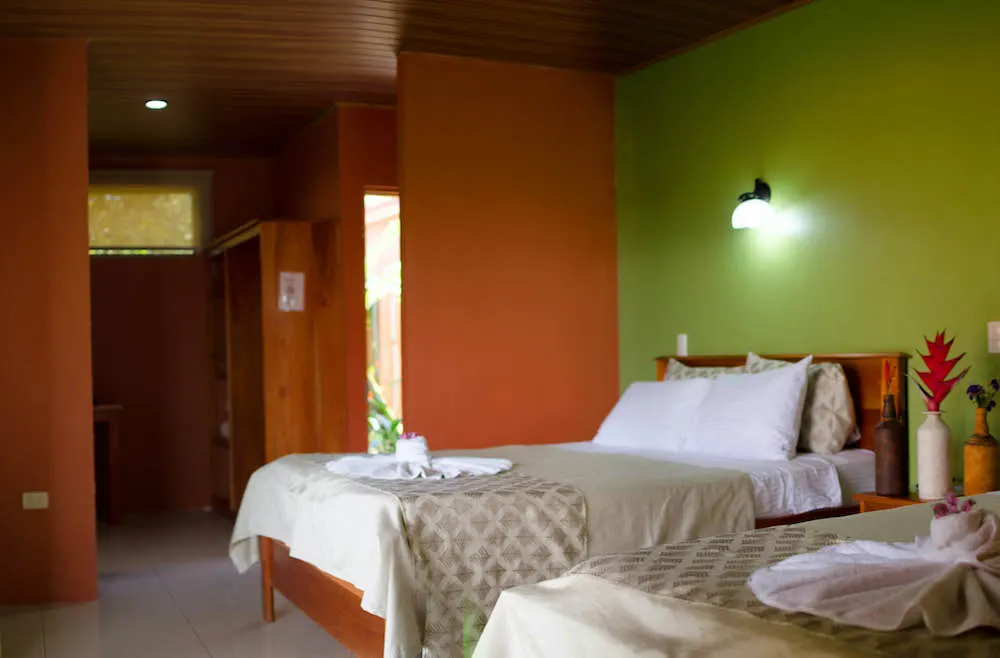 My biggest complaints were that the door lock seemed flimsy compared with most other places and the shower took a while to get warm. The property was dark at night—I assume that was to keep the bugs a at bay—but were fine.
The breakfast was very good, especially the sweet plantains that came with the eggs, and I've been told they serve good dinner as well. And it's close to everything you'll want to do in Arenal and La Fortuna.
Tilijari rates are a just a bit higher and it's a better value but if you're on a budget this is a reasonable option.
Tip: You have to go to the front desk for pool towels where they'll ask for a deposit on them. This is somewhat common in Costa Rica and they take it seriously. If you don't return the same number you borrowed you will be charged.
Something Different: Stay in a Biological Preserve
One of the best things I did during my first visit to Costa Rica was to spend a morning at the La Selva biological research station, about 50 miles north of San Jose.
It's the oldest biological research station in Latin America and almost always has short and long-term researchers and students staying. You can't explore on your own but La Selva offers guided walks along its miles of walking paths a few times a day.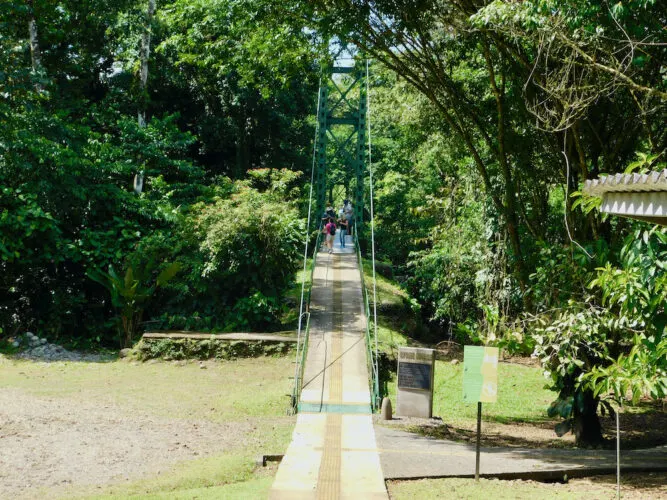 Keep your eyes open for more than 2,000 kinds of plants, 125 mammals (including some 70 different bats); 470 bird species; 48 amphibians; 87 reptiles and thousands of bugs. In our brief visit we spotted spider monkeys, tiny red frogs, bats and a pig-like peccary.
Visitors can rent cabins to stay overnight, which I didn't get to do, but highly recommend. It's not a resort, of course, but it is a unique experience.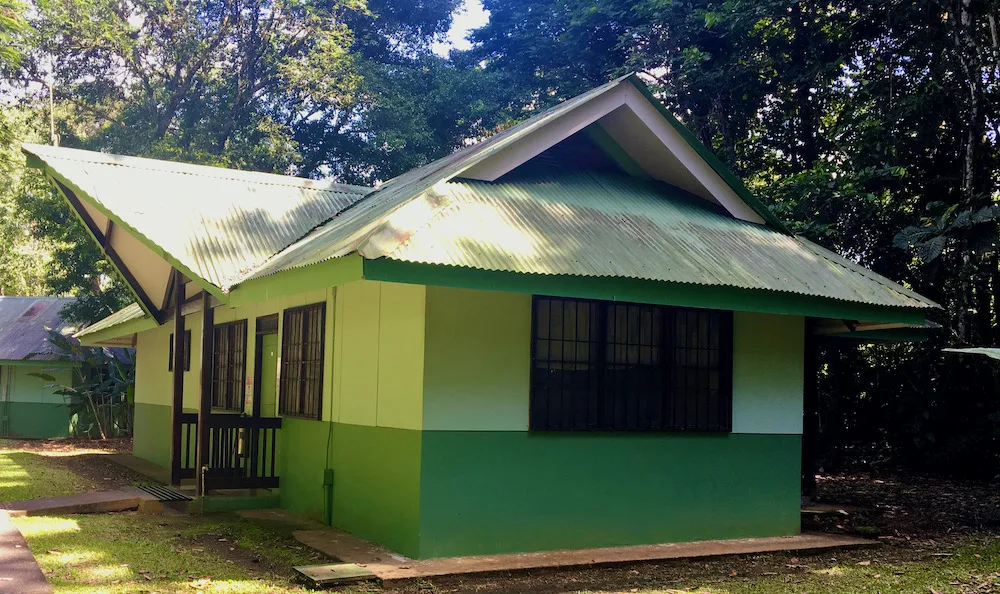 If you do, you can take advantage of guided walks in the very early morning and evening, when creatures are most active. You also have more freedom to explore on your own or borrow the station's bicycles.
The cabins are basic but comfortable. There's no air conditioning but the windows have screens. and there is a little playground for kids.
You can bring food to do some light cooking or eat in the cafeteria with the resident academics. I had lunch in the cafeteria and thought the typical Costa Rican food – which included stewed chicken or vegetarian stuffed squash– was fresh and some of the best food I had there.
La Selva is a bit off the beaten path and tourists are not the main focus, which makes it a special place to visit.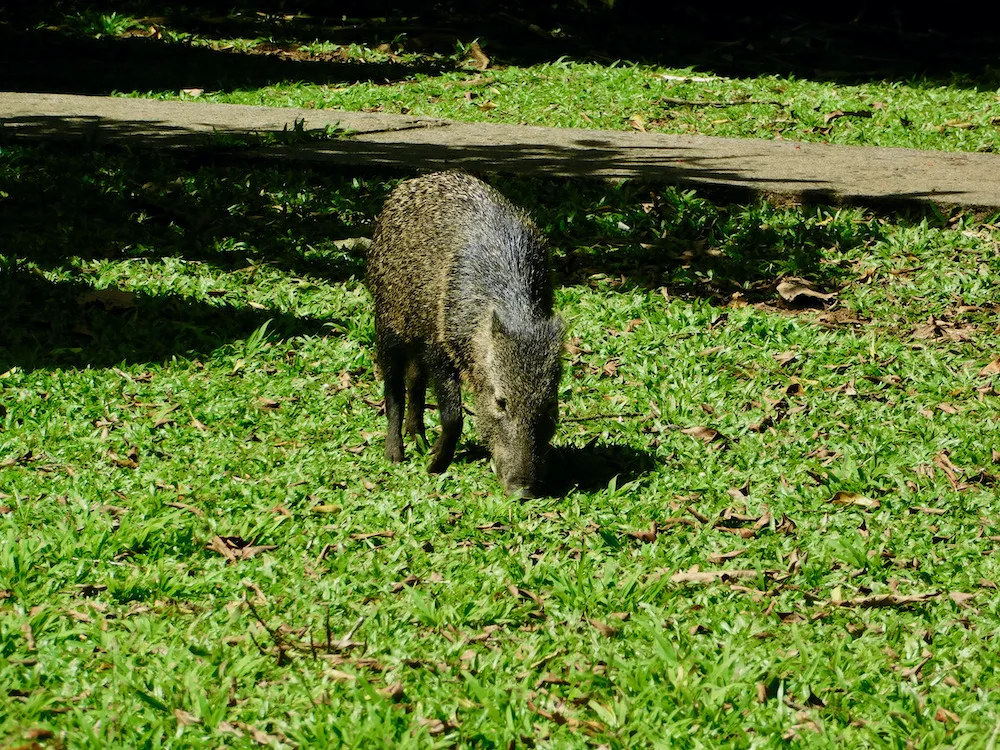 Tip: We had Costa Rica Family Holidays organize our trip for us. In a place like Costa Rica I think it's worth using a local planner because they will send you to really cool places like this or Celest Hideaway that are easy to miss when you plan on your own.
Dreams Las Mareas
Heather Lawless traveled to Costa Rica with much younger kids and preferred a branded resort on the northern pacific coast near Jobo Bay.
She says: While we were making an effort at providing lots of enrichment and cultural experience, this was a vacation, after all. Dreams Las Mareas, an all-inclusive resort on the north Pacific coast, offered low-key luxury with plenty of surrounding natural beauty, a family friendly vibe and thoughtful comforts to spoil the grown-ups.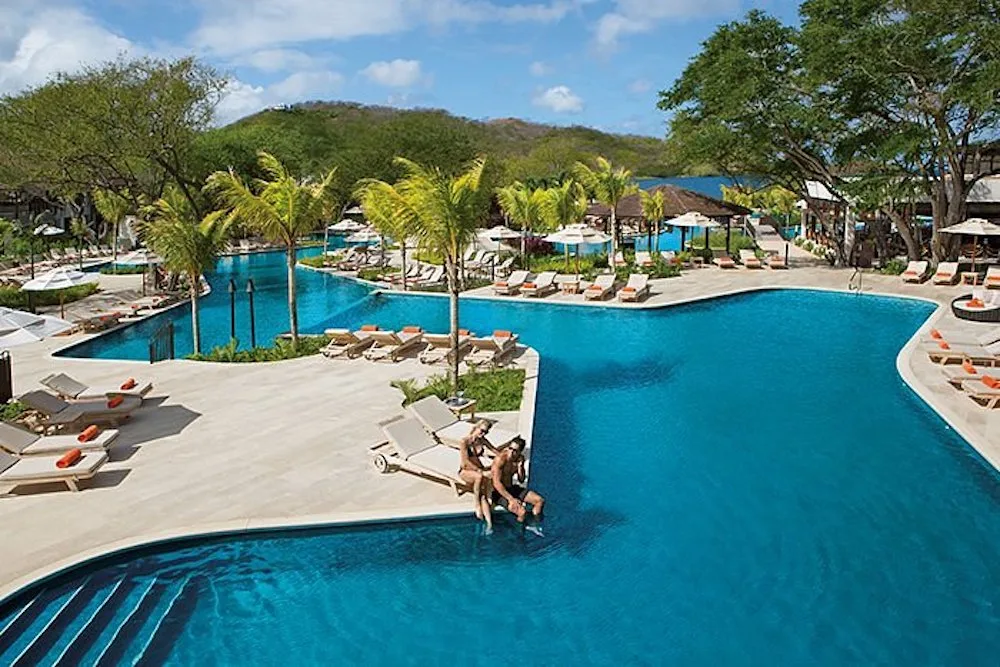 The food was outstanding and 75% of the staff was local, which helped to give it a more local vibe. Our room was stunning, with a swim-out pool and a large balcony.
Our kids tried a hotel kids club for the first time while we were here. The "Explorers Club" was open from 9:00 a.m. to 9:45 p.m. and had kids from around the world. Activities included nature hikes, a natural waterslide, water polo in the kids pool and sandcastle competitions.
We had a pager in case the kids needed us, but our kids never wanted to leave, which we didn't anticipate. The grandparents and aunties traveling with us wanted to actually see them, and we had plans to actually see some of Costa Rica.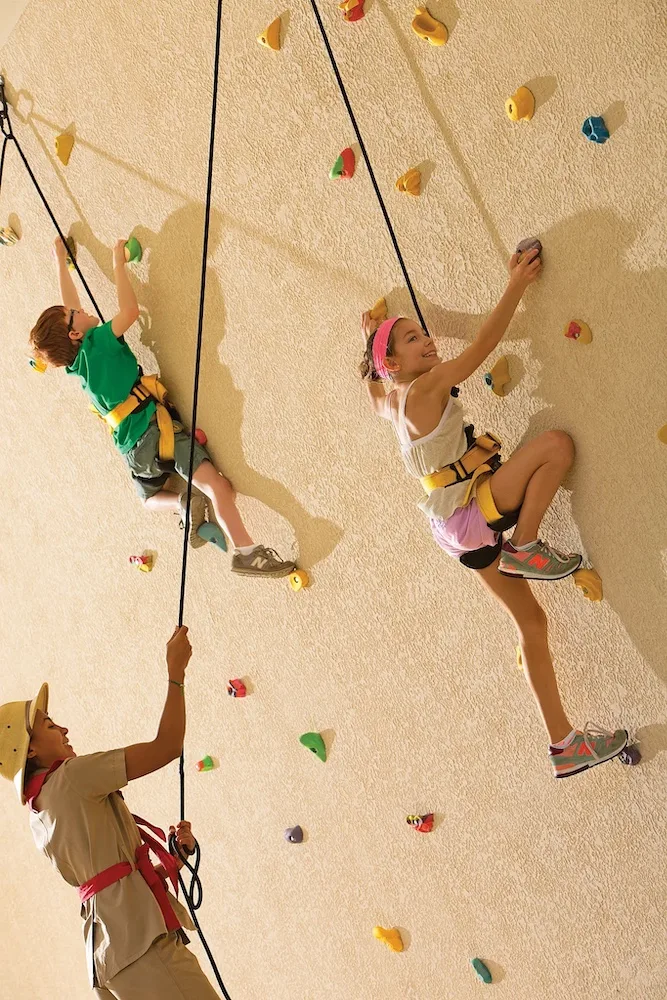 So they the first part of the day with us and went to the kids clubs later on while we relaxed by the pool with a cocktail or enjoyed a quiet dinner in the adults-only restaurant.
The trip from the airport in Liberia was 90 minutes on a bumpy road, but worth it.
Pin it for later!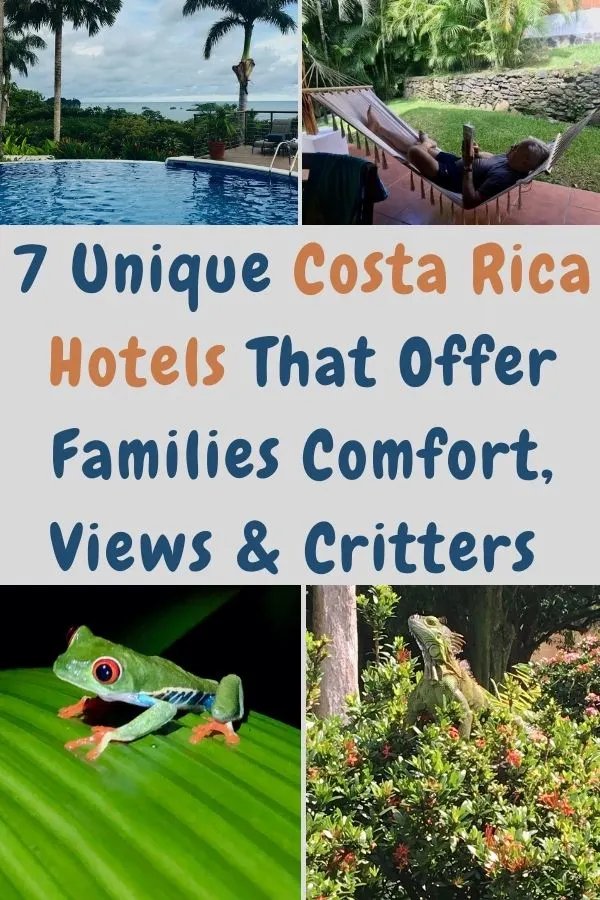 Heather Lawless is a Toronto-based food and travel writer. She's the author of The Lawless Vegan and Chickpea Revolution. Follow Heather on Instagram, Twitter and Facebook @thelawlessvegan.
Photos Guachpelin, La Selva, the Parador pool, Biesanz Beach and the Tilijari pool and iguana are by FamiliesGo!©. The Parador and Tilijari rooms, Rio Celeste Hideaway, Miradas and Dreams are courtesy of the hotels.
I was hosted at Miradas Arenal on a media visit. My family paid for our stays at the other hotels but received a media discount. Heather's family paid for their stay at Dreams.