Top 10 Things To Do With Kids in Los Angeles
The concierge at the Peninsula Hotel was kind enough to provide his top ten list for things to do with Kids in Los Angeles. We thought it was a handy round-up of all the must-see attractions for  families. It also clued us in to a few hidden gems we didn't know about, like glow-in-the-dark mini golf—cool!
Aquarium of the Pacific
Discover the world's largest ocean as you journey from the frigid waters of the North Pacific, through the local waters of sunny Southern California to the colorful reefs of the Tropical Pacific. Along the way meet more than 12,500 sea creatures including the ocean's ultimate predators in Shark Lagoon.
California Science Center
Find out what single-celled bacterium have in common with 100-trillion-celled human being; find out how people employ technology to meet their needs and how man explores the universe. At the end of 2012, the center will become one of only four institutions in the U.S. to house a Space Shuttle Orbiter.
Disneyland
The original "Happiest Place on Earth" still charms visitors some 50 years after opening its gates. While it has all the high points you want to hit at a Disney Park, parents might find it smaller and more manageable than the park in Orlando, especially with smaller kids.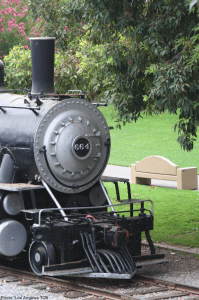 Griffith Park Pony & Wagon Rides
This is where to go for your child's first pony ride…and second, third, fourth, and fifth!  The ponies can carry kids ranging in age from toddlers (strapped to the saddle) to those old enough to trot around by themselves. Better still, it's located next to a pleasant picnic area in Griffith Park.
Hollywood Walk of Fame
After spotting the sidewalk stars with your favorite actor's names try stepping in stars' footprints at Grauman's Chinese Theatre and admiring the costumes in the Hollywood Museum. Then pose for photos with costumed characters ranging from "Marilyn Monroe" to "Batman."
[Planning  A Visit? Try our California Hotel Guide]
Los Angeles Zoo and Botanical Gardens
The L.A. Zoo is home to more than 1,100 creatures representing more than 250 species, of which 29 are endangered. The botanical gardens feature more than 800 plant species and more than 7,400 individual plants.
Page Museum and La Brea Tar Pits
Go back in time 10,000 to 40,000 years to the last Ice Age, when saber-toothed cats and mammoths walked in L.A. At the Page Museum, visitors can watch fragments of fossilized bones being pieced together. Outside in the park (where tar still bubbles up in pits) kids can climb life-size replicas of extinct mammals.
Putting Edge
Mini Golf L.A. style: A state-of-the- art indoor course decked out with glow-in-the-dark features.
Universal Studios Hollywood
Explore the magic of Hollywood past, present and future at this popular amusement park. Little ones will enjoy seeing favorite characters come ot life at Nickelodeon Live and Animal Planet.  Thrill-seeking older siblings will love Revenge of the Mummy, Fear Factor Live, and Jurassic Park themes.
Warner Bros. VIP Studio Tour
Did you ever watch a movie or television program and wonder what goes on behind the scenes? Warner Bros. Studios offers VIP Tours that let you find out. For 75 years, Warner has been making movies at their Burbank studios and they generously share their heritage with visitors.
5 Comments
Leave a Reply