Like many parents with young kids we have—with cautious optimism—become cruise-goers! It's one of the many things I thought I would never do–until I became a parent. But we took the Norwegian Dawn from New York City to Bermuda when Tiny Traveler was barely 2.5YO.
Richard and I liked our family cruise vacation much better than we thought we would, as evidenced by the great extent to which we prattled on about it to our friends afterward. And we liked that 2.5YO Tiny Traveler loved it.
The Dawn has since been refurbished, but is still one of the fleet's older ships. Its layout is not ideal for families and it doesn't have some of the bells and whistles that the newer ships offer, like a playroom for tots too young for the kids club.
Here are a few things we wish we knew about taking a cruise with young kids before we left, so that we could have planned better.
Print our cruise-vacation packing list!
Read my Review of the NCL Breakaway, too.
6 Things To Know Before Cruising on the NCL Dawn With A Toddler
Tip 1: Cruises are great for multi-generation vacations
Cruising is ideal for multi-generation vacations because there really is something for everyone and it's easy to balance whole-family time with couple or alone time.
I took yoga classes, my husband went to cooking demonstrations, Tiny Traveler loved the kiddie pools and colorful stage shows (she talked about them for about a year after the trip).
My mother-in-law lounged by the pool and ate more than I've ever seen her eat in her life at the buffets while my father-in-law won the ship poker tournament and my husband's aunt learned how to fold towels into animals.
We could easily gather for meals or by the pool for some part of the day and do shore excursions together.
Tip 2: Avoid peak check-in time for boarding
Being able to board the ship in our home city was staggeringly convenient. It was nice to throw the bags in a taxi, drive to the terminal, hand my bag to a handler and have it show up in my room a few hours later.
I realize that not everyone is lucky enough to live in a port city, but when we're thinking about a cruise I always look first for what ships are leaving from NYC.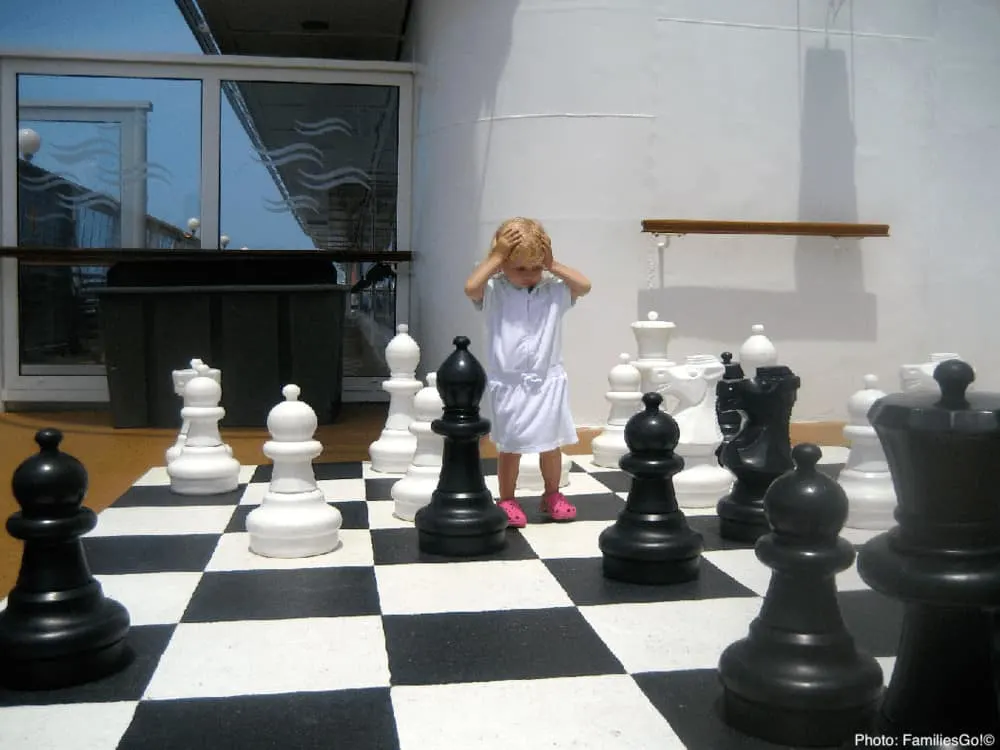 Since we did live in town, we got to the ship at the tail end of the three-hour check-in time. My in-laws, who were there when we arrived, told us that 20 minutes earlier the line had been snaking all over the place. By the time we rolled up there was no line and we breezed through check-in.
NCL now lets you schedule a boarding time at some ports, but even with that lines are long. And kids and lines don't mix. So I still aim for a later check-in if I could.
Of course those who checked in as soon as they could had already logged several hours of pool time when we were just rolling up the gangway. But the earlier you check in the less likely your room will be ready when you board, so we were happy to avoid the crush.
Tip 3: Entertaining toddlers can be hard
Cruises seem especially good for teens and tweens because they can be independent without getting into much trouble.
They're also a good option with kids and preschoolers who are Okay with spending at least some time away from you in the ship's kid camp program (and if you're Ok with it, too). The kids with the youth counselors always seemed to be having a good time.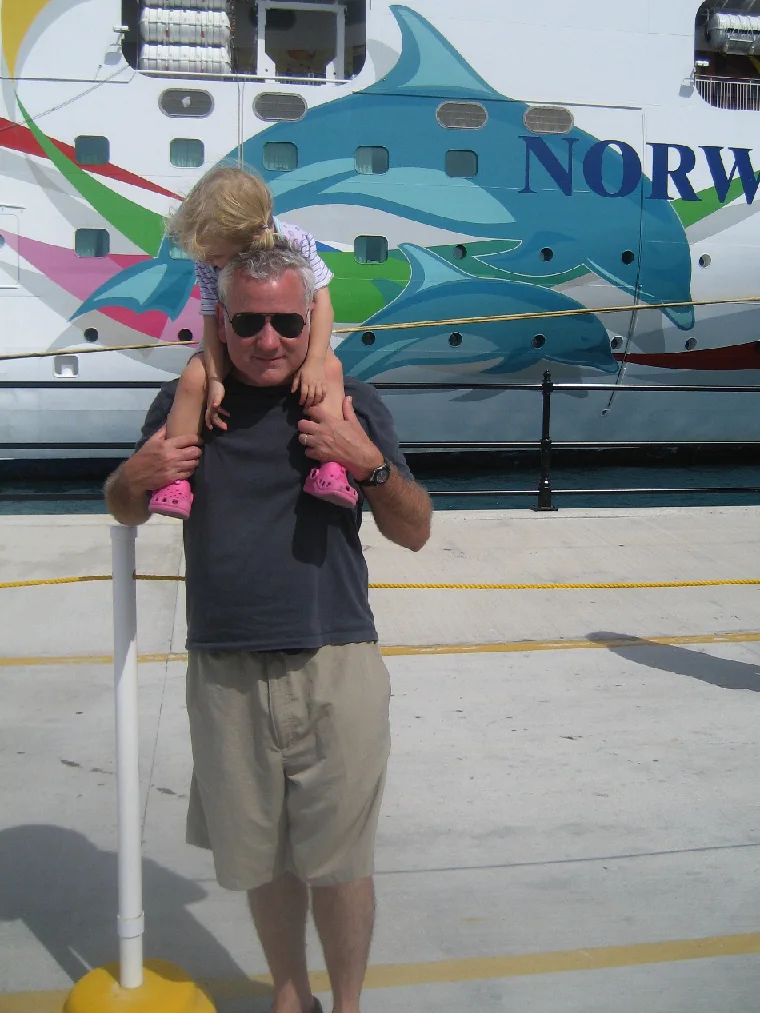 But options for entertaining very young toddlers and preschoolers are limited and presented some logistical challenges.
Relaxing was way harder to do than on a beach vacation and we sometimes found ourselves wandering the ship, looking for something that would amuse all of us and pass the time. We brought some small toys she could play with on deck and in the wading pools, which helped a little but not enough.
Tiny Traveler loved sitting on the windowsill in our our state room. No one wants to spend their cruise vacation in their cabin, but we did allow extra time for window play time whenever we went back to the room.
Newer ships have a parent-and-kid crafts by the pool, a playroom parents can use with toddlers and babies, or hours when part of the kids' club space is open to parents and little kids.
Activities like mini golf, mini rope courses, bigger splash pads and good old shuffle board help– if your ship has them. Take a good look at the shows, place spaces and pools before you book.
The amazing staff made up for the small inconveniences. The waiters handled all my special toddler requests, procuring half-orders of pasta or off-menu plain chicken breast.
They brought Tiny Traveler's dinner with our appetizers and ice cream with our meals. Several staffers went out of the way to say hello to her every day.
She also delighted in small things like seeing what towel animal would greet us in our cabin after dinner each night.
Tip 4: Check out the pool before you book
Our biggest frustration with the Norwegian Dawn was the layout of the swimming pools, which hasn't changed with the ship's update.
The adult pool was too deep even for adults to stand in and wasn't suitable at all for a parent and non-swimming toddler.
The kids' wading pools were at the opposite end of the ship from the main pool. Though they were on the same deck, you had to go up and down stairs to get from one to the other.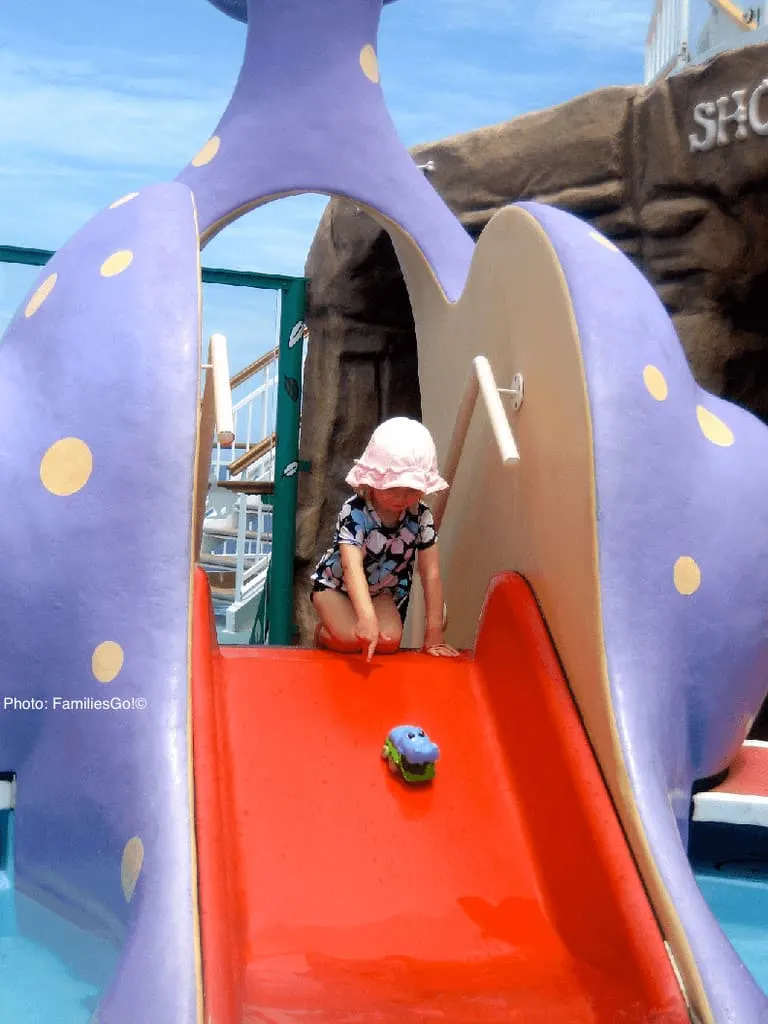 The toddler pools had nothing to offer grown-ups: no place to sit, no bar, no waiters, not even a water fountain.
There s a hot tub, but you can't see the kiddie pools when you're sitting in it. Without being able to keep an eye on Tiny Traveler we couldn't use it.
Technically parents aren't allowed in the wading pools. We ignored that rule since there was nowhere else to sit. We felt more than a little bit exiled to kiddie Siberia.
Had the kids pool been with the main pool, tag-team chaperoning between several adults would have been easy.
Instead, my husband and I each spent a couple of hours at a time with our feet in a foot-deep wading pool tricked out with a purple dinosaur slide, hoping the other would rescue them soon, or at least bring them a daiquiri.
They have revamped the Dawn since we sailed on it. It still has this awkward kiddie pool location, but maybe they've at least added some chairs.
No ship will allow kids in swim diapers in the pool, but they will often allow them in the splash zones, so make sure your ship has one. And of course, make sure it's near the main pool or that it at least has deck chairs and amenities nearby.
Tip 5: Bring a stroller
We used our stroller far more than we thought we would. On shore days Tiny Traveler fell asleep on the bus back to sleep every day, exhausted from her days at the beach.
She often stayed napping in the stroller while we enjoyed a dockside beer, and we didn't have to carry her across the large dockyard back to the ship.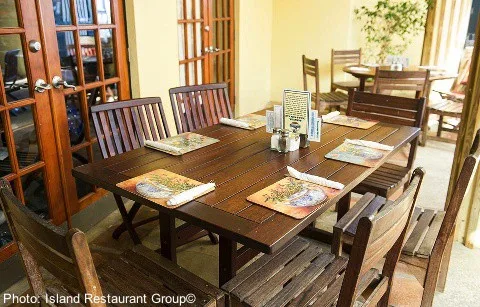 Additionally, for reasons we couldn't figure out, she didn't like walking down the ship's long narrow corridors, so we used the stroller for getting around on-board, too.
Needless to say a compact, easy-to-fold stroller is your best bet for tight cruise spaces, public buses and so on.
Tip 6: Consider a single-destination cruise
We loved that our cruise ship went to one destination. Having three full days in Bermuda was fantastic, especially with a child too young to cram a lot of sightseeing into one day.
We made good use of Bermuda's easy (if pricey) public transportation and free public beaches. We took buses, a ferry and a high-speed ferry—all much to Tiny Traveler's delight—to far beaches and towns across the island.
We discovered a small, little-used cove at one end of Warwick Long Bay on the last day. She splashed and looked for crabs and minnows while we took turns snorkeling around the rocks.
We also became regulars at the dockside Frog & Onion brewpub where happy hour coincided with our daily return from the beach.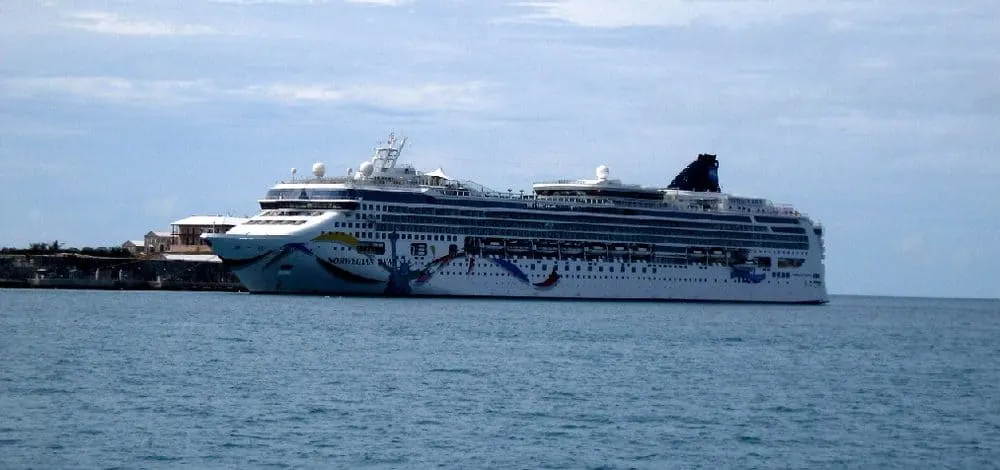 Despite the challenges we had, we liked this cruise enough to do it again three years later on the newer, bigger and flashier Norwegian Epic. That ship had far more activities and we were better able to take advantage of them with a 5YO than was the case with a toddler.
Despite the challenges we had, the low fares, easy booking, logistics and extremely attentive service made a cruise as easy as a family vacation can be with a toddler.
Pin it for later!