It's easy to spend your entire time on Bermuda at the beach, especially if you're on vacation with kids. The beaches are free and scenic and there are plenty of kid-friendly protected coves to discover
But Bermuda has a unique history and some unique and fun things for families to do. You're missing out if you wile away your whole vacation on that pink sand.
We've visited Bermuda three times: twice via NCL cruise ships from New York City and once staying on land at Fairmont resorts.
It's ideal to do an easy excursion in the morning before it gets too warm. Then you still have time for a leisurely lunch and to spend the afternoon at the beach or pool.
Here are activities we've had the opportunity to try as shore excursions or day trips from our hotels. I include tips for how best to see them and what age kids they're best suited for. I also offer kid-friendly restaurant recommendations because all of these adventures are sure to make you hungry.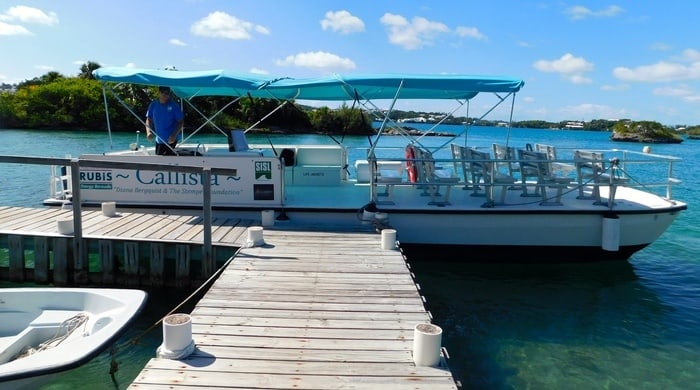 The 9 Top Bermuda Things To Do With Kids from Tot to Teen
A day around St. George's
If you land in Bermuda via cruise ship, use one day to take the high-speed ferry from the Royal Dockyard cruise ship port to St. George's, the island's historic second city.
Amazing caves
After a quick turn around the main square, make your way to the Crystal and Fantasy Caves.
The two underground caverns are surprisingly big, pretty fantastic and not at all scary for kids. Tiny Traveler, 5YO when we visited, was impressed with all the stalactites growing from the ceilings, and calcite rock forms piled in the crystal clear pools.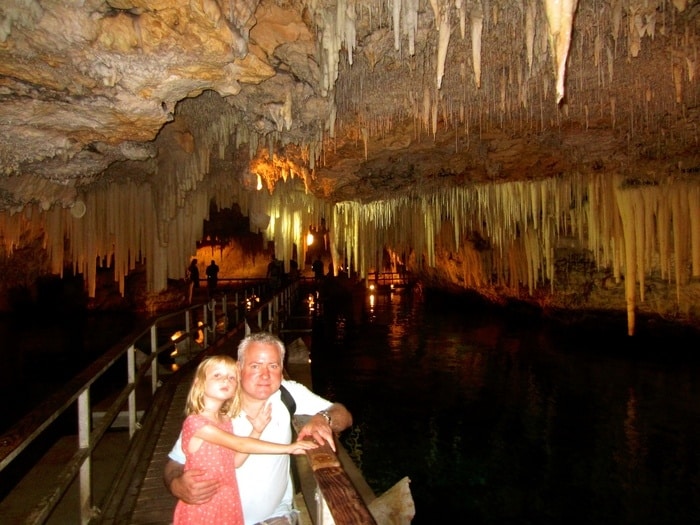 Each cave is cool in different ways and you can't go wrong with either one. In retrospect we didn't think it was necessary to visit both, especially given the $35 combination ticker (or $24 each). Kids tickets are $10 for one cave ($12 for two) and free for those under 5YO.
You can only see the caves by guided tour. Plan on about 2 hours or less for a visit, depending in how long you wait for your tour to start and whether you see one or both caves.
Getting There: The caves are a 10-minute drive from St. George's. If you don't mind a leisurely journey you can ask in the tourist office near the town square for details on taking the bus. If you're tight on time or just want to beat the crowds, you can take a cab (but with gas prices topping $8/gallon, you can believe cabs are pricey).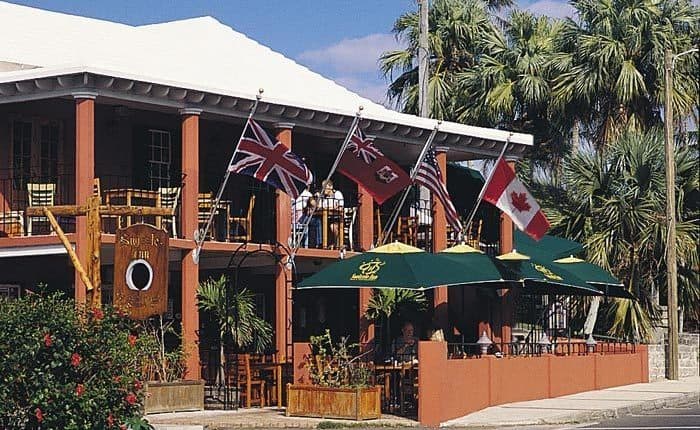 Lunch break: The laidback and colorful Swizzle Inn, home of the Rum Swizzle cocktail is a local favorite and about a five-minute walk from the caves.
Try to grab a table on one of the porches and tuck into mussels, conch fritters, fish and crab sandwiches and pub classics like burgers, British-style curry and shepard's pie.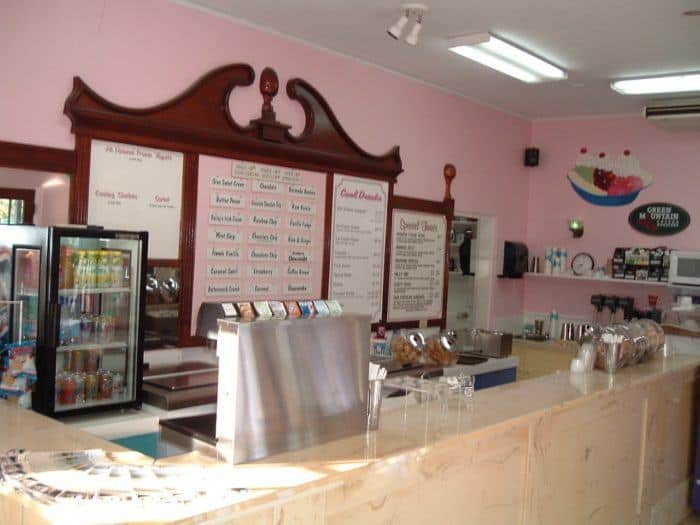 Skip the dessert menu and take the kids across the road to Bailey's Bay Ice Cream Parlour. Kids will love flavors like cotton candy and Shrek (don't ask) while adults will appreciate the locally inspired dark & stormy. Real culinary adventurers can try Bermuda tomato.
Afterward, I suggest catching a bus or taxi back to St. George's for a return ferry or a few hours relaxing at Tobacco Bay beach.
---
Read More:
• Our review of the NCL Breakaway
• Itineraries for 3 Perfect Bermuda Beach Days
• Our review of 2 Family Friendly Fairmont Resorts on Bermuda
---
Ghosts after dark
An island known for wayward compasses and disappearing ships is bound to have a few ghosts wandering around. Hear the best stories on the *Haunted History walking tour of the town.
Our cloaked tour leader had an ashen face, walking stick and a lantern. he told his tales in a raspy, urgent voice that could make a grocery list sound ominous.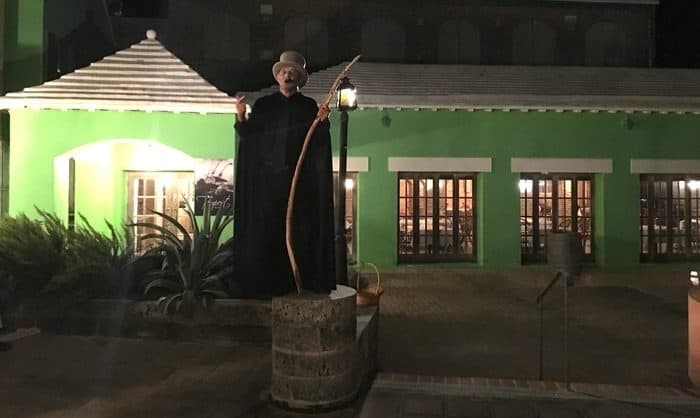 It's hokey and meant to spook you a bit but it was well done and fun. Ghosts will pop up when you least expect it. They're usually angry, indignant or grief stricken. By the end our group was huddling close. I'd say you're safe with kids 10 and up.
During our walk around town we learned about the British gunpowder Bermuda gave to the American colonists during our Revolution, the first witch burnings on the island, and the confederate doctor who tried to kill northerners during the U.S. Civil war by sending them the clothes of Bermuda's yellow fever victims.
After the tour you can take photos with the cast. They accept tips or a round of drinks at a local bar. The days and times for the tour vary with the season (and what time it gets dark). So book ahead.
Dinner: Head to *Wahoo's Waterside Bistro for a pre-tour dinner. It's popular with local folks and tourists and was hopping the night we were there.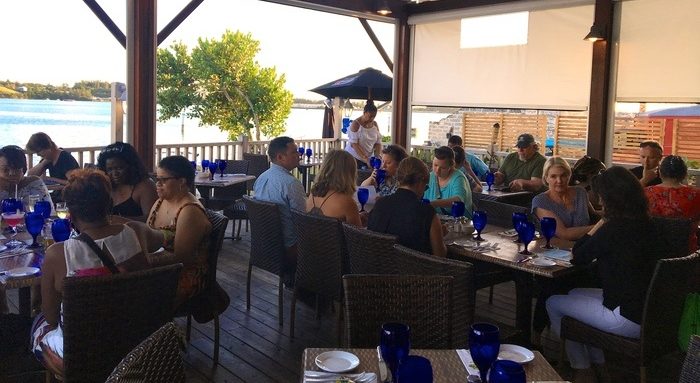 People having drinks at its small bar spill out on to Water Street. In the back, the luckiest diners have water views from tables on the outdoor deck. (Absolutely make a reservation.)
Share mild fish pate and wahoo nugget appetizers. Skip the conch fritters. Fish tacos and whole grilled fish are the best entrees.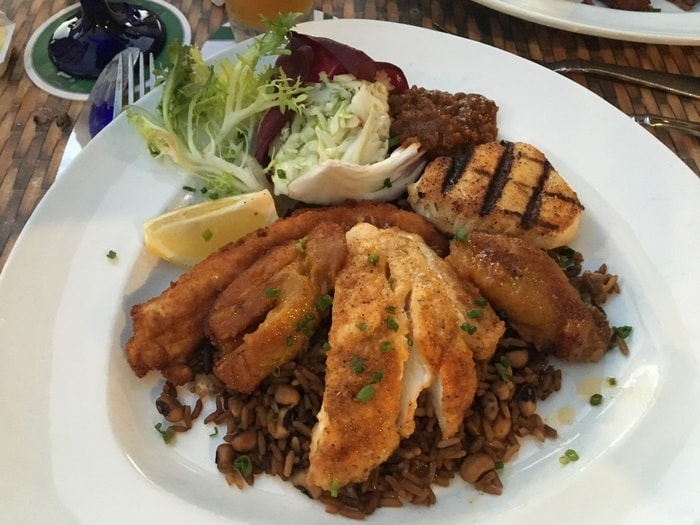 I had a trio of local rockfish, wahoo and tuna over rice and peas. My tuna was overcooked but the other two were good, especially with the tomato chutney that comes with the dish.
Since you're going on a walking tour, you can order the cheesecake or lemon meringue pie for dessert without an ounce of guilt.
A day at the Royal Naval Dockyard
Discover Bermuda history
Both times we pulled into Bermuda on a cruise ship I wondered about a large Georgian-style house that sits high on top of a hill over the Dockyard.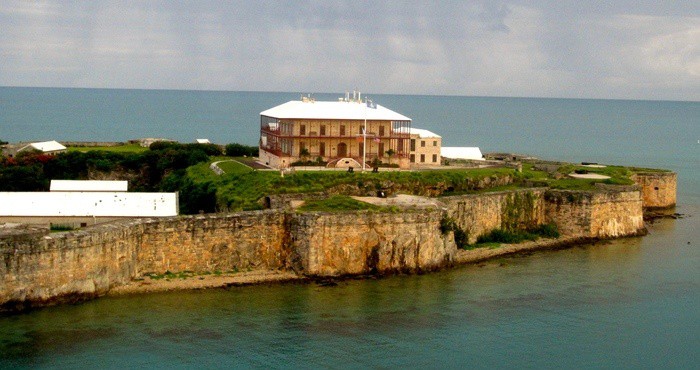 Built in the 1800s as the home for the dockyard commissioner, it now houses the *National Museum of Bermuda.
The exhibits are well done and it's worth taking an hour out to learn about the island's slave trade, its mix of African, Caribbean, Portuguese and British cultures and its strategic role in Britain's trade and defense. There is also a trove of artifacts recovered from all those shipwrecks. There are also great views from up there.
Kids older than 9 or 10 will find something of interest in the museum. There's a a beautiful playground and educational playhouse for the under-8 set.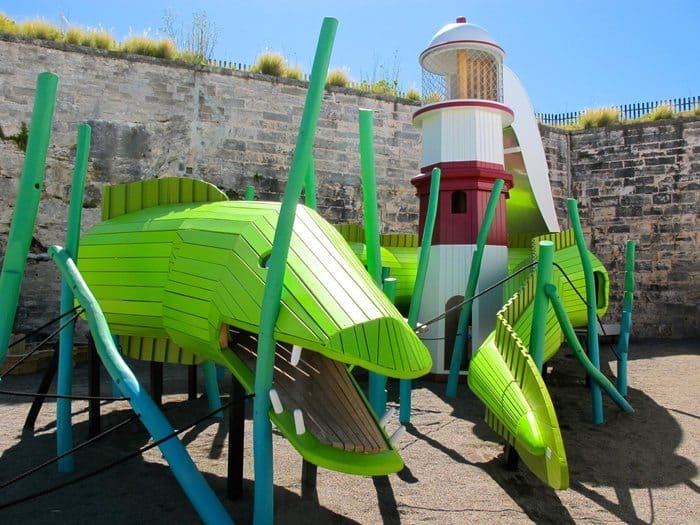 Around the Dockyard
Down below, the dockyard is far more interesting than many cruise ship ports in that it didn't spring up out of nowhere. The shops, restaurants and tour companies are housed in distinctive colonial stone buildings.
There is mini-golf, a for-fee snorkel beach and regular playground with sprinklers. You can also book glass-bottom boat and snorkeling excursions here if you want to try spotting a ship wreck and offshore reefs.
Lunch break: There are several places to eat but we always find our way to the Frog & Onion, which serves up Dockyard Brewing Company beers alongside British and American pub fare like burgers, Bermuda-onion rings, savory pies and Sunday roast.
After lunch you can hunt for souvenirs, fudge and ice cream in the shops before boarding your ship or catching a ferry back to Hamilton.
A day in Hamilton
An outing for the youngest kids
It seemed silly to me to visit an aquarium on island with so much accessible snorkeling. But if you're visiting with toddlers or children under 8 and need a day away from beach, the Bermuda Aquarium, Museum & Zoo is the place to go.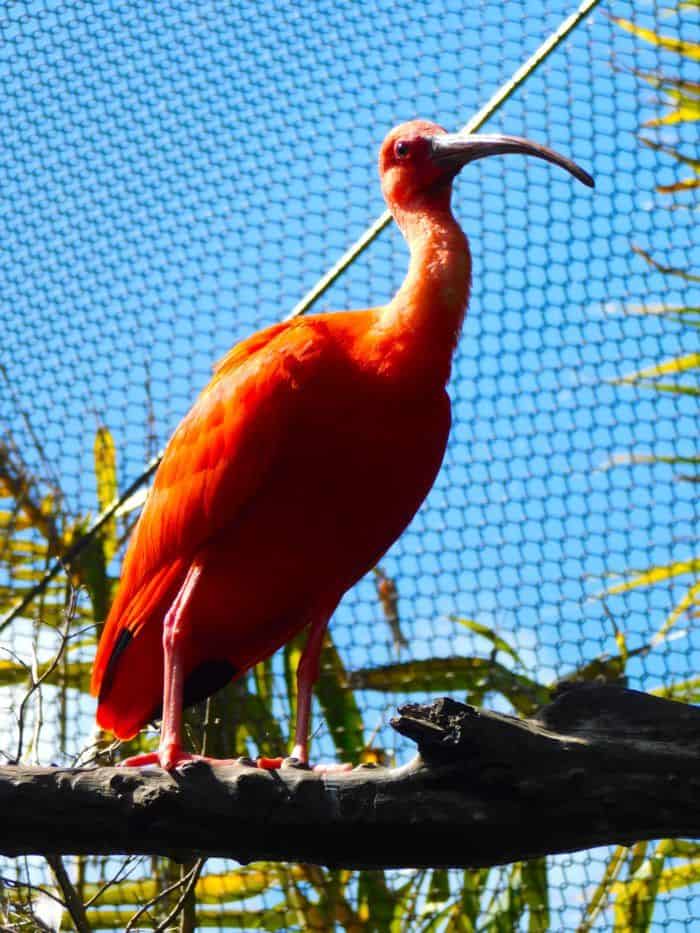 See floor-to-ceiling viewing tanks filled with enormous local fish. Then head outside to see tamarins, lemurs and a huge flock of pink flamingos. There are also giant turtles old enough that child actress Shirley Temple rode on one when she vacationed here in the 1930s.
The best part of the aquarium (for parents) is the small waterside AZU Beastro. Its porch is strategically located next to the aquarium's large and really well done sea-themed Discovery Pointplay area.
Let kids from 2- 8YO romp and play while you sit back with a glass of wine, beer or iced cappucino. There is probably enough to keep them busy for a good hour while you enjoy the gorgeous Bay views.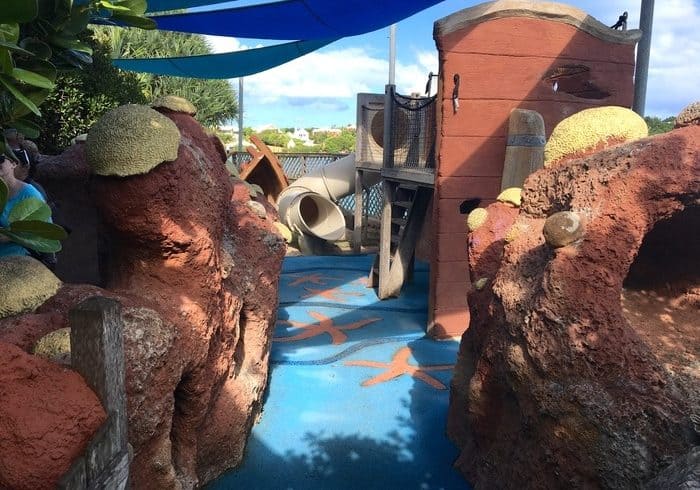 All-Ages: if you have older kids and tweens check the aquarium's calendar for periodic boat excursions to unpopulated outlying islands as well as whale-watching and family-friendly snorkeling trips. This is a relatively new set of programs BAMZ is developing and worth keeping your eye on.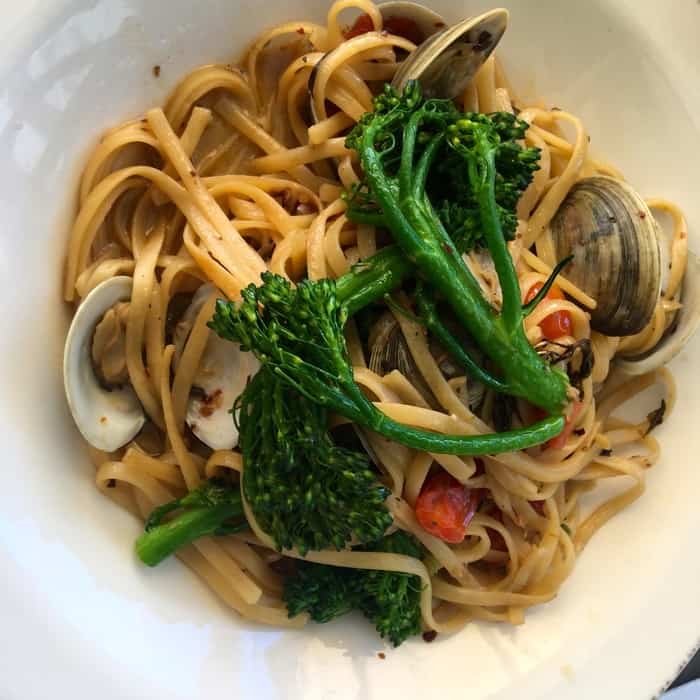 Lunch break: The *Village Pantry is a 10-minute walk or 5-minute drive from the Aquarium. It has indoor seating, a comfortable outdoor patio and a somewhat pricey menu that features local ingredients.
The impressive Poke bowls look like savory parfaits. My spaghetti with fresh clams had just enough garlic and red pepper. Flatbreads and pizzas are good options for sharing and the fish tacos are an ideal lighter lunch.
They menu notes the dishes that work for gluten-free, vegetarian or Paleo diets. And the house-made smoothies and sodas are fantastic.
Under Water and Over Hill
I wish I'd been able to persuade my family to visit the Ocean Exploration Center at BUEI. Interactive exhibits and high-tech simulators allow you to try your skills on an Americas Cup sail boat, dive 12,000 feet under the sea and learn the secret of the Bermuda Triangle (geological abnormalities or aliens?)
There's also s shipwreck gallery, treasure room and large shell collection. This is the get-off-the-beach activity for tweens and any kids who are outgrowing the aquarium.
While you're in Hamilton, stop by Fort Hamilton, the highest point in the city. Built to protect the dockyards, it's been turned into a grassy park with stellar harbor and rooftop views.
Canons and ramparts sit among beautiful bushes and shade trees. It's a place where kids can safely romp and teens and grown-ups can chill.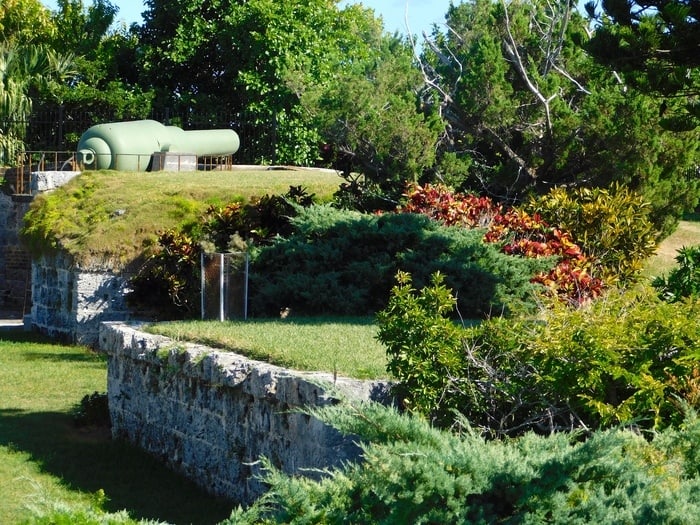 Below this cheerful park lies a pretty darn spooky labyrinth tunnels and rooms that were once used for storing and transporting munitions.
A dry moat around the fort is like the land that time forgot. A jungle-like maze of banyan trees, bamboo, wild flowers and vines, it's home to wild chickens and other small wildlife. Kids usually find it to be quite an adventure to walk all the way around.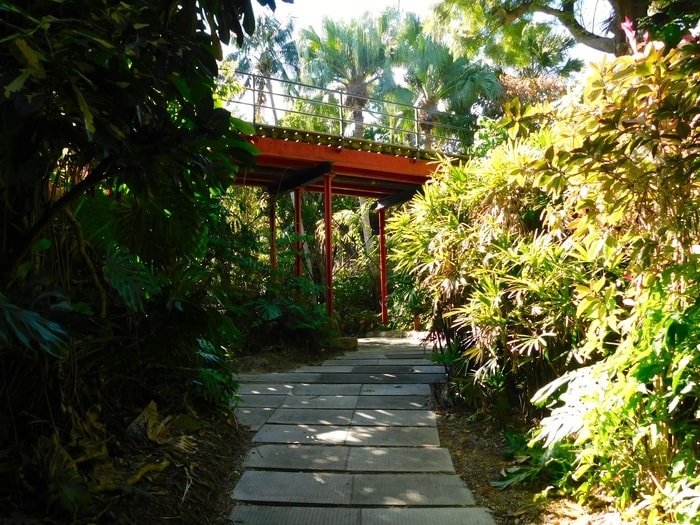 Admission is free and it's a nice spot for a picnic. On Mondays at noon in the off-season you can see a skirling ceremony of bagpipers, drummer and highland dancers. If you visit in late October, look for Halloween activities that take advantage of those spooky tunnels.
Front Street
No trip to Hamilton is complete without a walk along the water on Front Street. The food trucks you might spot along here are known for offering tasty food and relatively good deals.
You can't wrong with most of the pubs and restaurants on and near Front Street, particularly the Mad Hatter, The Hog Penny and the no-frills Lost in the Triangle.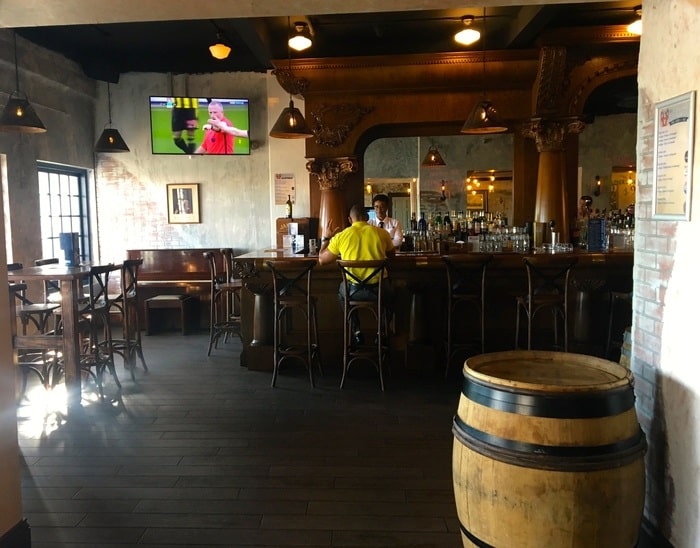 I wandered into the Astwood Arms because its mix of traditional details and modern fixtures seemed inviting. The menu has the usual Bermuda pub fare as well great vegetarian options like Korean fried Cauliflower, sweet potato chili and a quinoa salad. The Scotch egg and deviled eggs are tempting if you just want a snack.
An outdoor adventure
Bermuda was car-free well into the 20thcentury so a train track was built in the 1930s to move goods and people between town and countryside. Locals preferred their horse-drawn wagons and mostly used the station houses for storing root vegetables.
Biking the rail trail
It fell into disuse World War II brought cars to the island and is now a 21-mile Railway Trail for walking and biking.
The trail snakes along and away from the coast. The stretches with water views are the most scenic, but the inland parts show you some of Bermuda's wild native fruits, trees and herbs. It helps you to see the island as partly rural and more than just a series of beaches.
The rail trail is hilly and mostly black top or packed dirt. There are places where the trail has been interrupted by development or hasn't yet been rehabilitated and you have to briefly detour from it.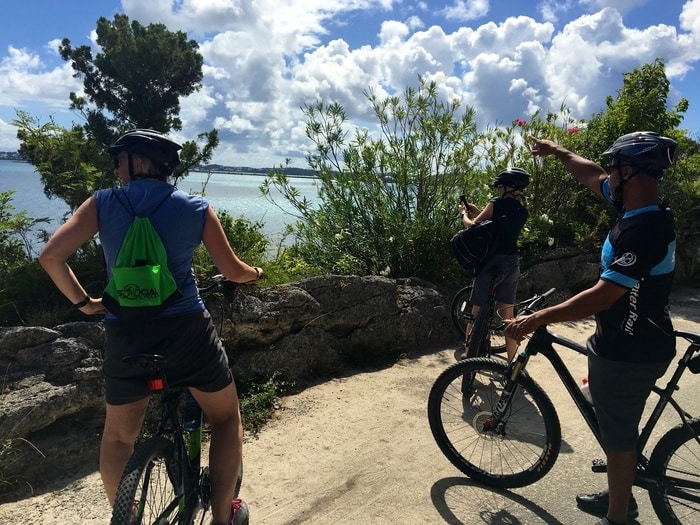 You can rent bikes to set out on your own or book a guided tour both in the Dockyard and from tour companies in Hamilton.
We went with *Social Cycles, a Hamilton bike shop that does tours on request. Having a guide was handy for helping us to navigate and to tell us what we were seeing along the way.
Our guide told us how Bermuda homes were built to withstand hurricanes and pointed out indigenous Bay bushes. We also left our bikes to walk up to a fort that was completely hidden from the trail but offered amazing views and a great picnic spot.
Tweens and teens should be able to handle trail easily. Attaching a tagalong to your bike is a good bet for kids who aren't yet strong bikers. Most companies have either bike seats or trailers for babies and toddlers.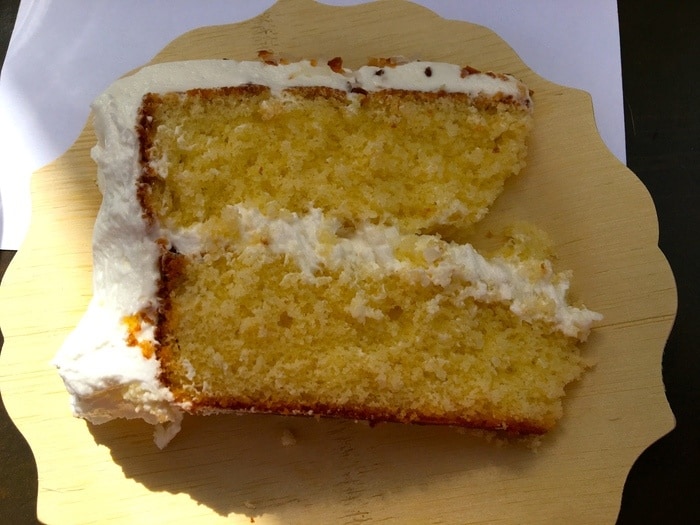 There are a lot of scenic picnic spots along the trail or just off of it. If your tour doesn't include lunch try to bring along a picnic to have along the way.
Post-cycling snack: Count yourself lucky if your bike ride takes you through Somerset. If it does, you can stop at the Bridge Trading Post, a bakery in a former post office.
Kick back on the sunny yellow porch with a slice of the best coconut cake you'll ever have in your life. The ginger and red velvet cakes aren't too shabby but the sweet, light coconut cake is divine. Lemonade and ice teas are refreshing, too.
If the place isn't busy ask about the owner's family photos that are hanging on the wall. You'll learn about her postman dad and one family's bit of Bermuda history, it's a nice accompaniment to the cake.
Pin it for later!
* We were guests of Go To Bermuda at the Haunted Histor Tour, Wahoo's, the aquarium, the museum the Village Pantry and the Social Cycles tour. Other activities we did on our own. We did not offer any particular coverage in exchange for this access. Our opinions are always our own.
* All photos by FamiliesGo! except those provided by the National Museum (playground) and Bailey's Ice Cream Parlour.