Our family spent a week on the Norwegian Breakaway cruise ship when it was brand new. It got a lot of buzz and was followed by several nearly identical ships, so I want to give you the scoop on what the ship is like for families.
Here's a review of what my family liked on our NCL Breakaway cruise to Bermuda. And what could have been better on this mega-cruise ship.
Here's All You Need To Know About A Norwegian Breakaway Cruise With Kids
The NCL Breakaway's Kids' Clubs Are Great
On the Breakaway, NCL has improved its offerings for parents traveling with very little kids and addressed several of the things we found frustrating when we cruised on the Dawn two years earlier.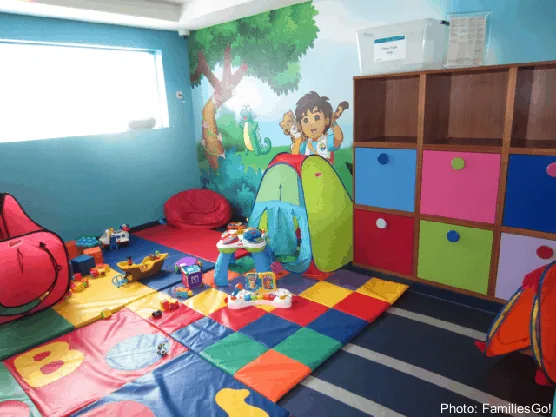 For starters, there are spaces dedicated to kids from tiny tots to teens, a full roster of activities and counselors with education and sports backgrounds.
• Thanks to a partnership with Nickelodeon you can take your under-3 babies and toddlers to a Dora and Diego-themed playroom that's just for them. And there is at least one organized activity a day that these little ones can do with their parents. A younger Tiny Traveler would have loved activities like painting with spaghetti.
There is no drop-off kids club for kids under 3YO. You still need to pay for babysitting if you want a date night, spa time or a shore excursion on your own. But having a space that is quiet and clean where little ones can roam free and play safely is very helpful.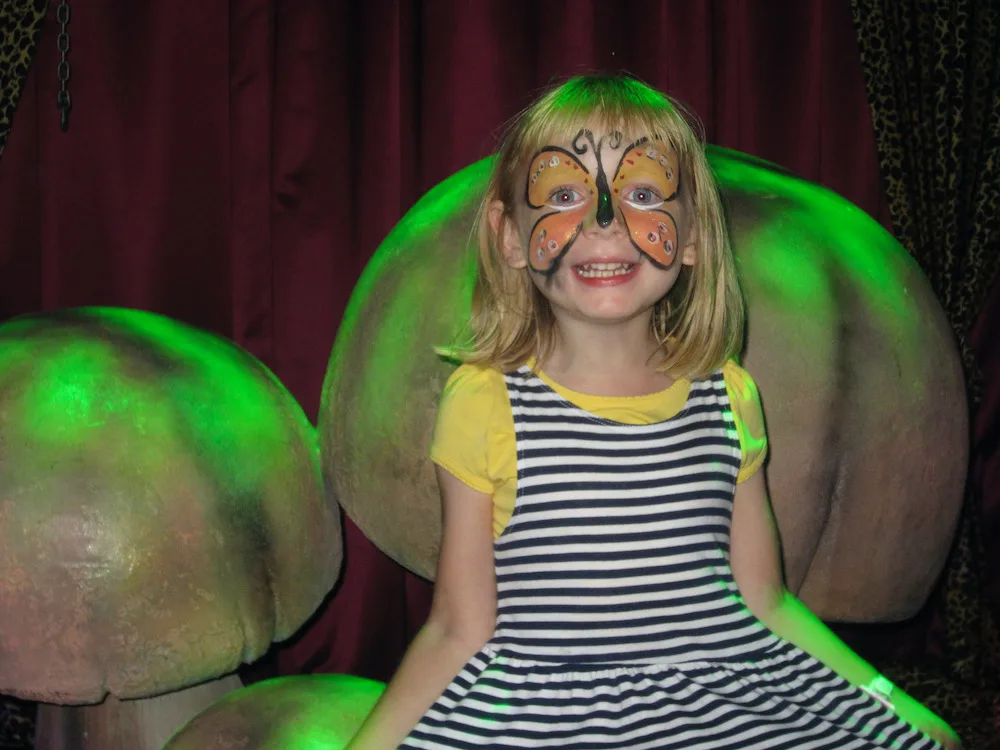 • The Breakaway has three supervised kids clubs for kids ages 3YO to 12YOs. They mostly take place in Splash Academy, a two-story space with decorations that change to reflect daily themes.
For 3-to-5s, activities like a fairy tale parade, jungle safari and pajama party had Tiny Traveler (now 5½) asking to go to Splash Academy at least once a day when we were at sea (so we got to relax in th adults-only spots, sample the ice bar and see several shows).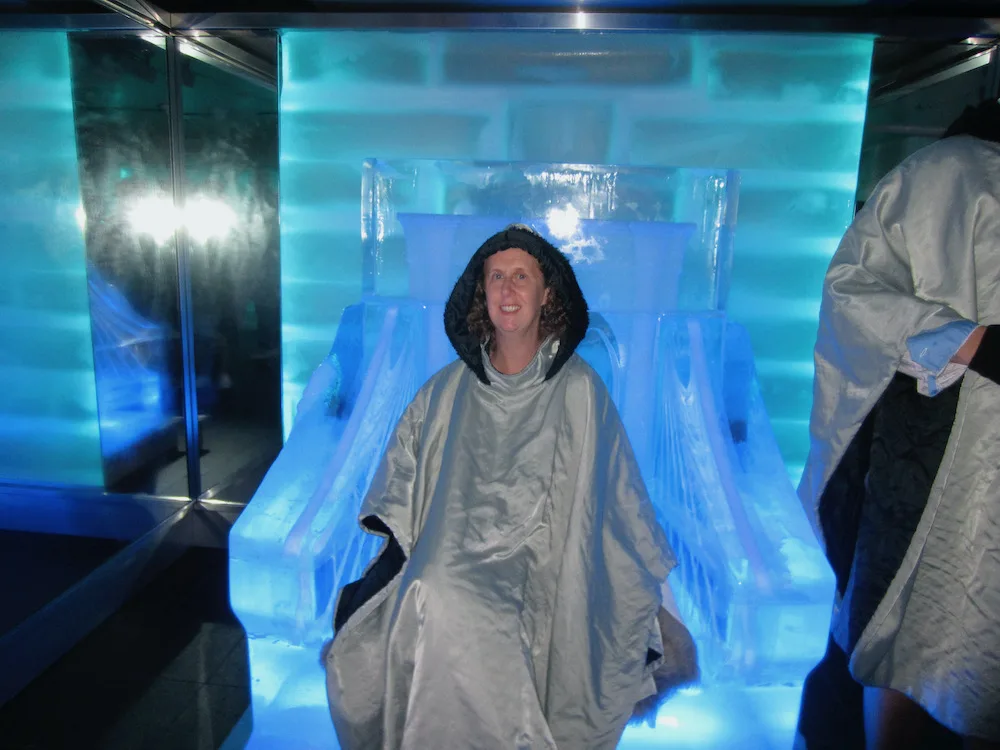 The 6-to-9s, who use the kids' club the most, had Survivor- and spy-themed games that encourage teamwork and role-playing. This group and the 10-to-12s also threw themselves into poolside activities like cannonball contests.
• Teens have Entourage, a dimly lit lounge with couches, games, video screens and counselors who enforce a no-grown-ups policy.
In theory this a space where teens can connect with each other and make friends, but I think teens are more likely to check it out if they have someone to g with. Unless your kid is very outgoing and confident it would be intimidating to walk into Entourage by yourself, especially if you're at the younger end of the teen years.
Plus, the Breakaway Has Lots of Family Activities
Like most ships, the Breakaway offers everything from cha-cha lessons to ice carving demonstrations. We spent most of our at-sea time doing the outdoor stuff.
We tried three of five large waters slides, skipping the heart-stopping drop-in ones. Tiny Traveler liked the smallest one, which was open and a little slower than the others.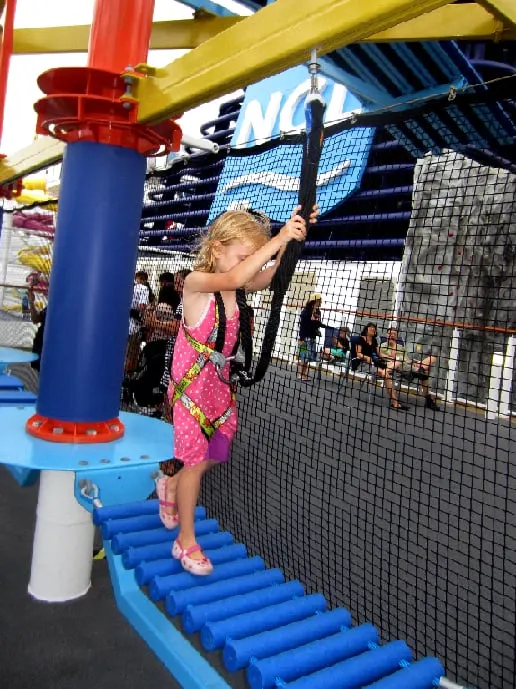 We spent a lot of time at the outdoor sports complex on the top deck. Rich and Tiny Traveler both like to climb and tried the climbing wall; it was easy for him and the belayer did a nice job helping her. They might have done it more but there was usually a wait.
Tiny Traveler scrambled up something called a spider slide (bottom row, left) about 30 times. She was almost too big for the kids' mini rope course but liked the novelty of it. There was a regular rope course and zip line that is harder and scarier than it looks from the ground.
And what is more of an all-ages activity than mini-golf? Anytime we had a half hour to kill before dinner or a show or Splash Academy session, we'd play a quick round.
Tip: The adventure Center often had lines. The first afternoon on board was the least busy and a crew member told us it's the best time to try it out. Mornings were less busy than afternoons, too.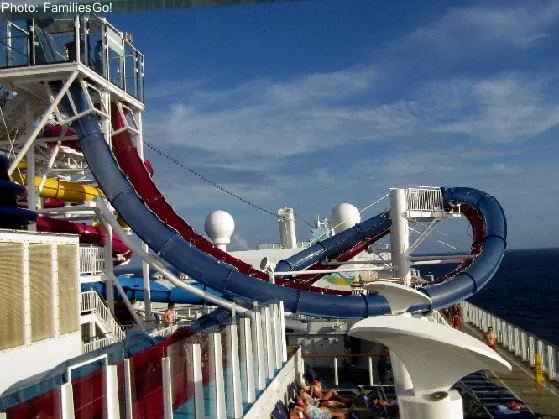 Better Still, Norwegian Cruise Lines Has Stellar Shows
Norwegian usually manages to get at least one show that is or recently was on Broadway
People don't seem to tire of Burn The Floor, a variety show that includes lots of sexy, but not risqué dance sequences. It's a fun over-the-top spectacle.
Burn is appropriate for kids, but it's not especially interesting for them. We saw it on a night when Tiny Traveler wanted to go to the kids club.
We saw Rock of Ages, but older people and parents with very young kids walked out a few minutes in, so they were probably wise to replace it with Six, which definitely has teen and tween appeal. Parents will like it and many school-age kids will, too.
If you're doing a multi-generation cruise, though, I still wouldn't count on the grandparents liking this play that reinvents the wives of Henry VIII as pop stars. And for some kids the rock-based shows are just too loud.
You might also like 12 Tips for Booking a Family Cruise.
And a later review of the NCL Getaway.
Find itineraries and the best fares for the Breakaway.
And, the Dining on the Norwegian Breakaway is Enjoyable
As big as the Breakaway is the dining was good at both the specialty dining restaurants we tried and at the restaurants that were included.
The buffet could have used more ethnic options, but otherwise it was fine for breakfast and lunch and great for a midnight snack. At dinner though, we wanted to dress up at least a bit and have a proper sit-down meal.
At any of the sit-down restaurants they can bring kid food, even if there isn't a kids' menu. We were always able to get some grilled chicken and vegetables or pasta for Tiny Traveler. Other kids tucked into burgers or chicken fingers while their parents enjoyed much more adult dishes.
We ate at the Italian La Cucina because Italian food is a pretty easy choice with kids: She could opt for pizza margherita or fettuccine Alfredo while we enjoyed wild mushroom risotto and chicken cacciatore. It's pretty easy to sell kids on cannoli and tiramisu when it's time for dessert.
At the French Le Bistro our child at pasta with butter while we savored steak tartare, escargots, roast duck and leg of lamb. But she was incredibly impressed with the chocolate fondue we were able to order for dessert. She ignored the strawberries, bananas and pineapple completely but was quite happy dipping marshmallows and little pastry puffs.
With a teen my first choice of the specialty restaurants would be Teppanyaki. She would get a kick out of sitting grillside, watching a chef grill meat and shrimp in front of her while she ate udon noodles, fried rice and grilled veggies. We would absolutely skip the green tea cake, though and head to the buffet for dessert.
In addition to the main dining room, dinner options onboard include Taste and Savor, two smaller sit-down restaurants with the same menu. You ought to eat in the large, grand main dining room once; it's a classic cruise ship experience.
Once we had done that we always checked in at all three and chose the one with little or no wait. This would change from day to day, but it was usually one of the smaller dining rooms, I think partly because the main dining room can handle big groups better.
The only included place we didn't try that I really wanted to was the Shanghai Noodle Bar. It's small, always full and always had a wait. With a small child there's just no reason to wait in line for more than a few minutes; there are too many alternatives.
Most important, the Norwegian Breakaway Had Great Service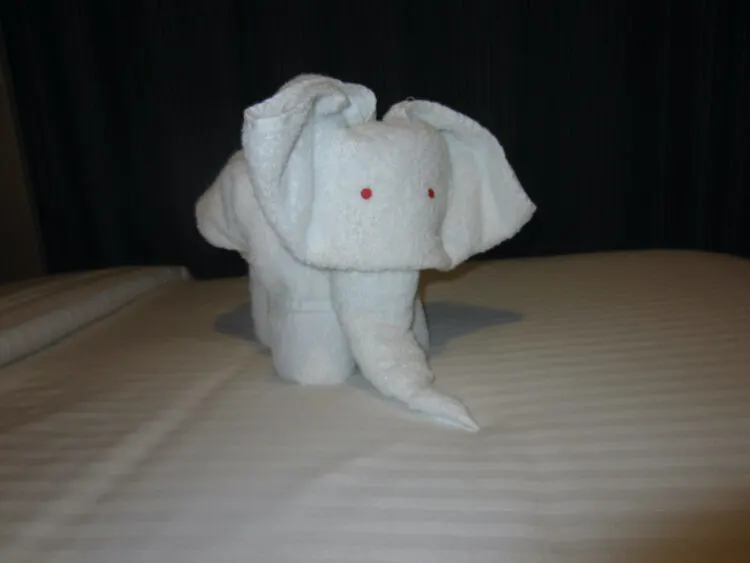 Despite some reviews to the contrary, we thought the crew was exceedingly friendly, especially to Tiny Traveler. And this makes up for a lot.
From the adventure-deck staff who knew Tiny Traveler by name, to the patient rock wall belayer, to a counselor hunting down a lost balloon sword at Splash, we routinely saw staff members go out of their way for us.
One waitress even made a point of waiting until Tiny Traveler had eaten half her dinner before bringing out her lemonade, so she wouldn't fill up on it before eating. Talk about knowing your customer —and how to win over her parents.
And the Cabins Are Well-Designed
We had an outside facing cabin with a small balcony and a pull-out couch for Tiny Traveler.
In hotel rooms we always feel like the pull-out sofa takes over the room when it's open. But the stewards were great at opening it in the evening and closing it up while we were at breakfast so we had the couch to sit on during the day.
This gave us more room than we had in a previous outside facing room with a bunk bed over the main bed.
The balcony was small and had only two chairs. It was a nice place to sit and have coffee while waiting for Tiny Traveler to wake up. It was also handy for checking the weather. If it had had room for three we might have sat out there to read or have evening drinks.
It's very very nice to have an outside facing room so you have daylight and can see the weather when you wake up. It's hard to say how much better it is to have balcony doors rather than just a window. It lets in more light and you can step outside, but if the price differential were large we would be happy with a large outside facing window.
However, the Breakaway's Pool Scene Was a Mixed Experience
The family and adult pool areas are next to each other, separated by a bar and towel exchange. The family area was actually quieter than the adult-pool area and since waiters circled passed regularly to take drink orders I was happy to scout out a lounge chair there.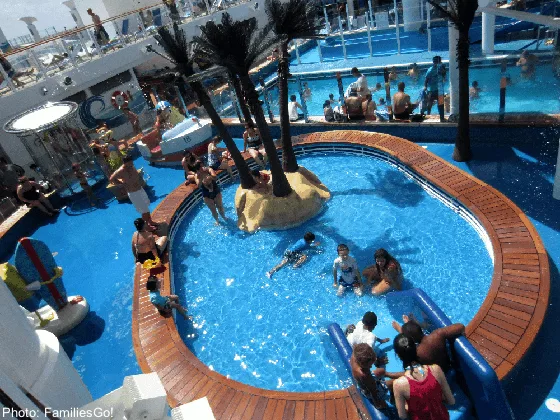 The family pool was never overly crowded and Rich and I liked that we could float around in it while keeping an eye on Tiny Traveler in the sprinklers.
It was nearly impossible to separate Tiny Traveler from the Sponge Bob-themed splash pad's sprinklers, slides and wading pool. She was over the moon when a nighttime pool party kept it open well passed her usual bedtime.
The adult area, on the other hand had loud music, crowd-participation games and entertainment going all day long. Had I been hanging out on that side I would have been happy to have noise-cancelling headphones (or ear plugs).
Also with all the activity, the pool usually had too many people hanging out in and around it to actually swim in it. And I've been on rush-hour subways less crowded than the hot tubs. A hot tub on the family side would have scored big points with me.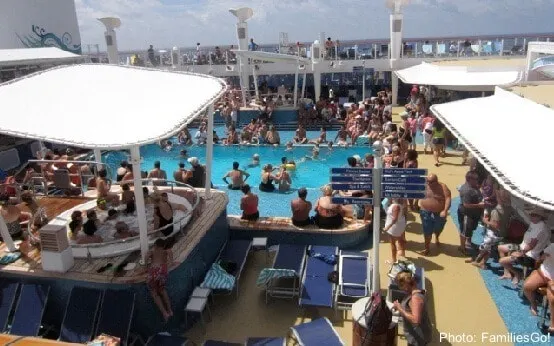 Tiny Traveler wanted to do a few afternoon activities at Splash Academy, which allowed us to take advantage of the adults-only H2O deck. It was quiet and shady and we didn't have to scramble for deck chairs! We often had the hot tubs to ourselves and they were never packed. if you have the opportunity, definitely take advantage of this.
And a Few More Things About NCL's Breakaway Bugged Use
• Crowds: This huge mega-ship has 14 passenger decks and a passenger capacity of 5,000. The most consistent and justified complaint about the Breakaway on cruise forums is about lines and crowds. We couldn't avoid the crowds entirely but with a little flexibility we were able to dodge them quite a bit.
For example, it was impossible to find an empty lounge chair on the pool deck in the morning because people drop towels on chairs on the way to breakfast. But after lunch they start to turn over and I could reliably snag one with a view of the sprinklers, so we did more swimming in the afternoon.
• On-Board Fees: We heard fellow passengers saying they felt nickel-and-dimed by the many (many) for-fee add-ons you encounter on board.
We tried our best to be selective and skip the extras whenever they had a counterpart that was already included.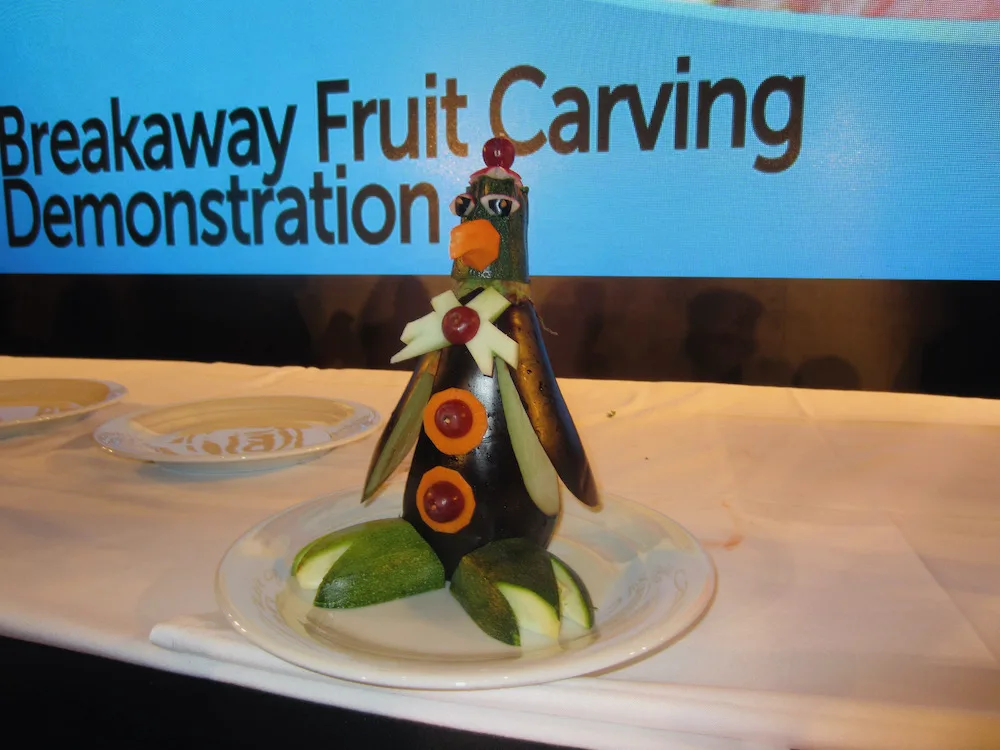 There were small free activities like watching an ice carving demonstration at the pool, or learning to make animal balloons for fruit decorations in the grand lobby. But we thought they needed more of these types of things.
For example, we were entirely okay bypassing the expensive Cake Boss cupcakes (recently replaced with French-themed Bake Shop) when we could indulge in free treats like made-to-order chocolate-covered crepes at the buffet.
The included O'Sheehan's satisfied our craving for wings, burgers and fries, so we skipped the a la carte American Diner (though the diner does have milkshakes, which Tiny Traveler didn't care about but Teen Traveler would absolutely want).
This Is Good to know
In addition to Bermuda, The Breakaway sails to the Greek islands and Italy; New England and Canada and the western Caribbean, including NCL's Harvest Caye private island.
Pin it for later!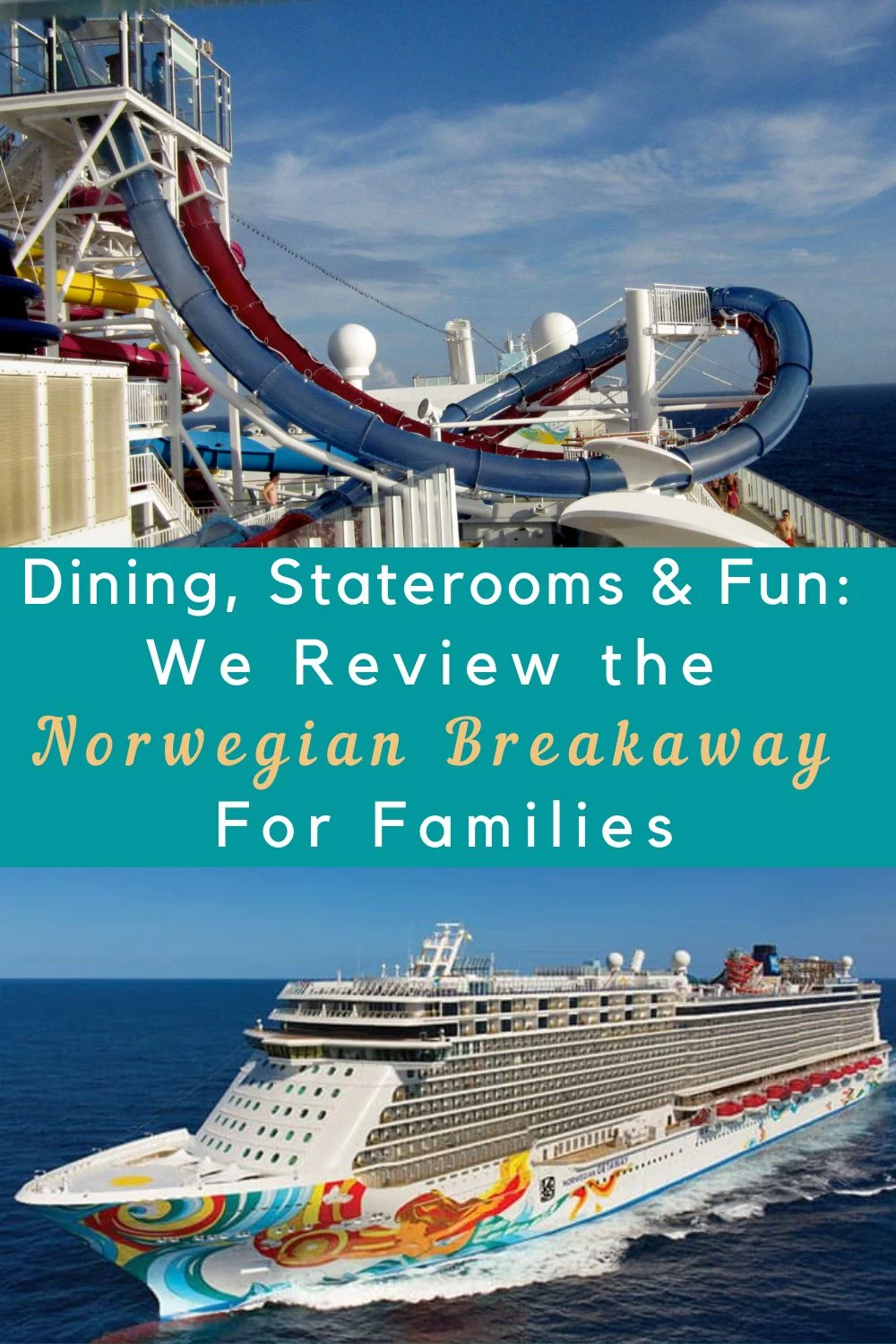 *While we booked our cruise independently, the NCL media room upgraded our cabin.
Photos by FamiliesGo!© except where noted.