We finished out our summer with a 2-week home swap vacation in Paris with our 6yo. We covered a lot of ground and did much more than we hoped we would. And while lots of guides will tell you what to do in Paris with kids.
I thought it would be helpful to offer some tips on what to pack for a vacation in Paris with kids. Here five essentials you might not think of, that we were glad to have with us.
Read more
• The Best Way To See Reims in a Day With Kids Along
5 Paris Parks You Can't Miss
Kid-Size Attractions in Grand Paris
5 Things You Must Pack for a Paris Vacation With Kids
1. This Is Paris:
This classic M. Sasek book, This is Paris introduces major landmarks with fun illustrations and bite size chunks of trivia kids can relate to and absorb.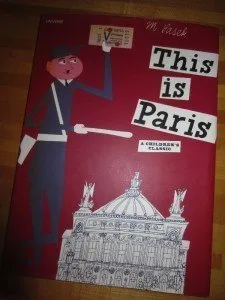 Tiny Traveler pored over it throughout the trip. She also insisted we carry our hardcover edition in my backpack so we could open it and read each time we came to site mentioned.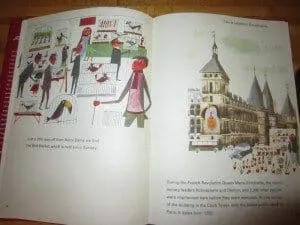 Madeline also has quite a few landmarks tucked away in its pages.
2. A kick scooter (and helmet):
Rich thought I was crazy to disassemble TT's Micro Kick scooter and put it in my suitcase.
But the very day we arrived we walked more than 4 kilometers from our apartment to the Eiffel Tower and then to the Tuilleries Garden.
We didn't hear a single, "How much further?" plea and I knew I'd been clever. We had many similar long walks throughout our stay (some not on purpose) with nary a complaint.
If you bring a scooter to Paris be sure to visit the Center George Pompidou with its scooter-friendly angled plaza. We left it with security or checked it in a few museums and churches where we couldn't carry it in.
Tip: We left it home the day we visited Montmartre, which is too hilly, cobbled-stoned and swarming with tourists for any decent scooting.
3 and 4. Bathing Suits and Caps:
Paris has nearly 40 public pools, which means that no matter what arrondissement you are staying in or touring on a given day there's a pool nearby.
They are a handy asset if you are staying in an apartment or a city hotel with no pool.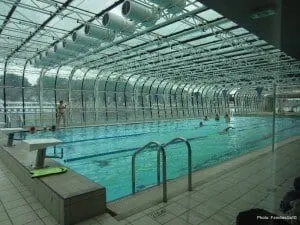 It will usually cost about 10 Euros for a family of 4 to swim, plus a refundable 1-euro coin for a locker. The locker rooms are co-ed, which might seem startling but is actually handy for families. Don't worry, there are changing stalls and people are modest.
Every pool we went to had several lanes for swimming laps and one single or double-wide lane reserved for families and other who want to float more than swim.
The pools varied in age and quality. We liked the art deco Pontoise near the Sorbonne for its style, ample family lane and kids hour, when they offer toys, obstacles, a small slide and a platform for jumping.
The Josephine Baker pool (above) is small, but also had plenty of room for splashing and jumping, as well as a wading pool. It's a newer pool with a good locker room. Best of all it sits on a barge on the seine, with lots of funky waterfront cafés around it where you can stop for a drink or snack after your swim.
For a spiffier experience try the large Neuilly Aquatic Center near the Bois de Boulogne. It's more expensive than the others, but offers a kiddie pool, a lap pool, an indoor-outdoor pool with Jacuzzi jets and hot tub, and good size slide.
Note: Except at Neuilly, everyone needs to wear a bathing cap at the city pools. Also, Dads and boys need swimming briefs. Leave your American-style baggy trunks at home.
5. Something warm!
There is a reason Parisians know how to don a scarf with panache; they wear them year-round.
Even in summer you can have chilly mornings and cloudy days.
During our August visit Tiny Traveler wore her pullover fleece for part of almost every day. And the sweater I brought "just in case" got a lot of use, too.
Don't pack a scarf though, it's more fun to just buy one there!
Pin it for later!