We went to Steamboat Springs, Colorado to visit friends for Thanksgiving. It was a quick trip over a holiday with no skiing in our forecast. But then we arrived to several inches of the fresh "champagne" powder snow.
We promptly signed Tiny Traveler up for a ski lesson, seeing as she was the only one who packed ski pants. Meanwhile, we also looked around to see what we could do outdoors in this unexpected winter wonderland.
Here's what we suggest for winter fun in Steamboat Springs with kids whether you ski or just want to get outdoors and enjoy this western mountain town.
Read More!
• You might want to print my Winter Packing List.
• Don't Forget this Winter Gear For Moms That Looks Great and Will Keep You Super Warm
• Winter Park is another easy family ski destination near Denver
• Find the Best Things To Do in Denver All Year Round and at Christmastime
Steamboat Springs Hotels & Lodging
Condos and hotel/condo hybrids are more common in Steamboat than traditional hotels.
You'll have your pick of vacation condos both at the ski resort and in and around town. Many, especially those at the ski resort, have hotel amenities like a heated pool or concierge. They often have washer/dryers, too, which is handy for wet ski clothes.
Prices range from economy to luxury with amenities increasingly accordingly.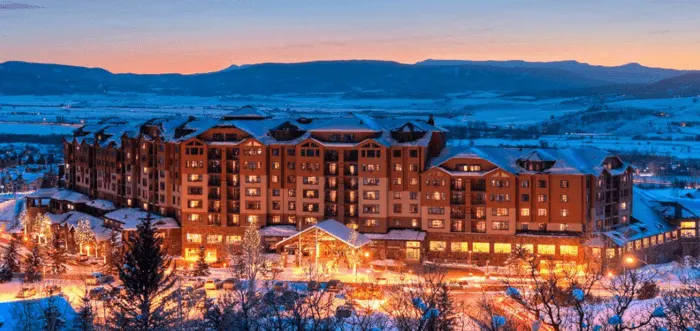 If you do want a traditional hotel, the Steamboat Grand provides ready access to the slopes and all the ski resort's amenities. And you can take a free shuttle to town. (It has condo accommodations, too.)
The Trailhead Lodge, a bit further down the mountain has studios and one, two and three-bedroom suites. Relax after your ski day in one of three hot tubs. And you can get to the base lodge via gondola.
The Bristol is probably your best bet if you want to be in town, and teens might appreciate the opportunity it provides to explore on their own.
It's small but does have an indoor hot tub, Italian restaurant and cozy sitting areas with fireplaces. Several of their rooms sleep three to four people and some of these have two bedrooms with a shared bathroom.
There are also a handful of chain hotels outside of town. These, of course, are your best bet for free parking and breakfast.
But all-in-all, given the ubiquity of condos and the flexibility they offer, that's the way I would go.
Next time we visit Steamboat Springs we will absolutely be ready to ski, but we're glad we got the chance to discover what the town offers families away from the slopes, too.
Things To Do In Steamboat Springs, CO When Only Half The Family Skis
Steamboat Springs For Skiers
Steamboat Springs Ski Resort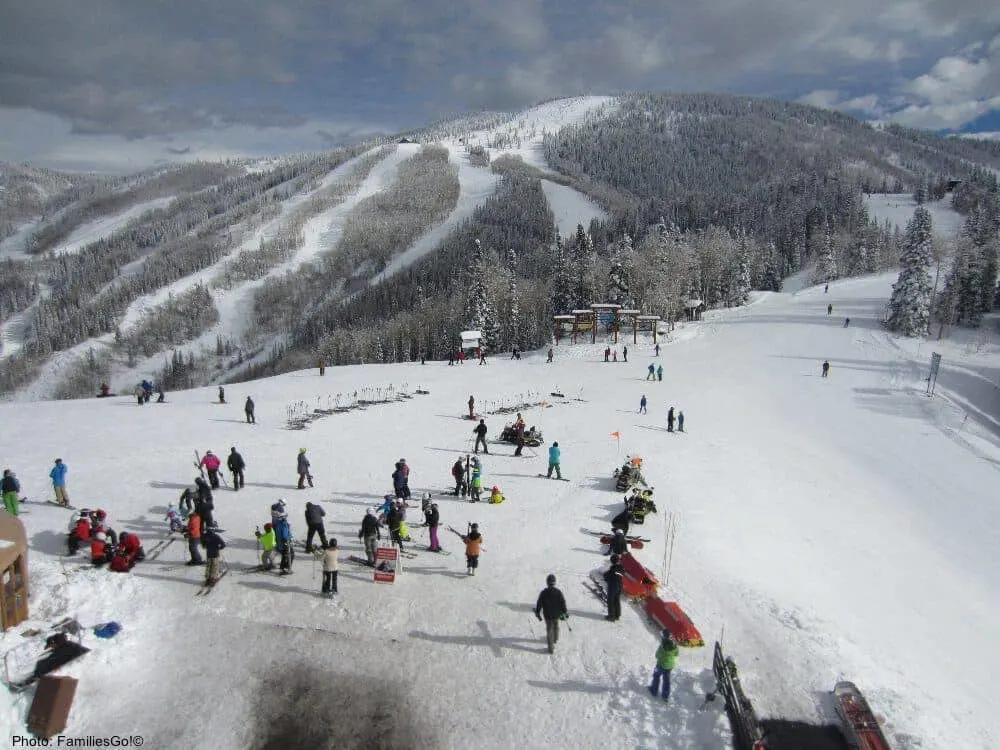 Steamboat Springs Ski Resort is known for its excellent skiing and it didn't disappoint.
The instructors at the Steamboat ski school* were seasoned adults, not teenagers. They were unfailingly friendly and did a good job of putting the kids as ease and grouping them by age and ability.
The slopes, much longer than what Tiny Traveler is used to, intimidated her at first. But if she'd had a second day I think she would have had a blast on the long green and blue runs.
If you also have adults skiing for at least five days, kids' lift tickets are free. Lift tickets for kids under 5YO are $10. And you can save some money by booking lessons and rentals together.
They only offer full-day lessons; no half days. And they include lunch at the lodge on the mountain top or at the kids' center, depending on the age group.
For kids ages 2YO – 6YO the ski resort has the Kids' Vacation Center, which combines ski lessons with other indoor and outdoor activities. There's separate childcare for 1YOs to 6YOs who don't ski.
The sun is bright, so be sure to bring sunscreen and goggles or sunglasses for everyone. Dress in layers so you can unzip when the slopes warm up and keep warm on the long ski lift rides.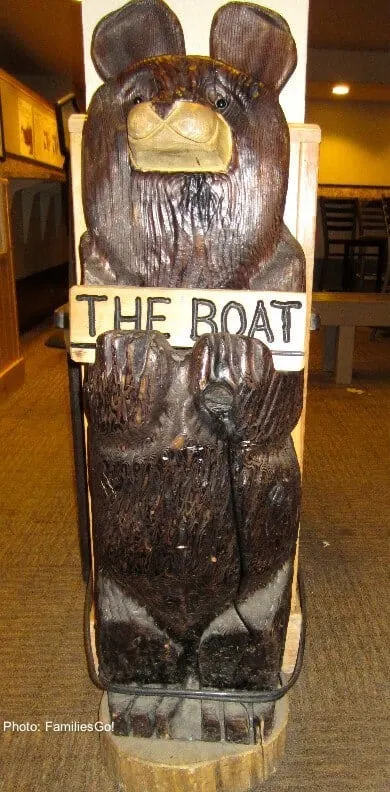 Tip: Even on a slow day buying lift tickets, setting up a lesson and arranging rentals took a good hour.
If you aren't able to make all your arrangements online before you arrive, leave plenty of time before your lessons start.
Steamboat Springs For People Who Don't Ski
Steamboat Springs is primarily a ski town. But after donning good boots and warm clothes we found other ways to get outside and enjoy the mountain air. A few ideas:
Ride the Gondola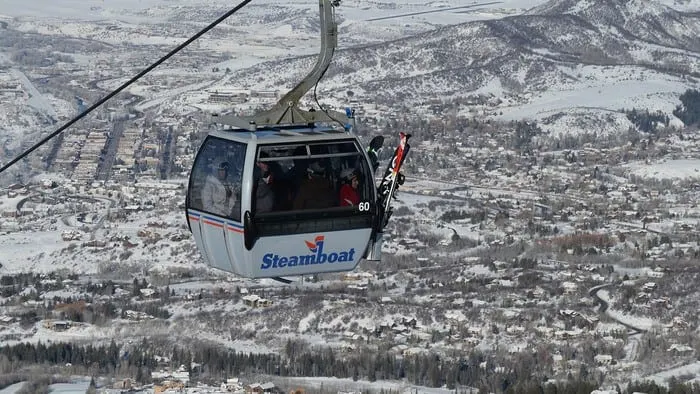 Non-skiers can enjoy the mountain scenery while riding to the top of the ski mountain in the gondola. Our tickets ($22 for adults) came with a 10% discount at the mountain lodge.
The food is standard ski cafeteria fare. But the bar has a great view of the mountains.
We couldn't resist the large glass jars filled with colorful layers of pickled olives, tomatoes and peppers for bloody Marys. While we waited for Tiny Traveler to finish up her ski lesson we had our impressively good cocktails with a view to match.
Swim in the Hot Springs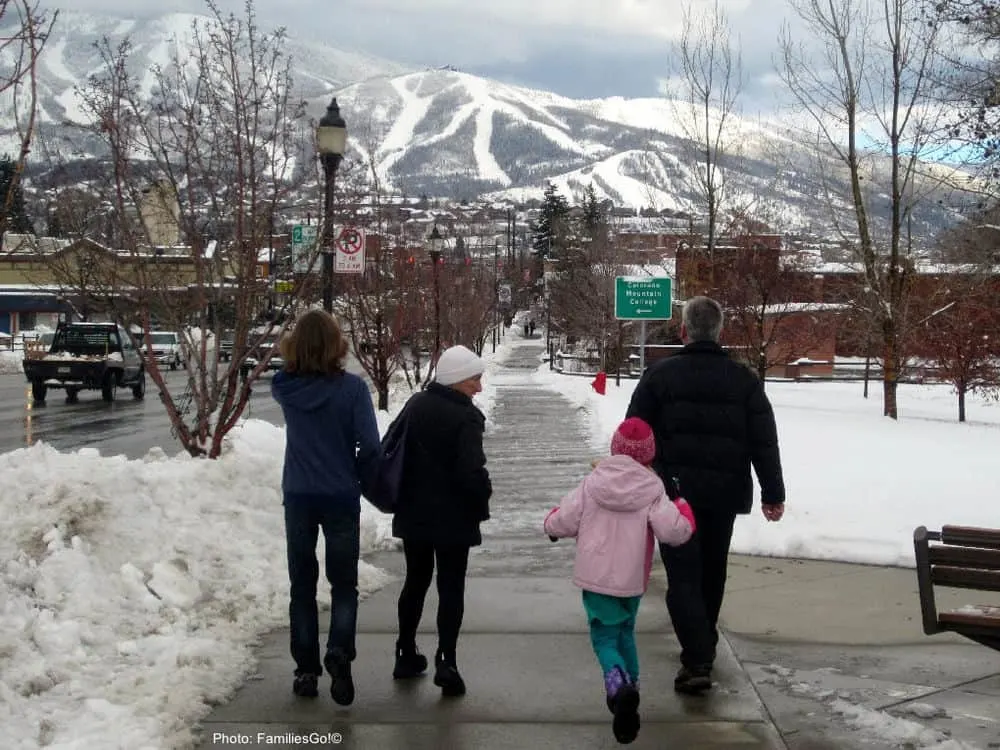 You can't visit Steamboat without a dip in the hot springs it's named for.
Old Town Springs, right in town, is perfect for families. Daily admission buys you access to several heated outdoor pools and whirlpools.
There is a kiddie pool in summer. Slides and a water obstacle course are an additional fee when they're open, also only in summer.
Even without these extras kids love it here. It was snowing when we went and Tiny Traveler got a huge kick out of building snowmen and swimming at the same time.
Tip: Local people wore winter hats with their swimsuits to keep their heads warm. Flip flops and extra towels are handy in the busy locker room.
A Winter Hike Outside of Town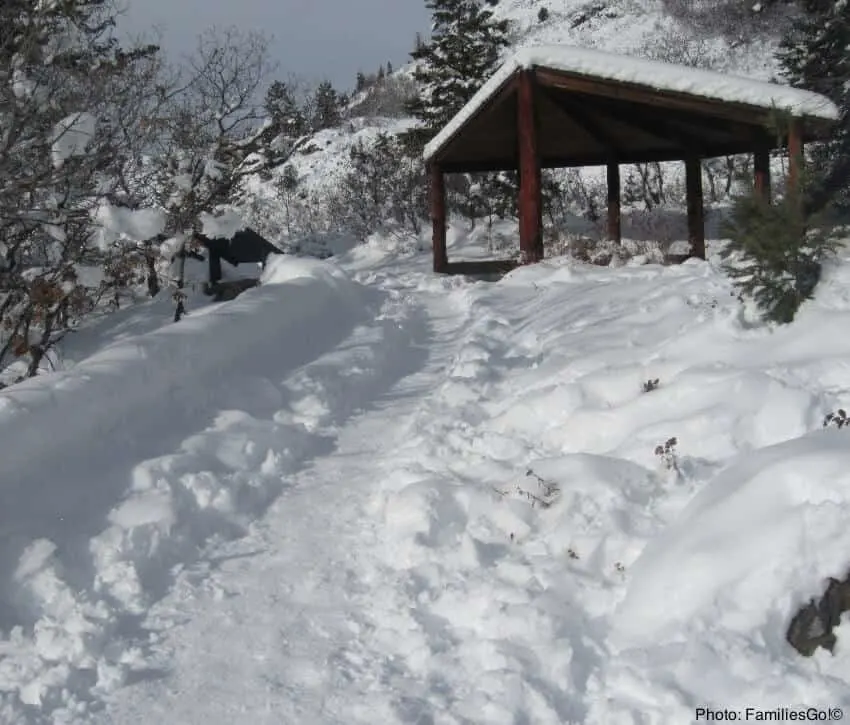 The trails at Fiskcreek Falls, just four miles above the town, were shoveled and walkable despite a good foot of snow on the ground the day we visited.
A 15-minute walk uphill gives you a good view of the valley. Head back to the parking lot and a 5-minute walk downhill (it's longer coming back) takes you to a scenic bridge below the falls.
The scenery was Frozenesque and the distances are manageable for kids five and up.
Visit the Local History Museum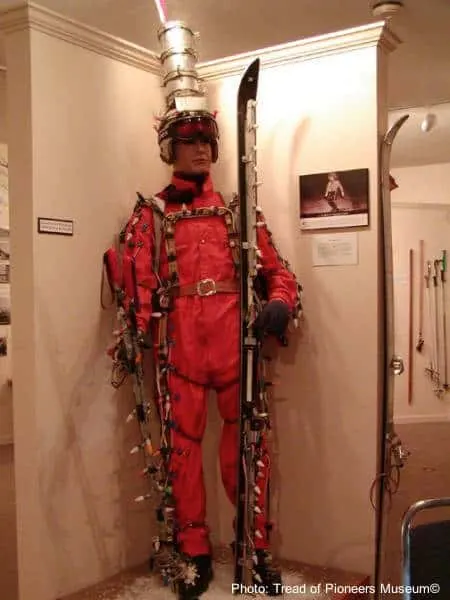 The small Tread of the Pioneers Museum, located in a stately Victorian house in the center of town, pleasantly surprised us.
Half the space is preserved as a 19th century home.The other half has exhibits on pioneer life, Native Americans and local local culture.
Highlights included a traveling candy salesman's case (with the original candy!) and the equipment for special night skiers who cover themselves with lights.
Ask for the scavenger-hunt at the front desk for kids; figuring out riddles and finding the items helped to pull Tiny Traveler into the exhibits.
Explore Downtown Steamboat
We had a fun afternoon window shopping in the town of Steamboat. Pop into the well-regarded FM Light & Sons to try on western boots, hats and other clothes.
Look for sales on quality winter clothing brands like Smart Wool in the several outdoor stores. Find something to read or catch an author signing at Off The Beaten Path bookstore.
Steamboat also has a large, modern library at one end of town, tucked back from the mains street.
With a brightly decorated kids' section and comfy armchairs throughout. It's a very good place to warm up and to keep toddlers occupied.
Check out some of the authentic hot springs bubbling up close by. Just follow the smell of sulphur to find them.
Downtown Steamboat Restaurants
Outdoor activity makes a family hungry. You'll find the usual ski-town mix of pizza, brewpubs and barbecue on and just off of the town's main street.
Several store owners directed us to Carl's Tavern, a busy sports bar at night, but a kid-friendly restaurant at lunchtime. Homemade chicken-pot pie, grilled cheese and onion rings were spot on.
Locals also like Freshies for made-from scratch sandwiches, salads and egg dishes.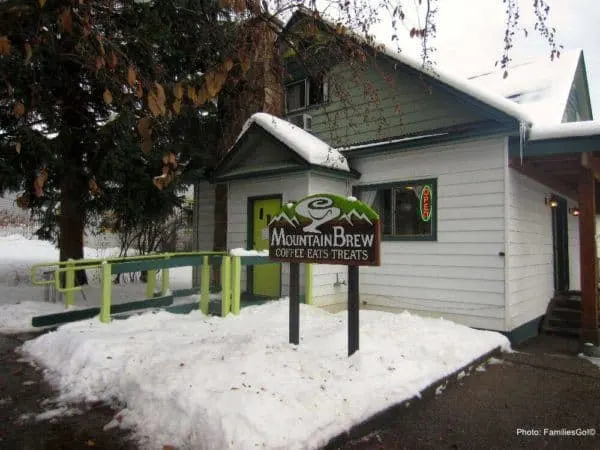 Mountain Brew, a tucked-away ramshackle coffee house, has excellent baked goods.
The cupcake selection on the day we visited included chocolate-peanut butter and spice cake with a bourbon-vanilla icing. The fruit scones were crumbly and not too sweet.
---
Start Your Planning Here
• VRBO lists more than 2500 Steamboat Springs rentals, including slope-side homes with private hot tubs.
• TripAdvisor will point you to the best rates for the Steamboat Grand and other area hotels.
• I like Expedia for flight and car rental packages.
---
Basic Information on Steamboat Springs
It's a bit more than three-hour drive to Steamboat Ski Resort from Denver and nearly six-hours from Salt Lake City. But driving over the mountains in the winter is precarious. Plan to take your time and expect delays for weather conditions and accidents.
Decades of driving in New York state and New England winters did not prepare us at all for the slick roads you have after even a dusting of snow at high altitudes.
Flying is better. In winter there are daily direct flights from Chicago, Denver, Dallas, Houston and LA. to nearby Steamboat/Hayden airport (officially the Yampa Valley Regional Airport).
Five more cities have flights a few times a week. But if you aren't in one of the cities with daily flights, connecting through Denver will give you the most options and flexibility.
Rent a car when you get there so you can get between the slopes and town, ideally one with four-wheel drive and snow tires.
Pin it for later!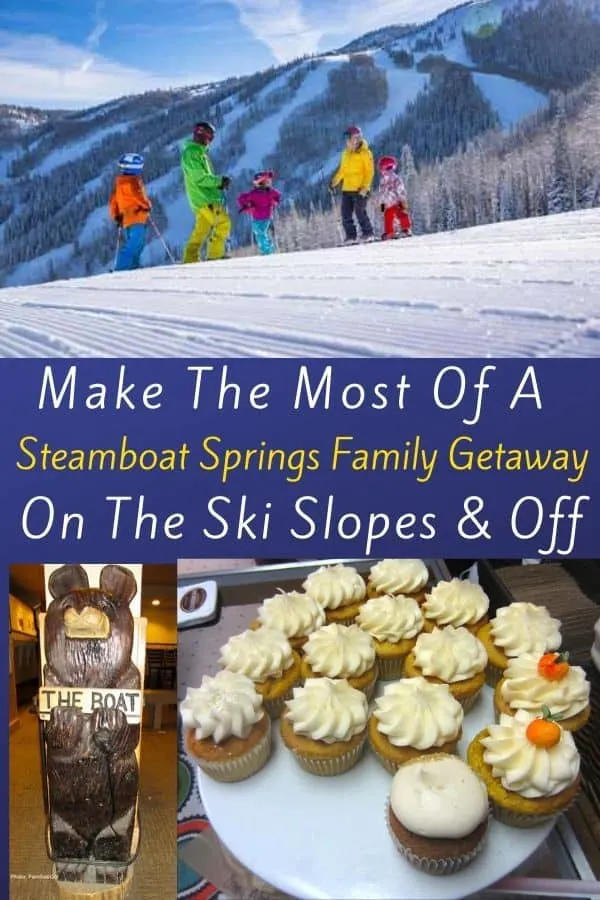 *Steamboat provided us with a complimentary ski lesson. We paid for rentals, lift ticket and all our other activities. Our opinions are always our own.
* All photos are the property of FamiliesGo!© except the gondola and mountain coaster (Steamboat Springs Resort) and Old Town Hot Springs (Steamboat Chamber of Commerce).