There are places that we visit with a long list of things to do and see. And then there are places we visit to enjoy the vibe and we're happy to mostly wander around and soak up the place. Charleston, South Carolina is the latter type of city for us. We liked just being there, and did a lot more wandering for the sake of it during our three-night stay.
Here are a few things we did while visiting with a small child that worked well, and the things we would go back for with an older kid.
Traveling to the region? Read my posts on
• Savannah with Kids and
• A Sidetrip to Kiawah Island
My Hotel Pick For Charleston
Charleston doesn't lack for your choice of hotels. We stayed at the historic Ansonborough Inn and loved it. It's on the edge of the historic distric so we could walk to everything we wanted to see in town and pop back to the hotel if Tiny Traveler needed a nap or change of clothing.
The hotel has a parking lot; not too common inside the city. Plus, there is a Harris Teeter supermarket across the street, which we made ample use of to stock up milk and little-kid food we couldn't bring on the plane and to pick up a bottle of wine to have with our take-out dinner one night.
The rooms are ideal for traveling with small children. They are roomy and several are duplexes or lofts, which give you extra space an the chance to have some privacy. We had a loft sitting area, where the TV was, so we had a place to sit up, read, maybe have a nightcap after Tiny Traveler conked out at 8:00. Most rooms have a microwave and small refrigerator. There is no pool, but she was too little to care and all the other conveniences helped us quite a bit.
A good breakfast is included in the room rate, as was an afternoon happy hour where Tiny Traveler had lemonade and cookies while we had wine and cheese.
The Best Things To Do in Charleston S.C. With Small Children
Sample the Charleston Farmer's Market:
Held in Marion Square on Saturday mornings from April through November, we liked this sizable farmer's market for it's community vibe and insight into local food and culture. We sampled huge muscadine grapes, sweet potato pie and boiled peanuts. The market has grown since we visited, with more prepared foods and artisans like sweetgrass basket makers.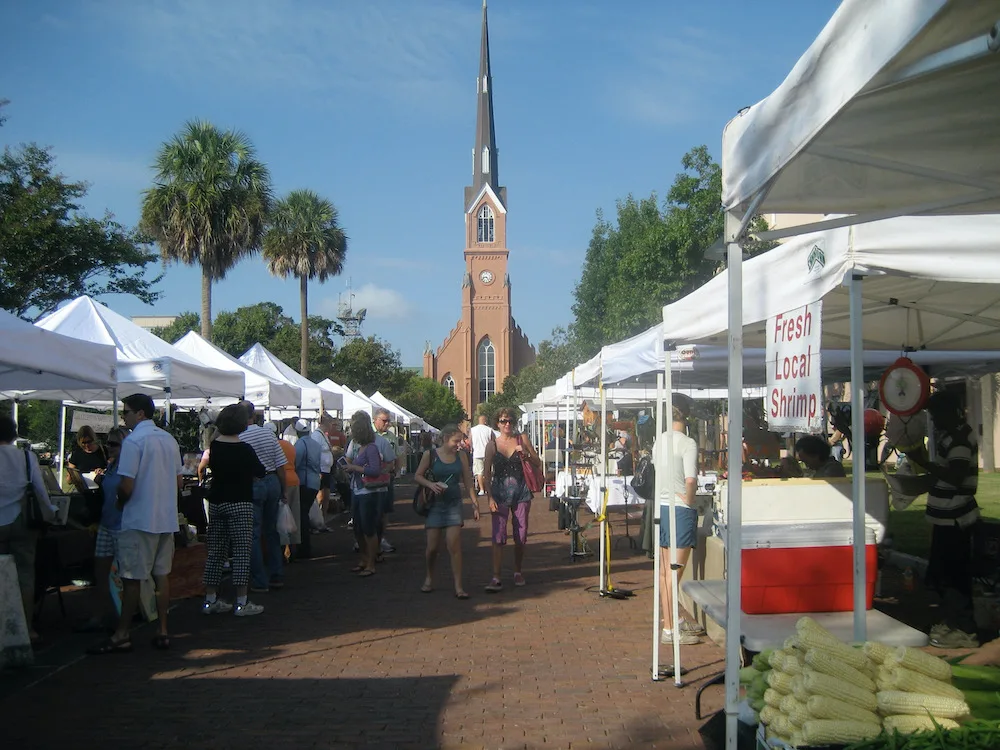 Stop to Eat: We ate fantastic shrimp & grits cooked to order for breakfast. Tiny Traveler liked watching a fellow make mini-donuts in a portable fryer, and of course we had to buy a batch.
There is also the covered City Market on Broad Street, where you can buy items like handwoven grass baskets and sweet sesame-seed cookies. It's fun, a great place to buy handcrafted souvenirs and kids like it. But it does feel less authentically local and more made-for-tourists.
Play in Mount Pleasant Memorial Park: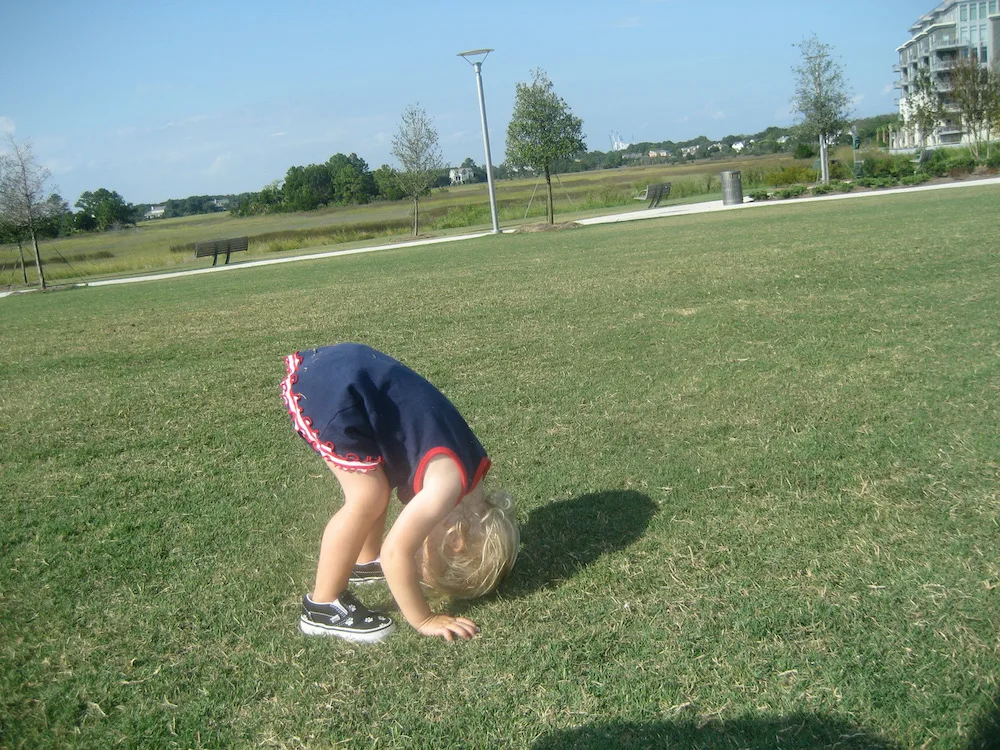 It's next Patriot's Point, literally under the Arthur Ravenel Bridge you use to cross the river. We went because a tour guide tipped us off to a playground here. The park has a nice lawn for running around, a small but spiffy playground with a nautical theme, and special events throughout the year. The nice surprise was the Mount Pleasant Memorial Pier, which juts 1,250 feet into the river and offers great views of the city and harbor.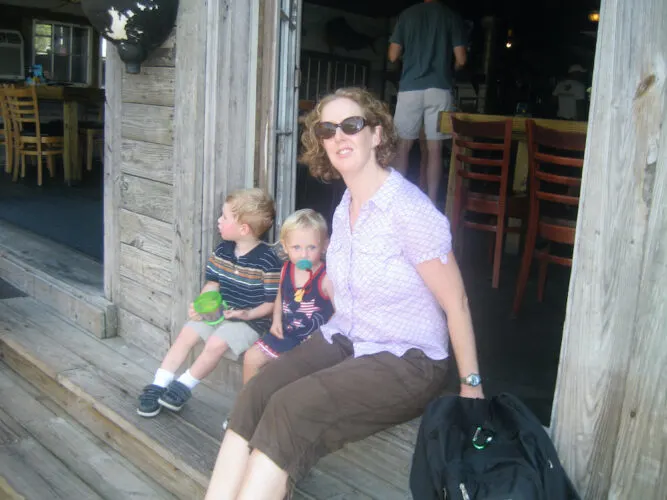 Stop to Eat: While on that side of the River, we drove around a little and happened upon Red's Ice House (right), on Shem Creek. It's the sort of casual waterfront place where you drink beer and eat grilled shrimp and oyster po'boys out of little red plastic baskets lined with checked paper. The food was as tasty as the place was casual and kid friendly.
Take A City Tour: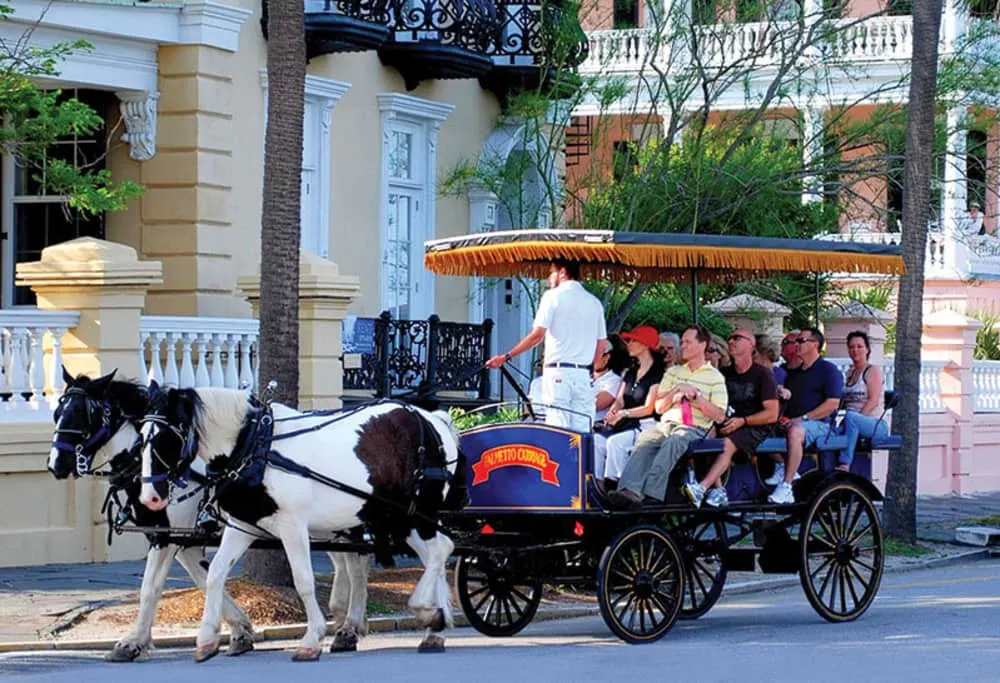 Charleston is a city with a lot of official history and a a good dose of juicy unofficial history. A tour is essential to get to know the town. I'd recommend a walking tour with kids who have the attention span for it, maybe 4th grade and up, and with babies who will happily spend an hour or two in a carrier.
We did a walkinng tour with our very active and distracted 2YO and it was not easy. Each of us heard about the half the tour because each time we stopped Tiny Traveler toddled off to climb on or look at other things. We managed and tour guide was nice; she even told us where to find a playground.
But if I had to do it over again I'd choose carriage tour with kids 2-7YOs. They are shorter and a little less in-depth but you'll still learn a lot. The novelty of the horse-drawn carriage will keep little kids occupied for a good part of the ride. If they get bored, it's easy enough to pass them a snack, book or small toy to pass the rest of the time.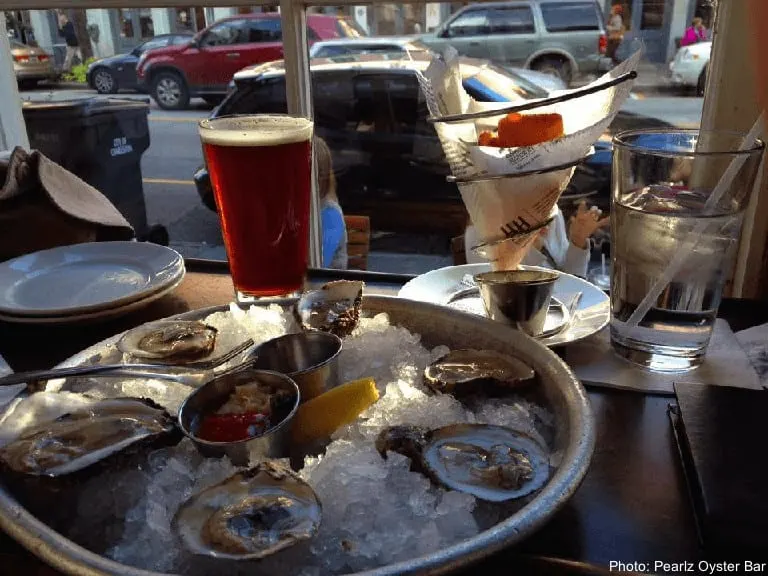 Stop to Eat: The area around Broad Street is full of good places to eat; most attract a mix of locals and tourists. We returned twice to Pearlz Oyster Bar just north of Broad because its happy hour coincided with our dinner time and included a great deal on local raw oysters. We slurped a dozen, coupled with local beer and wine, while Tiny Traveler shared corn fritters and other snacks with us.
Enjoy the Waterfront Park: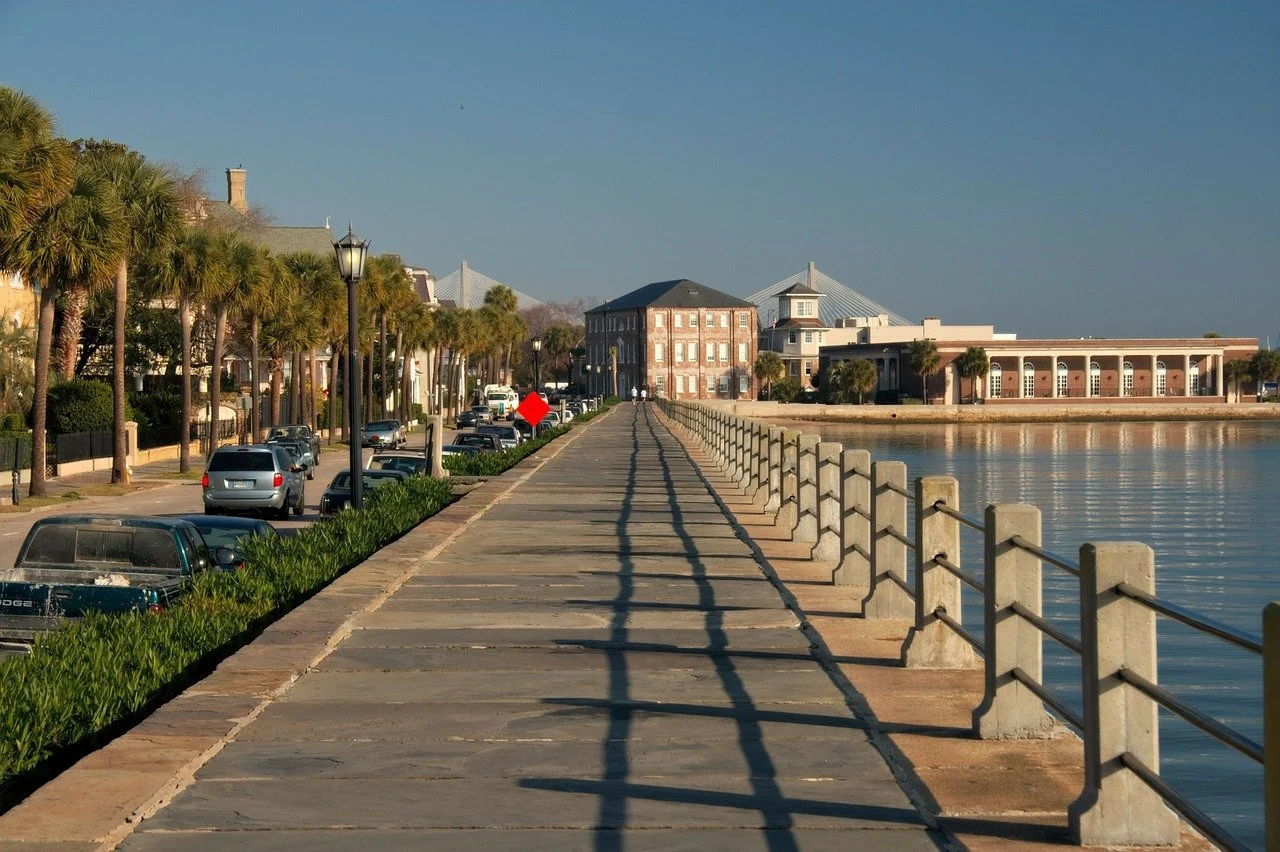 At least once daily we walked along the waterfront south of Queen Street. We'd look at boats on the water, appreciate the pineapple fountain with the occasional kid splashing in it, try the bench swings and run around on the grass at the Battery.
It was perhaps not the most exciting thing we've ever done on vacation but it was easy, scenic and relaxing. When you're traveling with a toddler that's a big win and I'll take it.
Stop to Eat: We made sure to stop at Jestine's Kitchen, a casual joint known for its home-style lo-country cooking. We went for fried chicken (with fried okra and cole slaw) and shrimp & grits, which they only do on Sunday. We cleaned our plates.
What We Would Go Back For To Charleston
Explore More History:
Because Tiny Traveler was small, we went light on history on our last trip. If we went back we would surely take a boat to Fort Sumter, where the Civil War began.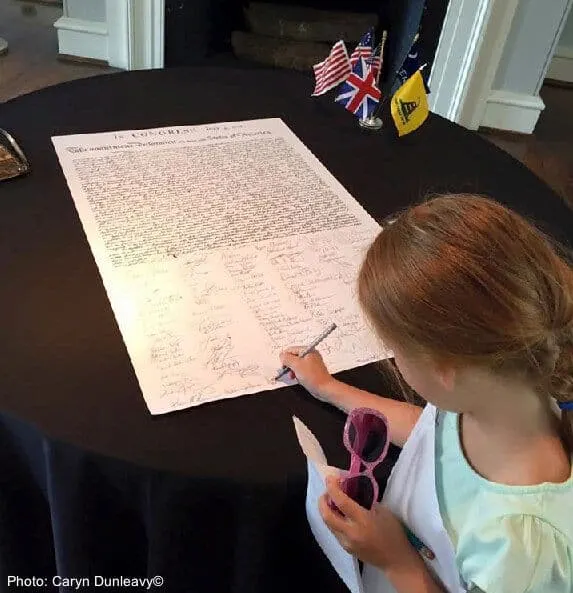 Back in town we would likely visit the Old Exchange and Provost Dungeon, which has a colorful history. Kids can do scavenger hunts through the building and sign the Declaration of Independence.
Visit a Plantation: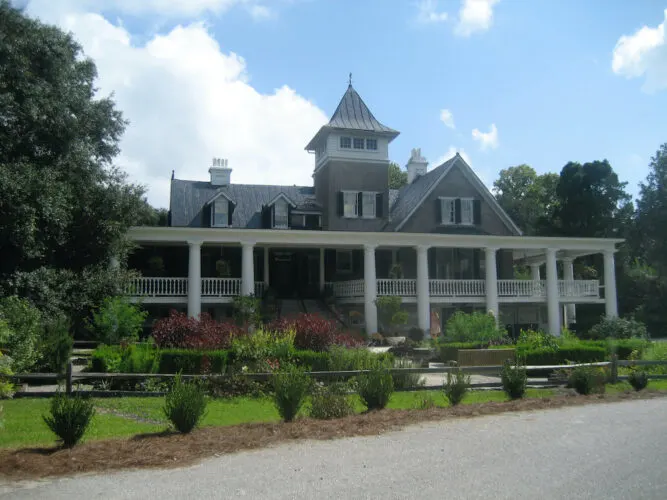 The plantations are expensive but I think I would go back to tour one of the mansions and learn more of history around them. We visited family friendly Magnolia Plantation, but skipped the house tour and just explored its small petting farm, extensive gardens, slave quarters and a surprisingly cool walkway through a swamp.
Next time around I think I might try the newly opened McLeod Plantation (below) on James Island because of its focus on the Gullah culture and its unique location.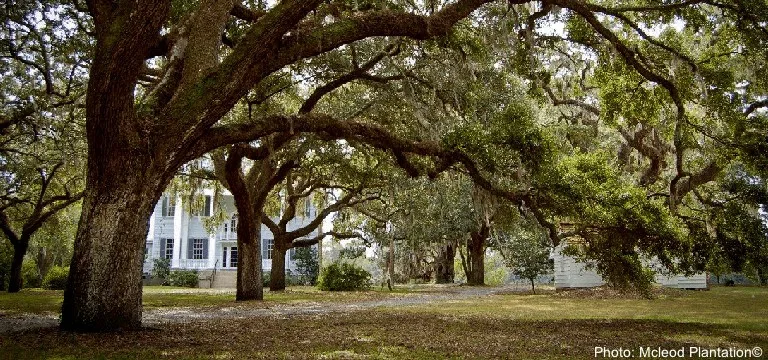 Note: If you go, bring a picnic lunch, the plantations are tucked away down country roads without stores nearby.
Hit the Beach: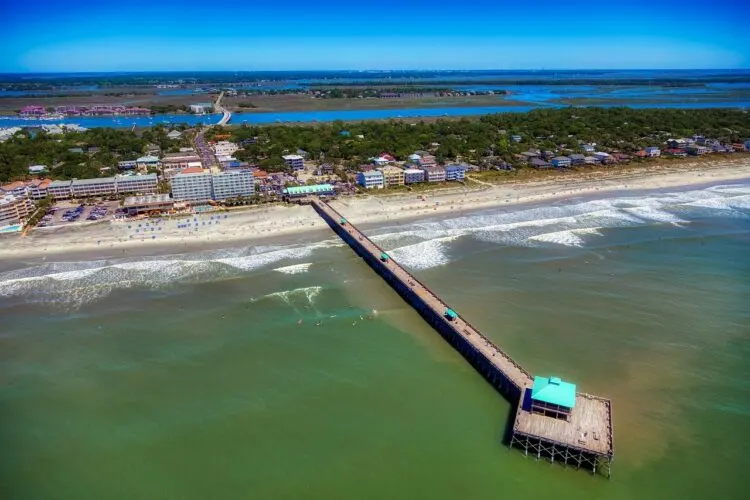 I have heard only wonderful things about local favorites like Folly Beach,Pawley's Island and Sullivan's Island as well as upscale resort islands Kiawah and Isle of Palms, all less than an hour from the city. So next time around we will surely take a day, maybe two, to hit the beach in search of swimming and good oyster shack.
---
Find the best rates on historic district hotels with pools.
Try low-country life on for size with a vacation rental right in the Historic District or French Quarter.
Book the best flights into Charleston International Airport
---
Getting To Charleston
Charleston is three hours from Charlotte, four hours from Raleigh, NC and Jacksonville,FL, two from Myrtle Beach, Savannah and Hilton Head, five from Atlanta and eight hours from Washington, DC.
Charleston International Airport receives direct flights from about three dozen cities across the country and it's easy to find inexpensive fares. If you fly in, I recommend renting a car so you can easily visit the plantations, the beaches, Mount Pleasant and more.
Charleston weather
Summers in Charleston are hot and humid. Leave room for in your day for rest breaks in the shade and stay hydrated. Nighttime temperatures can dip into the low 40s in winter but during the day it can be in the 60s, which is ideal for sightseeing. Spring and fall have the most moderate temperatures, but from August to October make sure your vacation costs are refundable in case a hurricane sweeps through.
Pin it for later!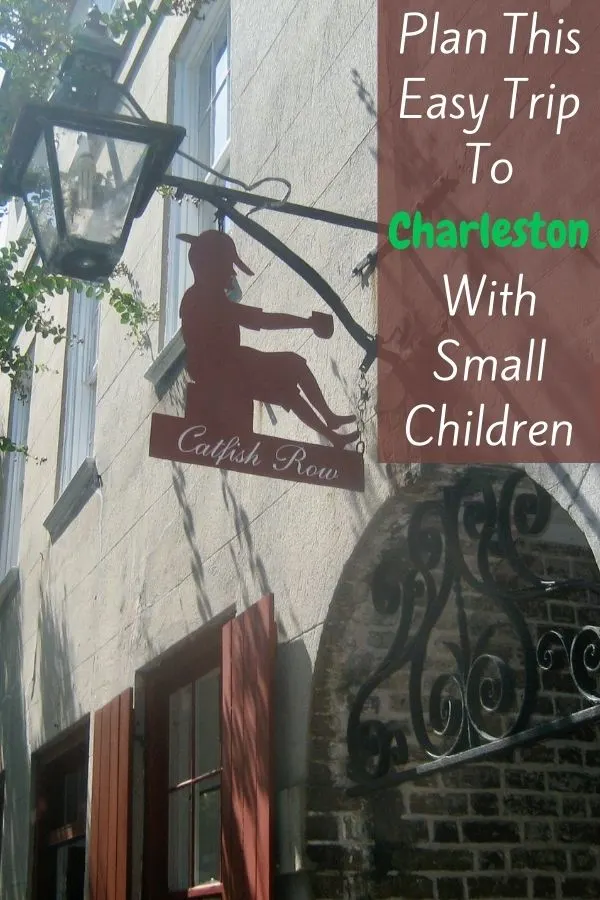 Photos by FamiliesGo!© except Folly Beach (Pixabay), Mount Pleasant Pier and Carriage Tour (Charleston CVB), Pearlz Oyster Bar and McLeod Plantation (the organizations) and Old Exchange (C Dunleavy©).