Read about side trips from U.S. national parks.
Who says kids can't spend some time learning new things over the summer? Weekend visits to these historical places can make history more real, colorful and relatable than the textbooks they've been reading all year. They probably won't even mind that they're learning—though we've include ideas for ideas for some solid R&R, too.
1. Baltimore
Stay: Hampton Inn & Suites Baltimore Inner Harbor
Learn: Visit Fort McHenry and arrive in time for the impressive flag raising. Then get a ranger to answer your questions about everything from the battle of 1812 to Baltimore's two-sided role in the civil war. A short movie in the visitor's center narrates the battle that inspired our National Anthem. At the B&O Railroad Museum you'll learn about the surprising role trains played in the civil war. Babe Ruth's birthplace celebrates him and the history or baseball.
Fun: The National Aquarium is enormous. The American Visionary Art Museum has a fart machine kids love (it has great art, too). Baseball fans can pair the Babe Ruth Museum with a game at Camden Yards.(Read more about Baltimore)
2. Boston, Mass.

Stay: DoubleTree by Hilton Hotel Boston – Downtown
Learn: Walk the 2.5-mile-long Freedom Trail in the footsteps of Paul Revere and his compatriots. Then visit Minute Man National Historic Park, just outside the city, to learn about the battles of Lexington and Concord with ranger tours, historical reenactments and more.
Fun: Pause along the freedom trail to catch the buskers performing around Quincy Market. Spend a rainy day at the amazing Boston Children's Museum. End your Trail walk in the city's North End with fantastic pasta, gelato and cannoli.
3. Charleston
Stay: The Best Western King Charles Inn
Learn: A walking or carriage tour will lead you through the city's colonial past and its rolls in the Revolution and Civil War. Take a ferry to Fort Sumter, where the Civil War began. Or head out of town to a Plantation for a peek at antebellum life.
Fun: Kiawah Island, Isle of Palms, Folly Beach and Sullivan's Island offer seaside getaways within 45 minutes of the city. (Read more about Charleston.)
4. Gettysburg, Pa.
Stay: The Gettysburg Hotel
Learn: Learn about the fierce battle that turned the tide of the Civil War by touring the Gettysburg Battlefield with a knowledgeable park ranger (summer and weekends in spring and fall). Visit the National Military Park Museum and The Soldiers National Cemetery, where President Lincoln delivered his famous address.
Fun: Take a side trip to nearby Hershey for the amusement park, chocolate making and lots of chocolate sampling.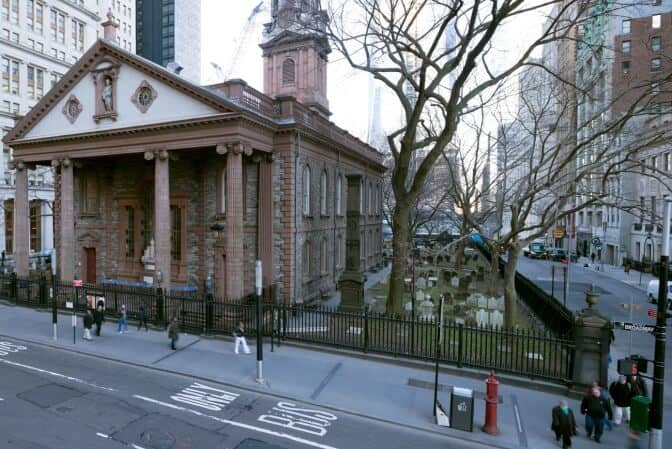 5. New York City
Stay: Try for an apartment rental via AirBnB or Homeaway.
Learn: The city began in Lower Manhattan where you can visit historic St. Paul's (right) and Trinity churches and their cemetaries, an African burial ground, and Federal Hall, where George Washington spent his presidency. Or explore America's Immigrant past: Take a ferry from Battery Park to Ellis Island, visit the Irish Hunger Memorial and then the Tenement Museum, where excellent tours bring immigrants' stories to life.
Fun: Sample dim sum in Chinatown and cannoli in Little Italy. Kids can get ya-yas out at the unique Imagination, Teardrop Park or Hester Street playgrounds. The Children's Museum of the Arts in Tribeca is a cool rainy day refuge. (read more and more about New York.)
6. Nevada County, California
Stay: The Northern Queen Inn
Learn: With quaint, storied Nevada City as your base, branch out to learn about the pioneers and gold miners who led the way west. Empire Mine State Historic Park, Donner Memorial State Park and the Emigrant Trail Museum and Malakoff Diggins State Historic Park (slightly further afield) offer opportunities to get outdoors while also learning about California's past.
Fun: This is a low-key weekend. Think about hiking, biking, swimming in rivers or lakes, sampling local beer and wine, and maybe visiting a farm.
7. Philadelphia, Pa.
Stay: The Omni Hotel at Independence Park
Learn: In the city where the idea of American was born, visit Independence Hall where both the Declaration of Independence and the Constitution were penned. Celebrate Ben Franklin, America's first celebrity, Betsy Ross, and the Liberty Bell. Dine at the Old City Tavern, where patriots talked treason over tankards of ale.
Fun: The giant Franklin institute is so cool kids barely realize they're learning. Get outdoors in sprawling Fairmont Park, or enjoy a taste of Philadelphia at Reading Terminal Market. (Read more on Philadelphia here and here.)
8. San Antonio
Stay: JW Marriott San Antonio Hill Country Resort & Spa
Learn: The Alamo is the historical main attraction. Get the most out of your visit by taking a docent tour, and stop by the nearby IMax theater for "Alamo: The Price of Freedom." Visit at least one of four Spanish Missions south of the Alamo to get a taste of Texas life in the 1700s.
Fun: Choose between SeaWorld San Antonio, Schlitterbahn Waterpark Resort or ultra accessible Morgan's Wonderland for some R&R. (Read more about San Antonio.)
9. St. Augustine
Stay: Doubletree by Hilton St. Augustine Historic District
Learn: The Spanish were hacking their way through Florida's wilderness before Plymouth or Jamestown were settled. In the historic district two Forts (top), a hospital, and a collection of houses tell the story of Spanish colonialism. Nearby you can visit Fort Mose, the first legal settlement of free blacks in America.
Fun: Head to the beach! Try any of several local mini-golf centers. Take a variety of boat rides—schooner, fishing, or even pirate.
10. Williamsburg, Va.
Stay: Homewood Suites by Hilton Williamsburg
Learn: Experience day-to-day life in the 1700s at Williamsburg. Learn about the brave, unfortunate settlers at Historic Jamestown and walk the battlefield where the American Revolution was won at Yorktown.
Fun: Busch Gardens is a heart-stopping counterpoint to the slower pace of yesteryear. (Read more about Williamsurg's historical and family fun attractions.)