Dear FamiliesGo!: My family would like to hit a beach resort for winter vacation this winter.
But our passports have expired. Hawaii is too far from our East Coast home base. Any ideas for a warm winter vacation in the U.S. preferably one at a resort?
FamiliesGo! Answers:
You're not alone. A lot of families let their passports expire while they were stuck home during the pandemic. Because of this backlog and other factors, passport processing has been hit or miss lately. We know families who have received renewed passports in just a few weeks and others who have had to wait for a couple of months.
If you're getting a first-time passport for anyone in your family, you'll need an appointment at a passport center and they're still backlogged. This can make it hard to book last-minutetravel dates outside the U.S.
And many families are still wary of a long plane ride and navigating the infection rates and Covid-19 rules in other countries. It's just simpler to stay closer to home.
So if the kids are off from school for the Christmas holidays, winter break or spring break, where can your family go to get some sun on your face, sand between your toes and resort amenities within the U.S. in 2022?
Here are some ideas for great winter vacations in the U.S. that involve resorts and (mostly) some beach time:
5 Ideas for Warm Winter Vacation With Kids in the U.S.
Warm & Sunny Without the Beach: Arizona
If you want a warm weather resort experience and don't need to dip your toes in the surf, southern Arizona can provide warm weather, large resort pools, easy access to activities like hiking and horseback riding and even some sand…sort of.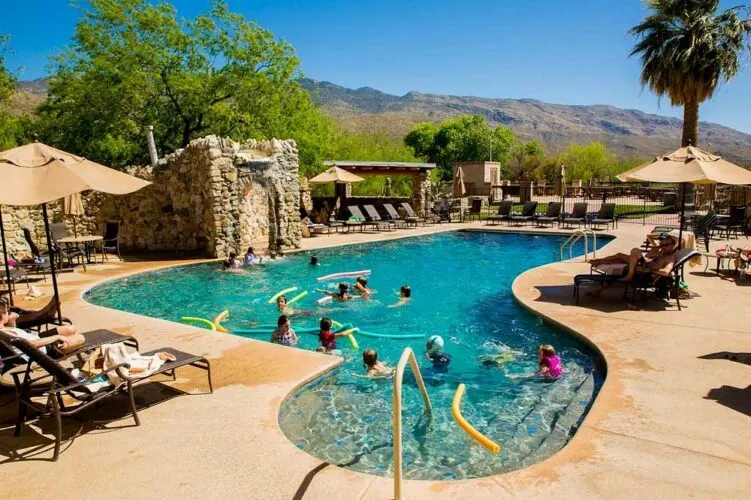 Choose the all-inclusive option at Tanque Verde Ranch outside of Tucson and your family can enjoy three meals a day including cowboy cookouts, plus trail rides, indoor and outdoor pools, mountain biking, guided hikes, fishing, arts & crafts and tennis. A kids program for ages 4-12 offers an introduction to horseback riding and other activities.
The Hilton Phoenix Resort at the Peak has a water park and min-golf to keep the kids entertained and nearby Scottsdale to explore. At the Enchantment Resort in Sedona, your family can learn to mountain bike and hike on your own or with a guide along the red-rock trails of the surrounding Boynton Canyon. Stargaze under Arizona's big sky at night and unwind by the pool.
Surprise! 2 Caribbean Destinations That Don't Require a Passport
Americans don't need a passport to visit the U.S. Virgin Islands or Puerto Rico. And because they're U.S. territories we don't a covid-19 test or reentry either.
Needless to say this has made these islands especially popular with families for easy beach resort getaways. There are still hotels and vacation rentals available but don't wait until the last minute to book and don't count on finding bargains this winter.
Keep in mind there are airports on St.Croix and St. Thomas but not on St. John. While there tend to be more flights to St. Thomas, a handful of airlines have regular service to St. Croix.
Start your research with this round-up of great Virgin Island family hotels in all price ranges.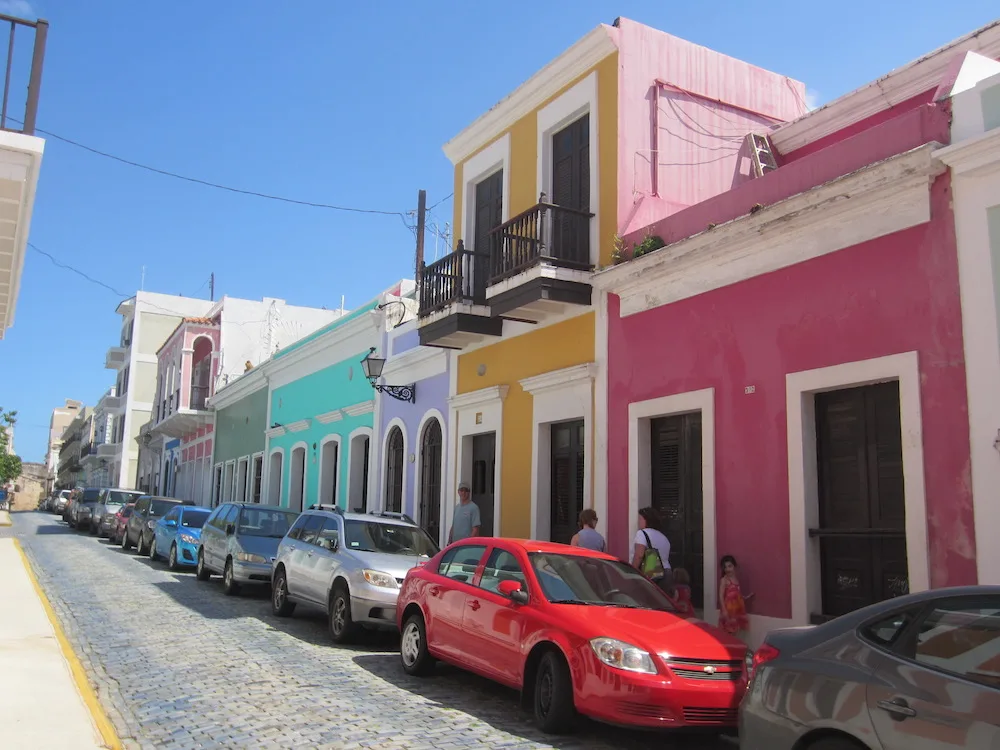 Puerto Rico receives about 80 flights a day from the U.S. into San Juan. The Condado, Isla Verde and Dorado neighborhoods all have resorts that offer beach front and proximity to San Juan for sightseeing.
The Condado also has a good selection of beach-front vacation rentals, as does nearby Isla Verde.
• Start your planning with my post on things to do with kids in Puerto Rico,
which includes my review of the Marriott Resort in the Condado.
There are bigger, more full-scale resorts on other parts of the island, including a few that are closer to El Yunque National Forest. Keep in mind Puerto Rico doesn't really have all-inclusives so most of your activities and meals will be a la carte.
Driving is fairly easy in Puerto Rico.You can count on highway signs in English and good roads between the major tourist attractions. They drive on the left in the Virgin Islands, which might make renting a car less appealing.
Have a Warmish Beach Getaway in the South-East U.S.
Sunny Florida
South Florida destinations can stay warm enough for outdoor swimming into the winter, but even if it's not quite warm enough to dip your toes in the surf you can walk, ride bikes, play in the sand and sit on the beach with a good book. Look for a hotel with an indoor pool or heated outdoor pool to make sure you get some swim-time in.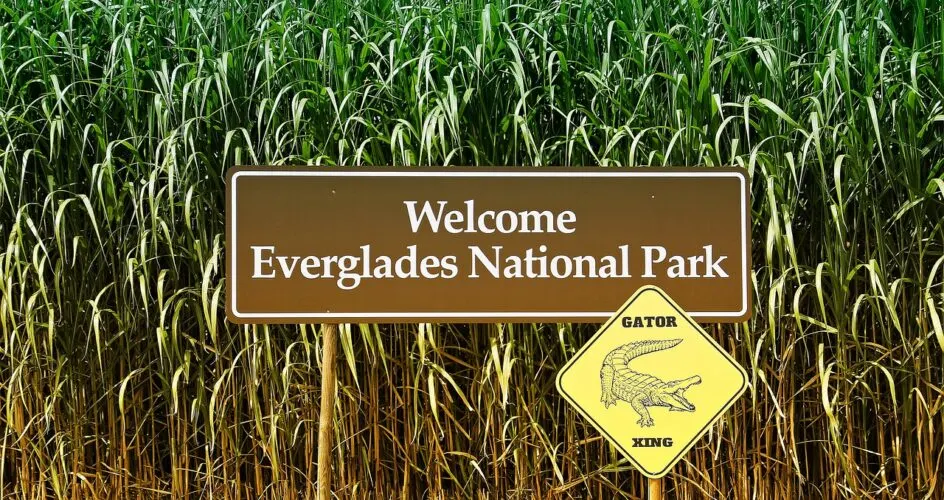 Sanibel Island has hotels that fit the bill, along with nature reserves that cover land and water. Beach destinations including Marco Island, Miami, Palm Beach, the Florida Keys and Fort Lauderdale offer your best chance stateside of warm winter weather. Most offer outdoor activities or fun sightseeing, too. Everglades National Park is a day trip from Miami and the beaches on Florida's south-west coast.
Take a close look at the Palm Beach Marriott Singer Island, which is a bit secluded from Palm Beach proper and popular with families. On Miami Beach, consider the Grand Beach Hotel, which has roomy suites that families appreciate (photo above). If you're traveling with little ones you'll love the play areas on the beach and brightly-colored kid-size beach chairs.
Fort Lauderdale has been trying to move away from being a spring-break magnet for college kids. If you want to be sure of avoiding that scene, choose an upscale resort like the Pelican Grand Beach Resort, which has a lovely whitewashed porch and lazy river.
---
Read our posts on getaways with kids to
• Marco Island
• Miami
• Key West
• Pink Shell Beach Resort in Fort Myers Beach
---
The Gulf Coast and Low Country
In Northern Florida St. Augustine offers a wide beach (photo above) and the oldest city in the U.S. while Pensacola has a good selection of beach-front vacation rentals.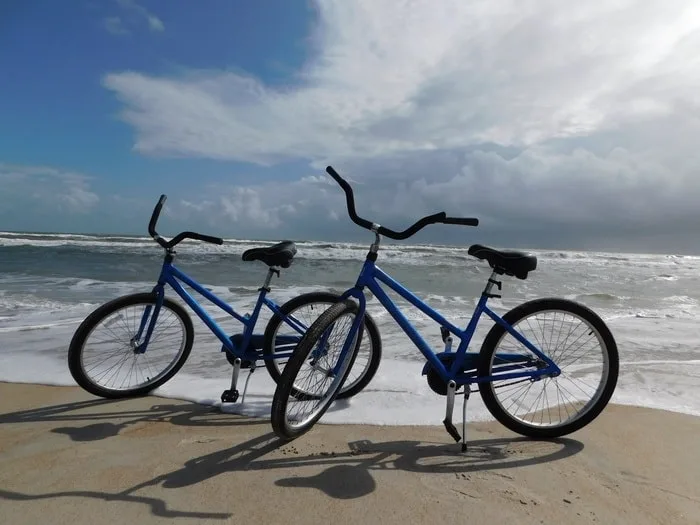 Alabama's Gulf Coast, and Atlantic Coast spots like Jekyll Island, GA and Hilton Head, SC offer mild weather for outdoor activities and nearby sightseeing opportunities. The temperatures are unlikely to top the low 70s though, so you'll want an indoor pool or a heated outdoor pool for relaxing and swimming.
• Read my posts on Gulf Shores, AL; Kiawah Island, SC; and St. Augustine, FL
An All-Inclusive Beach Resort in Florida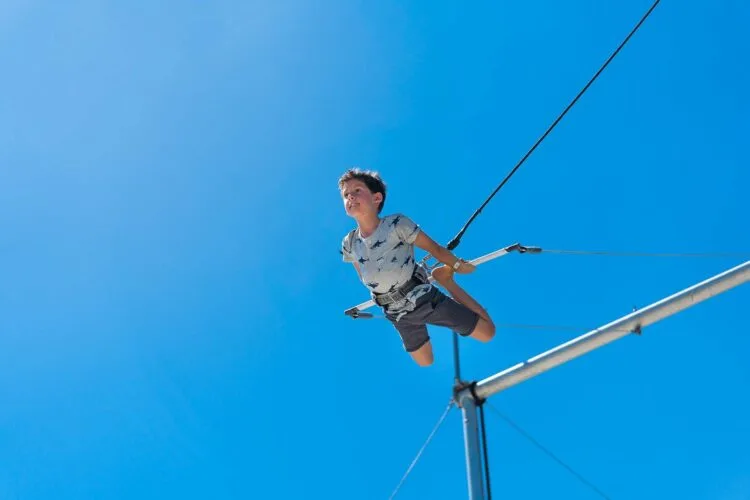 For a full-on all-inclusive Caribbean-resort experience within the U.S., head to Club Med's Sandpiper resort. It's in Port. St. Lucie Florida, on the East Coast, north of Miami. It offers plenty of space for adults and kids to relax and do their thing, both together and on their own.
Club Med emphasizes having lots of activities so you can expect tennis, beach volleyball, SUPing, sailing, kayaking, bicycling and more to be included. The kids club for ages 4 and up and teen club for ages 11 to 17 offer lessons in sailing and tennis as well as the opportunity to learn trapeze skills at its circus school. The latter is one of the resort's biggest selling points for families.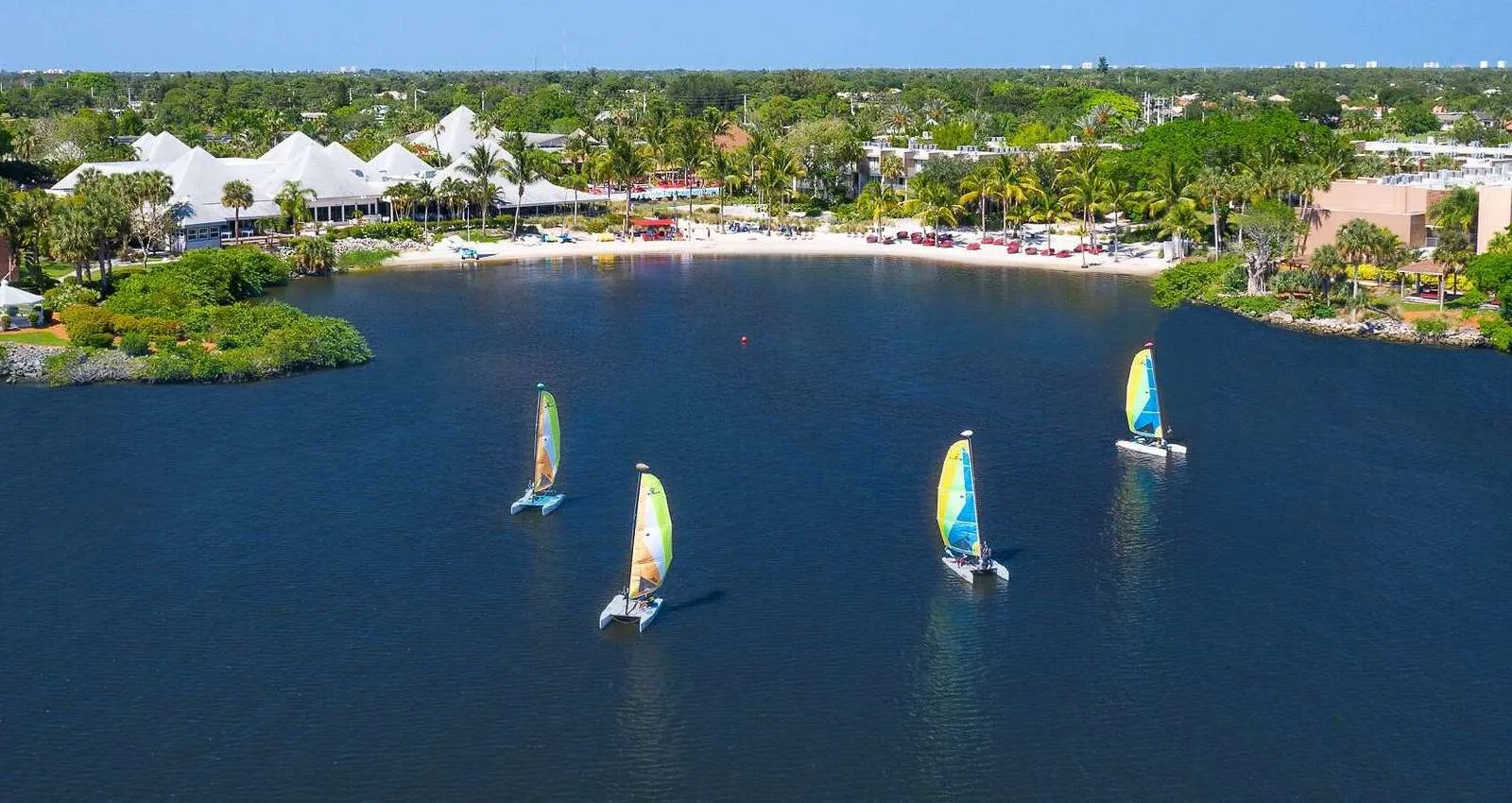 An infinity pool, splash pad for kids and lap pool for adults round out the resort experience.
Family rooms have bunk beds for the kids and space so you aren't on top of each other. Food and drinks are included in the rate.
Hit the Beach Hotels in Sunny Southern California
California has a series of beach towns stretching from just south of Los Angeles to San Diego, and if you time your flights right, the time change can give you an almost full day of fun on your first day. Like the South-East, this region offers daytime temperatures in the 60s, and even 70s if you're lucky, weather that is easily warm enough for warm days outdoors.
The area offers plenty to do outdoors as well. Walk on the beach, dine al fresco, rent bikes, head a bit inland for some scenic hiking, or even get out on the water in kayaks or on Stand-up Paddleboards. Once again, choose a hotel with an indoor or outdoor heated pool to making swimming a part of your getaway.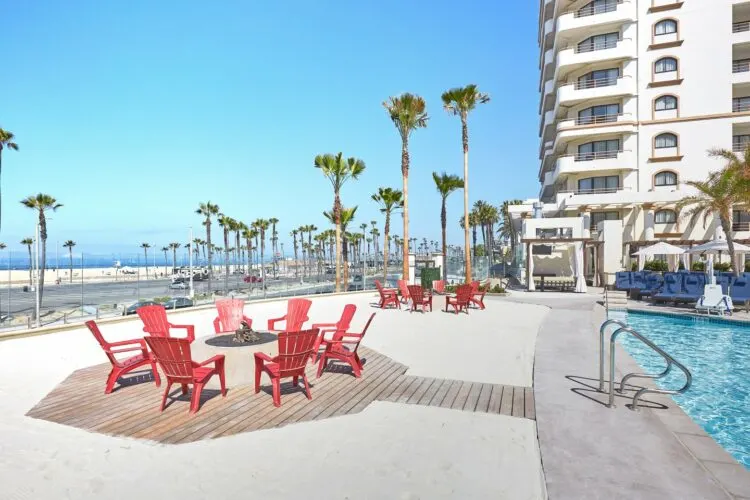 If you want to fly in to one of L.A.'s area airports, Huntington Beach has a fun surfing scene and upscale hotel options like Hilton's Waterfront Beach Resort (photo above), Laguna Beach and Dana Point offer beach-front resorts, boutique hotels and vacation rentals that range from budget to luxury.
For a week-long stay you can combine beach time with some cultural and other adventures in L.A. or a day at Disneyland or Universal Studios. Laguna has Crystal Cove state Park to the north with inland hiking and coastal tide pools to explore.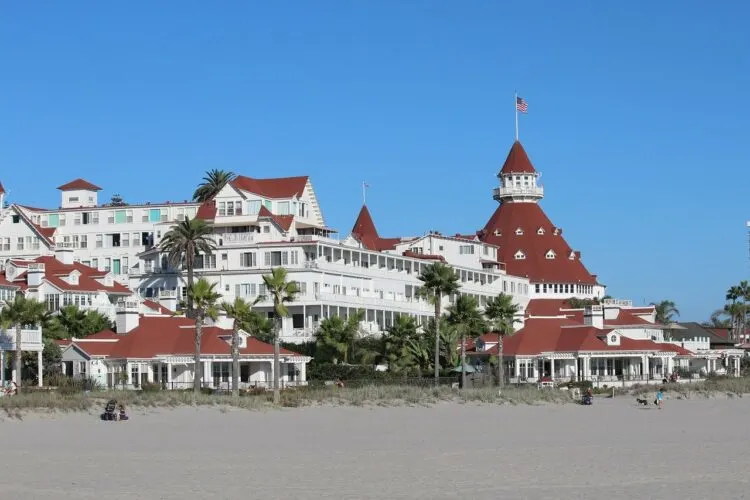 If you prefer to fly into San Diego you can find beach-front hotels within the city limits that are not full-scale resorts but have plenty of amenities. For a bit luxury try the hotel Del Coronado or Loews Coronado, two resort hotels south of town. This is another opportunity to mix relaxing pool time with some light sightseeing, and the surfing opportunities here make it a great place for teens (just pack wetsuits).
Read about Things To Do in San Diego With Kids
• The Best Things To in Palm Springs With Kids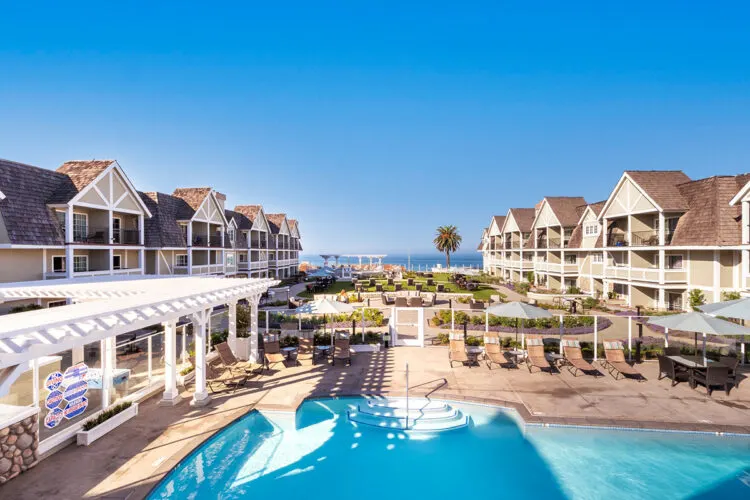 Carlsbad also has a range of beachside resort hotels, too, like the Carlsbad Inn Beach Resort (photo). If you have kids who are Lego fans, plan a day or two at the Legoland. And if you really want them to thank you, book a night the Legoland Hotel. You'll enjoy too; I liked the experience much more than I expected, too!
Read My Review of the Legoland California Hotel
And What We Liked Best At Legoland
mailto:[email protected] Email me your family travel question. I'll answer it on the website and send you the link
Pin it for later!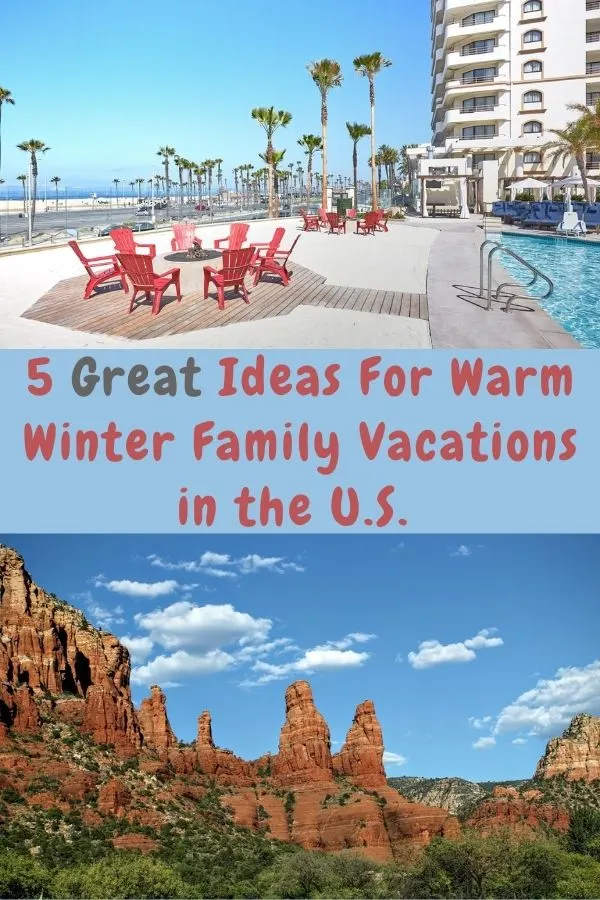 Photos of Puerto Rico and St. Augustine are by FamiliesGO!© Photos of the resorts are courtesy of the resort companies. Feature photo via Pixabay.