The Hotel: Club Med Punta Cana
Where: Punta Cana, Dominican Republic
The Dominican Republic is a popular resort destination because of its relatively short flights from the U.S. Moreover, the Punta Cana Coast is dotted with all-inclusive resorts that have lovely beaches and are a short hop from the airport. Club Med Punta Cana carries a higher price tag than some of its neighbors but it provides an upscale and truly all-inclusive experience.
It's one of the Club Med all-inclusives that was designned to be a family resort and is known for great kids programs for every age group. If your family takes advantage of all the activities and amenities the resort offers it can provide great value and a memorable vacation.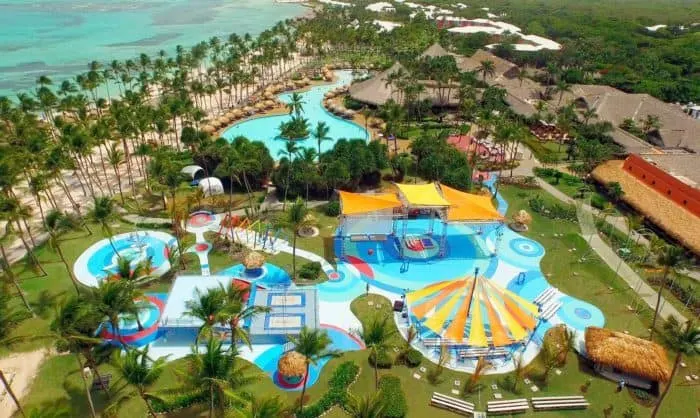 Here's what parents can expect during a stay.
Read More:
Find out about the best things to do on 7 popular Caribbean Islands
• 5 More Caribbean Resorts For Every Family's Vacation Style
• 11 Tops Caribbean Resorts With Kids Clubs For Tots Under 4
Here's What Families Can Expect On a Club Med Punta Cana Vacation
How are the rooms at Club Med's Punta Cana resort?
Rooms at the Punta Cana Club Med resort have tropical colors but pretty basic amenities. The expectation is that you spend most of your waking hours out enjoying the property.
Families of two or three can probably book a basic room and be comfortable. But if you have four or five people in your family you'll be happier in a deluxe room, which has a kids sleeping area separated from the main living space by a curtain.
Are there kids club for all ages at Club Med Punta Cana?
The biggest draw for parents—and a big part of what makes this Dominican Republic resort a good value—are the clubs for kids from four-month-old babies to teens as old as 17.
• Baby Club Med focuses on early learning activities and motor skills. A day at the baby club can include playing in the baby gym, walks in the fresh air, story time and musical awareness.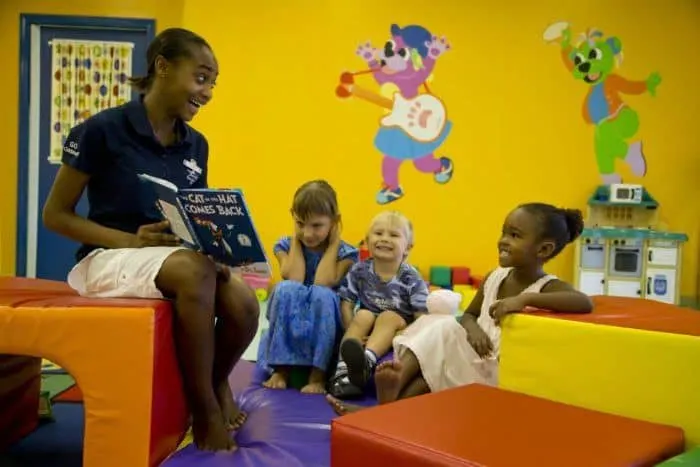 • Petit Club Med is for toddlers. Nature walks, gym sessions, water games, and creative activities like painting, making collages, dressing up, having fashion shows and singing songs just manage to use up all their toddler energy.
• Mini Club Med is for The 4-to-10-year-olds, which seems like a wide age range. But they do separate the kids into different age groups for some activities and there are two rooms in the club house so younnger and older kids can have their space.
Kids do way more than arts and crafts at the mini club. Almost all ages can participate in one way or another in circus school, whether it's trampoline and percussion or juggling and the flying trapeze.
Don't be surprised if you see kids parading around the property dressed up in costumes, carry signs they've made and singing. They'll also learn a dance routine and perform in a show, which is mostly going to appeal to the kids under 7.
The older set can learn archery, tennis, sailing and windsurfing.
They can have dinner with the other kids and enjoy entertainment with kid appeal while you have a leisurely dinner that doesn't involve chicken fingers.
• Club Med Passworld is a dream for 11-to-17-year-olds. In addition the circus school, tennis, sailing and archery, they can learn to play golf, hike and have picnics and play organized sports. They might even get a chance to try thei rhand at DJing. After dark they can check out beach movie nights and beach parties. And they have a hangout area just for them.
What parents do with their kid-free time at Club Med Puta Cana?
If you don't relish being around other people's children while yours at the kids clubs, don't worry. You can take a yoga class, escape to the adult-only Zen Oasis pool area or try the spa, which has treatments for individuals and couples.
Activities like layaking and stand-up paddleboarding can be great daytime "date" activities. Take a break at the Hibiscus Lounge, which serves smoothies and light food during the day and cocktails anytime. No one under 18 allowed.
Have a date-nght dinner at Samana, the resort's table service restaurant. It's family friendly and has high chairs, but you'll be able to relax and savor a nice dinner better if you don't have to navigate a children's' menu and keep kids sitting still for a longer meal.
Are there opportunities for Family Time at this Club Med resort?
• Join the circus (for a day): The most unique offering at the resort is CREACTIVE, its partnership with Cirque du Soleil. Together, outside of the kids club, adults and kids can indulge that fantasy of running off to join the circus with 30 activities.
Try acrobat bungee, mask painting, trampoline, unicycle and juggling among other skills (won't your coworkers be impressed when you get back?).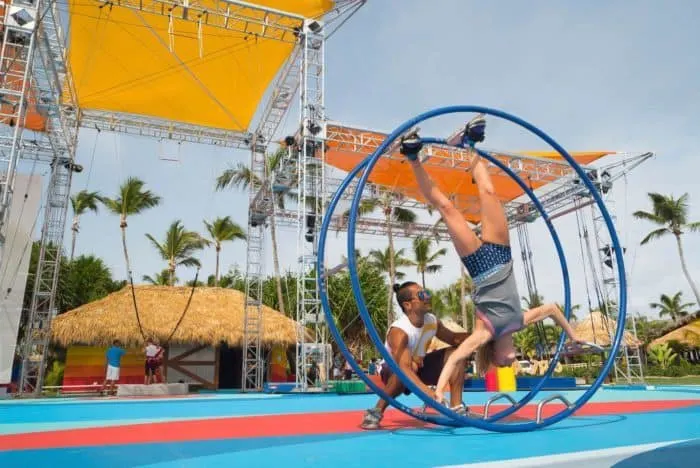 • Daily family activities: There is a daily schedule of events families can do together. Try a sand castle contest, mini-golf and tennis tournaments, a minions hunt, treasure hunt, body painting and a kid's pool party.
And families can of course take advantage of the tennis, water sports, mini golf and other facilities on their own.
• Do Nothing: Of course, some families just hang out on the beach or by the enormous and very attractive pool all week. And that's OK, too.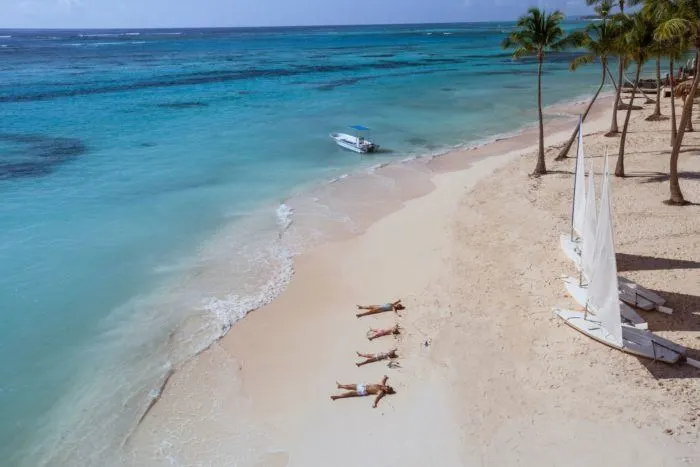 Should we leave Punta Cana Club Med to go sightseeing?
Some people do it. If you feel like you want to venture out, Club Med offers excursions for an extra fee. And you can also arrange tours on your own.
Explore Dominican culture culture and history with a a visit to Santo Domingo. Spend a morning admiring its small colonial quarter and 16th century fort, palace, convent and church among other notable buildings. Then be back on the beach when the day warms up.
If you're outdoorsy you can take a catamaran to the island of Saona for lunch and snorkeling (keep in mind, the smaller your group the better the snorkeling). Ride a horse, zipline and go on a buggy all in one action-filled day. Or explore Scape Park, a natural park that offers ancient pictograms, caves and cenotes for swimming.
What can families do together at night at Club Med Punta Cana?
The evening entertainment is family friendly at this Club Med resort. While I was there I saw a fun house show, a Carnaval circus and a talent show. One night at the theatre the kids were going crazy. Bruno Mar's Uptown Funk was blaring, hip-hop dancers were performing and there was a wild light show. Some kids were invited on stage.
A curly headed boy, perhaps around 7, took over the stage with flips and gyrations that amazed a packed theater. He seemed like he had been waiting forever to do that dance. He and his parents will never forget it.
Those made-for-memories moments are what Club Med Punta Cana aims for and usually delivers. And that is what truly makes this vacation a great value.
Basic Information for the Dominican Republic
Getting to Club Med Punta Cana
It's a two-and-a-half hour flight from Miami, where flights from other parts of the U.S. often connect.You can find direct flights from New York City and Washington, DC, among other cities.
Americans need valid U.S. passports for everyone in your family. The Dominican Republic requires a $10 tourist visa that is typically included in your airfare.
Club Med Punta Cana is about 10 minutes from Punta Cana airport and 90 minutes from Santo Domingo Las Americas Airport. You can arrange transport through Club Med for an added fee.
Customs and Border Patrol has been planning to have people returning to the U.S. go throught customs and immigration at Punta Cana airport but the infrastructure isn't in place yet.
Local Currency and U.S. Dollars
There is a Dominican currency but anyplace with tourists will accept U.S. dollars. I always try to bring plenty of $1 and $5 bills with me to Caribbean resorts. They're handy for tipping staff and tour guides and hotels can't always break larger bills.
What to Pack for Club Med Punta Cana
Plan for a casual environment and plenty of sun. Bring water-resistant sunscreen so you don't need to buy it there (it will be overpriced).
There's a good chance you'll spend most of the day in your bathing suit, but bring a nice cover-up to wear to meals; bathing suits alone are frowned on even at the buffet and Indigo Beach Lounge.
If you're planning excursions sport sandals will take you pretty much anywhere you plan to go.
The DR is pretty warm year-round but pack light sweaters and hoodies in case you have cool evenings.
If you have your own snorkel gear, bring it. It's always fun to see what you can see off the resort beach. And if you go on an excursion it's much nicer to have your own snorkel, even if you borrow their fins.
A tip for cellular service
For most of our travel outside the U.S. our cellular service charges us $10/phone/day in roaming fees. This adds up, even when we agree that only one of us can have roaming service at a time. So I was very happy when a fellow traveler writer introduced me to Airalo. It was a where-have-you-been-all-my-life moment.
Airolo is an app that provides virtual SIM cards, so you can access a local cell network without having to replace your actual SIM card and risk losing it. In most international locations now I can all the data I need for about $5/phone/week.
For $15, all three of us can have full use of our phones for a weeklong trip, instead of $70 for one of us to be able to. Big difference! Will I be using Airalo for all our overseas trips from now on? Yes, I will.
Pin it for Later!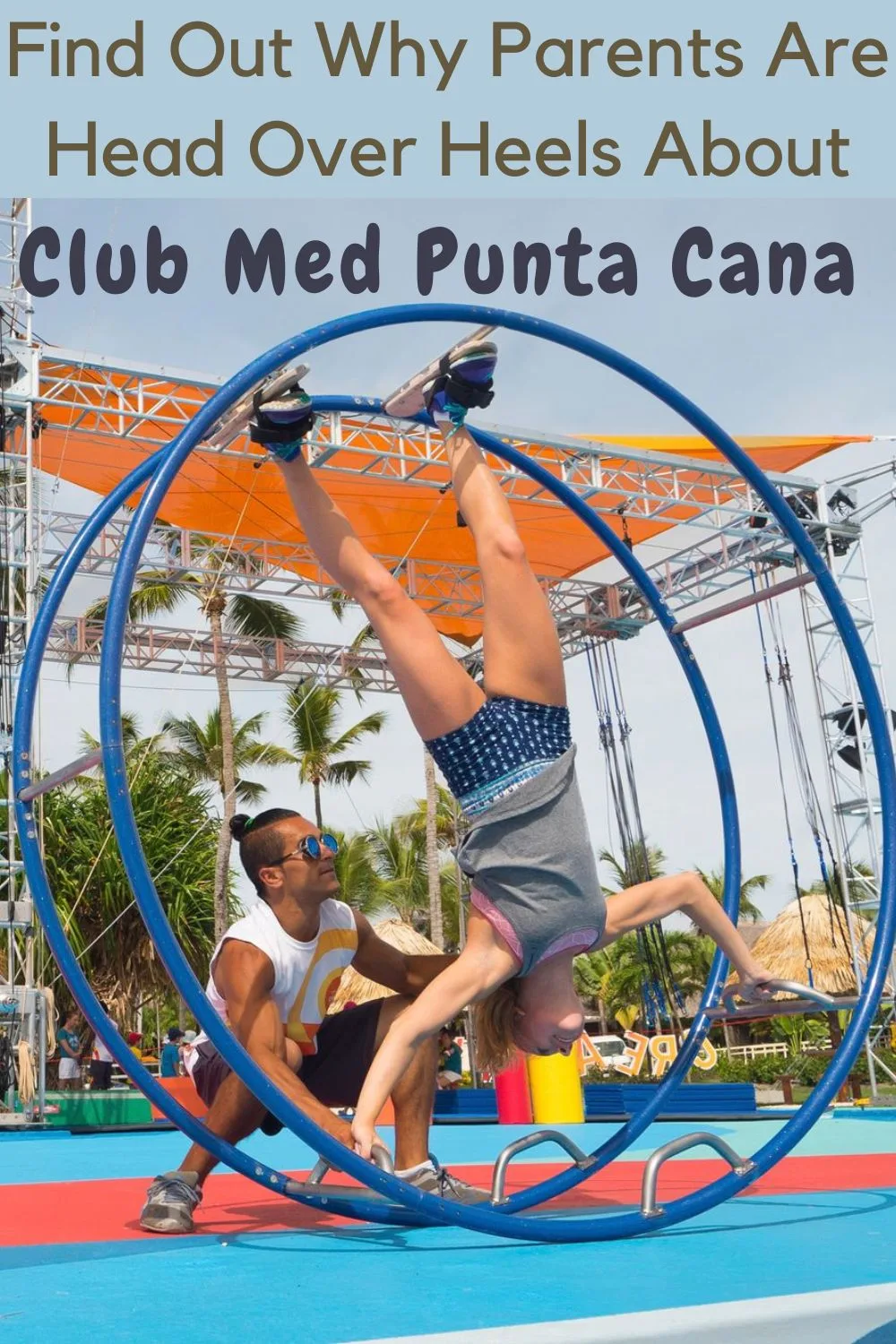 Sheryl Nance-Nash is a freelance writer specializing in travel, business and personal finance. She's explores the Caribbean widely from her homebase in Jamaica.Her work has appeared in national magazines, newspapers and websites. You can connect with her on LinkedIn.
Photos courtesy of Club Med Resorts.