The Hotel: Club Med Punta Cana
Where: Punta Cana, Dominican Republic
The Vibe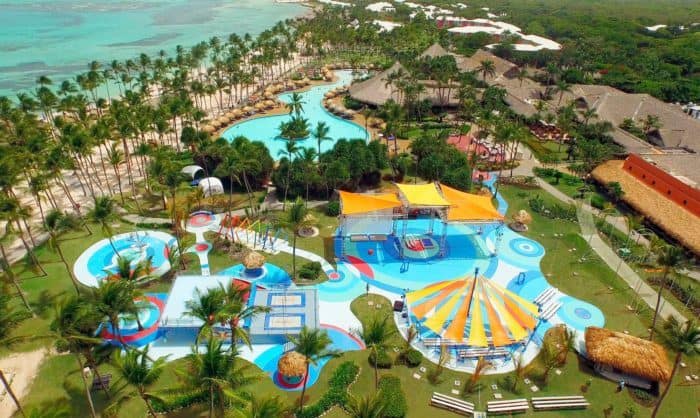 The Dominican Republic is a popular resort destination because of its relatively short flights from the U.S. and the great deals it offers relative to other Caribbean Islands. The Punta Cana Coast is dotted with all-inclusive resorts that have lovely beaches and are a short hop from the airport.
Club Med Punta Cana carries a higher price tag than other resorts nearby but it provides an upscale and truly all-inclusive experience. It's one of the Club Meds resorts that was built to attract families and is known for great kids programs. If your family takes advantage of all the activities and amenities the resort offers it can provide great value and a memorable vacation.
Here's what parents can expect during a stay.
Read More:
Here are more islands and resorts for a Caribbean family vacation.
The Rooms
Rooms Club Med Punta Cana have tropical colors but pretty basic amenities–the expectation is that you spend most of your waking hours out enjoying the property. Families of two or three can probably book a basic (club) room. But if you are four or five you'll be happier in a Deluxe room, which has a kids sleeping area separated from the main room by a curtain.
Kid Time
There are clubs for kids from four months to 17 years old.
• Baby Club Med focuses on early learning activities and motor skills, with a Baby Gym and walks in the fresh air, story time and musical awareness.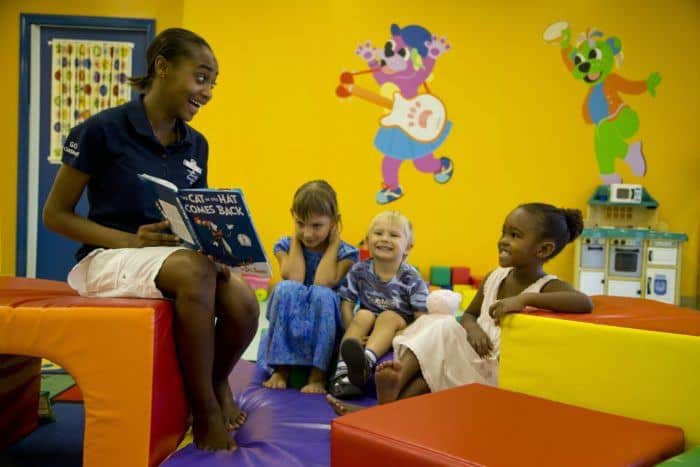 • Petit Club Med for toddlers gets them active with walks, gym sessions, water games, and creative activities like painting, making collages, dressing up, having fashion shows, listening to music, learning nursery rhymes and singing songs.
• Mini Club Med is for The 4-to-10-year-olds. These kids do more than arts and crafts. Don't be surprised if you see them parading around the property with signs they've made, dressed up in costume, singing. They learn a dance routine and perform in a show, play football and tennis, go sailing and learn windsurfing. They can have dinner with new friends and enjoy entertainment with kid appeal.
• Club Med Passworld is a dream for 11-to-17-year-olds. They can take flying trapeze, tennis, archery, sailing and windsurfing lessons, hike and have picnics. They also have their own dance shows. After dark they can check out beach movie nights and beach parties. And they have a hangout area just for them.
Parent Time
If you don't relish being around other people's children while yours at the kids clubs, don't worry. You can take a yoga class, escape to the adultd-only Zen Oasis or try the spa, which has treatments for individuals and couples.Activities like layaking and Stand-up Paddleboarding can be great daytime "date" activities. If your kids go back to the club in the evening try dinner at the Indigo Beach Lounge Restaurant; no one under 18 allowed.
Family Time
• Join the circus (for a day): The most unique offering at the resort is CREACTIVE, its partnership with Cirque du Soleil. Adults and kids an indulge that fantasy of running off to the circus with 30 activities. Try acrobat bungee, mask painting, trampoline, unicycle and juggling among other skills (won't your coworkers be impressed when you get back?).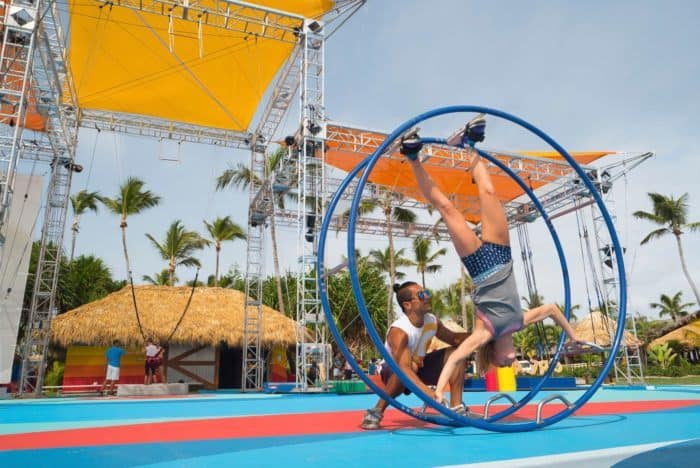 • Daily family activities: There is a daily schedule of events families can do together. Try a sand castle contest, mini-golf and tennis tournaments, a minions hunt, treasure hunt, body painting and a kid's pool party.
• Do Nothing: Of course, some families just hang out on the beach or by the enormous and very attractive pool all week. And that's OK, too. I think.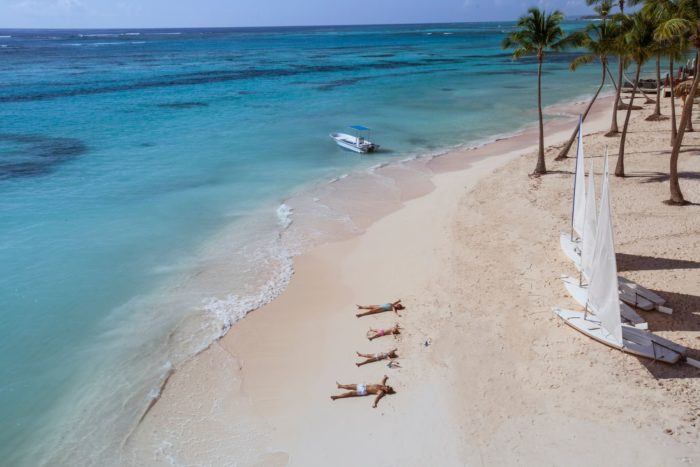 Leave the Resort?
Some people do it. If you feel like you want to venture out, Club Med has excursions (some cost extra). Explore Dominican culture and history, discover the island of Saona via catamaran, ride a horse, swim with dolphins, zipline, take a lobster cruise, go on a buggy safari or explore a Segway nature trail.
Keep the Kids Up Late
The evening entertainment is family friendly at this Club Med. While I was there I saw a fun house show, a Carnaval circus and a talent show. One night at the theatre the kids were going crazy. Bruno Mar's Uptown Funk was blaring, hip-hop dancers were performing and there was a wild light show. Some kids were invited on stage.
A curly headed boy, perhaps around 7, took over the stage with flips and gyrations that amazed a packed theater. He seemed like he had been waiting forever to do that dance. He and his parents will never forget it. Those made-for-memories moments are what Club Med aims for and usually delivers.
Pin it for Later!
Sheryl Nance-Nash is a freelance writer specializing in travel, business and personal finance. Her work has appeared in national magazines, newspapers and websites. She's based in New York. You can connect with.her on LinkedIn.
This blog is part of Weekend Travel Inspiration. Visit our partners:
• AlbomAdventures
• ContentedTraveller
• TheCrowdedPlanet
• Malaysian Meanders
• ReflectionsOnRoute
• Safari254