Until now, family travel for us has been relaxing and relatively non-adventurous. But as our kids age out of the toddler stage (4 and 6 years), I wanted to shake things up this year. So we headed to Costa Rica.
We chose the northern part of Costa Rica for its jungles, biodiversity, and volcanos. We were pulling the kids from school for a week and even at their young ages I wanted to be sure they would get more out of the trip than just a week by the pool.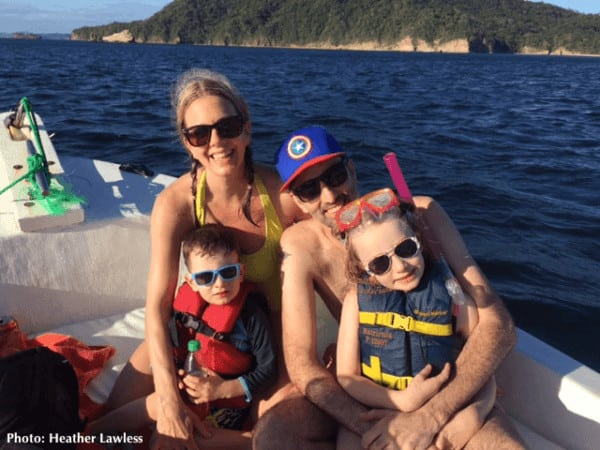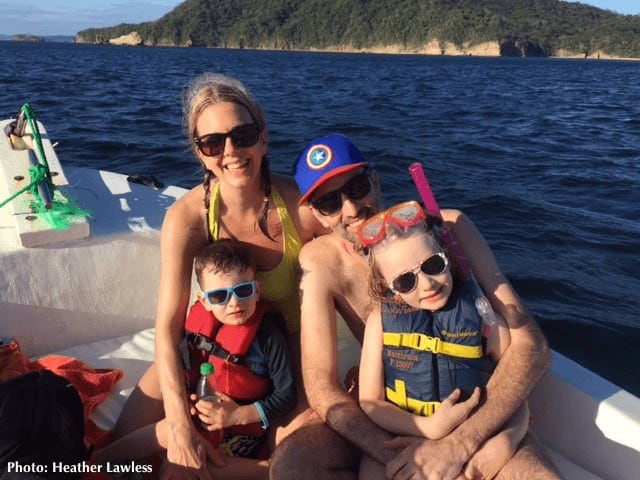 It's not hard to sneak enrichment and education into a visit to Costa Rica; there is so much opportunity and most of it is pretty fun. Her are five types of experiences we focused on.
You might also like: Costa Rica with teens and with tweens too.
• Our guide to kid-friendly Costa Rica food.
• And a Costa Rica packing list!
5 Things To Do in Costa Rica
1. Hands-on Science:
We didn't have to work hard in Costa Rica to find opportunities to learn first-hand about animals, birds and insects that the kids have read about in books. We saw capuchin monkeys, black-spined lizards, emus, puffer fish and a large variety of birds.
We visited two real volcanoes, Rincon de la Vieja and Santa Monica, and swam in a thermal hot spring heated by one of them; talk about hands-on learning!
Tip: We prepared our kids by pouring over their subscription to National Geographic Kids for creatures we might see. The magazine also has oodles of information online.
Visit An Ethical Animal Preserve
There are more than 100 animal "preserves" and "rescue center" in Costa Rica, but they are not all created equal.
During my tour of the country with *Costa Rica Family Holidays I learned that only about a half dozen are genuine sanctuaries. These place care for animals that are wounded, put into captivity and then abandoned, or discovered during smuggling arrests.
Less ethical places capture rather than "rescue" the animals you see, and they have no intention of putting them back into the wild.
How to Identify the Real Thing:
At genuine preserves the only animals you'll see close-up ar the ones that can't be returned to the wild. They never let guests feed or handle the animals and keep them as close to life in the wild as they can, even if they can't be rereleased.
They also give the animals they hope to send into the wild away as little human interaction as possible so they don't get used to people. This means you'll see them from afar if at all.
A Model Preserve That's Great for Kids
Costa Rica Family Holidays took us to Rescate Wildlife Rescue Center, a preserve and rescue center accredited by the Global Federation of Animal Sanctuaries (read their standards).
When local law enforcement catches animal smugglers at nearby San Jose Airport, they often bring the animals here to be taken care of and sent back into the wild if possible.
Rescate Wildlife takes care of more than 7,500 amimals each year and your visit supports that work, of course.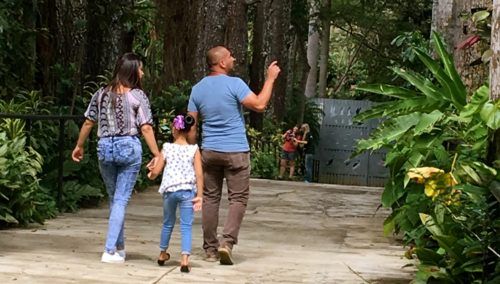 It's a great place to take younger kids who might not have much luck spotting animals in the wild during your other activities. You'll be able to see (but not touch) about 125 different kinds of birds, animals and reptiles.
Paths are paved, which makes it stroller friendly and handy for multi-generation vacations.
While habitats are kept as wild as possible we were able to see pretty much all the animals we wanted to including sloths, monkeys, countless colorful birds and so much more.
If you have older kids with you who need a little excitement, the Rescate Wildlife offers a zip-line ride over its canopy. It's not a super-fast line, giving you the opportunity to try to spot animals down below (especially if you go "superman" style).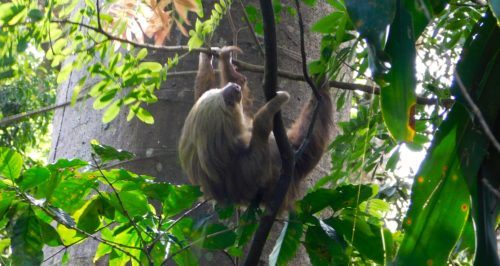 Make sure you watch the short movie that introduces the park's founder and explains its mission and achievements. And stop at the paleta stand when your walk is over. These fresh fruit ice pops are delicious and made from local fruit. —Eileen Gunn
2. Human Connections:
We made a point of visiting the small towns and villages and finding children their age live to show them another way of life.
We hoped that connecting with kids from other cultures will help them to be open-minded and more empathetic to differences among their friends back home.
Tip: We use Duolingo to teach the kids some Spanish basics before our trip. Being able to converse with kids in another language­­–even a little– was exciting and broadening.
Planning a trip?
Search and book the best rates for Costa Rica hotels on Trip Advisor.
Check out these family friendly vacation rentals in Costa Rica on VRBO.
Find the best prices on flights to Costa Rica on Flighthub.

3. Culture Through Food:
Our children were fairly game about trying the new foods we encountered, including plantain, passion fruit, guava, tropical fruit smoothies, yucca chips, and of course rice and beans.
Their favourite was pipa fria – cold coconut water available at roadside stands The seller made a hole in the coconut, stuck a straw inside and had an instant cold drink! Impressive!
Tip: Our family rule was that you had to try something new every day. You didn't have to like it, but you had to try and it and talk about it.
You'll Scream For This Ice Cream
Ajuela province, north of San Jose, is handy place to head to with kids too young for many other Costa Rica activities. You can view La Paz waterfall and visit coffee plantations and strawbery farms.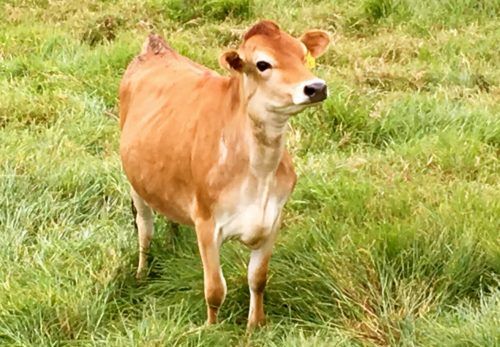 A coffee plantation isn't an obvious choice with kids but many of the tours are hands on, allowing you to touch and even pick the beans.
Kids just might be intrigued by the food science that turns red coffee berries into those roasted brown coffee beans mom and dad crave.
While you're in the area, make sure to stop by Corso Lecheria, a farm where a Corsican family raises Jersey cows for the cheese and ice cream they make onsite. It's a routine stop when CR Family Holidays has young kids in a group.
A quick tour shows you where the family grazes the cows, makes the cheese and grows its own strawberries. It ends with a tasting of the latter two items. But you can skip the tour, too.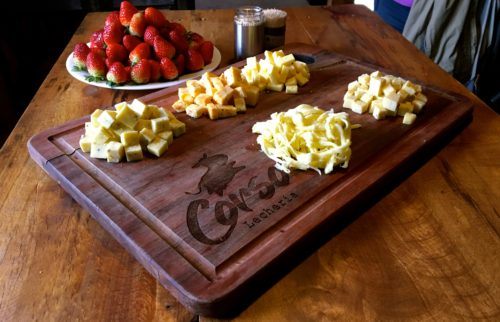 You'll be content to let your kids ogle the cows grazing outside the main store (they cows ogle back) and play in the two playgrounds on the lawn next to them.
You can sit down to lunch at the restaurant, where the cooks make ample use of their own cream, sour cream and cheese.
And you can buy fresh bread and cheese to take with you for a snack later. There is a short walking path if you want to explore the property on your own.
Oh yeah: Don't, don't, don't eat dessert at the restaurant so that you have room for ice cream!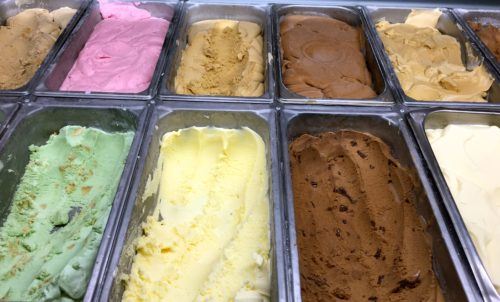 The Jersey cows produce a thick, almost yellow milk that is ideal for the custard-based ice cream they make here.
It's rich and the high-fat content carries flavors well. The strawberry is made from the berries they grow on the farm and is a must.
The coffee and blackberries in those flavors are sourced locally and much of the other fruit used is from inside the country.
It might not be the most authentically Costa Rican experience, but your kids are likely to consider it a highlight of the trip.—Eileen Gunn
4. Eco-awareness:
One of the biggest takeaways we wanted them to gain from a visit to Costa Rica was that the planet does not belong to us and we need to leave a soft footprint.
We talked a lot about caring for countries we visit so they can retain their natural resources for themselves, the local wildlife and other visitors.
The kids learned that the ability to enjoy unspoiled natural beauty depends on both local people and visitors being respectful and responsible.
5. Pushing boundaries:
Part of being a good traveler is understanding that travel takes you out of your comfort zone, and learning to be okay with that.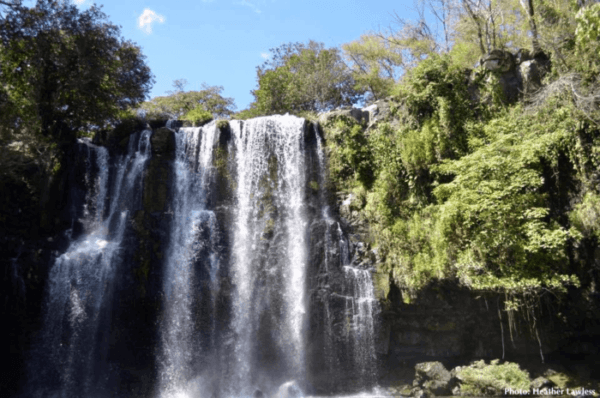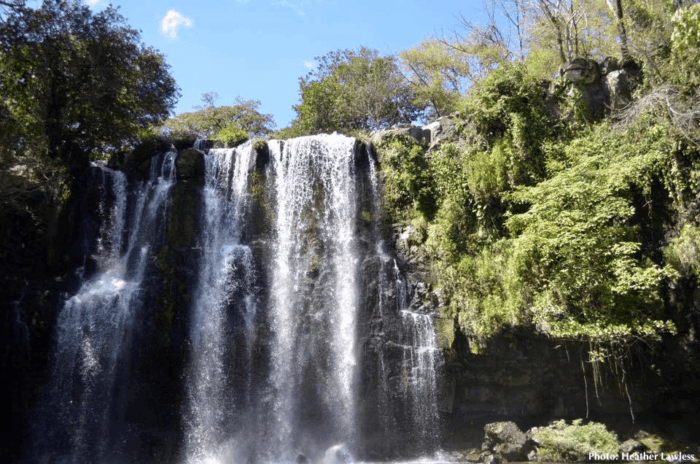 Our 6YO daughter summoned up the courage to zip line over a 900-foot canyon. We swam in a pool of fish to reach and climb under Llano de Cortez waterfall.
And the kids learned to snorkel in the pool so we could join a sunset snorkel trip along the pacific coast. We hope that remembering how brave they were will pay dividends down the line.
Our Costa Rica Resort:
While we were making an effort at providing lots of enrichment and cultural experience, this was a vacation, after all.
Our resort:
*Dreams Las Mareas offered low-key luxury with plenty of surrounding natural beauty, a family friendly vibe and thoughtful comforts to spoil the grown-ups.
The food was outstanding and 75% of the staff was local, giving it a real community vibe. Our room was stunning, with a swim-out pool and a large balcony.
The trip from the airport was 90 minutes on a bumpy bumpy road, but worth it.
The lure of the kids club
Our kids tried a hotel kids club for the first time at Dreams.
The "Explorers Club" was open from 9:00 a.m. to 9:45 p.m. and had kids from around the world. Activities included nature hikes, a natural waterslide, water polo in the kids pool and sandcastle competitions.
We had a pager in case the kids needed us (or if the staff wanted to report that our son was being a "little rascal" and not listening).
Our kids never wanted to leave, which we didn't anticipate. The grandparents and aunties traveling with us wanted to actually see them, and we had our plans as a family.
So they spent a few hours a day with us and a few hours at the club while we relaxed by the pool with a cocktail or enjoyed a quiet dinner in the adults-only restaurant.
When they got back to school they had a lot to tell their classmates.
Pin it for later!
Heather Lawless is a Toronto-based food and travel writer. She's the author of The Lawless Vegan and the upcoming cookbook, Chickpea Revolution. Follow Heather on Instagram, Twitter and Facebook @thelawlessvegan.
*Corso Lecheria and Zoo Ave photos are the property of FamiliesGo!©; all others are courtesy of Heather Lawless.