Costa Rica is a small country packed with opportunities for a fun and action-filled family vacation.
You can easily find things to do with young kids and teens. But I think the sweet spot for visiting this Central American country might just be tweens—kids between the ages of 10 and 13 years old—because they soak up all the educational opportunities and are old enough for some adventure.
Here are five activities this age group loves to do in Costa Rica, with suggestion on where to do them. Packages that include these activities are available, too.
5 Things to do in Costa Rica with Tweens
Visit the rainforest
Explore A National Park
Manuel Antonio National Park is a 1,700-acre park just loaded with biodiversity. Hike through three types of rain forest while you look for 109 species of mammals and nearly 200 types of birds.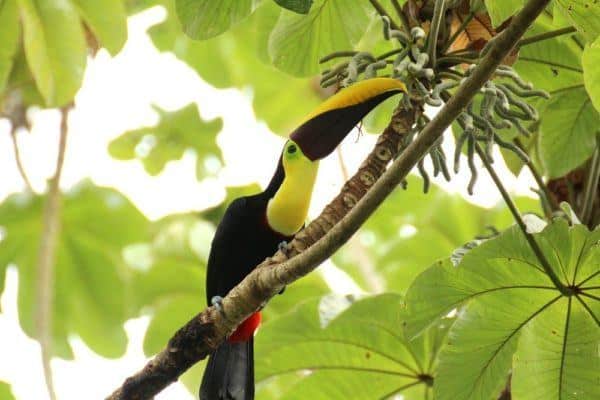 Cool off after your walk at one of the park's pristine beaches.
Open Tuesday to Sunday. Park admission is under $20 with children under 12 free. Guided tours are about $50 for adults and about $35 for children. Pay admission as you enter the park.
Stay in a Biological Preserve
One of the best things I did during my visit to Costa Rica was a morning at the La Selva biological research station, about 50 miles north of San Jose.
It's the oldest biological research station in Latin America and almost always has short and long-term researchers and students staying.
You can't explore on your own but La Selva offers guided walks along its miles of walking paths a few times a day. Keep your eyes open for more than 2,000 kinds of plants, 125 mammals (including some 70 different bats); 470 bird species; 48 amphibians; 87 reptiles and thousands of bugs.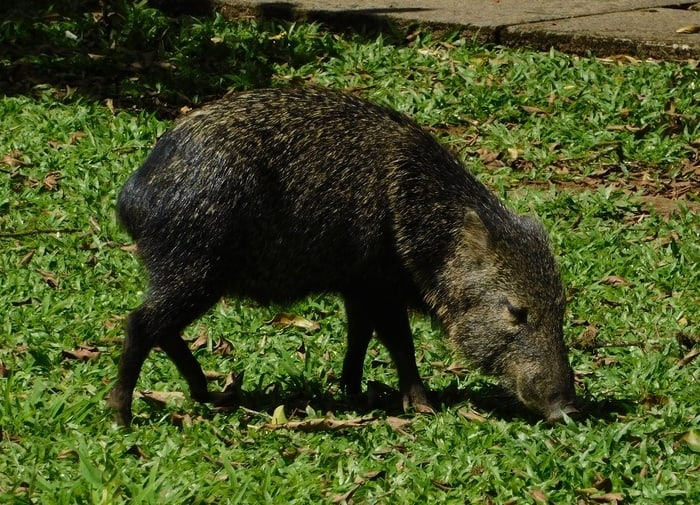 On our visit we spotted spider monkeys, tiny red frogs, bats and a pig-like peccary.
Visitors can rent cabins to stay overnight, which I didn't get to do, but highly recommend.
You can take advantage of guided walks in the very early morning and evening, when creatures are most active. You also have more freedom to explore on your own or borrow the station's bicycles.
The cabins are basic but comfortable. There's no air conditioning but the windows have screens. and there is a little playground for kids.
You can bring food to do some light cooking or or eat in the cafeteria with the resident academics. I had lunch in the cafeteria and thought the typical Costa Rican food – which included stewed chicken or vegetarian stuffed squash– was fresh and really good.
You can read more about a stay at La Selva and see rates on Trip Advisor.
La Selva is a bit off the beaten path and tourists are not the main focus, which makes it a unique place to visit but not super easy to book or get to.
Costa Rica Family Holidays organized my visit and booking through them could make your life simpler.—– Eileen Gunn
Save the rainforest
Kids Saving the Rain Forest is a wildlife rescue center in Quepos, near Manuel Antonio Park.
Janine Licare and Aislin Livingstone began it as a fundraising project in 1999, when they were both 9YO. Today, volunteers take in injured animals, nurse them back to health and release them in the wild.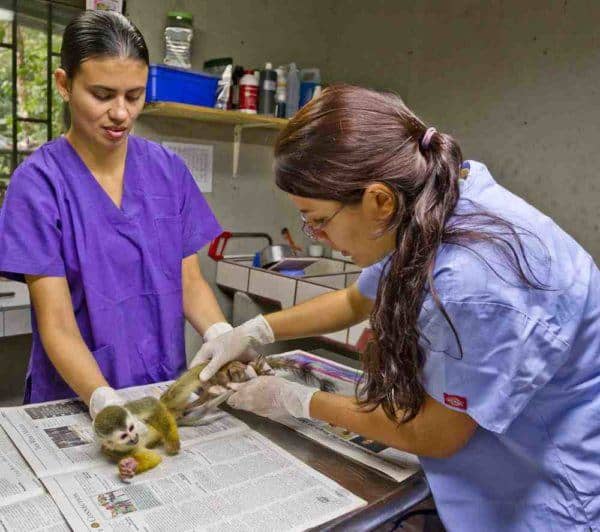 Visitors aren't allowed to handle these wild animals but on any given day you might get to see sloths, monkeys, birds, marmosets, tamarin monkeys or kinkajou in various stages of rehabilitation. Tours are every morning but Tuesday.
Tip: Legitimate animal rescue centers and preserves don't let guests handle the animals.
Admission is about $60 for adults and $45 for children under 12. It includes a snack and use of the pool.
Have An Adventure
Pretend you're Tarzan
At Jaco Ropes Adventure Park, the whole family can play in jungle treetops on elevated obstacle courses.
Try rope climbing, canopy zip lines, a variety of challenging bridges, a vine passage, swings, tire and log passes while strapped into safety harnesses. Admission is $65 for adults and children.
Zip Through the Jungle
If your family just likes Zip-lining through Costa Rica's canopy, another option is EcoGlide Park, a short drive from La Fortuna in the Arenal area.
CR Family Holidays favors this adventure park because they maintain good safety standards and because they can accomodate differently abled tourists.
You begin your visit on a short practice line, where they show you how to attach your harness to cable, hold on, position your feet and work the break. Kids who want to zip line but are too light or not confident on their own can choose the "taxi" options where they partner up with a staff member who zips with them.
Disabled visitors who can't hold on and operate the break themselves can also arrange a "taxi." But call ahead to arrange it.
All There are 12 canopy cables; the fastest can hit speeds of 60mph and the longest is 420 meters. Half-way through the tour you pass over a suspension bridge and an optional "tarzan swing" that generates the most screaming (just sayin').
"EcoGlide provides helmets and essential gear and take plenty of photos for you (that you can buy afterward). Just wear closed-toe shoes and put your sunglasses on a croky. — Eileen Gunn
Take a Bridge Walk
If you don't have an inner Tarzan to tap into at the adventure parks can opt for a milder adventure at Mistico Hanging Bridges, a beautiful park with perfect views of Arenal volcano.
The two-mile walk has 16 bridges (10 swing) and trails that pass through ravines and by one waterfall. There's an optional sidepath down to the waterfall but it's not a must-do. If you try it be prepared for a steep walk back up.
Keep your eyes open for birds and reptiles. We also saw some coate off the side of the trail. If you're really lucky you might see some monkeys.
There is a mile-long loop with fixed bridges that is paved and fine for wheel chairs and strollers. But none of the trail is that rough; sport sandals or sneakers are fine here.
Just beyond the entrance is a hummingbird garden that has a playful magical look to it. It's ideal if you have younger kids who don't want to walk the main path with your tweens. It's part of the wheelchair accessible path.–– Eileen Gunn
Get Wet
Catch a wave
Costa Rica is known around the world as a surfing mecca. The coast line has several areas with gentle breaking waves where you and your tweens or teens can learn the sport.
The most popular beach is Tamarindo on the Pacific Northwest coast (top). There's no shortage of surf schools offering lessons, we like Eric Atkinson of Salty Sols because he's certified in safety measures and good with kids.
"Kids are usually just stoked from head to toe and do great once they feel comfortable in the water," says this instructor, who has been teaching them how to pop up in whitewater for many years.
"We always want the kids to gain a real appreciation for being in the ocean and to ride some great waves their first time out so they gain confidence and have fun."
Two-hour surf lessons, which are scheduled around the tides and include a board and rash, are about $45 for adults and $35 for children under 12.
Soak in hot springs
Arenal Volcano heats the underground rivers that flow close to it, making hot springs abound.
The Kalambu Hot Springs Water Park in La Fortuna is a water park built around them.
Tweens can ride the giant Mammoth slide and three different twisty slides and run around a water play area with a giant bucket and water cannons. While they splash and scream you can relax in the numerous thermal pools.
Park hours vary by season. Admission is $32 adults, $25 children.
More hot springs
Baldi Hot Springs is another option for enjoying the volcano-heated waters. It's sprawling, with a fun, somewhat over-the-top aesthetic.
Enjoy a series of pools with varying temperatures, waterfalls and natural saunas). There is a sizeable kids-area with slides, a soaking bucket and splash pads. The adults-only area has the hottest pools. And it features a fake volcanie that belong on the set of a King Kong movie.
Be wary of the tallest slides in the main pools. They're fast and will shoot you halfway across the pool. Watch a few other people ride them before you let your kids loose on them.
There is a swim-up bar in one of the main pools (get a bracelet at the entrance and settle up before you leave.) The bars have good drinks and the restaurant toward the front has appealing bar snacks. Skip the buffet. It wasn't memorable.–– Eileen Gunn
Pin it for later!
* All main-text photos are the property of Ellen Zoe Golden. All boxed-text photos are the property of FamiliesGo!©, except Baldi Hot Spring, courtesy of Baldi Hot Springs Resort.