I've always assumed the Christmas song "Silver Bells" was written about New York City. The Big Apple glows, literally and figuratively, at Christmastime. It's easy to get into the holiday spirit here, which is why so many people come here to do just that.
As lifelong New Yorkers there are things our family makes sure to do year after year after year between Thanksgiving and New Years Eve. And there are things we avoid at all costs. We also have our favorite only-in-NYC stores and favorite cafés and bakeries to pop into when we need to warm up.
Here are my best tips for what to see and do, where to find fun holiday food, what to avoid, and which hotels deck the halls. So you can start planning your own jolly Christmastime weekend in NYC.
Top NYC Christmas Season Do and Don'ts With Kids
Do: Brave the crowds to see the Christmas Show at Radio City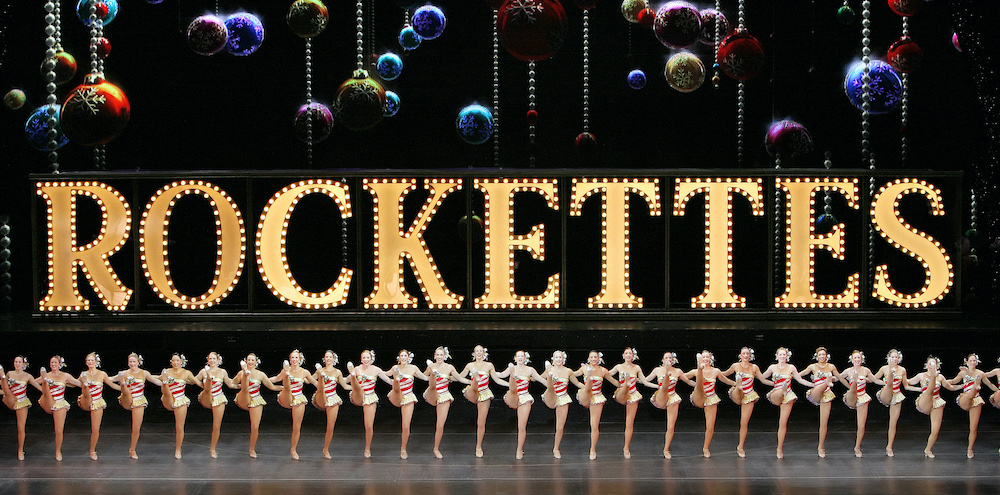 Radio City Music Hall is a city classic for locals and tourist alike. The Christmas Spectacular really is. It incorporates music, actors, 3D effects, live animals and those Rockettes, who really are impressive when they do that kickline. And it's probably the most all-ages show ever created. I've seen it as a kid, a college student and a grown-up and each time I've walk out feeling ready for Christmas.
Keep your eye out for discount tickets; the popular ticketing sights frequently have them. If you go, brace yourself. The crowds around Rockefeller Center are thick both before and after the show, which is pretty much all day long fromNovember into January.
Don't: Overlook other holiday shows
You'll always find a handful of off-Broadway holiday shows around town. They can be traditional, quirky, fun and sometimes a bit irreverent. But most are kid-friendly and well-done and the ticket prices are easy on the wallet.
In any given year you might see a live rendition of A Charlie Brown Christmas, any number of interpretations of A Christmas Carol or even A Sherlock Carole, a mash-up of the Dickens and Conan Doyle characters. The Irish Repertory in the Flatiron district often does a holiday-themed play in December, such as Meet Me in St. Louis.
Playbill always has an extensive list of the bigger off-broadway shows. Mommy Poppins and Time Out NY can lead you to the quirky, offbeat ones.
Do: See the Nutcracker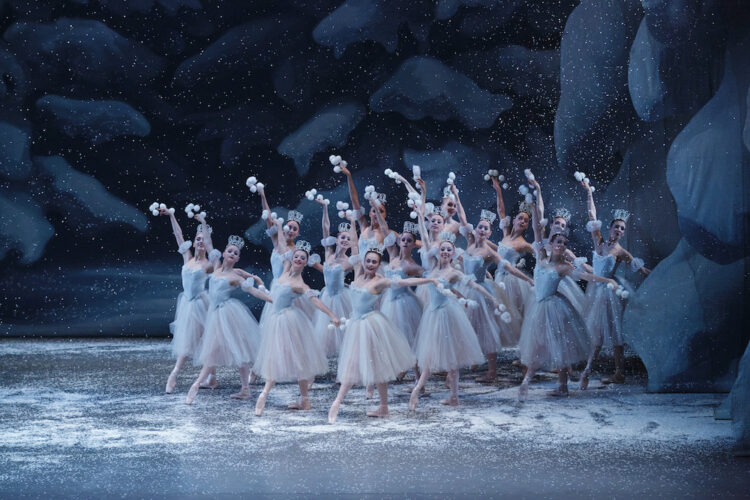 The most kid-friendly ballet. Ever. The New York City Ballet's colorful full-scale rendition is the Nutcracker for many people. The level of dance and production quality are a worthwhile splurge for kids 10 and up.
Don't: Make little kids sit through a full-length ballet
I've had plenty of friends who buy tickets for kids as young as 4. Some of these youngsters do make it through the whole ballet and enjoy it. Others get fidgety and want to leave early. One or two kids we know actually fell asleep in the middle of it. These are expensive tickets, so if you do want to try taking a tot, buy them with the full knowledge that it might not work out as you hope.
Do: See the decked-out NYC shop windows & Christmas lights
But for New York City in its holiday best, take a stroll that starts at 59th Street and 5th Avenue. Admire the glitter and dazzle of the Plaza Hotel (wave hello to Eloise), then take a look at Tiffany, Cartier and Bergdorf's, which is usually pretty outrageous but worth a peek.
While it may sound fairly obvious, the Rockefeller Center Christmas tree really is a sight to behold. The best views of this iconic NYC tree is from 5th avenue, looking down the line of trumpeting angels.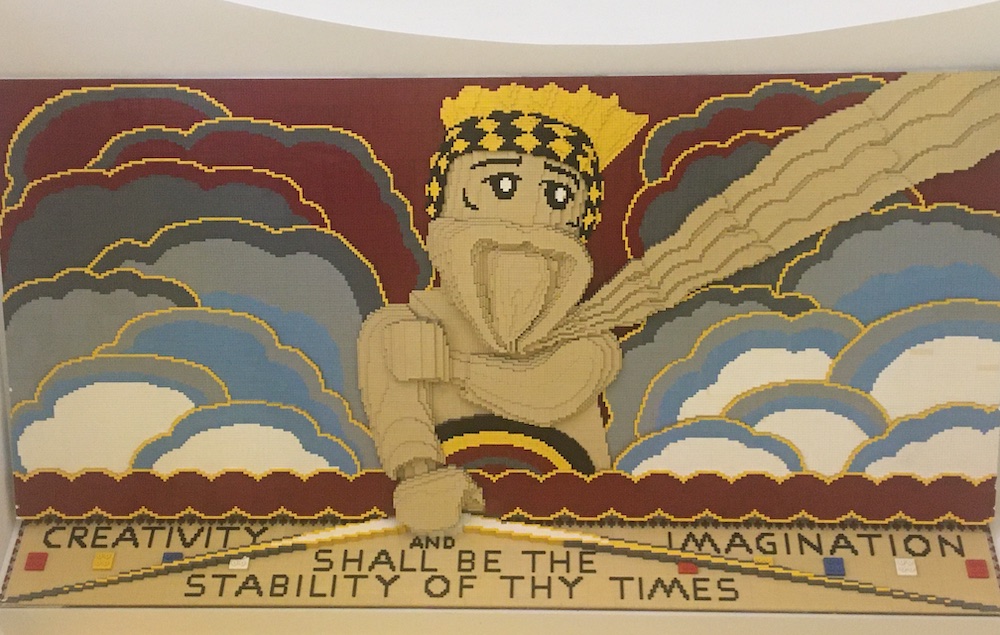 Saks 5th Avenue, across the way, has historically had one of the best windows in the city. Lego fans must stop by the Lego Store above the rink for its Rockefeller Center mosaics NYC icons done in Lego bricks. The NBC Studios Shop across the rink is the place to shop for fans of the network's latest hit shows.
If you need a sugar break, detour to Magnolia Bakery on 6th Avenue at 49th Street. Sex & the City made its cupcakes famous and touts its banana pudding. I prefer the shop's cookies and lemon bars.
---
Have a sweet tooth?
Here are my favorite NYC spots for dessert and sweet snacks.
Try a cupcake walking tour of Greenwich Village, one of several tempting NYC food tours on Viator.
If it's getting dark out, consider heading to Top of the Rock to see the city lights from above.
---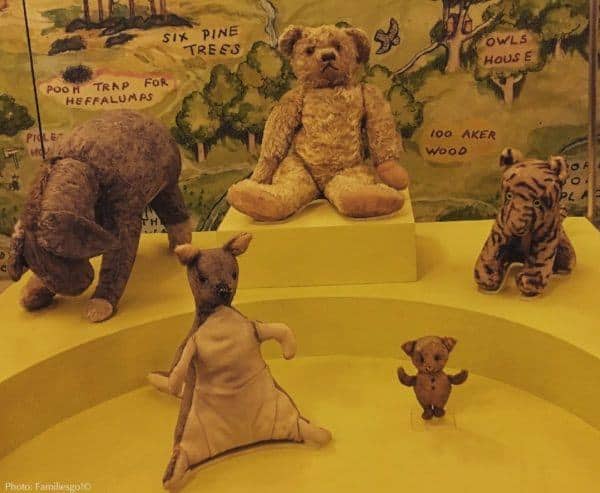 Otherwise stroll down to 42nd Street and say hello the New York Public Library Lions. There is a large, comfortable children's section in the basement of the library that's a nice place to warm up, use the restrooms and take a break. Look for the case that features the original Winnie the Pooh stuffed animals from the Milne household.
Bryant Park is just behind the library and has a lot going on at the holidays.
From here you can continue south to Macy's at 34th Street and Broadway. The store has had some really fun interactive windows in the past few years.
Don't: Underestimate NYC winters
The skyscrapers create wind tunnels that bring the temperature down a few degrees. Dress warmly for this holiday hike. Gloves, scarf, hat, layers and warm, comfortable boots.
Do: Go ice skating
Nothing is as magical as skating around Wollman Rink in Central Park. You have the park's hushed woods around you and the city skyline gleaming in the background.
It's handy to bring a lock but you can rent everything you'll need at the rink.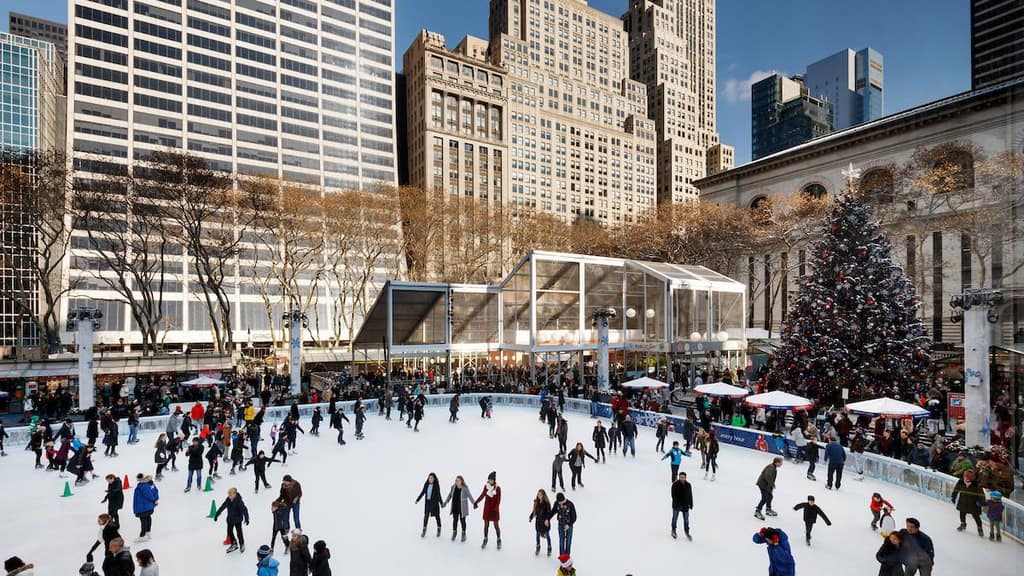 Winter Village at Bryant Park (42nd Street) has become a popular place to skate in recent years. It's free if you have your own skates, but renting them is exorbitant, as is checking a bag. You have to make reservations to skate and there aren't many slots for people who bring their own skates; this is perhaps not a problem for tourists.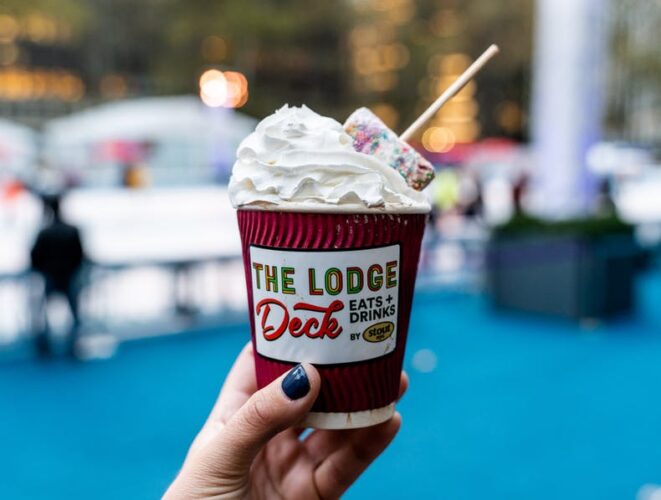 Even if you don't skate, walk through the winter village around the rink (photo: top). There are shops with some unique gift ideas, and fun food vendors. The new thing last year was elaborate, Instagram-worthy cups of hot cocoa at the Lodge Deck. And you'll find a Waffles & Dinges outpost here.
Don't: Skate at Rockefeller Center
The rink is tiny, the line is long even when we aren't in a pandemic, the fees are sky high and your skate time is very short. Take a photo in front of the famous rink and do your actual skating at the rinks above.
Do: visit the Macy's Santa Claus
Santaland really is worth a visit. The line winds through an imaginative and fun North Pole and leads to a cabin with a very convincing Santa Claus.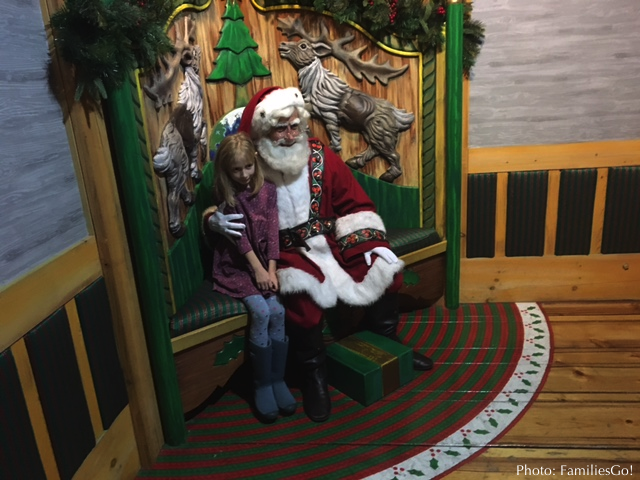 They actually have many Santas, but the way they lay things out, kids believe they are visiting the one and only. Even going on 10YO tween traveler still loved this ritual and got caught up in it. Even for this adult it was easy to believe this is the real Santa.
Tip: If your family would prefer a black Santa or one that speaks Spanish, just ask an elf!
You have to make a reservation online these days. You can do so starting in Mid-November, no less than 30 minutes and no more than 5 days ahead.
A "regular line" passes through the North Pole. It's well done and my daughter loves it, probably more than meeting Santa. But even with a reservation you'll face a good 30-to-45-minute wait.
You can grab one a few slots on the express line, which bypasses most of the North Pole. It's not as fun, but if you have a child under 4 and really want good photos, this option will increase your odds of getting to Santa without a melt down.
Don't: Try to dine at Macy's
Macy's does have in-house dining options but they aren't very interesting and during the holidays they're often mobbed. If you exit on the 6th Avenue side of the store there is a Waffles & Dinges cart in Herald Square, which is great for an afternoon snack. The Shake Shack at 36th street will be busy, too, but its shakes, burgers and fries are far more worth waiting for—and mom and dad can have a beer if they like.
32nd and 33rd streets, east of 6th avenue are full of Korean restaurants including high-end barbecue places (with table top grills) to inexpensive fried chicken and noodle spots. Keen's Steakhouse on 36th Street is a genuinely old New York restaurant, and one of my favorite steakhouses. It's a festive way to end a day of holiday sightseeing, but you absolutely need a reservation.
Do: Visit a Christmas market
There are a handful of outdoor holiday markets around manhattan where you can buy quirky, creative and unique gifts at prices that are pretty good. The biggest is in Union Square Park, but you'll find others in Columbus Circle and Grand Central Station.
I go to these markets for the food vendors as much as for the shopping. Snack on gooey raclette cheese sandwiches, hot cocoa, German wurst and Chinese bao in between trying on Tibetan hats and handmade earrings.
Go to Union Square on Monday, Wednesday, Friday or Saturday and you can also check out the city's biggest outdoor farmer's market. Nosh on fresh bread and hot cider; sample beer, wine and spirits from local purveyors and buy a bag of hard pretzels for later.
Don't: Leave Union Square without a little more shopping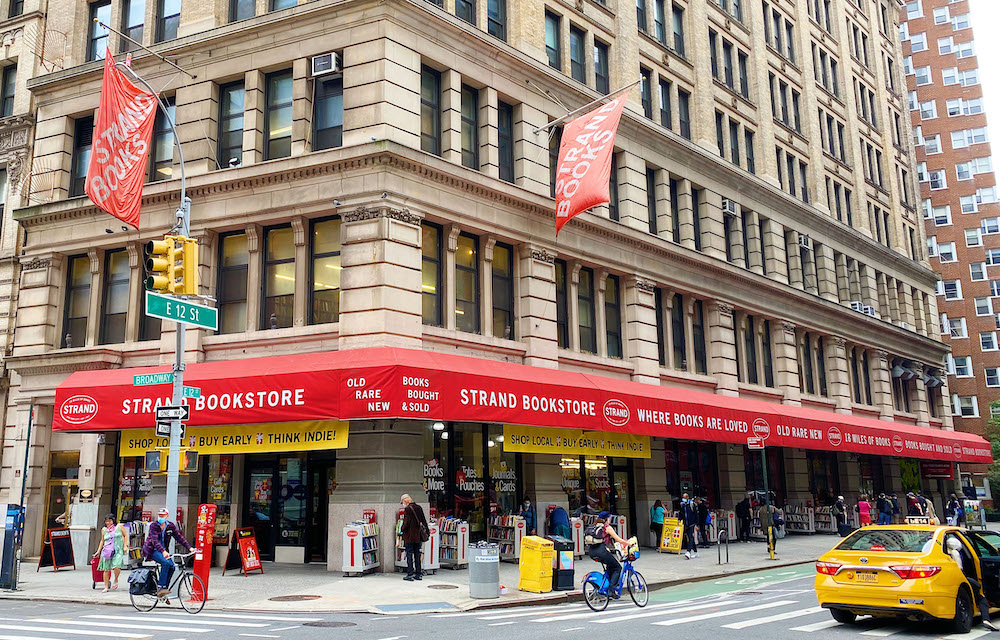 If you have book-lovers in your family don't miss the famous Strand Books, on Broadway and 12th street. It has 18 miles of new, used and rare books spread across several floors. Teen Traveler can easily spend an hour browsing here.
Stop by Forbidden Planet right next store if you or your kids are into comics, manga, graphic novels or role-playing and other fantasy-based games. You'll find all this plus apparel, action figures and more at this legendary store.
Buy the most unique Christmas gifts with a personalized guided shopping tour on Viator.
Do: Visit the Bronx
The Holiday Train Show at the New York Botanical Garden is unique. Kids can't get enough of the trains. Parents appreciate the surprisingly authentic renderings of city landmarks made from twigs and leaves.
Time it so you can have lunch or dinner in the Bronx's old Italian enclave on Arthur Avenue afterward. It's a five-minute drive or cab ride.
Dominick's is famous, but usually has quite a wait. You can't go wrong with whatever restaurant looks good to you. Make sure to save room for some cannoli, cookies and marzipan rainbow cake from any one of the handful of bakeries on the Avenue.
Don't: Just show up
Order tickets online well before you leave home and show up 15 to 30 minutes before your entry time.
Do: Take Your JK Rowling fans to the new Harry Potter Store
Yes, there is a new Flagship Harry Potter Store near Madison Square Park. Yes, it's huge. It has everything a Wizarding World fan could ask for, with items related to both the Potter and Fantastic Beast Movies. There's a Honeyduke's department full of wizarding candy, a section on the dark arts, a butterbeer bar, and copies of scenery, props and creatures you'll recognize from the movies.
You can buy tickets to two VR experiences that take you, respectively, on a tour of Hogwarts and a broom ride over the school and through London.
There is a virtual queue to get into the store and it can be long. I recommend you show up early, get your timed entry, which will be sometime later in the day, and then go sightseeing or shopping. Come back within 30 minutes of your ticket time.
Don't: Miss NYC's small stores
For all the flagship stores the city offers, it's the small independent shops that make New York a unique place to shop.
Try like Kidding Around in Chelsea, Boomerang Toys in Battery Park City and the stylish Babesta in Tribeca for toys and baby goods.
For older kids don't miss the Compleat Strategist, a legendary shop full of popular, cutting edge and hard-to-find board games. It's on 33rd Street, near the Empire State Building. If your family really likes games you can spend a long time browsing here.
Choose a NYC Hotel with Extra Holiday Cheer
New York City hotels put their best foot forward between Thanksgiving and New Year with long-coated doormen, festooned lobbies and seasonal dishes and drinks at their bars and restaurants. The more stars a hotel has the more elaborate the decorations are likely to be.
Here are a few special offers and deals that I think will make any family's holiday-season visit especially magical.
---
Find the best available rates at other NYC hotels on TripAdvisor.
Live like a New Yorker with a vacation rental in an iconic NYC neighborhood from VRBO.
Find for the best flights to JFK, Laguardia or Newark airports on Kayak.
---
The InterContinental New York Barclay hotel in Midtown will celebrate the season with mid-month holiday concerts in the lobby as well as activities like caroling in the lobby, cookie decorating for children and hot chocolate with the chefs.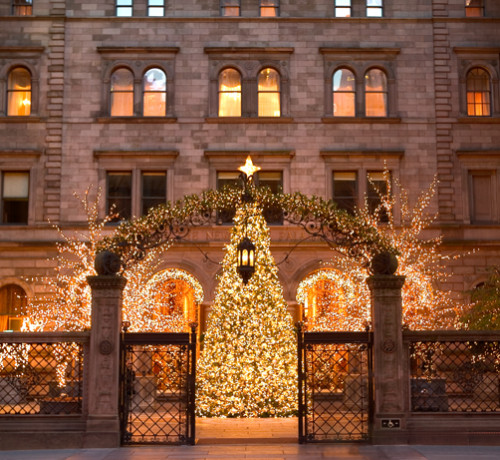 The Lotte New York Palace, steps from St. Patrick's cathedral always tops the lists of best decked out NYC hotels at Christmas time. If you book two or more nights you can choose the Rockin' Holiday Season Package, which includes a discount on your room rate and tickets to the Radio City Christmas Spectacular, along with a Rockette-themed souvenir of your stay.
Kids who check in with you during the season receive postcards they can write to Santa Claus and mail at a special box in the lobby. Santa will send a reply directly to your room during your stay.
Book any room at the Refinery Hotel in December and you can request the Winter Spectacular Stay Package," which includes a Christmas tree, gingerbread house family friendly treats including hot cocoa, egg nog an decorated cookies and milk.
The luxurious Peninsula Hotel has two packages to help make your season festive and bright. I would choose the Holly Jolly Holiday Package, which includes a guided tour of the Christmas windows and a chauffer-driven tour of Dyker Heights, the Brooklyn neighborhood famous for its over-the-top decorated homes. You also have access to the hotel's library of holiday movies and to Saks 5th Avenue before it opens.
Splurge on a park-view suite at the Mandorin Oriental for two or more nights in December and the hotel staff will fill it with holiday cheer. The winter wonderland suite escape includes a tree, wreath, lights and other holiday décor and traditional nutcrackers. You'll also receive hot cocoa (with a shot of Grand Marnier for the grown-ups), sugar cookies, cake pops, candy canes and a gingerbread house ready to break apart and eat.
Pin it for later!
Photos: Legos, Library's Milne animals, Macy's window and Santaland by FamiliesGo!©. Rockettes (MSG Entertainment). Nutcracker, Rockefeller Center tree, Winter Village shops and hot cocoa, Christmas market and the Strand (NYCGo). Shake trio (Shake Shack). Botanic Garden trains (the NYBG) Harry Potter and Babesta courtesy of the stores.