You're heading out on vacation, maybe next week. And you realize that after a year-and-a-half in yoga pants your travel clothes could use some updating. Or maybe you just want to celebrate your first vacation in a long time with some trendy new threads.
The best place to look for that travel hat, dress or shirt you have to have just might come from *Zappos. Just as with shoes, the online store has a wide variety of fashion brands, price points and items. You can find clothes to fit every style and every vacation.
Here are a few items you'll want pack for six types of vacations. For more ideas just click through and start shopping.
Easy, Affordable Outfits For 6 Summer Vacations
1. For resorts and cruise ships: A skort with pockets!
Does this sound familiar? We're on one of those vacations where all I don't need to carry much more than my phone and my room key. But I'm carrying a tote everywhere I go because none of my clothes have pockets. Enter the Lily Pulitzer Darlene skort.
This clever skirt is a stretchy, comfortable spandex mix with built-in UPF 50 sun protection. It has a small front pocket and a hidden pocket tucked underneath in the shorts for keeping cash or a credit card secure.
Plus, the light blue and pink paisley print has the right vibe for a tropical getaway—even if you don't always clamor after Lily P's colorful prints.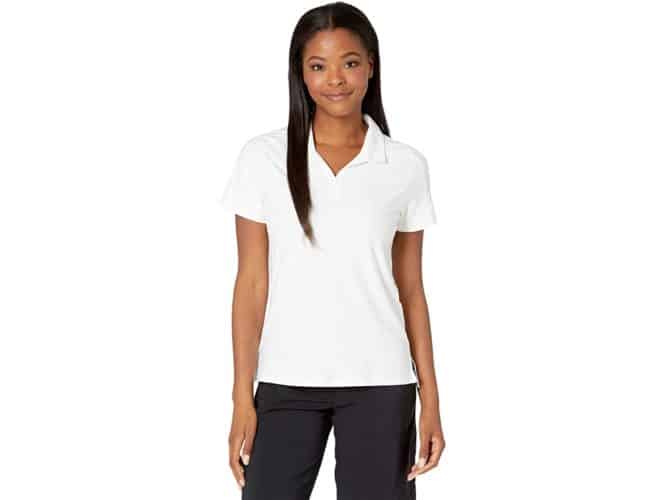 Pair it with a basic top
Pair it with this comfortable, go anywhere polo shirt from Adidas Golf.
The Go-To Primegreen collared t-sirt is stretchy, fitted but not clingy and looks great all day long.
Basic black, white and blue will go with everything you pack. Why not buy all three?
2. For beach & pool days: A go-anywhere cover-up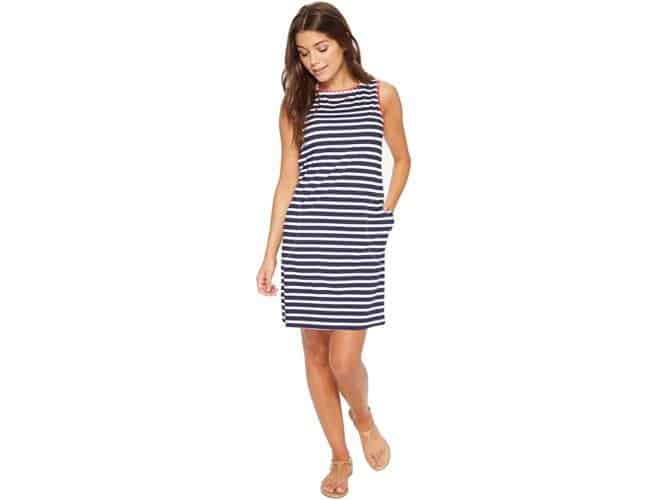 If women's summer clothes rarely have pockets, cover-ups never do. This is why I love this Bretton stripe cover-up dress from Tommy Bahama.
It has a high neck and built-in UPF for sun protection The nylon-spandex blend dries quickly and is easy to rinse and wear.
Plus the crisp-nautical stripes and knee length make it neat enough to wear away from the beach, too.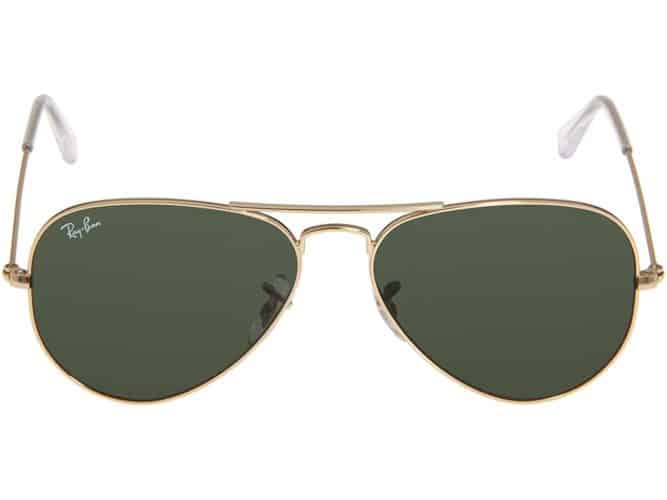 Pair it with timeless sunglasses
Pair it with a pair or original Ray-Ban aviator sunglasses.
They're scratch-resistant, light-weight, durable and still as classic as a pair of shades can be.
And there is a mix of frame and lense colors. They'll carry you through summer vacation for a few years to come.
3. For city weekends: The perfect sightseeing dress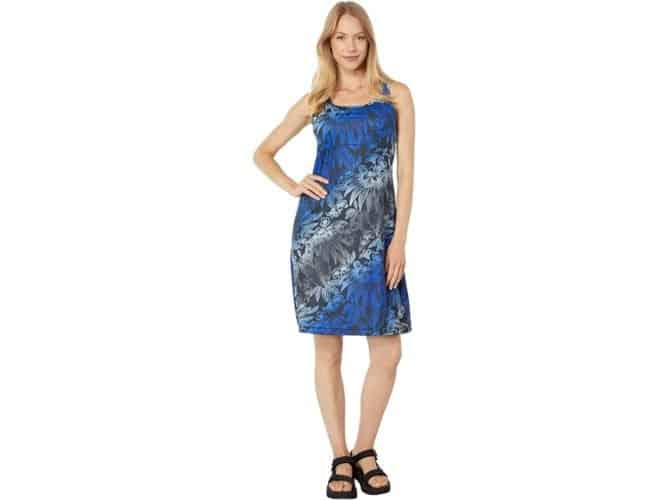 Columbia is not the first brand you think of for cute sundresses, but the brand's Freezer III dress has a secret: It disperses your body heat to cool you down as the day heats up.
It also wicks sweat away from your skin and has built in UV sun protection. See all the city sights you want while keeping cool and ready for a break at the nearest cute café.
If you like a longer dress that can go easily from day to evening, Columbia makes a Freezer maxi-dress from the same clever fabric.
Pair it with a go-anywhere cardigan
Pair it with a soft and stretchy Prana Shrug. It's super comfortable. And it rolls up compactly without wrinkling.
Pop it in your shoulder bag and take it everywhere. It's perfect for those moments when you pop inside a restaurant, store or museum and that Arctic-freeze air conditioner hits your bare shoulders.
You might also like
• My packing list just for moms
• Cute and comfy sandals moms will love
4. For outdoor getaways: hiking Shorts you can hike in
Too many so-called hiking shorts are too short or too stiff to spend the day hiking in them. But outdoorsy women love these Arc'teryx Konseal shorts because they're made for movement
They're cut just a bit longer than most hiking shorts, without turning into bulky cargo shorts. They have side pockets and a discreet adjustable elastic waiste.
They come in a cool light blue or a deep black that hides the day's trail dust well.
Pair it with a technical shirt that fits well
Pair it with this Bug Barrier Travel Tech shirt from Royal Robbins. It's lightweight and long-sleeved, made from fabric that is UPF treated and moisture-wicking.
It will keep you free of sunburn and sweat and as well as bugs all day long.
Plus, it has a flattering tailored cut and comes in three colors that will go with almost anything.
5. For the road trip: Slim-cut joggers
Summer road trips often mean sitting in a car for three, five, even eight hours, refereeing backseat disputes while helping to navigate, and enjoying the car snacks you packed a bit too much.
You want clothes that are comfortable and just right for your climate-controlled auto.
Enter the Sunny Skinny Sweat by FP Movement. The elastic waist-band won't dig in under your seat belt.
But the tapered ankle and slim fit stop well short of sliding from relaxed into sloppy. They come in nine colors and the price is right.
6. The Go-Anywhere Item: the Dress-up/Dress-down Dress
This Toad & Co. Cue Wrap Sleeveless dress is an organic cotton/Tencel/Spandex mix.
It will unpack wrinkle-free and is easy to wash and dry on the go. It's also loose and comfortable and will help keep you cool.
The V-neck and A-line skirt flatter most figures and hide a discreet, handy pocket.
Pop on sneakers or walking sandals for day-time sightseeing, then dress it up with great earrings and a cute wedge at night.
It comes in a few fun patterns and two solid colors for ultimate versatility.
Pair it with a gorgeous scarf
Pair it with a jacquard travel scarf from Tory Burch.
The soft pink makes any outfit look a bit more feminine and stylish.
Use it as a wrap with a sleeveless dress or drape it around your neck for that unexpected chilly summer day.
Pin it for later!
This post is paid for by Zappos. I might receive a commission for purchases made when you click on a link and buy something.