One of the great things about Washington, DC is that it's an easy drive to a lot of great kid-friendly weekend getaways. Within a few hours you can be on the water, in the mountains, touring Civil War battlefields, winding through wine country or dropping into other major East Coast cities.
Here are 18 ideas for easy, family friendly weekend getaways from Washington D.C.
To help with planning your weekend I've listed driving distances, which all assume you aren't leaving D.C. at rush hour. I like to spend roughly one night away for every hour we drive.
Some of these destinationss are close enough for a spontaneous overnight getaway or even a staycation hotel stay. Others are better for a two-or-three-night long weekend, or even a four-night mini-vacation.
Enjoy the weekend!
18 Fast & East Family Getaways From Washington, DC
Weekend Getaways to Virginia
1. Hot Springs, VA
Drive Time: About four hours
By Anjali Wadhwa at Cheerful Trails.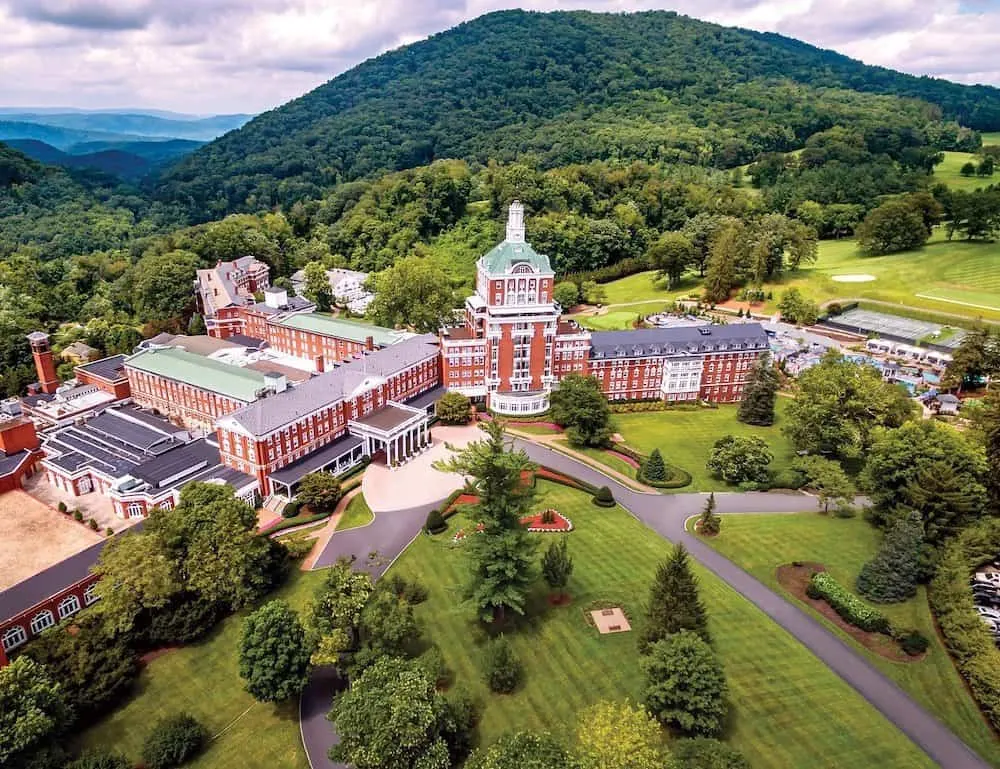 Surrounded by the gorgeous Allegheny mountains, Hot Springs is a historic town and home to, you guessed it, natural thermal springs.
The Omni Homestead Resort is a family friendly destination resort and the area's main draw.
Your kids will be happy with the spring-fed outdoor pool complex, which includes a quite large family pool, water slides, a lazy river, a water-play area for little ones and outdoor whirlpool.
There's a kids club onsite for your younger ones. Take advantage of it to soak in the adults-only warm spring-fed Garden Pool.
In summer, outdoorsy families can try archery, take naturalist-guided gorge hikes, do a river-kayaking clinic or go hiking and biking on their own both within and beyond the resort grounds. For adventurous older kids, ziplining offers thrills and breathtaking views of the Hot Springs hills and trees
Come winter, watch the Omni Homestead turn into a winter wonderland. Head outdoors for ice-skating, snow tubing and skiing or relax in the indoor pool.
Spend at least one afternoon in town, walking along the brick sidewalks and browsing local shops and antique stores. Check out a local brewpub as a reward for all that activity.
2. Shenandoah National Park
Drive Time: 90 minutes to the Front Royal Entrance
By Erin Gifford from Go Hike Virginia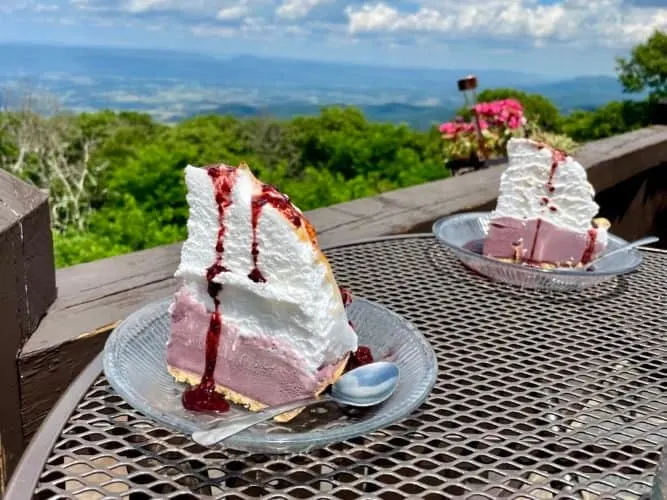 Shenandoah National Park is a fantastic weekend getaway destination, especially for outdoor lovers. From the north entrance outside of Front Royal you can motor along Skyline Drive, the 105-mile scenic byway that runs the length of the park. Of more than 75 viewpoints some of my favorite are Range View Overlook (milepost 17.1) and Spitler Knoll Overlook (milepost 48.0). Wow, do they have sweeping vistas across the Shenandoah Valley.

If you want to lace up your hiking boots, there are more than 500 miles of hiking trails at Shenandoah National Park, including 101 miles of the famed Appalachian Trail. The short and sweet hike to Little Stony Man Cliffs still delights with spectacular views of Massanutten Mountain.
For a rock scramble, head to Bearfence Mountain, where your efforts will be rewarded with 360-degree panoramas. Waterfall lovers should head to tumbling Rose River Falls and Dark Hollow Falls in the middle of the park.

Beyond hiking, you can book your family on a horseback trail ride at Skyland Stables to see the Shenandoah Valley from atop a horse as you clip-clop across an old apple orchard along wooded trails. The more adventuresome can book some time rock climbing or rappelling in the national park with Shenandoah Mountain Guides.
Stay the weekend in a rustic-chic cabin or comfortable guest room at Skyland, which sits at the highest point on Skyline Drive. Vibrantly-colored sunsets from the outdoor patio are among the best in the park. Don't return home without indulging in a slice of the park's signature mile-high blackberry ice cream pie—delicious!
3. Charlottesville, VA
Drive Time: A little more than two hours
By Stephanie Craig of History Fangirl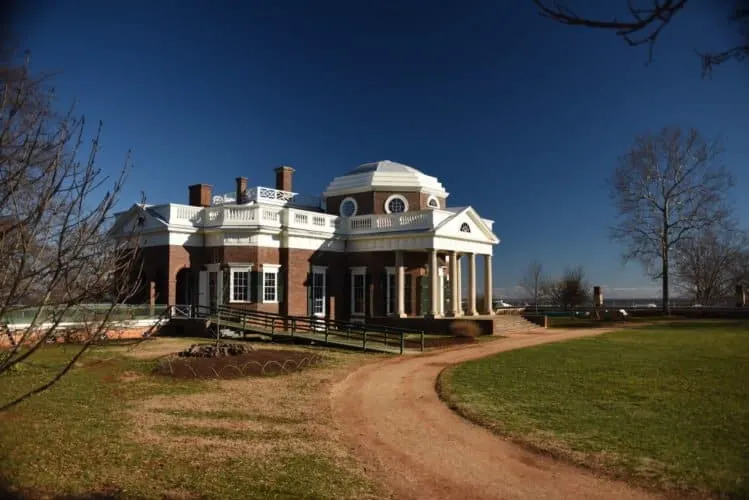 Home to one of America's twenty-four UNESCO World Heritage Sites, Charlottesville is an essential weekend getaway from Washington, D.C.
UNESCO named Monticello and the University of Virginia in Charlottesville Monticello is a house that is surprising in a lot of ways. A visit gives you real insight into Thomas Jefferson the man, as opposed to the historical icon; you can probably bring any kids on the tour who are old enough to know who Jefferson is. It also has stellar views of the surrounding area.
You can only see the house by timed guided or self-guided tours; it's a good idea to make a reservation ahead of your stay.
The town is not all about looking at old buildings though. Charlottesville is about a 25-minute drive from the Shenandoah National Park where Skyline Drive and Blue Ridge Parkway meet. Whether you drive north or south you'll find trailheads, overlooks and beautiful scenery; time your weekend stay to the fall foliage season and you'll have especially stunning views of the Blue Ridge Mountains.
You can drive part of the way to or from Charlottesville on Skyline Drive. It's the scenic route in every sense of the phrase but it will add a good hour to your drive so consider your kids' tolerance for driving before you commit to it.
Before heading out of town stop for at either The Nook or The Korner Restaurant for a big Southern diner breakfast that might include grits, biscuits, sausage gravy or fried chicken. Fill the kids up with fluffy pancakes or waffles; they'll sleep off the carbs on the way home while you enjoy the scenery.
4. Staunton, VA
Drive Time: Just under three hours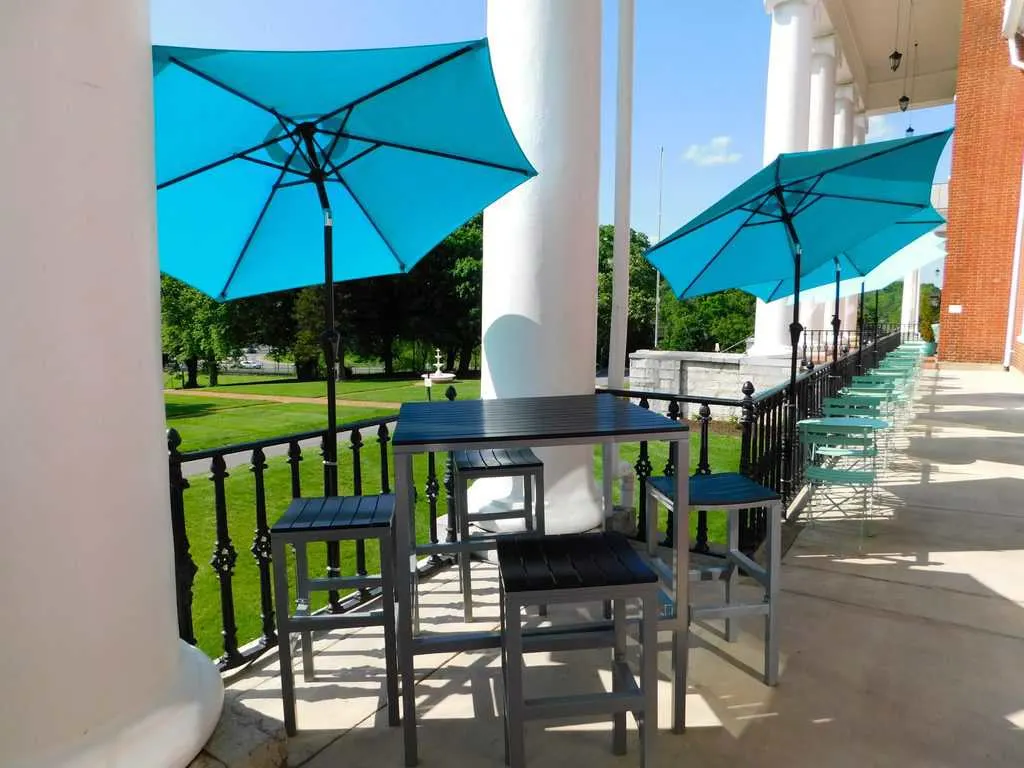 I wrote about Staunton, which sits northwest of Charelottesville, as a great destination for a couple's getaway. But there's plenty of reason to come with the kids, too.
It's a cute town with an outsized selection of good, casual restaurants and microbreweries, including the sunny front porch of the Blackburn Inn, which is perfect for an afternoon drink and snack. Wright's Dairy-Rite is an authentic retro drive-in restaurant right on the edge of town; what kid won't love that?
On a weekend getway Staunton is a great jumping off point for admiring waterfalls, visiting farms and horseback riding in the surrounding area.
Right in town, the Blackfriars Playhouse stages Shakespeare plays in ways that approximate how they were performed and watched in his day; something theater-loving teens will appreciate. Woodrow Wilson's Presidential Library is here, too; a must for modern-history buffs.
It's a 20-minute drive to that spot where the Blue Ridge Pkwy and Skyline Drive meet, giving you access to Shenandoah's trails and vistas. It's a bit less of a detour to take Skyline Drive back to D.C. from here than from Charlottesville. But it will still add an hour or more to your drive depending on where you pick it up.
Read More: https://www.familiesgotravel.com/2019/10/staunton-couple-weekend-plan/
5. Lexington, VA
Drive Time: Just over three hours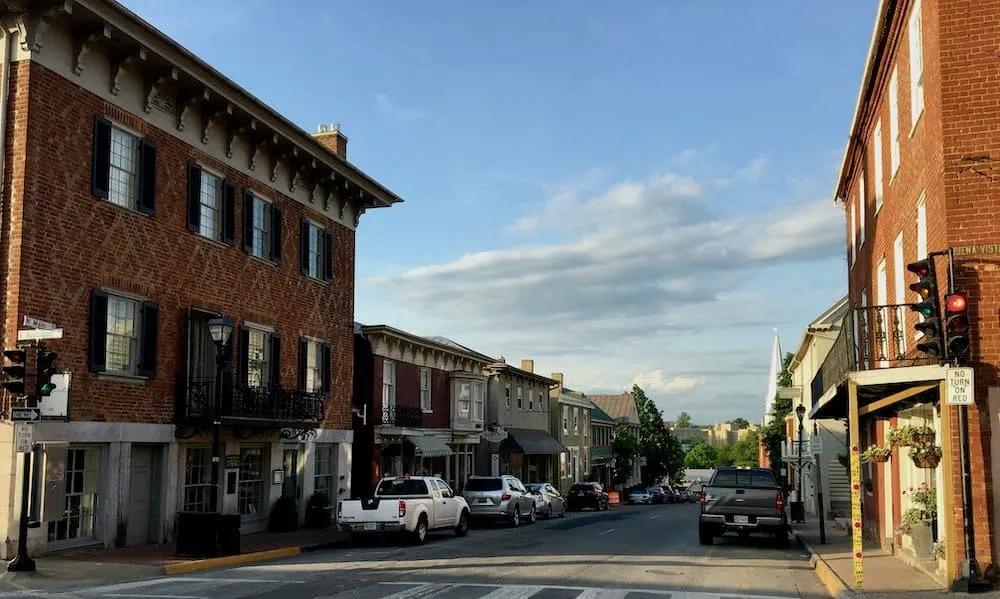 Lexington, VA is south of Staunton and even more picturesque. It's probably my top pick for a weekend getaway with kids in this part of Virginia. Location scouts like it as the backdrop for movies set in the small Southern towns and with good reason; it has a Mayberry-like charm.
Make a point of exploring the adjacent and contrasting campuses of bucolic Washington & Lee University and the impressive Virginia Military Institute. Plan to either begin or end your walk at Sweet Things Ice Cream Shoppe. Kids and parents love the shop's rich and creamy renditions of classic flavors scooped onto waffle cones made in house.
A daytime horse-drawn carriage ride or an evening ghost tour are kid-friendly ways to learn about the town's history and famous denizens. And a visit to Stonewall Jackson's house sheds light on this conflicted Confederate leader. Kids will like the first-hand, personal view on history that a home provides.
The Southern Inn is one of the best places in town to get your fix of deep southern fare like fried chicken, braised greens and pimento cheese. Don't miss the blue cheese potato chips and bacon-wrapped meatloaf; not entirely Southern but oh-so-good. The Gin Hotelacross the street has the best terrace in town. Make a point of having an afternoon drink or an early dinner here, outside if possible.
The Hampton Inn in town is quite a surprise, built around a restored historic mansion. Ask to stay in one of ten huge manor rooms with four-poster beds and fireplaces to enjoy a little pampering along with handy amenities like free breakfast in the Colonial-style dining room and an outdoor pool.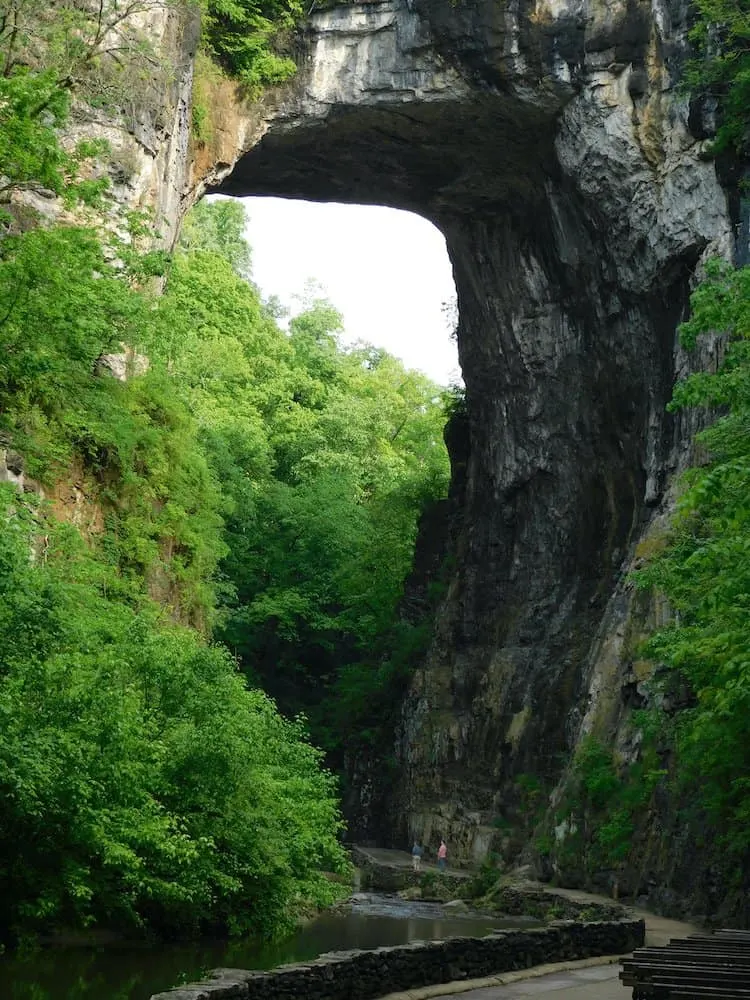 Natural Bridge State Park,15 minutes outside of town, is a must-see. Take a short, easy walk into the gorge beneath the limestone arch for stunning views (there's also a shuttle). Continue under the bridge to the recreated Monacan Indian Village for living history activities with costumed interpreters.
On your way back in to town stop at the Great Valley Farm Brewery & Winery. It sits at the top of a hill and has outdoor tables overlooking its vines and the surrounding valley below it. You can BYO snacks or even a full picnic. Kids and dogs are welcome to run around while you relax with chilled glass of rosé or a seasonal farmhouse ale.
6. Richmond, VA
Drive Time: About two hours
By Roxanna Keyes of Gypsy With a Day Job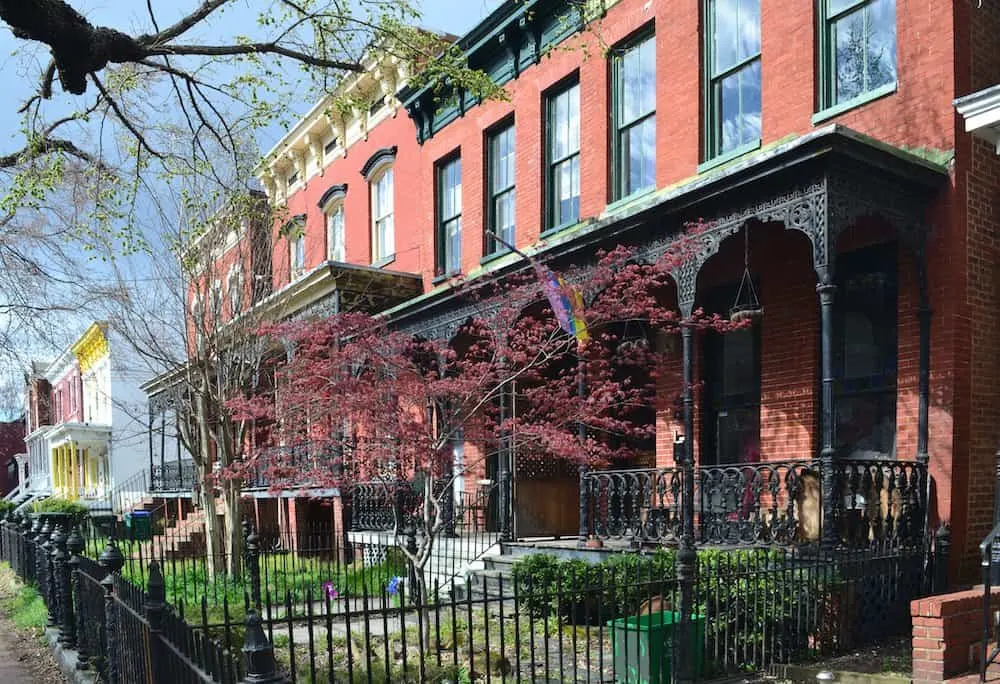 Richmond's slower pace and good variety of things to do make for an easy and relaxing weekend getaway.
History buffs can learn about the city's complex history by visiting the American Civil War Museum, the Virginia Capitol Building or the John Marshall House.
To learn more about local Black history take a self-guided walk around the remaining blocks of Jackson Ward, once one of the most thriving black communities in the U.S. Pause at the home of Maggie Walker, an ardent late19th century civil rights activist and the first African-American woman to open a bank.
If you happen to be in town on the first Friday of the month head to the Arts District for the First Friday Art Walk, which starts at the kid-friendly hour of 5:00. Galleries, restaurants and shops participate.
For an outdoorsy Saturday, stroll the Canal Walk, or the intriguing Pipeline Walkway or go kayaking on the James River. Mountain biking families can take on the trails at the Belle Island Skill Area T
If it's raining spend the day in the Museum District, where you can see the largest collections of Fabergé eggs in the U.S. But your kids will thank you for seeking out hands-on activities at the nearby Science Museum, the Branch Museum of Architecture & Design or, if they're very young, the Children's Museum.
Rain or shine, top off your afternoon at one the microbreweries, cideries or meaderies in the burgeoning Scott's Addition Historic District.
If you're feeling ambitious, before heading out of town spend some time at the sprawling Maymont Estate, which has a historic mansion, acres of formal gardens, a farm and a wildlife center.
If you're feeling lazy just hop on one of the weekends only Riverfront Canal cruises. During the 40-minute tour in a canopied canal boat you'll learn a bit more local history and see this charming city from a different vantage point.
7. Williamsburg, VA:
Drive Time: A little more than three hours.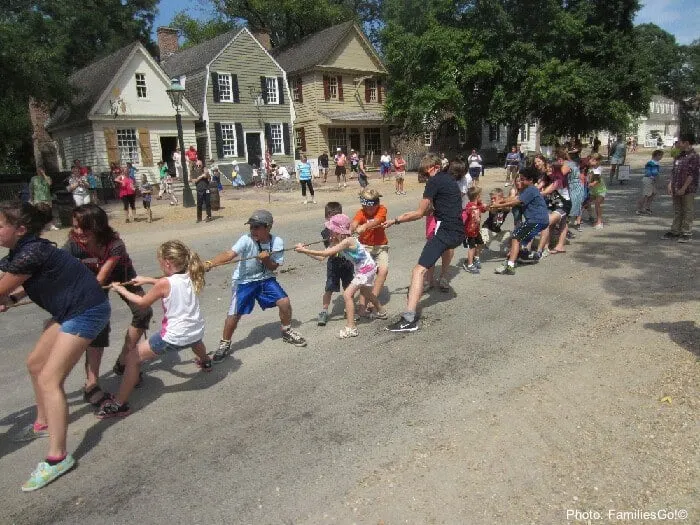 With three living history museums, a waterpark, theme park and outdoor activities, too, Williamsburg can easily be a five-day vacation or more. But break it down into bite-size chunks and it can be a (very full) weekend getaway.
Take a full day for one of the living history museums: Williamsburg, Yorktown (my favorite) or Jamestown. If you choose the latter, leave time to visit the actual Jamestown settlement down the road from the museum. It's a National Historic site and ongoing archeological dig.
Then take a day for either Water Country USA or Busch Gardens, which has a good half-dozen crazy scary roller coasters.
Take some time to relax with a kayak on the James River, a walk along one of the area's several nature trails or an afternoon at York's town beach.
It's easy to find local beer and wine, seafood from the nearby coast and southern favorites like shrimp 'n' grits. My favorite spot is the Yorktown Pub (steps from the beach) for local clams, oysters and crab. They also have pub standards like chicken fingers for family members who don't like fish.
Read More: 9 Thing You Really Want To Do in Williamsburg, VA
Weekend Getaways to Pennsylvania
8. Nemacolin Woodlands Resort in the Laurel Highlands, PA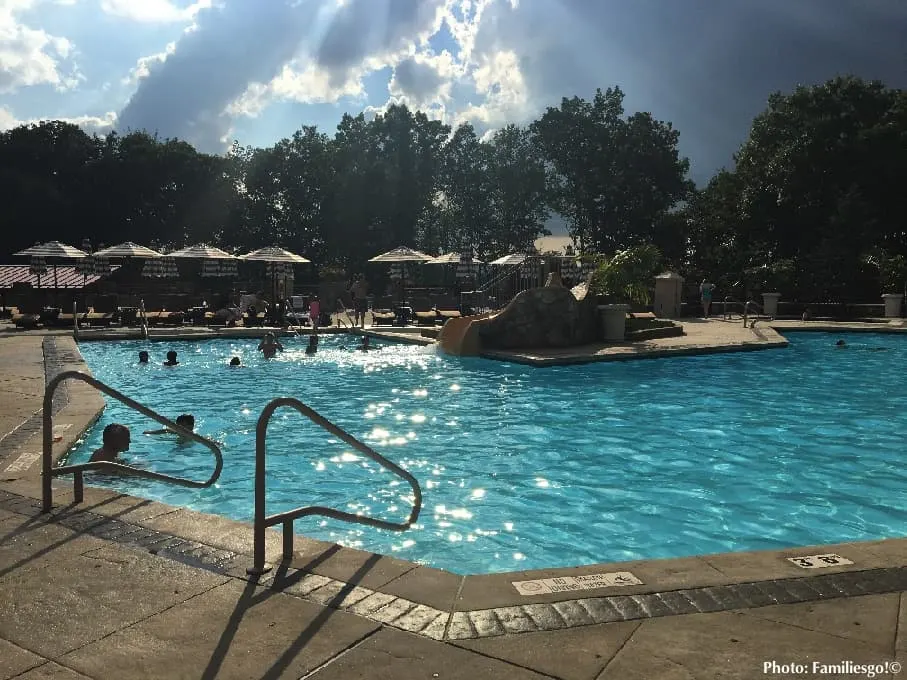 Drive Time: About three-and-a-half hours
Nemacolin Woodlands is another destination resort, this one in the Laurel Highlands of southwest Pennsylvania. Choose between the huge rooms of the French-inspired chateau, the cozy rooms in the original jazz-age lodge or book a private home.
The fantastic pool and extremely well-designed mini-golf will keep kids pretty entertained. But there's ziplining, a rope course, paintball, a zoo and more. The spa is top notch, so take advantage of the kids club for some adult time.
Four restaurants, two pubs and an ice cream parlor, among other dining options, give you plenty of variety for a weekend's eating.
Rent bikes to cycle a nearby stretch of the Great Allegheny Passage rail trail. Or Spend a day exploring Frank Lloyd Wright's masterpiece homes Kentucky Knob and FallingWater.That's if you can pull yourself away from the resort, which isn't easy.
Read More: Choose Family Time or Couple Time at Nemacolin Woodland Resort
Plus: Yes, You Can take Kids to FallingWater
9. Hershey, PA
Drive Time: About three hours
Three hours is about my driving-distance limit for a two-night vacation. Hershey, PA just squeezes under if you're driving from D.C. Two nights is plenty if you just want to explore the main Hershey attractions, which include the them park, a water park,the Hershey Museum, Chocolate World and a trolley tour that mingles the story of Milton Hershey with a corny sing-along. My favorite is the Hershey Museum, where you can do a tasting of drinking chocolate with cocoa beans from around the world.
There are also the ZooAmerica and the well-regarded Hershey Gardens and , but if you have extra time I recommend an afternoon in nearby Harrisburg, which has a great indoor market with plenty of Pennsylvania Dutch goods and food court with local beer and food purveyors from all corners of the globe. There is also the fantastic and huge Midtown Scholar bookstore and a lovely greenway that stretches for mile along the Susquehanna River.
There are plenty of affordable and familiar hotel chains near the theme park and in Harrisburg. But if you really want a treat boo a room at the Hotel Hershey or the Hershey Lodge, where you can enjoy shuttles to the Hershey attractions, huge indoor and outdoor pools with water park features, and onsite restaurants that will make you a chocolate martini.
Read More: Hershey, Harrisburg & Lancaster With Kids
10. Gettysburg, PA:
Drive Time: Just under two hours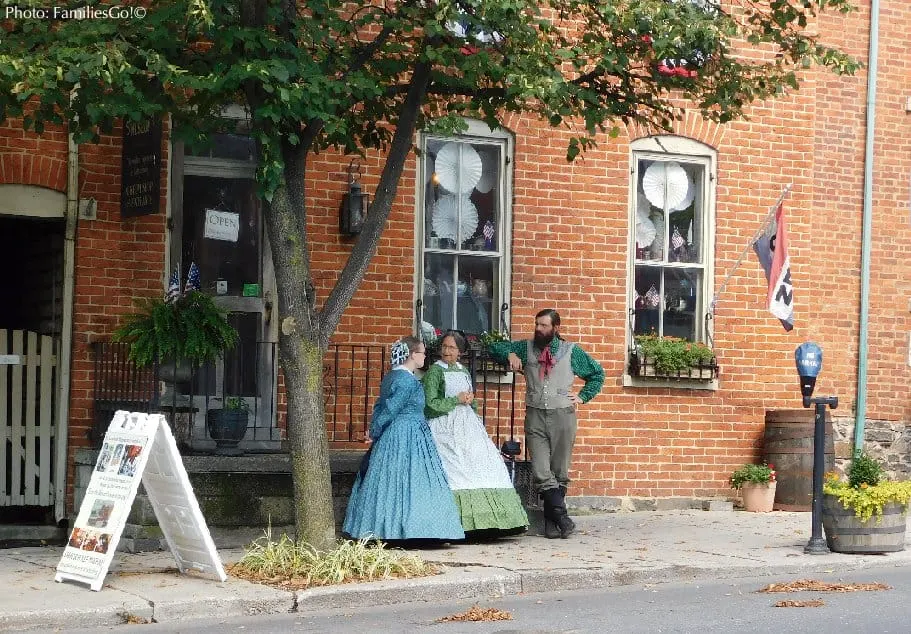 Gettysburg seems to be a place families stop by on the way to someplace else. But there is enough in this historic town for it to be a destination in itself. If you're traveling with kids, the famous Civil War battlefield might be the least interesting thing in town. But that's okay; some of the historic homes and smaller museums will draw them in. the National Park Service's Visitor's Center for the battlefield has a lot of cool things to do and see.
You can also take a ghost tour, stroll around the quaint Gettysburg College campus. Absolutely stop at Mr. Ed's Elephant Museum; your kids will love you; there are no live elephants but plenty of candy.
Hotels are affordable so a second night won't bust your budget. Dining is mostly pretty casual. The Appalachian Brewing Company has a nice kid-friendly space with food and beer that highlights the state's German roots.
Read More: 24 Hours in Gettysburg With Kids
11. Lancaster, PA
Drive Time: About two-and-a-half hours
By Monica Fish at Planner at Heart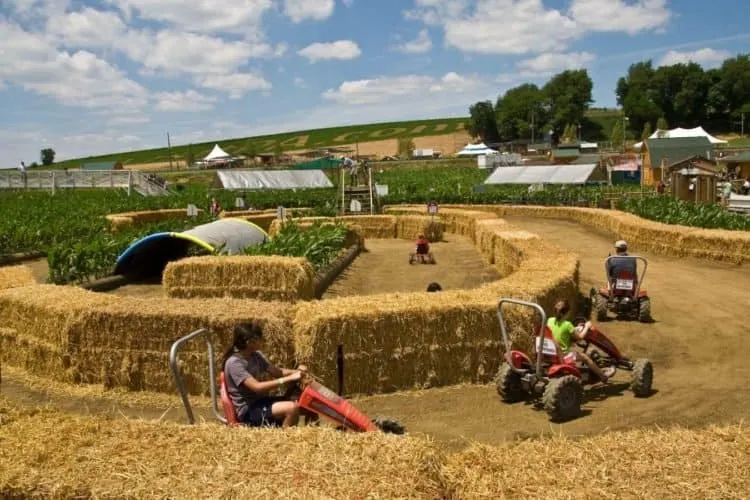 As a southern transplant to northern New Jersey, I've only recently had a chance to explore nearby Amish Country. But I was blown away by all the things to do in Lancaster, PA.
Pennsylvania Dutch Country is a larger rural region with Lancaster as its main town. You can have first-hand Amish experiences, stay on a working farm, dive into the area's deep history, get thrills at a kid-friendly amusement parks or partake in agri-tainment at family farms (like the above pedal carts at Cherry Crest Adventure Farm). You can even spend the entire weekend knee-deep in train-related activities if that's your thing.
Outdoorsy families can find scenic hikes that are relatively flat and kid-friendly, including in 544-acre Central Park. Cyclists can hit any of several rail trails including the 14-mile Northwest Lancaster County River bike trail. Your family can also try your hand at kayaking on the Susquehanna River.
You have to try Pennsylvania Dutch food during your weekend stay. The best way is at family-friendly all-you-can-eat restaurants like Good N Plenty. In Lancaster town don't miss the popular Himalayan Curry & Grill (reservations are a must for dinner). My go-to dessert spot is Rachel's Creperie a fewbkocks away.
Lancaster is known as The Munich of America for its love of the lager beers, introduced by the area's German immigrants (they were originally the Pennsylvania Deutsche and aren't Dutch at all). To see what the local beer is all about, stop in at one or two of the breweries on the Lancaster County Ales Trail. Keep in mind, places that serve food are reliably kid-friendly but tasting rooms often are not.
12. Philadelphia: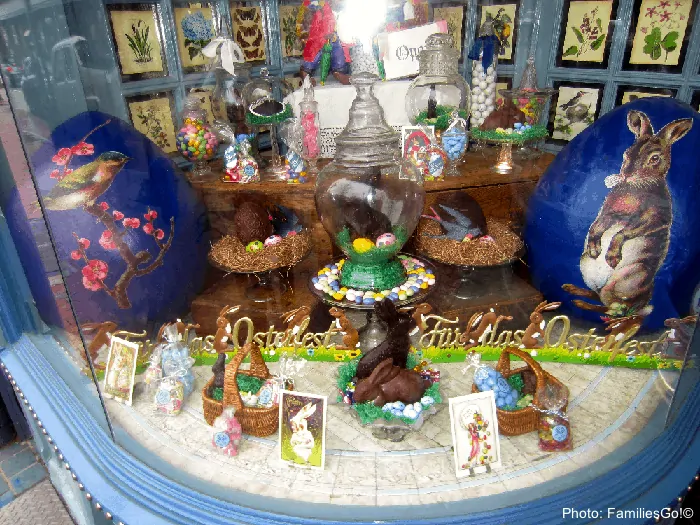 Drive Time: Just under three hours
Philadelphia's Historic District is compact and just the right size for a weekend's worth of exploring. Independence Hall and the Visitor's Center are essential stops; fit in other museums and historic homes as you can.
When you need a break head to Franklin Fountain for ice cream, Shane Confectionary for handmade candy or Independence Beer Garden for regional beer, kid-friendly snacks and cornhole.
Beyond the historic district you must check out the Franklin Institute, one of the best science museums around. Please Touch is an equally awesome children's museum. The Magic Garden is an amazing art space on the funky and always-evolving South Street.
If the weather is nice, explore the hip Rittenhouse Square neighborhood, South Philly's Italian enclave, the stately U. Penn campus or take in a bit of Fairmont Park, which sprawls for miles on either side of the Schuylkill River and has tons to do.
Read more: https://www.familiesgotravel.com/2015/04/philadelphia-kids-fun-activities/
Plus: https://www.familiesgotravel.com/2015/05/must-try-philadelphia-foods-kids/
13. Bucks County, PA
Drive Time: Three-and-a-half hours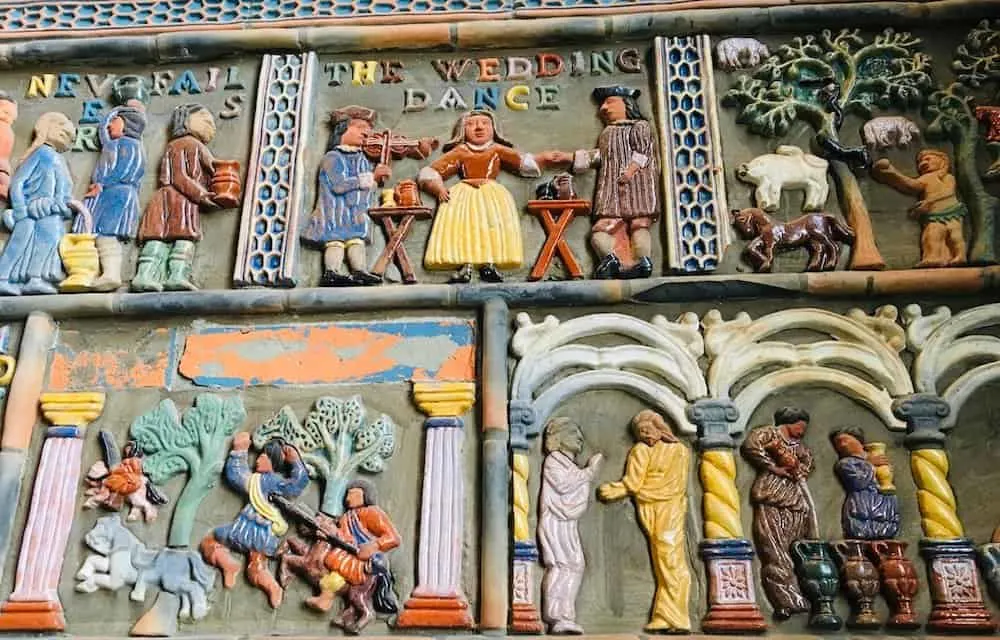 This is another destination I visited for a couple's weekend, but it is exceedingly kid friendly. Explore any of several lovely county and state parks for hiking and biking; ride the tow path that starts just across the Delaware River in Lambertville, or visit Washington Crossing Historic Park, to learn about George Washington's famous trip across the Delaware to Trenton, NJ.
The county has more than a dozen pick-your-own farms for summer and fall visits. And VisitBucks has a list of every chocolate maker, bakery, café, ice cream store and doughnut shop in the county to help you plan a really sweet weekend away.
New Hope is the place to stay because of its variety of inns an small hotels, restaurants and shops. But take part of a day to visit Doylestown, its quirky Mercer Museum and even quirkier Fonthill Castle, both the inventions of local Moravian-tile magnate Henry Mercer.
Read More: Plan Your Couple's Weekend to Bucks County, PA
14. Happy Valley & State College, PA
Drive Time: Under four hours
By Susan Decoteau-Ferrier at GenX Traveler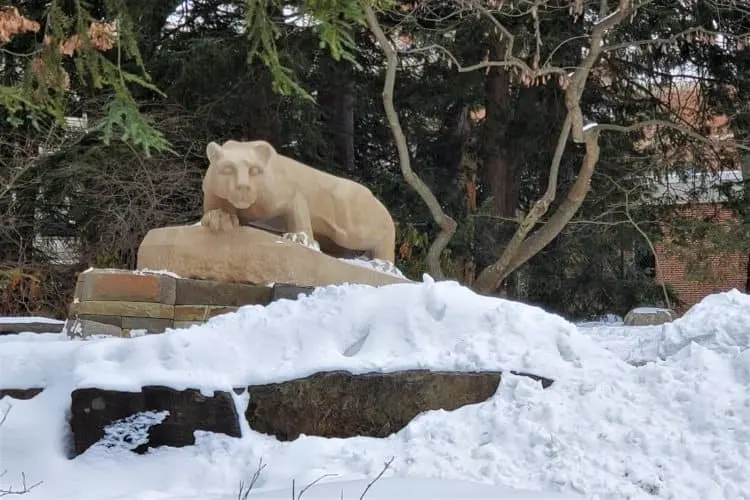 State College, Pennsylvania is home to home of the Nittany Lions, but there's quite a bit to do around here even if you aren't a football fan. You can explore quaint small towns, get outdoors, take in history and culture, or time your visit to one of its annual festivals.
Nearby Bald Eagle State Park offers hiking, boating, fishing, swimming, and camping. It's an awesome place to escape the hurried pace of the big city. Wildlife abounds. Don't forget to look up; you may just get a glimpse of a hawk or eagle. If you like the outdoors but not camping, check in to the Nature Inn at Bald Eagle nestled among the trees with stellar park views.
Just a few miles from campus, nature enthusiasts and hikers can conquer Nittany Mountain. The most popular hike is to the Mike Lynch Overlook. It's only a half mile but it scends 600 feet, making it a bit of a challenge. The reward is a spectacular view of the valley.
After your hike, reward yourself with one of more than 120 flavors of ice cream and sherbets at Penn State's Berkey Creamery.
Be sure to visit historic Bellefonte. This historic small town with many wonderful examples of Victorian architecture has been home to seven governors. The town was also a stop along the Underground Railroad. Visit the Bellefonte Art Museum to see where freedom-seeking slaves once sought refuge. Oh, and maybe check out the art, too.
Penn State's enormous campus is home to five cosmopolitan museums including the Palmer Museum of Art, Matson Museum of Anthropology, Earth & Mineral Sciences Museum & Art Gallery and the Frost Entomological Museum. Gardeners and horticulturalists will love the university's Arboretum.
Weekend Getaways to Maryland
15. National Harbor, MD:
Drive Time: 30 minutes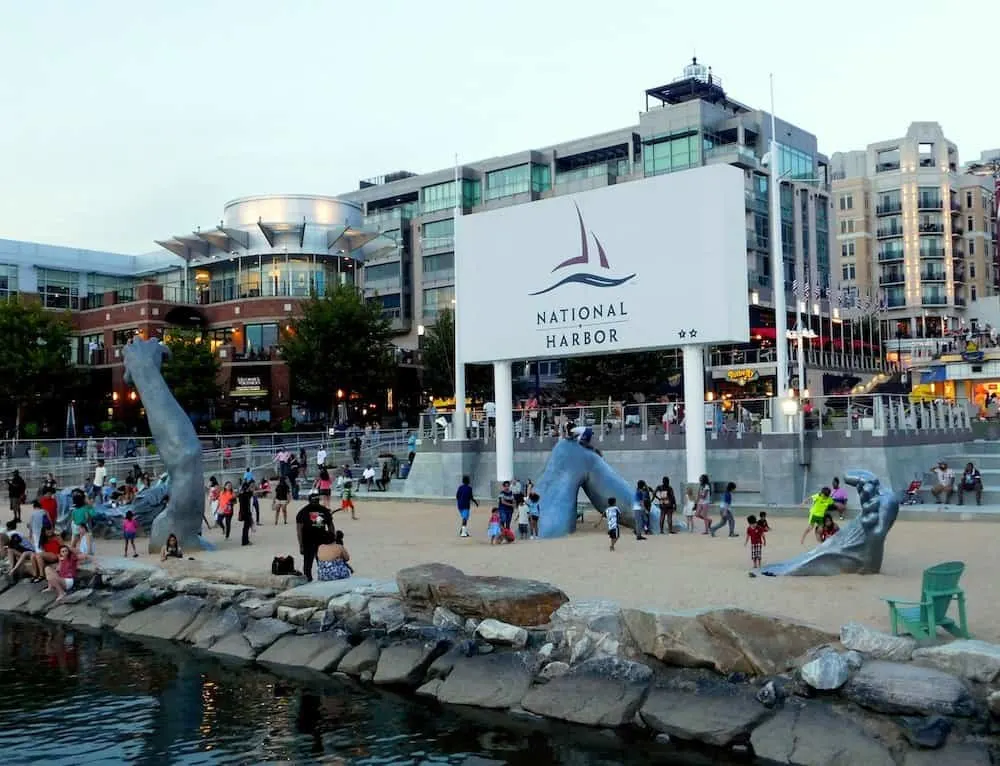 National Harbor, just a water-taxi ride across the Potomac from Alexandria, is popular with Washington, DC parents looking for an easy night away or staycation treat. Summer brings outdoor movies and music, a beach to play on. Winter brings holiday lights and seasonal festivities.
No matter the time of year, the Gaylord National resort hotel is a getaway in and of itself. Rooms that face a soaring atrium, shops, restaurants, nighttime laser shows, special seasonal activities like ice sculptures and scavengers hunts. Plus, it has a good size pool. Why leave?
Tip: If you don't want to deal with traffic or want to give the kids a bit of an adventure, take the Metro to Alexandria, the trolley down King Street, and then one of those water taxis across to the hotel.
Read More: A weekend in National Harbor
Plus: My review of the Gaylord National Resort
16. Annapolis, MD
Drive Time: Just under an hour
By Pamela Drager at The Directionally Challenged Traveler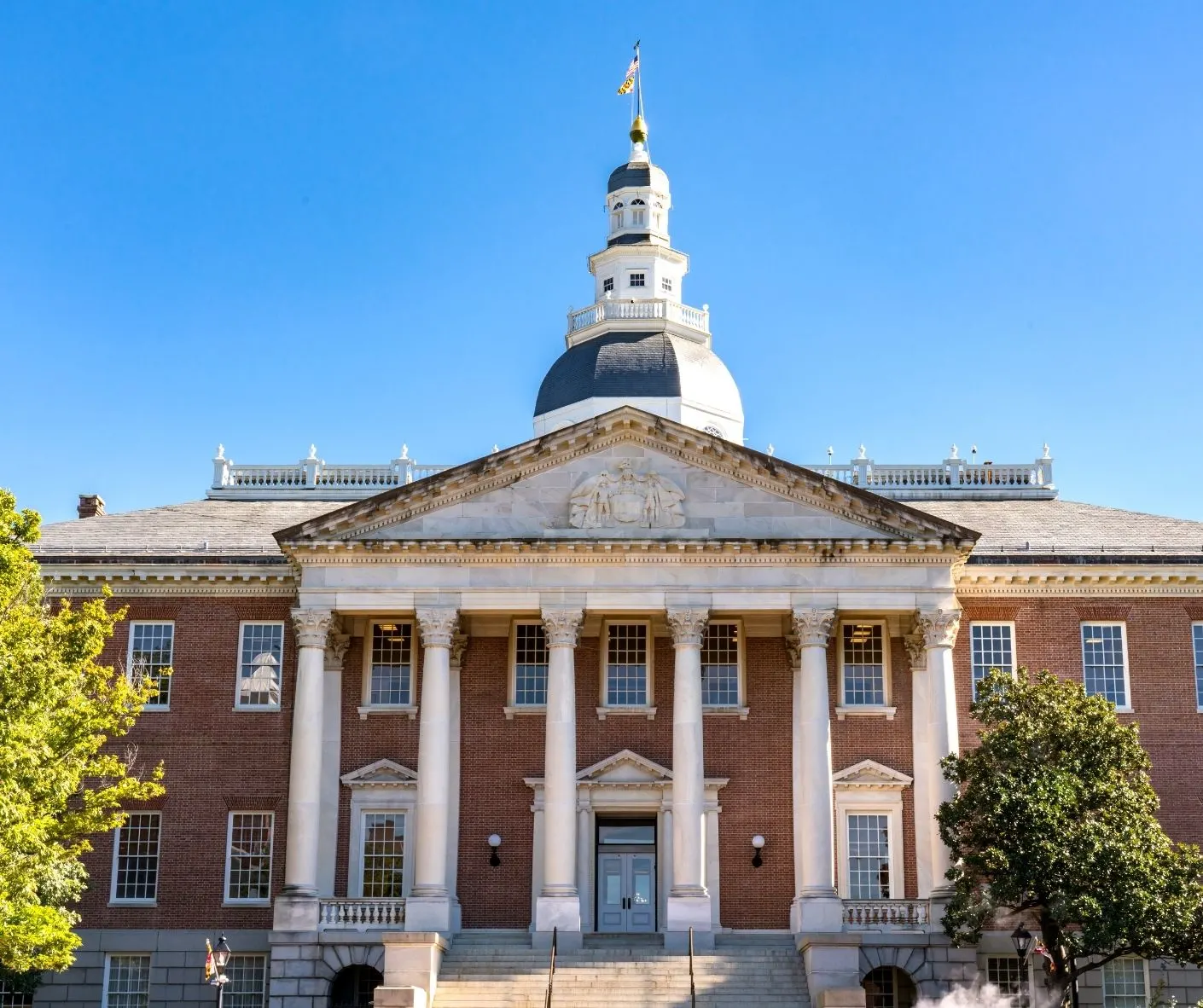 With plenty of things to do, small crowds and its walkable scale Annapolis is ideal for a family weekend getaway.
In the center of this town that predates the American Revolution, you'll find the Maryland State House. It's the oldest state capital building in continuous legislative use and it briefly served as the U.S. capital, too.
Historic houses such as the William Paca House or James Brice's house make history personal and relatable to kids. The Annapolis Maritime Museum is a surprisingly engaging rainy day activity.
It shouldn't be surprising that the home of the U.S. Naval Academy would offer plenty of ways to get out on the water. Kayaking, SUPing, sailing, fishing and guided tour-boat rides are all easy to find. The area's state parks offer walking trails and beaches for swimming.
Walking down Annapolis's cobblestone streets past wood-frame buildings and brick rowhouses feels a bit like walking back in time. While you're wandering around town, keep an eye out the Old Fox Bookstore. This homey bookstore with a cafe, reading nooks and an adorable garden is a hidden gem.
Come lunch or dinner time, seafood lovers will find plenty to make them happy here. Head to Mason's Famous Lobster Rolls for several variations on this New England classic. The Boatyard, a few minutes from the town center, has a casual dockside vibe. You can have local crab is cakes, chowder or dip as well as rockfish and local oysters. For American fare with a dash of history, visit the Reynolds Tavern. Your kids will thank you for making a stop at Uncle Bob's Fudge Kitchen (and you might be happy, too!).
17. Baltimore, MD
Drive Time: 60-to-90 minutes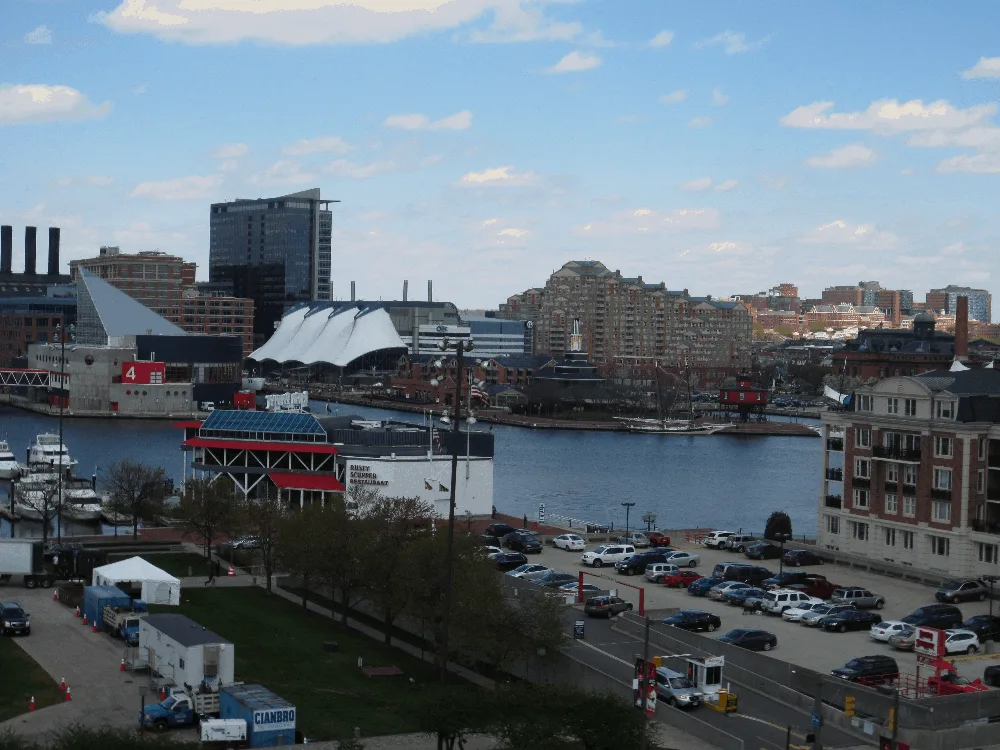 My family loves Baltimore and we often combine a night here with a visit to the capital. It's a bit more than an hour from Washington if traffic is good, but it has such a different look and vibe, that a night or two here can feel like a real getaway.
The brick rowhouses tell you you're in a Northeast city that dates back to the colonies, but the local food has a distinct Southern accent. It's not surprising the city's denizens had very split loyalties during the Civil War.
There are enough museums that there is always one we haven't seen yet or a favorite that's added something new. The Americann Visionary Art Museum, perhaps the most kid-friendly art museum I've been to, changes its main exhibits annually, so there really is always something fresh. You'll know it by the shiny mosaic-tiled bus in front.
It's hard to visit Baltimore and not just dig into a tray of Old-Bay-Seasoned blue crabs for dinner. But there is plenty of other good food, too from brewpubs to Italian and Southern fare. Take a walk around Fells Point and see what calls to you. The streets around the Inner Harbor have a good mix of local places, too, tucked in among the familiar chains.
Read More: 8 Things To Do in Baltimore With Kids
Plus: Kid-Friendly Baltimore Restaurants Parents Will Love
Weekend Getaway to Delaware
18. Brandywine Valley and Wilmington, DE
Drive Time: A bit more than two hours
By Lance & Laura Longwell at TravelAddicts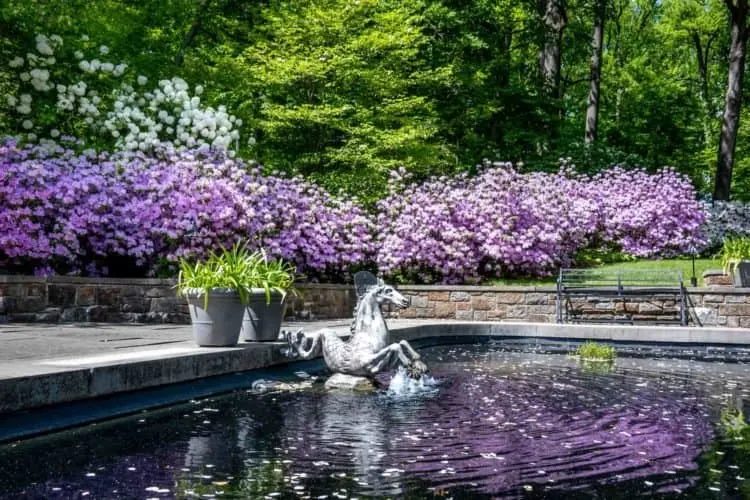 One of the great weekend getaways from Washington DC, is the Brandywine Valley, a 20-mile section of Brandywine Creek that is designated as a scenic riverway. It winds its way from Chester County, Pennsylvania through northern Delaware and pours into the Christiana River in the city of Wilmington, Delaware.
An important Revolutionary War battle was fought along the creek, givingng it a significant place in American History. But most visitors come to see the many DuPont family mansions, several of which are museums. The Winterthur Museum & Garden, the Hagley Museum, and the Mt. Cuba Center enchant visitors with their beautiful homes with lush, sprawling formal gardens.
However, the crown jewel is the majestic Longwood Gardens. These gardens are part of massive 1,000- acre estate that was home to Pierre du Pont. The gardens have plants that bloom throughout the seasons so there's always something spectacular to see. The highlight at any time of year are two fountains that have nearly 2,500 jets of water synchronized to music. You can spend a full day wandering the gardens and Conservatory and still not see everything.
When you add in the cute B&Bs, excellent restaurants, a state park, and a scenic railroad young kids will love, there's no shortage of activities to fill a weekend.
Pin it for later!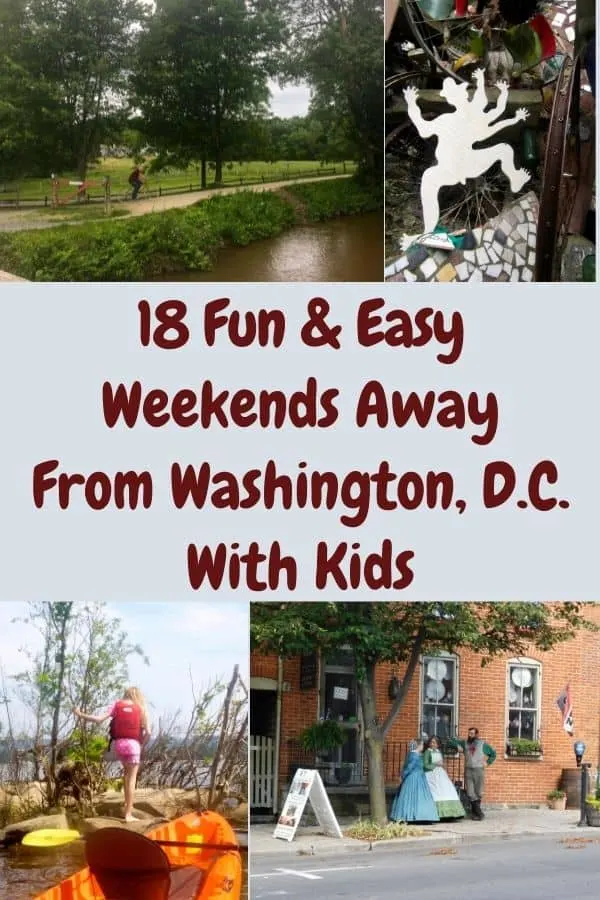 Photos by the FamiliesGo!© and the contributors for each destination, except the Omni Homestead (Omni Hotels), Jackson Ward (Virginia Dept. of Historic Resources) and Cherry Crest Farm (Visit Lancaster).