I love the beach. I grew up being carted to one of Long Island's many long stretches of beach once a week for most of my childhood. And try to head there with my own child almost as often.
Beach getaways haven't changed much since I was a kid, especially when it comes to what we carry along. My tote bag of beach essentials contains updated versions of my mom's go-to items.
With all the stuff we have to carry for a day at the beach with kids, it's nice to know what the best stuff is that's actually worth carrying along in that giant tote.
Below, some of our favorite family travel writers I suggest our beach essentials, those things we never hit the sand without, even when we travel. Popping a few of these items in your bag really will you're your beach days easier and more fun.
You might also want to use
• my beach vacation packing list
• my beach house planning and packing list.
• Plus, how to happily share a vacation house.
Your Essential Packing List For an Easy Beach Day With Kids
Sunscreen
I always look for sunscreen with titanium dioxide and zinc oxide. They're mineral sun blocker rather than chemical sunscreens, which are safer for both people and the world's endangered reefs.
They also seem to stay on longer and protect better than the chemical ones.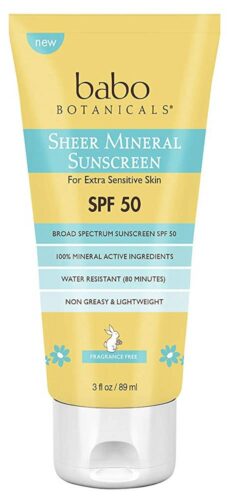 Babo Botanticals is one of my go-to brands. They have both SPF 50 lotion and a Stick for faces. Their sticks are less waxy and easier to apply than other reef-safe brands I've tried.
As Tiny Traveler got older the stick was the easiest way to make sure she at least put sunscreen on her face before heading out for camp and vacation activities. They even have a tinted sunscreen stick for moms.

Now that she's a teen I'm lucky if I can get her to wear sunscreen at all. The stick is still her go-to for her face. But if we really need full-body sunscreen soryas are the fastest and easiert option. If you want to just spray yourself and your kids quickly, Blue Lizzard and Garden Goddess both have reef safe, spf 50 sprays with with zinc oxide. And they don't get clogge the way some zinc-based spray-ons do
Sun-Protective Swim Suits
I swear by rash guards (those bathing suits that look like t-shirts) because they protect backs and shoulders—prime real estate for sunburns—without us having to reapply sunscreen all day.
Swim shorts or jammers help, too, for boys of course, and for girls as long as they'll wear them. ‪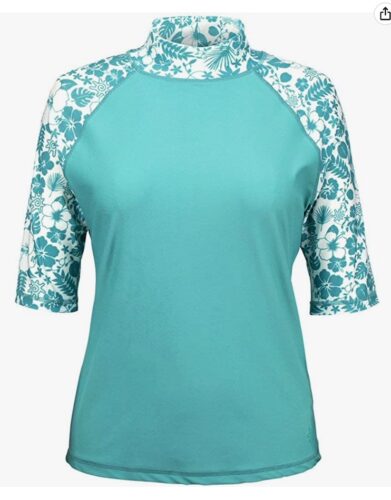 Sara Wellensiek from MomEndeavors likes UVSkinz (left) because in addition to their good coverage they have built-in UV protection.
We discovered Tuga swimwear a few summers ago. Tween Traveler likes their colorful prints and the draw-string swim shorts fit her skinny frame well. So she's happy to cover up.
After a summer of watching her running around in them, I started buying them for myself as well. They keep their color and shape really well, even with after plenty of salt water, chlorine and laundry detergent.
A Good Sun Hat
Sunhats are beach essentials for our fair-skinned clan. The challenge is finding a brim wide enough to protect your nose while not being so wide that your hat bumps into things.
My Answer is Wallaroo. Their soft, polka-dot Scrunchie hats have just the right amount of brim, fold up for sticking in a tote bag or purse, and breathe well on even the stickiest summer day.
A discreet string in the back pulls tight to keep your hat on your head when sea breezes blow. And it scrunches up well t fit into your beach bag.
After borrowing mine for a few summers, tween traveler bought her own in blue.
Big Beach Towels
We sprawl out on it. We wrap ourselves in them when the wind picks up. Kids fall asleep under them on the drive home. Oh, and we also use them as towels. Given how much they do, beach towls should be big. And they should be good enough quality to stand up to sand and salt and lots of laundering.
I bought Turkish towels for a recent vacation of ours and we all immediately liked them a lot. They are big, warm and absorbent while also being lightweight enough to dry quickly and pack easily.
Teen Traveler brought one on a summer program where she was not all that diligent abut hanging it up to dry. It dried quickly anyway.
And they come in ten colors so each family member can have their own.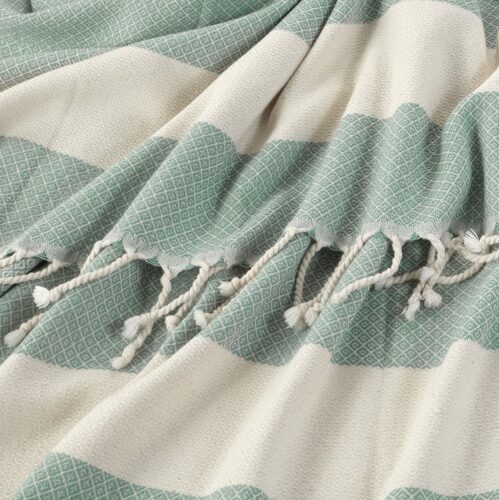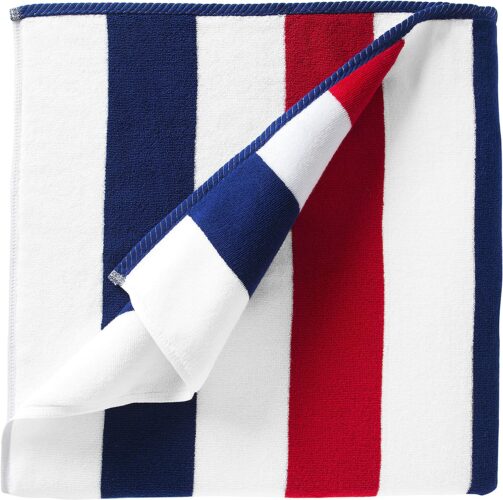 If you like a thick, soft beach towels you can't do much better than this oversized one by Laguna Beach.
They're 72 inches long, a foot more than most, and have one of the highest GSM counts (for thickness) that I've found.
chose from 12 stripe combinations
Ample Sun Shade
Readers wtith very little ones like the Wonder Space Baby Beach Tent. It has UPF50 sun protection and nettingn to keep the bugs away.
If you're luck your baby or toddler will nap and play happily in it. And at the end of the day it folds up easily for the trip home.
There is an option to buy it without the mat, too, to make it more compact. But then you might wind up putting a towel in the tent to give your tot some cushioning.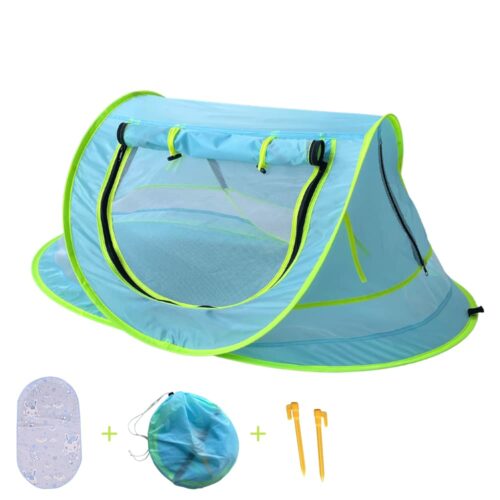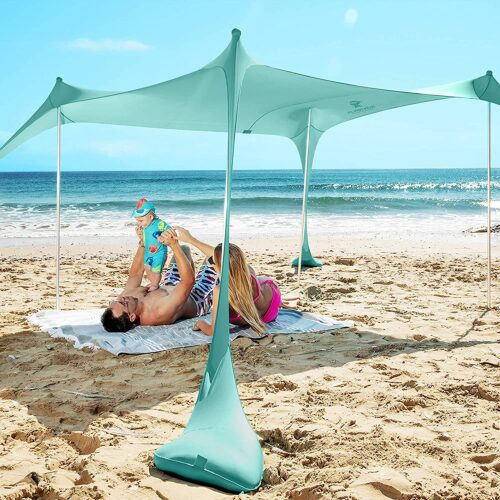 If you have a big crew or active little ones, consider one of these Sun Ninja pop-up sun canopies.
They pop up fairly easily and you use sand to keep them weighted down.
I like that you can actually sit or lay in a beach chair underneath and kids can play in the sand while completely shaded.
While both of these are surpisingly compact when you pack them up in the bag they come with, I don;t think you're putting either one in a suitcase for a airplane trip. But they're very easy to pop in the car for a day out or a road trip to a beach destination.
A Good Beach Blanket
This blanket ticks all the boxes for me for a good beach blanket. It's large, water resistant, washable and has a little padding (handy on lumpy park lawns).
Plus, I like that it folds up flat instead of squeezing into a compression sack.It just seems easier to fold it up and stash it in the car, suitecase, beach bag, etc.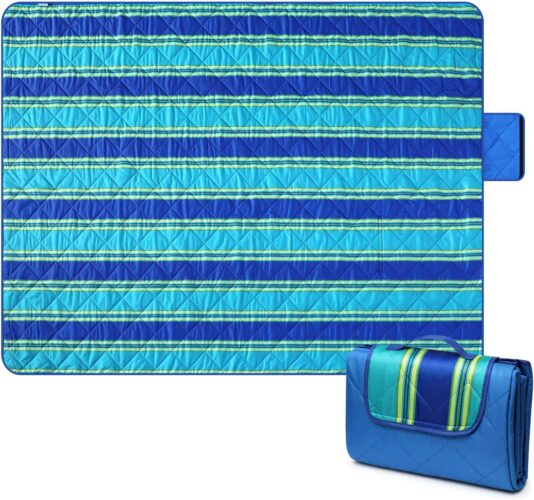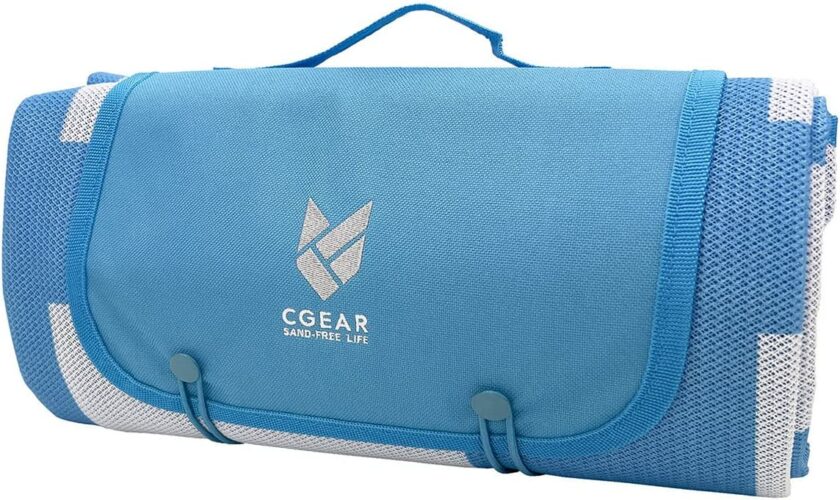 I'm starting to see my readers using "sand-free" beach blankets like this one by CGear. Its fabric is woven with spaces that allow the snd to fall through. It's rugged, has a bit of padding and comes in three sizes and nine colors. Plus it's machine washable and folds up flat with a carry handle.
I'm asking for one for Christmas this year.
I've seen others that are made from parachute material that sand slides off of so easily they almost seem to repel it. They are huge but scrunch up very compactly. The trade-off is they they're very thin, so they don't protect you from hot or pebby sand and some people find them sweat-inducing.
Comfy Beach Chairs
I'm no longer chasing a toddler around the sand or spending most of my days in the sand building castles. I can actually sit and skim a magazine or read a book. So I've started bringing chairs to the beach again.
Readers like this Nice C Low Beach chair for its light, sturdy frame, cup holder, full back support and mesh to keep you cool.
If you would rather not be so low to the ground (I woulda) try this WEJOY lightweight beach chair. It folds up as easily as the Nice C and also has the sling-style seat, mesh back and cup holder.
But the legs are taller and the back is higher, making it better for lounging. And the side pocket keeps your Kindle, book, phone, and maybe a snack handy.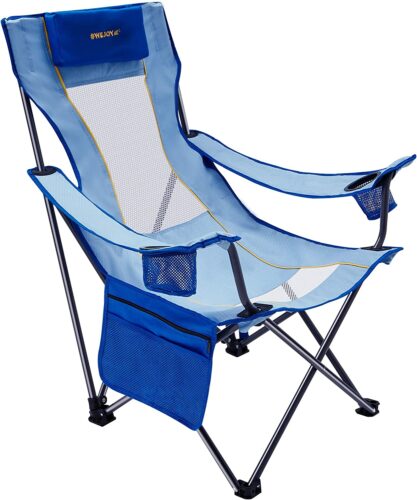 Sand Toys that travel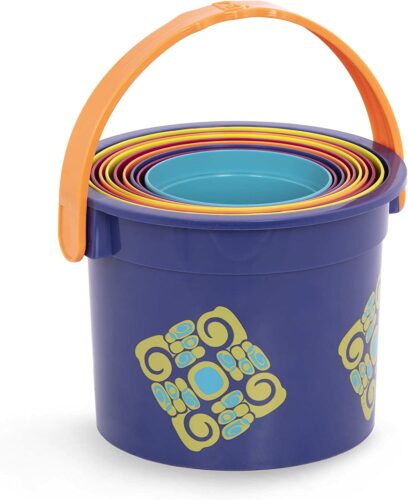 I hate wrestling with sand toys that are weird shapes and sizes. So I love these nesting cups from B. Toys.
They have cool colors and designs. Perfect for big families to share and for serious sand-castle-building. Tots can have fun stacking them, too.
I also love the 1.4 gallon collapsible pails from Sammart. They do't vary in size but they carry a lotof water and sand, and collapse flat to carry home.
Or leave one uncollapsed to carry the other toys in.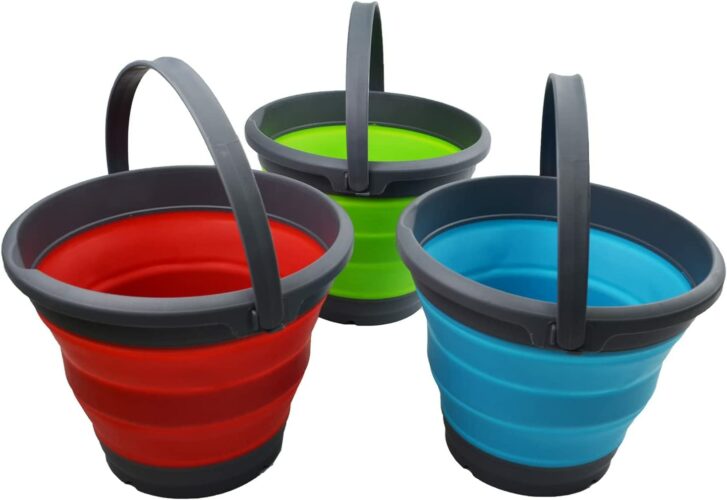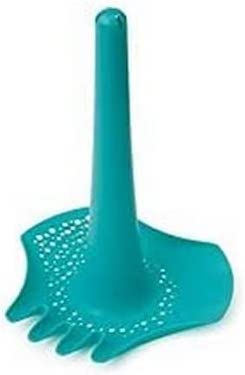 Pair them with Quut's Triplet digging tool, which is a shovel, rake and sieve all in one.
Quut makes a lot of clever toys. Their nesting shovel and fork is even more compact.
The kids can carry these themselves, or you can pop them in your tote bag and still have room for your other essentials.
A waterproof phone pouch
Phones and small cameras are definitely new beach essentials but they don't mix with surf and sand.
I always bring a waterproof bag for my phone and prefer one that's bigger than my phone, like this large capacity pouch from Pelican. and if I can use the touchscreen through that's a nice bonus.
It's easier to make sure it's sealed properly when it's not snug around your phone. And I like being able to put some cash, the car keys and a card and my drivers license in their, too, so I don't have to bring my whole wallet with me.
I can bring this along with me when I go for a walk by the water and not have to worry abut anything going missing.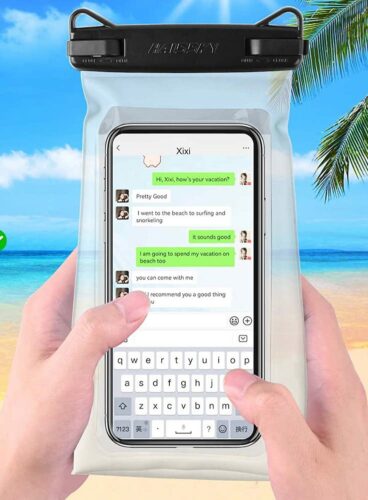 Baby powder
When I had a toddler coming to the beach with me baby powder was an absolute essential. My beach baby was quite happy to be covered from head to toe with sand. And baby powder is brilliant for getting dry or wet sand off of hands when kids want to eat. And for getting it off of everywhere else before going in the car or house.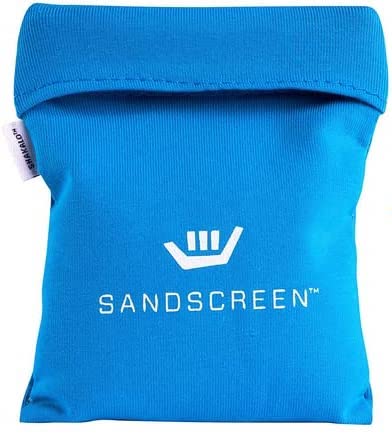 A porous pouch like this Shakalo Sandscreen one is the size of a bean bag and keeps powder from flying all over.
It comes with talc-free powder already in it. It will last a while; when it's gone just refill it with your favorite baby powder.
Tip: in a pinch a thin sock works well, too.
Pop-Up Towels and Wipes
I saw these pop-out wipes from Wysi-Baby and Baby Bits at the NY Baby Show and wish we had them when we had a toddler—for the beach and a thousand other places.
They're about the size of a quarter or a large sugar cube out of the box, but add water and you have a wipe that works well and is biodegradable. The Wysi one come in a sleeve that packs easily. Popa few Babybits in a reusable pouch and they're just as portable.
For a mom who's out and about a lot, they're indispensible.
Speaking of a Tote Bag…
My ideal beach bag is mesh, we bring all our stuff home but leave the sand and water behind. It's sturdy, roomy, has lots of handy pockets, and folds up compactly in my suitcase for traveling beach holidays.
Pretty much just like this mesh tote from Oscaurt.https://amzn.to/3RhdKE5. It ticks all the boxes an comes in six colors including practical black, hard-to-miss pink and this sky blue.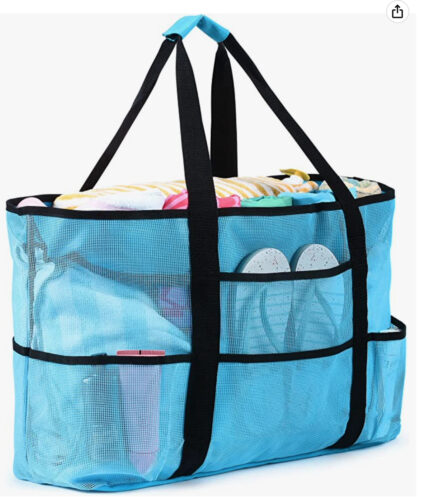 Print The Full List
Pin it for later!