Updated March 2020
Our family spent a week on Norwegian Cruise Line's NCL Breakaway ship on a cruise to Bermuda when it was brand new. It's gotten a lot of buzz and was followed by several nearly identical ships, so we wanted to give you the scoop on what the ship has for families.
Here is what we liked and what could have been better on this mega-cruise ship.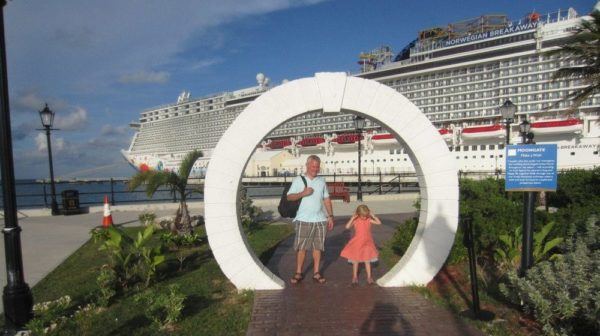 Norwegian Breakaway Cruise Review
The NCL Breakaway's Kids' Clubs
On the Breakaway, NCL improved several of the things we found frustrating when we cruised on the Dawn two years ago. For starters, there is lots of space dedicated to kids, a full roster of activities and counselors with education and sports backgrounds.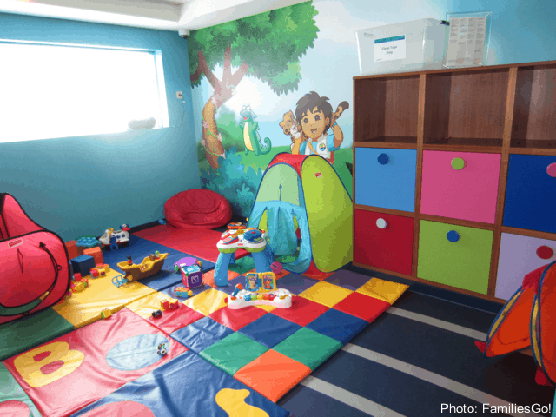 • The under-3s have a Dora and Diego-themed playroom to themselves and at least one activity a day that they can do with their parents. A younger Tiny Traveler would have loved painting with spaghetti.
• The Breakaway's Kids Clubs start at age 3, The 3-to-12s have Splash Academy, a two-story space with decorations that changed to reflect daily themes.
For 3-to-5s, activities like a fairy tale parade, jungle safari and pajama party had Tiny Traveler (now 5½) asking to go to Splash at least once a day when we were at sea (so we got to relax on the quiet, adults only H2O sundeck and to see several shows).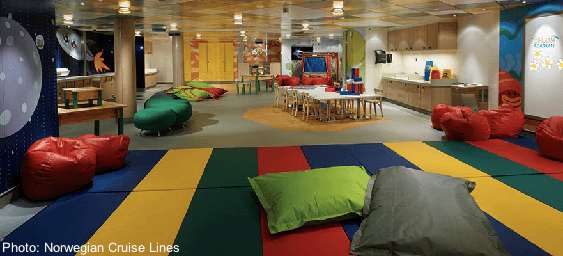 The 6-to-9s, who use the kids' club the most, had Survivor- and spy-themed games that encourage teamwork and roleplaying. This group and the 10-to-12s also threw themselves into poolside activities like cannonball contests.
• Teens have Entourage, a dimly lit lounge with couches, games, video screens, and counselors who enforce a no-grown-ups policy.
The Breakaway's Pool Scene
The family and adult pool area are next to each other, separated by the bar and towel exchange. I didn't mind having a few walls between us and the adult pool, which had loud musc and entertainment going all day long.
And I could still easily grab an afternoon beer while Tiny Traveler played, especially since it was nearly impossible to separate her from the Sponge Bob-themed splash pad's sprinklers, slides and wading pool.
She was over the moon when a nighttime pool party kept it open well passed her bedtime.
The adult pool area was often packed with people hanging out to watch the poolside entertainment. There were few people in the people, but the crowd around it made it hard to actually swim.
But the family pool was never overly crowded and we liked that we could float around in it while keeping an eye on Tiny Traveler in the sprinklers.
Things To Do on the Norwegian Breakaway
Like most ships, the Breakaway offers everything from cha-cha lessons to ice carving demonstrations. But we spent most of our at-sea time doing the outdoor stuff.
We tried three of five large waters slides, skipping the heart-stopping drop-in ones. Tiny Traveler liked the smallest one, which was open and a little slower than the others.
My child loves to climb. She and Rich tried the climbing wall; it was easy for him and the belayer did a nice job helping her. She scrambled up something called a spider slide about 30 times.
She was almost too big for the kids' mini rope course but liked the novelty of it. There was a regular rope course and zip line that is harder and scarier than it looks from the ground.
Tip: The adventure Center often had lines. The first afternoon on board was the least busy and a crewmember told us it's the best time to try it out. Mornings were less busy than afternoons.
NCL's Stellar Shows
Our favorite show by far was the *Jungle Fantasy circus and dinner show. The costumes, acrobats and even juggling wowed us.
I'm not sure about the wisdom of asking people to eat dinner while watching contortionists flip around over their heads. But dinner was good and Tiny Traveler ate more than I thought she would despite the distractions. We especially liked the trio of mini-cakes for dessert.
It has a fee ($39/person) but we agreed ahead of time that we would spring for one supplemental dinner and this by far was the right choice.
Burn The Floor and Rock of Ages are over-the-top spectacles and are fun for adults if you don't take them too seriously.
Most people who brought kids (or grandparents) to Rock left about 15-minutes in. The warning about it being loud and not appropriate for kids are legitimate.
They've recently replaced it with the newer Broadway show Six, which adults will like but that also has more teen and tween appeal.
Burn is appropriate for kids, but it's not especially interesting for them. We saw both shows on nights when Tiny Traveler wanted to go to the Kids Club.
The Lowdown on the NCL Breakaway
• Crowds: The ship can carry some 5,000 passengers and the most consistent complaint about the Breakaway on cruise forums is about lines and crowds. But with a little flexibility we dodged most of the crowds.
For example, it was impossible to find an empty lounge chair on the pool deck in the morning, but after lunch I could reliably snag one with a view of the sprinklers, so we did more swimming in the afternoon.
• On-Board Fees: We heard fellow passengers saying they felt nickel-and-dimed by the many (many) for-fee add-ons you encounter on board.
We tried our best to be selective and skip the extras whenever they had a counterpart that was already included.
For example we bypassed the Cake Boss cupcakes —recently replaces with French-themed Bake Shop— in favor of free treats like fresh chocolate-covered crepes at the buffet.
• Service: Despite some reviews to the contrary, we thought the crew was exceedingly friendly, especially to Tiny Traveler.
From doting restaurant servers, to the patient rock wall belayer, to a counselor hunting down a lost balloon sword at Splash, we routinely saw staff members go out of their way for us.
One waitress even made a point of waiting until Tiny Traveler had eaten half her dinner before bringing out her lemonade, so she wouldn't fill up on it before eating. Talk about knowing your customer —and her parents.
Pin it for later!
*While we booked our cruise independently, NCL upgraded our room and arranged our seating at Jungle Fantasy.