One of these days tween traveler is going to leave the nest. She'll head off to college and Rich and I will once again be pair rather than part of a threesome.
Part of making sure that we enjoy being a couple twosome again when the time comes is taking cuople time now whenever we can get it, be it a date night (good) or a weekend away together (better).
Difficult as it might seem it's worth making the effort to book kid-free vacation time now and again. Having fun together and focusing on each other conjures romance and those couple-connections you crave and will need when you're an empty nester one day, too.
Line up the babysitters! Here are some destinations and hotels in the U.S., Caribbean and Europe to inspire your plans for an adults-only weekend getaway this year.
15 Hotels For Cozy Couples Getaway
More couple-time getaways:
• 6 Disney World Date Night Ideas
• 10 Romantic Getaways Planned By Actual Parents
• Plan This Fantastic Couple's Weekend in Dublin
United States
Arizona
1. *Sanctuary on Camelback Mountain Resort & Spa offers a nice balance of adult activities and relaxation.
Play tennis or golf, swim in a lap pool, take a yoga class or a guided hike into the desert. Check out Scottsdale's museums and dining scene.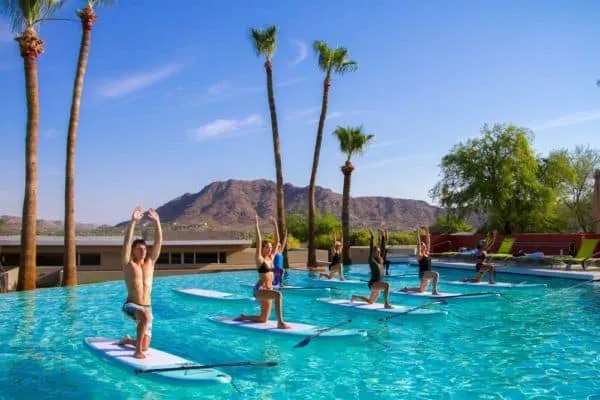 Dinner at the hotel's restaurant, Elements, comes with a valley view your kids wouldn't appreciate.
The spa treatments are highly regarded and the beds have goose-down. Splurge on a spa suite to enjoy a private outdoor soaking tub for two.
California
2. If you can't make it to Italy but you can make it to the west coast, consider Pebble Beach Resort's Tuscany-inspired Casa Palmero – a secluded, all-suites villa. Sip wine, read and relax with private dipping pools, wood-burning fireplaces, and oversized soaking tubs.
If you wan to actually do anything, ask your personal coordinator to set up a wine tasting at the resort's own wine cellar or a guided horseback ride.
Play a game of tennis or hike some of the 30 miles of nearby trails. You can also stroll over to Pebble Beach's spa for couples' treatments.
Florida
3. A Florida beach getaway without the kids? Absolutely.
Read and take long walks on the beach instead of building sand castles. The all-suite Palm Beach Marriott Singer Island Beach Resort & Spa lets you pamper yourselves with full-service private cabanas next to the lagoon pool and outdoor fire pits at night.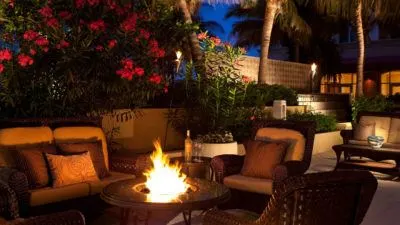 Use your kitchen for lazy mornings in, check out the spa, try water sports like deep-sea fishing and explore nearby Palm Beach.
Hawaii
4. If your idea of romance is having the house to yourself, why not make that house in luscious Hawaii.
InvitedHome has private homes like the intimate Leilani studio in Maui. It aims to offer all the comforts of home plus the extras of a resort, including a restaurant and market, secluded hot tubs, several pools and lava-rock-lined lazy river with waterfalls.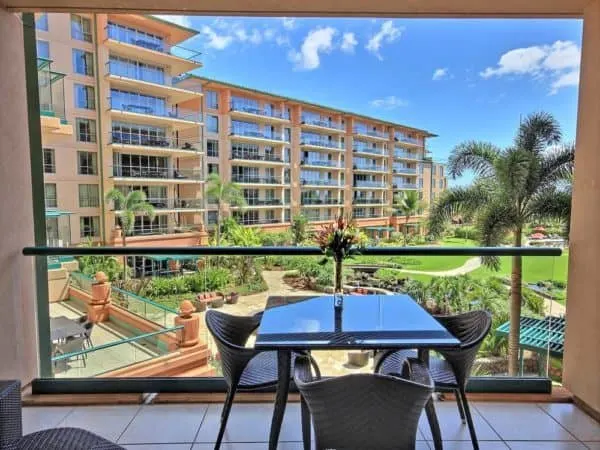 The beach is nearby, too, and all of Maui's outdoor activities, dining and culture is at your disposal.
Massachusetts
5. Boston is one those cities that us perfect for an easy urban escape.
The Aloft Boston Seaport is convenient to the Seaport neighborhood's restaurants, historic ships, museums and the Harpoon Brewery. There's live music, food and drinks on the hotel's lawn on weekends, and you can swim in the pool without anyone suggesting a game of Marco Polo.
6. One thing I miss while traveling with a child is staying in charming little inns with pretty, breakable decorations and quiet porches.
So it's tempting to head off on a hassle-free weekend at the historic Kelley House, a boutique in with its roots in a 1742 building on Martha's Vineyard since 1742.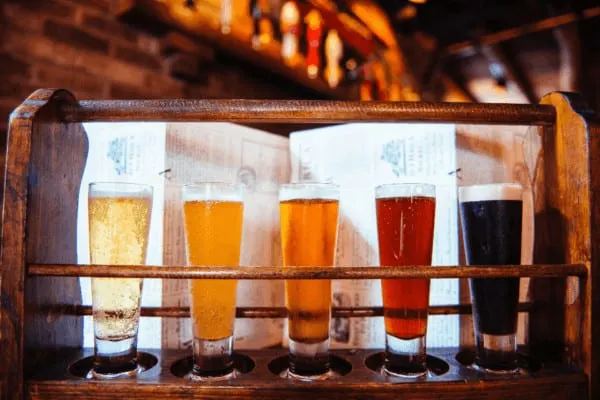 The inn offers a warm pub with occasional live music and curated local brews, an outdoor pool, and a restaurant, plus bikes to rent, the requisite cozy porches and an airy patio and bar.
The rooms evoke the seaside in a bright, modern, comfortable way.
Start Planning Your Couple Time
Book your hotel on Trip Advisor to get the best rates.
Find a cozy vacation rental for two on VRBO.
Book a deal on airfare with Flighthub.
New York State
7. If your idea of romance is getting outdoors with your partner, consider a Lake Placid getaway with skiing and snowshoeing in winter or kayaking and hiking in summer.
Either way, you'll be glad to come back each day to the upscale "rustic" Whiteface Lodge with its beautiful indoor/outdoor heated pool, in-suite cast-iron fireplaces, and seasonal, locavore Kanu restaurant. The spa is excellent and treatments include access to its single-sex steam rooms and saunas.
8. I'm a huge advocate for taking kids to New York City, but my hometown is an entirely different city without them.
Go to the theater, wander through museums, have a late dinner and leisurely weekend brunch.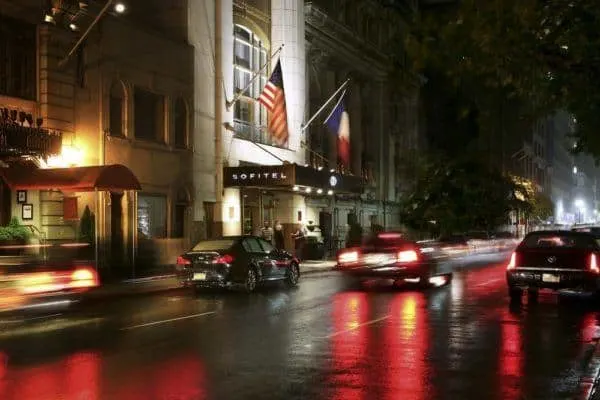 The Sofitel New York evokes the city's Gilded Age from its handy midtown perch.
Utah
9. Couples who love the mountains could find plenty of romance on the slopes of Park City. Ski in winter and do other outdoorsy things in summer, before hitting the town's many bars and restaurants in the evening.
The Westgate Resort and Spa provides a nice combination of apartments and hotel. It's steps from the ski lift and the restaurants at the base. It's also minutes from downtown.
The resort offers a grocery store and Starbucks, several pools, ski lockers, a ski valet and more.
Read about Park City With Kids, Too.
Caribbean
Barbados
10. The best part of a getaway to The House, a newly refurbished, adults-only boutique resort on Barbados, might be the complementary 30-minute jetlag massage you'll receive on arrival.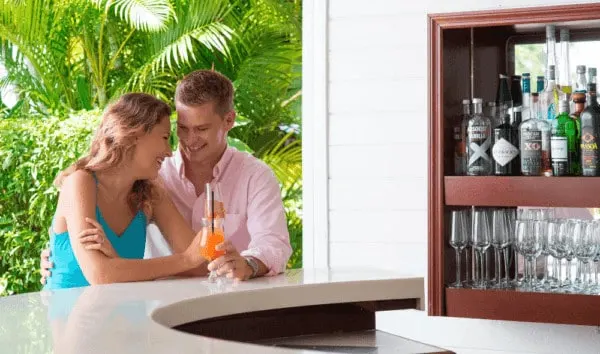 Or perhaps it will be the motorized water sports, breakfast, afternoon tea and evening canapés that are included in the room rate.
Relax by the pool or get out and explore the island with activities like horseback riding, snorkeling and local dining.
St. Lucia
11. Pamper yourself with butler service at The Landings, a wellness-focused, mid-size beachfront resort. All rooms are suites, breakfast is included and there is an all-inclusive option, too.
Visit a cacao plantation, hike in the rain forest, climb a volcano and try the local dining scene. But if you can't be bothered straying from the resort you'll have three restaurants, two bars, three pools, two hot tubs, the spa and a hydrotherapy room to enhance your time together.
Europe
England
12. 41 Hotel in London offers a sleek mash-up of traditional and modern, along with a central location and views of the Royal Mews and Buckingham Palace.
That glass of champagne you're offered on arrival will remind you you're on a grown-up getaway.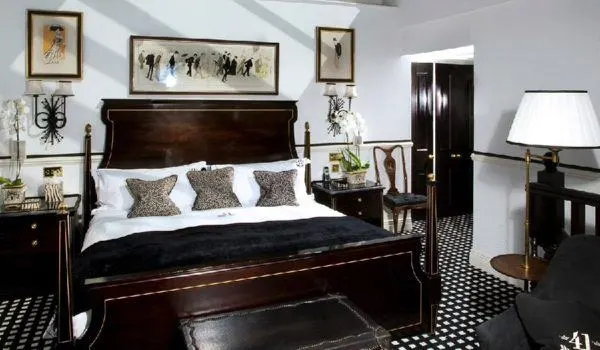 In between sightseeing, pop back to the hotel for scones with clotted cream at teatime and canapés at happy hour.
Have a guilt-free getaway as you tell yourself the kids would hate it!
13. For a clandestine getaway in the heart of London (where you pose as carefree adults) you can't beat St. Ermin's.
MI6 took over a floor of the hotel during WWIl. Russian Spies met their English agents in the bar. Winston Churchill founded his infamous Special Operations unit here in 1940 and gave his press briefings next door. Government folks from nearby Westminster still pop into the Caxton Bar.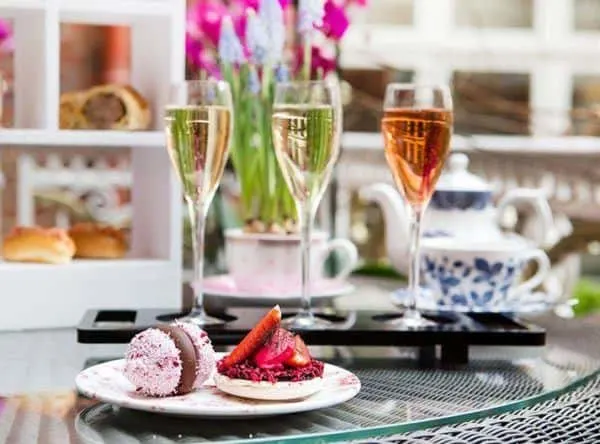 Aside from its spy-laden history, the hotel offers late Victorian architecture, good size modern rooms for a city hotel, a clubby bar and afternoon tea with champagne. Dishes served at tea and in its dining room incorporate the hotel's own honey and produce from its rooftop garden.
Read about doing this tea in a kid-friendly way, too.
Ireland
14. Ireland is a manageable flight from the East Coast for a longer weekend getaway. If you find Guiness and fiddle music romantic (I kinda do!) Consider CIE Tours' Taste of Ireland, a four-night, five-day tour.
Start in Dublin, end in Shannon. Sample Irish whiskey and Irish coffee, enjoy tea and scones at Bunratty Castle, and admire the Cliffs of Moher.
Switzerland
15. How about sharing a fondue for two with snow-capped Mont Blanc in the distance?You can do it during a weekend in Geneva.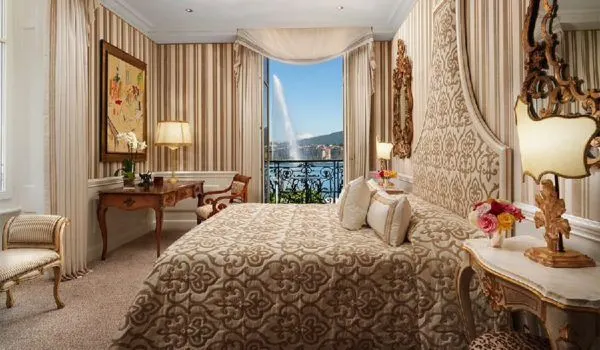 Stay at the Hotel d'Angleterre and relax in a cozy and opulent room that overlooks the city's famous lake. Curl up by a fireplace, walk around this charming town and enjoy plenty of rich Swiss food.
It's up to you whether you bring some chocolate home for the kiddos.
Pin it for Later!