I love the first few days of fall when the sun is bright, the air is crisp and cool and it feels good to slip back into my favorite jeans, a cozy sweater and my favorite pair of boots.
Fall boots have a lot of jobs to do. I like one pair that's sturdy, comfortable and water resistant for weekends apple picking and other outdoor activities that might involve a little mud.
Then I like fun ankle boots that will dress up jeans and fall sweaters, and a pair that are comfortable and look good for weekends that might mix running errands with a coffee or lunch out.
Oh, taller boots for those cooler nights when I want to wear a skirt or dress (not that I have many of those these days, but a mom can hope!)
Here are 12 boots and some shoes, that we think are fun, good looking and comfortable to throw on for weekends of cool-weather fall fun with your family.
12 Women's Fall Boots:
For Every Activity & Every Mom
Boots For Getting Outdoors
1. I almost cried when I finally wore out the soles on my first pair of Blundstones after ten years of constant wear.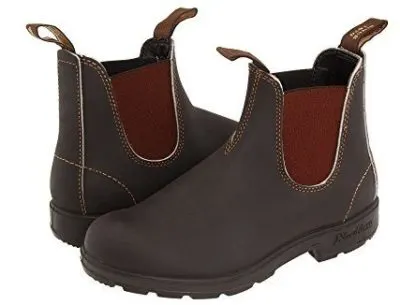 These 500s aren't the most fashion-forward boots, but they will take you from light fall hiking and leaf-raking on through winter snow and into spring's rain and mud, keeping your feet warm, dry and happy.
They were the only boots I packed for my trip to Finland last fall. They kept me warm in wintery Lapland without looking ridiculously clunky with my jeans and chunky sweaters in sophisticated Helsninki.
2. Since I live in Chaco sandals in the summer, I'm eager to try the brand's boots.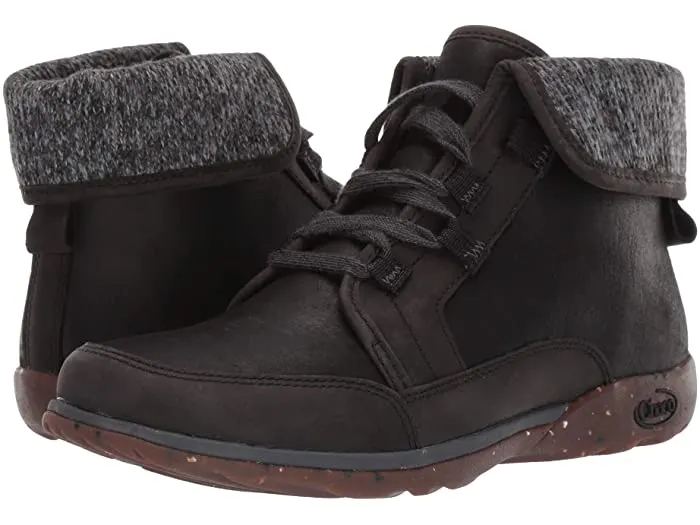 These Barbary boots are perfect if you're planning to spend a lot of time outdoors as the weather cools off—walking, apple-picking, leaf-raking, maybe sightseeing.
They'll will keep your feet warm and dry even as the temperature drops. While they aren't hiking boots, you could do some light hiking in them.
Leave them at full height for maximim protection from the elements, or fold them down for an ankle boot with contrasting textures. They lace up, for easy on-and-off. Ahd the gum soles will get you through more than one autumn.
3. Born makes some of the most comfortable shoes for walking around. And they're good at coming up with styles that don't look like everybody else's.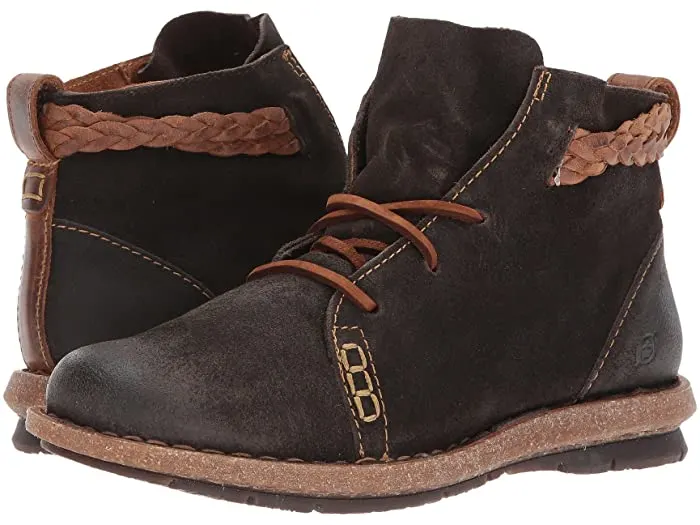 For example, take these Temple ankle boots. They're rugged: The soles are comfortable and will stand up to any weathern a couple of seasons.
The breathable lining will keep your feet comfortable on muggy days and as the temperature drops and socks get thicker. The loop and laeces makes them easy to take on and off.
But they look a little chic, too: The distressed grey, rust and taupe leather is different. The ankle braid make them stand out from all the other fall workboots and walking boots that can look a lot alike after a while.
Boots For Busy Weekends
4. Another thing I like about Born is that their boots have been getting less crunchy and more city every year even as they've stayed comfortable.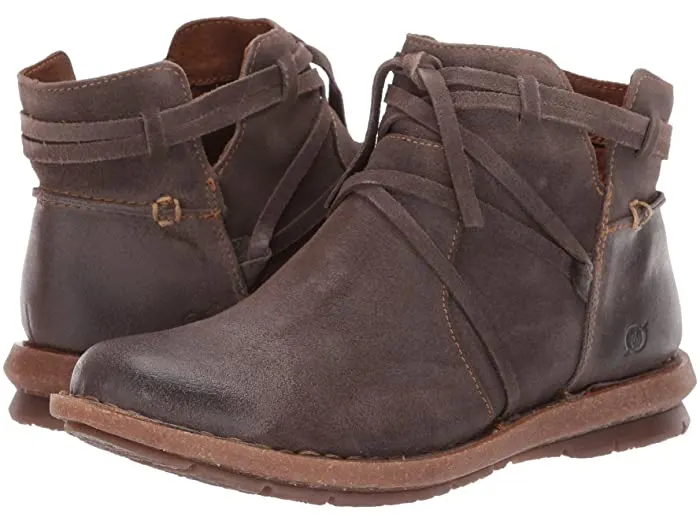 This year, I love the brand's Tarkiln ankle boots in distessed gray. They look great and will work with jeans, ankle pants and some of your favorite athleisure clothes.
But they have the comfortable sole and reliable treads you expect from Born, which means your feet will be happy no matter how much running around your weekend brings.
5. Blondo does a great job of making waterproof boots that don't look like rain boots.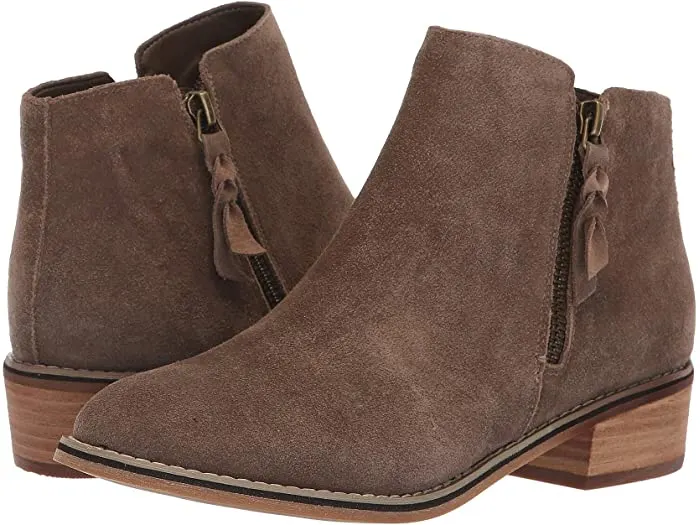 This fall I found the Liam Bootie that you can wear seven days a week. The wood heel and soft suede in gray, mushroom or taupe look as good with dressier office clothes as they do with your favorite Saturday jeans or leggings.
And they'll keep you feet dry on rainy when those inevitable rainy fall days come along.
Boots For Dressing Up Jeans
6. I always find cool-weather weekend getaways harder to pack for. Boots take up way more room than sandals and flip-flops so I have to choose what I pack more discerningly.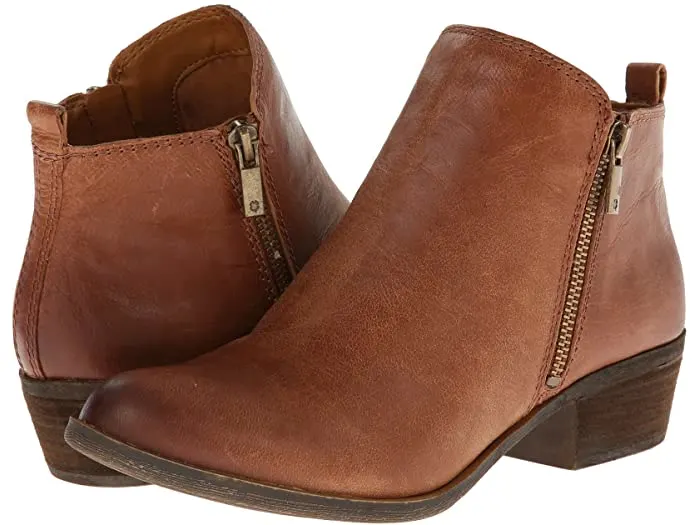 So i love ankle boots like the Basel boots from Lucky Brand. They don't take up much room, and they instantly dress-up jeans, ankle pants and leggings.
In black, toffee or wheat, they're ideal for those fall evening where you want to look smart, and feel a bit less like a mom.
7. I like having a Western style boot to pull out of my closet now and again. They're fun and that pointed toe is an easy to make jeans or the right tapered trousers look just a look fancier.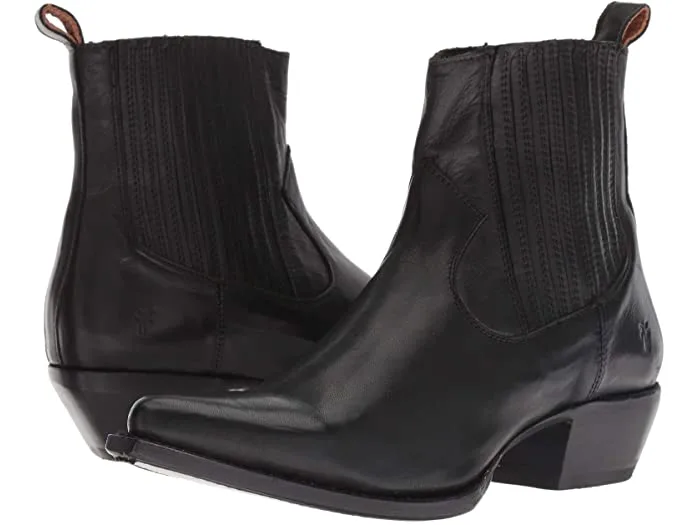 Frye's Sacha chelsea boot doesn't over do the cowboy details. The heel isn't killer. And they come in goes-with-everything black, and in bronze or cognag, if you want to be a more rustic look.
Tall Boots For Fall Dresses & Skirts
Knee-high boots are essential if you plan to wear skirts and dresses as the temperature drops. They definitely go into the suitcase for Thanksgiving and Christmas travel.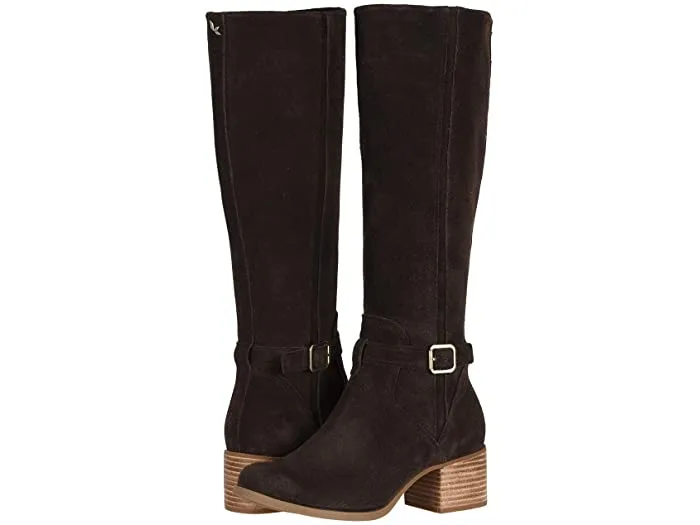 8. Koolaburra by Ugg is easier on the wallet than a lot of other popular boot brands. These Madeley knee-high boots give fair value for their under $100 price.
The chocolate, black or amphora suede has a zipper and a bit more give than tall leather boots do, and the shafts will flatten a bit in your suitcase. (Or just do what I do and pack small items inside the boots.)
Meanwhile the stacked heel, narrow ankle and little silver buckle make them a far dressier boot than you would expect from Ugg.
9. Jambu has shifted their focus away from kids' shoes (bummer) to more women's styles (great!).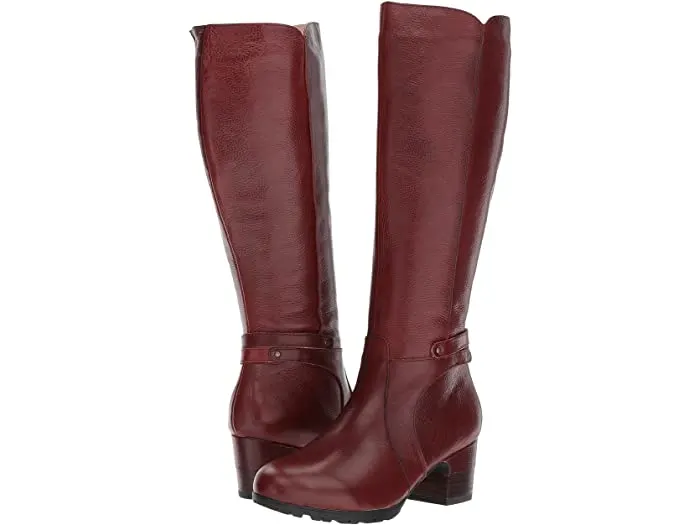 The brand's new Chai knee-high boots come in solid black but I like the wine-colored "whiskey" ones. The Black soles, chunky heels and round toe make them just a little bit funky and fun.
Plenty of details in the design mean they'll grab attention when you wear them home for the holidays.
Fall Shooties (Half-Boot, Half-Shoe, All Good)
10. These just-below-the ankle boots are the easiest boots to fit in a carry on. And they work with anything from leggings to your fave fall skirt.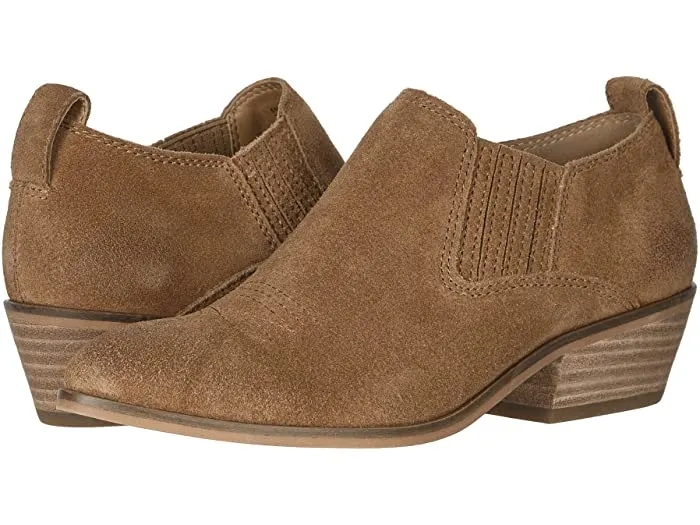 These Rubie Western slip-ons from Frye & Co. come in black or cognac a with subtle western stitching and a wooden heel. The soft suede is nice for late fall days.
Shoeties like these are lightweight and comfortable, too, so if you happen upon any line dancing you can kick up your heels all night.
11. I love the cut, texture and strap details on these Adley shoeties from Lifestride. They're the kind of boots I default to constantly when I own a pair.
They're boot-like enough to keep your feet warm and dry, but shoe-like enough that they aren't heavy to wear all day. And they don't look like every other boot in your closet.
The cognac, taupe and black are all great colors, too.
12. If you are loyal to clogs for those weekends when you don't stop, Dansko's Professional clog are pretty much the original shoe-that's-almost-a-boot.
They'll work with anything you throw on on Saturday morning. And in more than two dozen colors and textures you can go crunchy, city or even a little punk.
Pin it for later!