Need a little Spring in your family's step? Head to a flower show or festival. There's probably one happening near you.
Nothing heralds Spring like seeing lots of your favorite favorite spring flowers. Daffodils, tulips, lilacs, cherry blossoms, magnolias or even early summer roses help us to shrug off winter and feel inexplicably happy.
Garden shows and events highlight a region's or city's best spring flowers, shrubs and trees. Or they feature innovative garden designs and floral displays.
They're reliably impressive and they're an easy, family friendly excuse for a weekend getaway. As outdoor events that often include food, music, crafts, interactive art, shopping and other activites, they're reliably kid-friendly.
Here are some of the splashiest and most beautiful flower shows and festivals that are worth a drive this spring.
Read More:
• One Year of Kid-Friendly Festivals Across the U.S.
• 14 Historic U.S. Carousels You Have To Ride
• 9 Cute & Comfortable Summer Sandals (to wear to the Flower Shows!)
The 9 Best Kid-Friendly Flower Shows & Festivals Across the U.S.
1. The Famous Philadelphia Flower Show
Philadelphia boasts the largest and oldest flower show in the country, hosted by the Philadelphia Horticulture Society. I'd been wanting to attend for years and finally got my chance in 2021.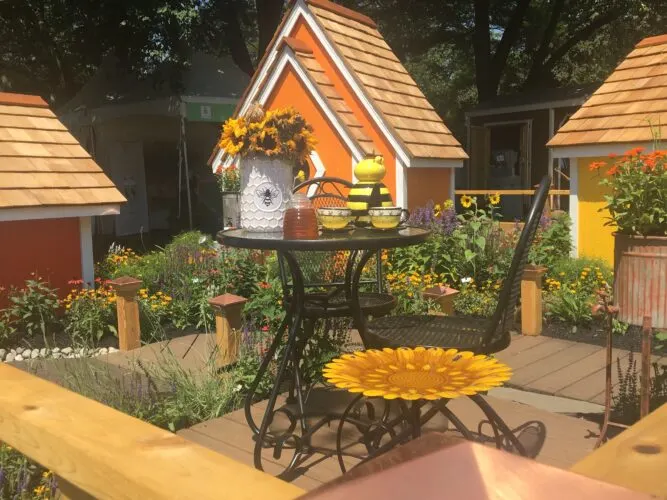 They moved it outdoors for 2021, when I went, and 2022. But it's back indoors at the Philadelphia Convention Center in center city in early March. It was definitely more kid-friendly when it was outside but it's still very much an event for families.
There weren't as many pretty flower arrangements as I expected but there was plenty to look at. The show celebrates floral displays, botanical art and landscape design. There are also lots of vendors selling gardening supplies as well as flower- and garden-themed art, clothing, food and other items.
Avid gardeners will love talking to the speciality vendors and browsing their wares. But the casual visitor will have plenty to entertain them, too.
The show sells out so be sure to get your tickets and secure a hotel well ahead.
---
Plan a visit
• My family has stayed at The Logan Philadelphia Curio Hotel and the Doubletree by Hilton City Center. Each has a pool and is near both the convention center and plenty of other sightseeing you might want to do.
• You can also rent a Rittenhouse Square apartment to be near the convention center and lots of great restaurants.
Read more
• 48 Hours in Philadelphia With Kids
• Philadedelphia Food You Have to Try
2. The Amazing Free Flower Show in Washington, DC
Unless you happen to live in Japan, the best place to cherry blossoms is the annual Cherry Blossom Festival in Washington, DC (top).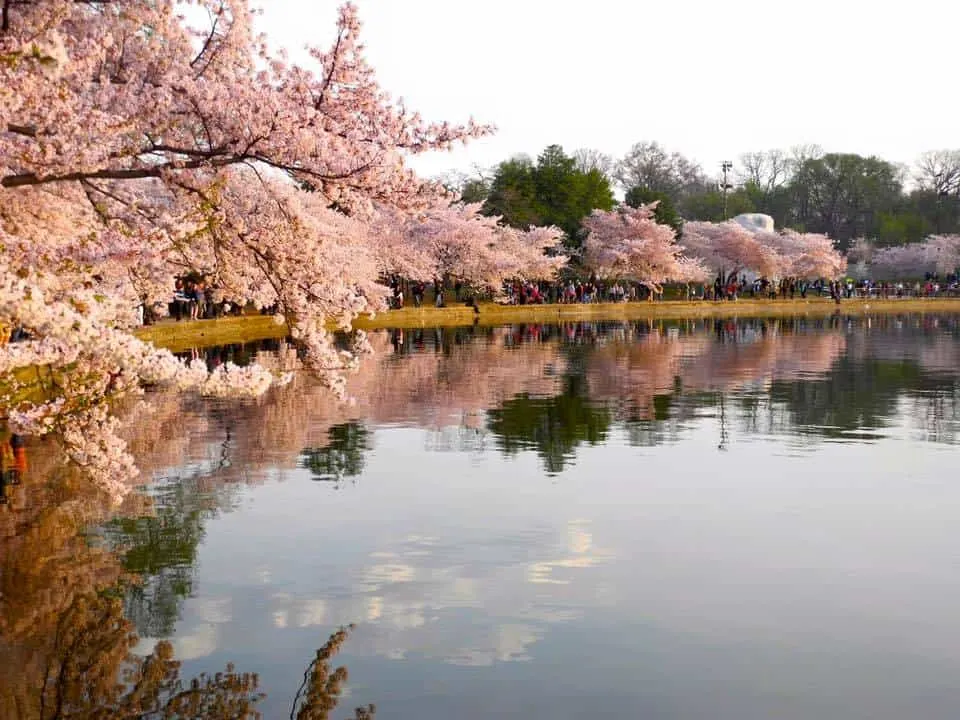 The trees around the Tidal Basin near the Washington Monument were a gift from the people of Japan in 1912. It's a stunning sight to see thousands of pink and white blossoms on the trees and floating to the ground along the water. It's one of nature's best flower shows for sure and it's free.
It's always a bit of guess when the peak week will be but it's generally later March or early April, depending on the winter and how quickly the weather warms. the National Park Serve is a bloom watch to help you plan your visit.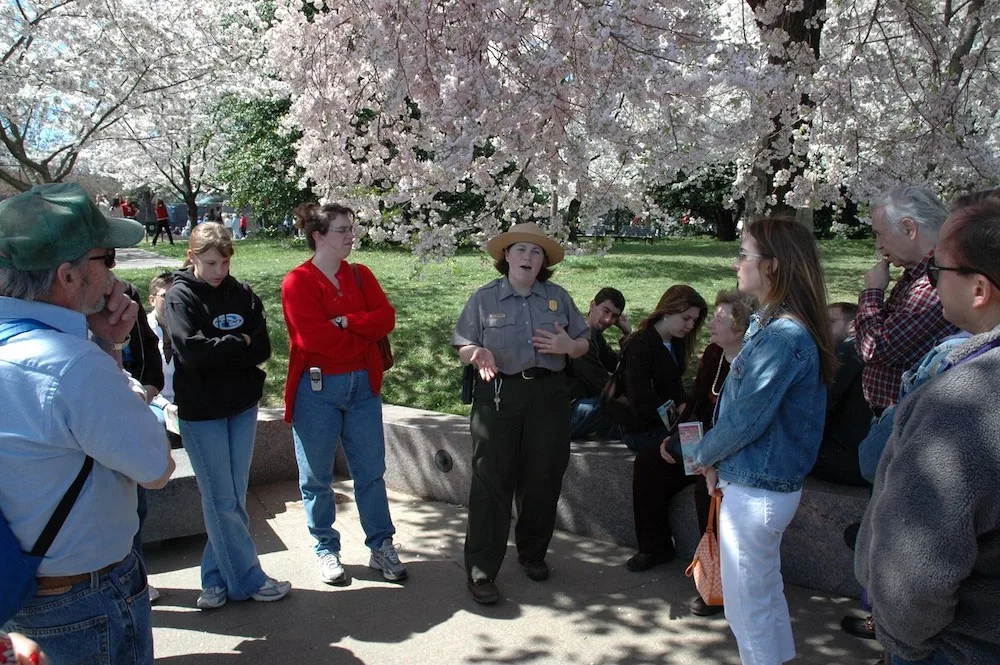 The Park Service and the District hosts a series of events between mid-March and mid-April to celebrate the cherry blossoms. These include ranger talks and evening lantern walks, walks with dogs and more.
Weekend events typically include an all-day kite festival and petalpalooza, which is a day of outdoor concerts, food, outdoor art installations and kids activities, plus evening fireworks. The Final event is a big cherry blossom parade down Constitution Avenue.
---
Plan a visit
• Rent an apartment in one of the district's colorful row houses, near everything.
• Arlington has a good selection of family-friendly hotels and is a short Metro ride to everything you want to do.
• You can often find good weekend hotel rates downtown and in Foggy Bottom.
Read more on FamiliesGo! :
• How to find deals on Washington, DC Hotels
• Top tips for a Washington, DC visit with kids
• 10 cool and unique things to do with kids in Washington, DC
---
3. EPCOT's Worldy International Flower & Garden Festival
Walt Disney World has brought back its International Flower & Garden Festival, which takes bloom all across the EPCOT park from March through June.
The International Pavillions put their own twist on things, as you might expect. Explore Chinese bamboo and zodiac gardens, a French bouquet garden, Moriccan spice garden or a mini Mexican desert. The U.K. pavillion has gardens celebrating tea and Shakespeare.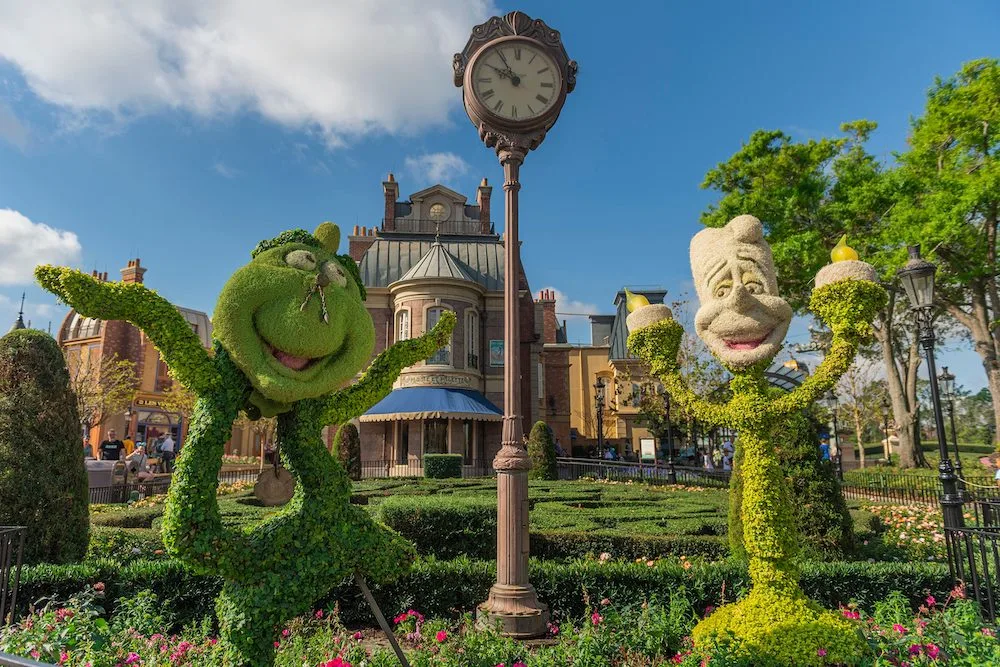 The Science side of Epcot gets into things with a eco-adaptable and preshistoric gardens as well as a butterfly landing.
This being Disney you can see more than 50 of its top 50 animated characters in topiary. Temporary outdoor kitchens are cooking up garden-inspired fare and you can take a garden graze tasting tour around the park.
The festival is included in your regular ticket to Epcot.
---
Plan this trip
An EPCOT-focused trip to Disney World is ideal with tween and teens, and appropriately, the nearest hotels are a bit more sophisticated and less character-themed.
• The connected Yacht Club and Beach Club hotels share a sizeable water park and you can take advantage of the restaurants and amenities at both.
• The nearby Swan & Dolphin hotels are also connected. Everyone I know who has stayed here has loved it, in part because of the waterfall pool and excellent spa.
• VRBO has roomy vacation rentals with resort amenities practically on the Disney World property.
---
4. The Playful Dollywood Flower & Food Festival
One would expect a flower show in a theme park started by Dolly Parton to be colorful and fun.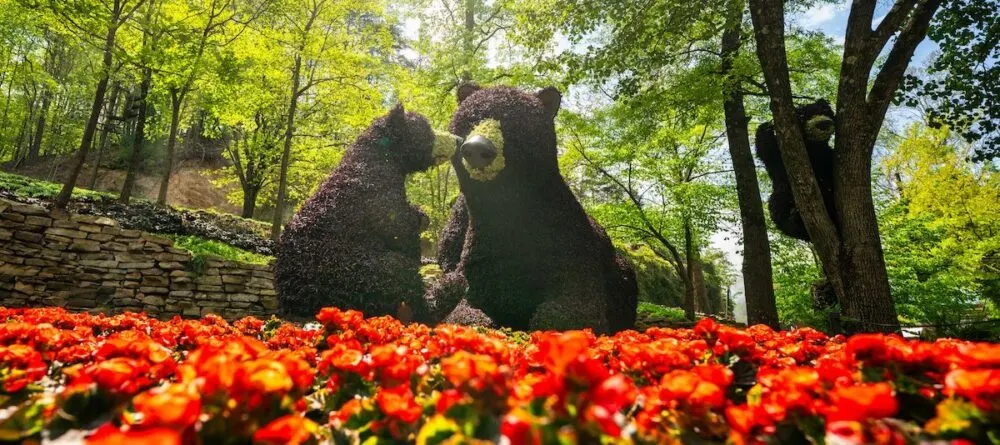 Sure enough, the Flower & Food Festival at Dollywood is exactly that. From mid-April through June the park comes alive with whimsical animal-themed topiary set amid 50,000 purple, pink and yellow blooms (photo: top).
Special festival foods includes strawberry lemonade and sugar cookie that look like flowers and beehives. Seasonal street performances have a flowery theme, too.

The flower show is part of the regular admission but you can buy an optional festival food tasting pass to make the most of it.
---
Plan this trip
• If you're visiting the park, go all in and stay at Dolly's DreamMore Resort, which celebrates country music and the Smoky Mountains and has a very reasonable price tag for the amenities it offers. Your kids will love you if you ask for a room with bunk beds.
• Rent an upscale woodsy cabin to take advantage of Dollywood and Great Smoky Mountains National Park.
---
5. Virginia's Huge Historic Garden Week
It doesn't get much bigger than a Garden Festival that takes over an entire state. The Garden Club of Virginia's Historic Garden Week takes place in mid-April and does precisely that.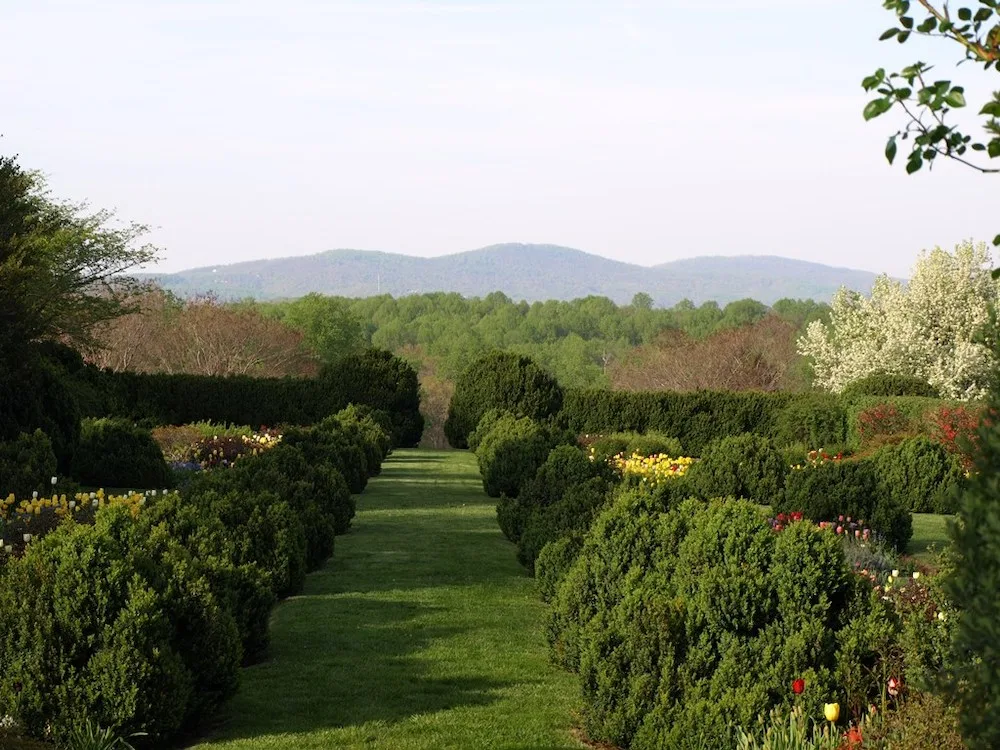 Private Gardens across the state open to the public. These and popular public gardens offer special tours. The festival is organized by town, with each ticket providing access to several homes and gardens in the area. Many of the destinations in northern and western Virginia are an easy day or weekend trip from Washington, D.C.
The garden club provides itineraries organized by region if you want to spend a few days on a garden-themed road trip. There are special tours of a few of the bigger or more unique gardens each day of the week.
---
Plan this trip
• Read about Staunton and Williamsburg VA, two stops on the circuit
• Check out these 18 Weekend Getaways from Washington, D.C.
• Save money by booking a hotel and car-rental package.
---
6. NYC's Japanese Cherry Blossom Festival
The Brooklyn Botanic Garden in NYC is often overlooked by visitors but is a favorite weekend destination for city dwellers throughtout the spring and summer.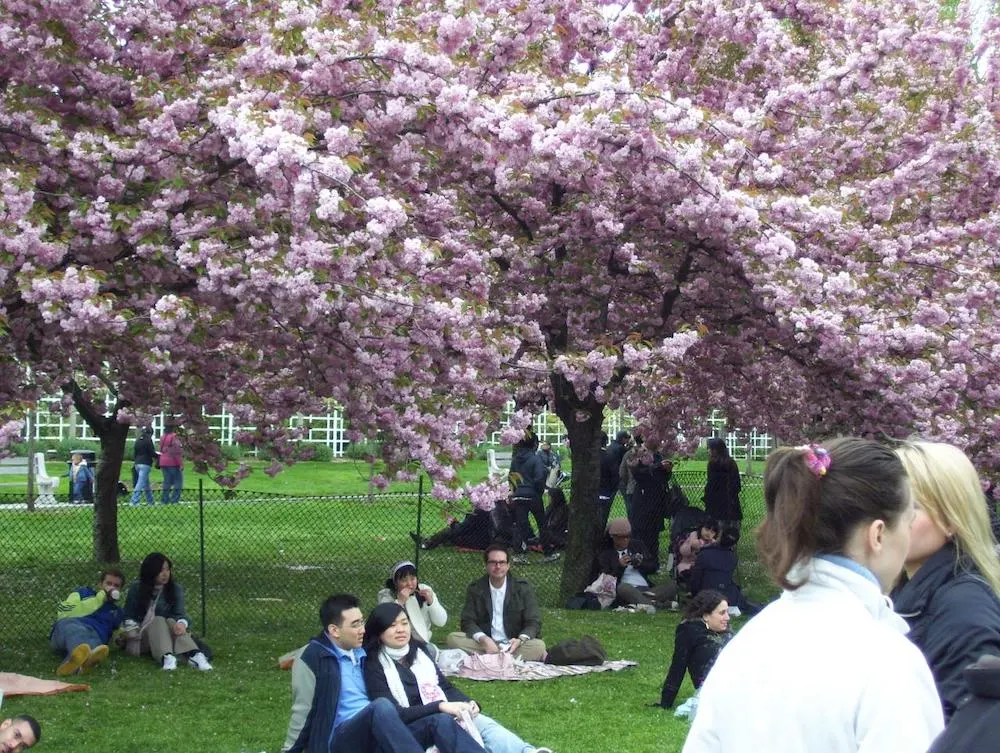 The garden's esplanade has a beautiful collection of cherry blossom trees that burst into puffy pink and white blossoms in late April or early May. As they pass their peak and start falling down the lawn below can look like it's covered in snow.
The BBG tries to time its Sakura Matsuri Cherry Blossom festival to the blossoms' peak week. And it's usually close enough that there are plenty of blooms.
The Japanese called their own cherry blossom season Hanami and the BBG celebrates Japanese culture along with these Japanese trees. Look for demonstrations of Japanese art, music, food and Taiko drumming throughout the garden.
The festival is immensely popular and people line up to get in. So get tickets ahead or go early.
---
Read more:
• 10 Things to do with Kids Near Central Park
• Find the Best Playgrounds in NYC
---
7. Tulipmania a the Skagit Valley Tulip Festival
The four giant tulip and daffodil farms that comprise the Skagit Valley Tulip Festival might be the closest you'll come to the Netherlands' tulip fields here in the U.S.
The festival stretches for the whole month of April in Mount Vernon, WA, which is a bit less than 90 minutes north of Seattle and a bit more than 90 minutes south of Vancouver.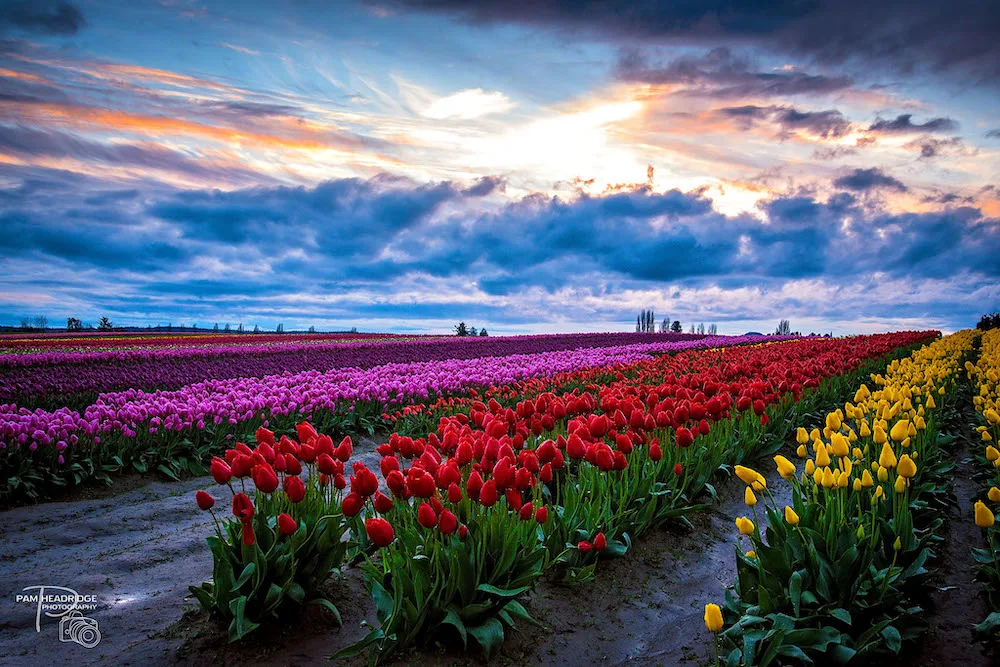 At four farms that are fairly close to one another you can ride past, walk through or just sit and take in acres and acres of brightly colored tulips. Sometimes they have the North Cascades and Olympic mountains as a backdrop, which is icing on the cake.
During festivals each of the farms offers extras like beer or wine gardens, food trucks, tea among the tulips, trolley rides, photo sessions and the opportunity to pick your own tulips to take home. One even has an evening light show.
There's a chili cook-off on opening weekend and a festival street fair in downtown Mount Vernon later in the month.
You by tickets to each farm individually and one or two is probably enough to get the experience (try the other two next year!)
---
Plan this trip
• If you want to turn this trip into a weekend your best bet is to base yourself in La Conner, a proper town with appealing hotels and inns a few miles from where the farms start.
• The La Conner Channel Lodge is full-service hotel. It faces a scenic channel that runs through town. It has an outdoor fireplace and rooms on the larger side and breakfast is included in the room rate.
• For something a little different, spend an afternoon at Willowbrook Manor English Tea House on the other side of the valley. It sits on a chamomile fam surrounded by laws, trees and gardens. In April they offer Tea & Tulips on Friday and Saturday afternoons, a proper English tea with baked good made in-house.

---
Two Huge Lilac Celebrations
It's hard to miss the heady scent of lilacs, a sure sign that spring is advancing and summer is around the bend. Rochester, NY and Mackinac Island, Michigan both hold town-wide lilac festivals every year.
8. The Rochester Lilac Festival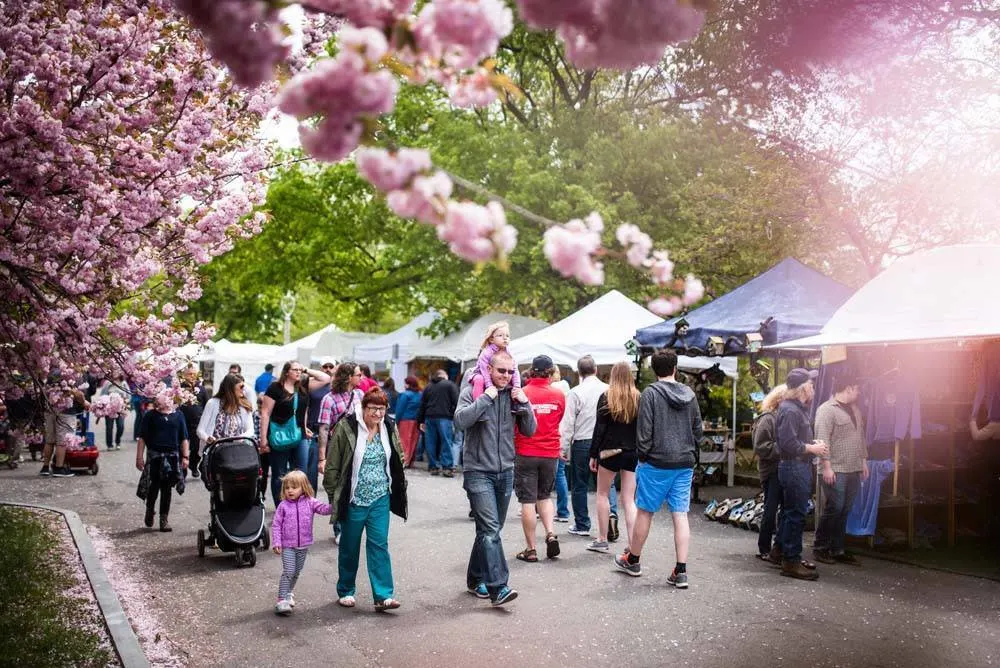 Rochester celebrates its 1800 purple and dark pink lilac bushes during a ten-day festival in sprawling Highland Park.
The city pulls out all tehe stops with a fun run, lilac parade and high-profile outdoor concerts and regional-wine and craft-beer tastings. A kids' zone has hands-on activities and small rides for the under-8 set.
Art in the Park showcases artisan jewelry, clothing, ceramics, paintings, woodwork and more. There are also clusters of food trucks and stalls across the park offering the usual funnel cake and lemonade as well as empanadas, tacos, bubble tea, fancy grilled cheese, gumbo and several variations on a local specialty called a "trash plate."
---
Plan This Trip
• This Hilton Garden Inn Rochester is surprisingly sleek, has a pool and is close to the park
• Rent a house or bungalow near the park for more room to relax after the festival
Read More
• More things to do in Rochester with kids
• Extend your visit by exploring the nearby Finger Lakes with this guide
---
9. The Retro-in-a-Good-Way Mackinac Island Lilac Fest
On Mackinac Island the ten-day festival happens in June and has a middle-American small-town feel to it.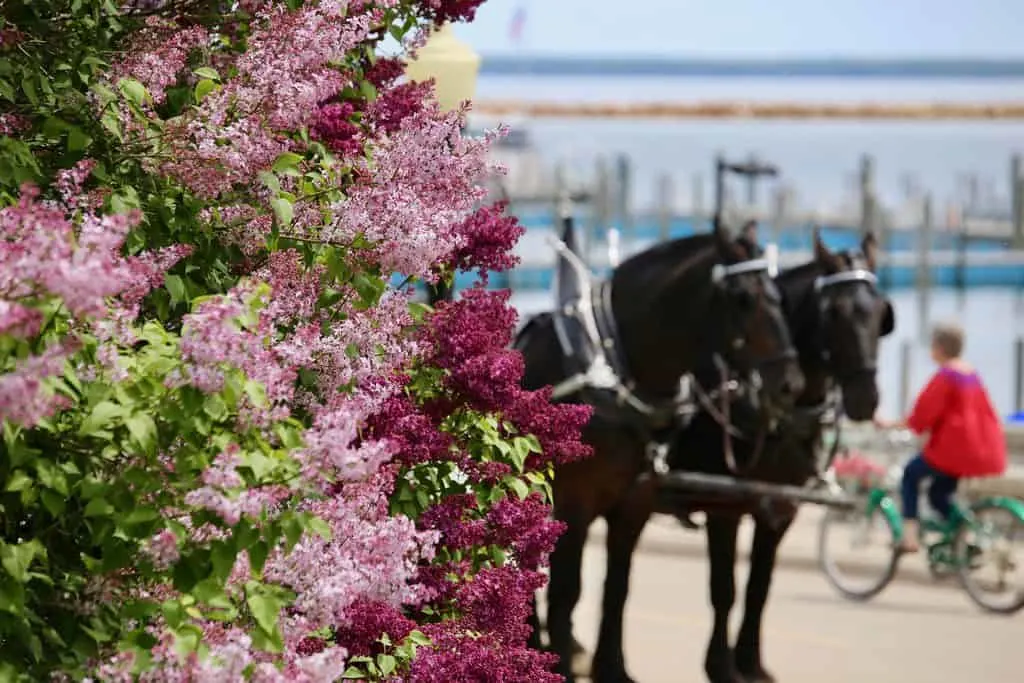 They elect a Lilac Queen for the Lilac Parade that brings the festival to a close.You can take lilac walking tours, birding walks and planting seminars.
In addition to a fun run, Family Fun playground (with bouncy houses) and free outdoor movies and music, there's a book sale and carriage rides that will allow to see the lilacs all over the island.
---
Plan This Trip
• Mackinack Island has several small inns in former mansions. They're picturesque and many serve breakfast.
• If you really want a treat, stay at the Grand Hotel, a sprawling Victorian resort built in 1880s.
• The Chippewa Lakefront Hotel is on Lake Michigan and all its lake-facing rooms are suites. But walk out the front door and you're on Main Street. Rooms disappear quickl!
---
How to Find Flower Shows & Festivals Near You
Spring flowers are hard to resist and you'll find flower shows in many cities across the U.S. Check out of these big and small flower festivals and flower shows to findone near you.
Several more cities have cherry blossom festivals and tulip festivals.
Botanic Gardens don't need festivals to look their best in the spring. But many have celebrations to show off their best buds anyway. Check out what's happening at a Botanical Garden near you.
Pin it for later!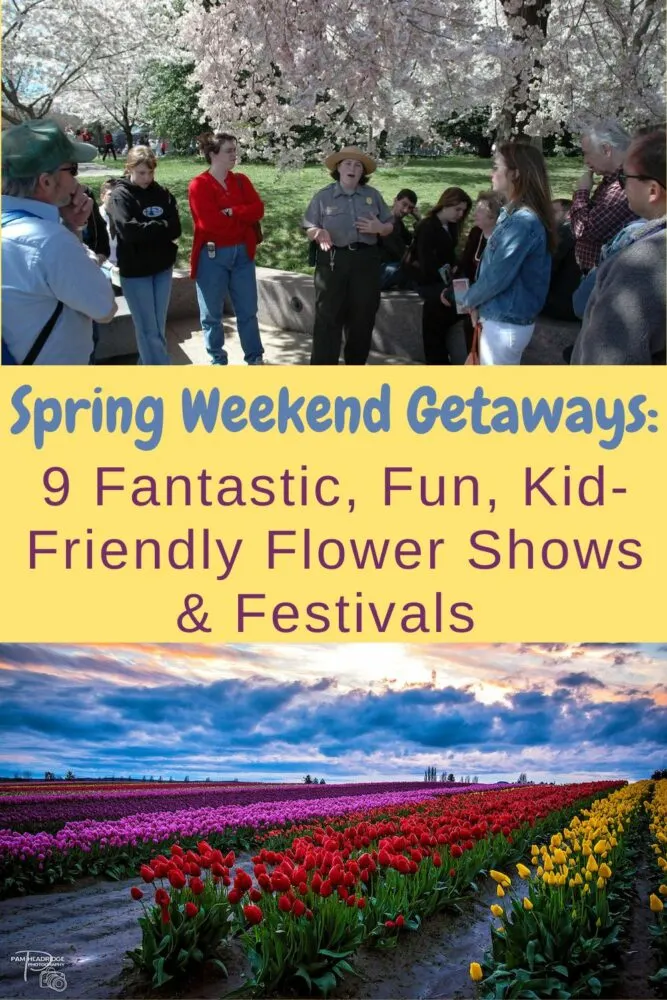 Philadelphia Flower Show by Familieso!©; Washington, DC (stock photo and NPS); Brooklyn Botanic Garden (BAS Photo/Flickr); EPCOT (Disney Resorts); Virgina (Virginia Garden Society/Flickr); Dollywood (Dollywood); Rochester (Visit Rochester);Mackinac Island (Mackinac Island TOurism Bureau; Tulip Town (Pam Headridge/Skagit Valey Tourism Bureau.